Harrison School of Pharmacy
Faculty and Staff Directory
---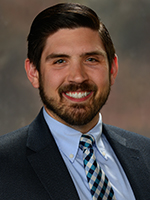 Bobby Helmer
Associate Clinical Professor
Assistant Director of Experiential Programs-Mobile
Units: Pharmacy Practice, Clinical Affairs and Outreach
Auburn University
Harrison School of Pharmacy
650 Clinic Way
Mobile, AL 36688
Email: rsh0011@auburn.edu
Phone: 251-445-9319
Fax: 251-445-9341
---
Bio
Education:
Pharm.D. - South Carolina College of Pharmacy, 2010
---
Robert "Bobby" Helmer, PharmD is an Associate Clinical Professor of Pharmacy Practice at the Auburn University Harrison School of Pharmacy. Dr. Helmer joined the Mobile campus faculty in August 2012 and currently practices with the Internal Medicine services at the University of South Alabama Medical Center. His professional interests include respiratory disorders, neurological disorders, patient education, and health literacy.
Additionally, he serves as the Assistant Director of Experiential Programs for the Mobile Campus. In this role, he is a strategic member of HSOP's experiential programs team and contributes to the development, implementation, and continuous quality improvement of HSOP's experiential programs. He provides administrative oversight of IPPE, APPE, IPE, and co-curricular activities that are provided for students on the Mobile Campus and within the Mobile region. Dr. Helmer also works to identify, develop, and foster relationships with stakeholders and partners within the Mobile region.
Dr. Helmer graduated with his Doctor of Pharmacy degree (first-honor graduate) from the South Carolina College of Pharmacy in Charleston, SC in 2010. Following graduation, he completed a 24-month (PGY1/PGY2) residency in Pharmacotherapy at the University of Tennessee Medical Center and University of Tennessee College of Pharmacy in Knoxville, Tennessee, where he was also the chief pharmacy resident.
Dr. Helmer is a member of the American Society of Health-System Pharmacists (ASHP) and the American College of Clinical Pharmacy (ACCP).
---