Harrison School of Pharmacy
Faculty and Staff Directory
---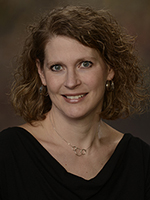 Dana Carroll
Clinical Professor
Unit: Pharmacy Practice
University Medical Center
Box 870374
Tuscaloosa, AL 35487
Email: dgc0001@auburn.edu
Phone: 205-348-2891
Fax: 205-348-2889
---
---
Bio
Education:
B.S., Pharmacy - Auburn, 1998
Pharm.D. - Auburn, 1999
---
Dana G. Carroll is a Clinical Professor at Auburn University Harrison School of Pharmacy. She graduated from Harrison School of Pharmacy with her B.S. degree in 1998 and her Pharm.D. in 1999. Dr. Carroll completed a residency in primary care at the University of Mississippi Medical Center in 2000. She worked at Duke Medical Center in the emergency room as a clinical pharmacist and as an Assistant Professor at University of Oklahoma (Tulsa campus) before joining the faculty with Auburn in 2006 as an Associate Clinical Professor.
Dr. Carroll is board certified in pharmacotherapy (BCPS) and geriatrics (BCGP) and is a certified diabetes educator (CDE). She teaches and precepts pharmacy students, pharmacy residents, graduate students (psychology and social work) and medical residents. She also holds adjunct faculty appointments with the College of Community Health Sciences Family, Internal and Rural Medicine Department and the Psychology Department at the University of Alabama.
Dr. Carroll's current scholarly endeavors include assessing outcomes in geriatric patients from interdisciplinary care and the scholarship of teaching and learning in both didactic and clinical settings.
---
Practice Site
Dr. Carroll's current clinical practice at University Medical Center in Tuscaloosa, Alabama and focuses on providing direct patient care as part of interdisciplinary teams in a geriatric clinic and a transition of care clinic, which primarily serves geriatric patients. In addition, Dr. Carroll provides one-on-one patient education and drug therapy consults in diabetes and serves as part of an interdisciplinary team to deliver ADA certified diabetes self-management classes.
---