Harrison College of Pharmacy
Faculty and Staff Directory
---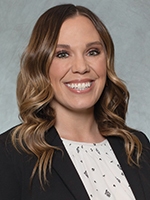 Emily McCoy
Associate Clinical Professor
Interim Assistant Dean - Mobile
Assistant Director of Student Affairs - Mobile
Units: Pharmacy Practice, Administration, Academic Programs
Auburn University
Harrison College of Pharmacy
650 Clinic Drive
Mobile, AL 36688
Email: ekm0010@auburn.edu
Phone: 251-445-9310
Fax: 251-445-9341
---
---
Bio
Education:
Pharm.D. - Tennessee, 2008
---
Emily McCoy, Pharm.D., FCCP, BCACP is an Associate Clinical Professor in the Auburn University Harrison College of Pharmacy's Department of Pharmacy Practice and an Adjunct Assistant Professor in the Department of Internal Medicine at the University of South Alabama College of Medicine. She also currently serves as the interim assistant dean for the Mobile campus and for Student Success. In this role, she coordinates various aspects of student life on the Mobile Campus. In partnership with the Mobile Campus Curricular Coordinator, she demonstrates a strong student-centered focus to ensure every student has unparalleled, world-class, and profound opportunities for personal, intellectual, and professional growth while a student at HCOP. As part of her role in Student Success, Dr. McCoy developed and directs the HCOP Peer Coaching Program, which is intended to provide students with individual and group support throughout the didactic portion of the Practice Ready Curriculum (PRC).
Dr. McCoy graduated with her Doctor of Pharmacy degree from the University of Tennessee Health Science Center in Memphis, Tennessee in 2008. She completed a residency in ambulatory care with a focus in academia in Memphis with the UT-St. Francis Family Medicine residency program and became Board Certified in Ambulatory Care Pharmacy (BCACP) in 2011. Dr. McCoy joined the Auburn faculty in August 2009 and has been heavily involved in the development, delivery, and coordination of the PRC, and she served as the course coordinator for the P2 Fall semester for five years.
Dr. McCoy is active in several national pharmacy organizations including the American Society of Health-System Pharmacists (ASHP), American Association of Colleges of Pharmacy (AACP), and the American College of Clinical Pharmacy (ACCP). She also currently serves as faculty for the ACCP/ASHP BCACP Review and Recertification Course.
---
Practice Site
Dr. McCoy currently practices as a clinical pharmacy specialist at the USA Mobile Diagnostic Center at the Commons internal medicine clinic in Mobile, Alabama. At this practice site, Dr. McCoy practices in an interprofessional collaborative environment, providing education and management for people with diabetes, hypertension, dyslipidemia, and other chronic conditions. Her research is focused in the cardiometabolic realm, with research projects evaluating the impact of pharmacist management on diabetes control in an interdisciplinary setting, pharmacist management of insulin pumps, and adherence to cardiovascular guideline recommendations, and in scholarship of teaching and learning.
---