Harrison College of Pharmacy
Faculty and Staff Directory
---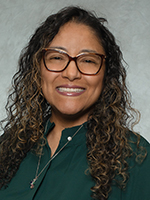 Glady's Heard
Mobile Curricular Coordinator
Unit: Academic Programs
Auburn University
Harrison College of Pharmacy
650 Clinic Drive
Mobile, AL 36688
Email: gth0013@auburn.edu
Phone: 251-445-9318
Fax: 251-445-9341
---
Bio
Education:
M.Ed. - Grand Canyon University, 2010
M.S. - Touro University, 2015
Pharm.D. - Auburn University, 2019
---
Glady's Heard graduated from Auburn University's Harrison College of Pharmacy in 2019 and joined the faculty on Oct. 14, 2019. She currently is part of the Division of Academic Programs, serving as the Curricular Coordinator for students on the Mobile campus.
As the Curricular Coordinator, she provides curriculum, classroom, assessment and administrative support as well as coordinating the skills laboratory experience throughout the Doctor of Pharmacy program for all three didactic years on the Mobile campus. Heard works with a team of faculty and administrators to implement a variety of learning experiences. The program emphasizes student-centered learning, active learning, experiential integration of competencies and skills from all areas across the pharmacy curriculum.
Heard earned a master's degree in education from Grand Canyon University in 2010 and followed up with a Master of Science degree from Touro University in 2015. She earned her Pharm.D. from the Harrison College of Pharmacy in 2019.
A native of El Paso, Texas, she has been a pharmacist with Walgreens since 2018 and is active within the Alabama Pharmacy Association and American Association of Colleges of Pharmacy. She and her husband, Herman Doriean Heard, live in Mobile.
---