Harrison School of Pharmacy
Faculty and Staff Directory
---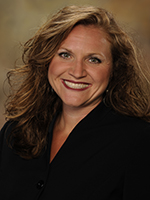 Kori Caldwell
Development Officer
Unit: Development & Alumni Affairs
Auburn University
Harrison School of Pharmacy
2316 Walker Building
Auburn, AL 36849
Email: caldwks@auburn.edu
Phone: 334-844-3624
Fax: 334-844-8353
---
Bio
Education:
B.S., Business Administration - Auburn, 2002
---
Kori Caldwell joined the Harrison School of Pharmacy as its Development Officer in December of 2014. A 2002 Auburn graduate, she earned a B.S. degree in business administration specializing in Entrepreneurship and Family Business in 2002.
As HSOP's Development Officer, Caldwell is tasked with serving in the role of fundraiser for the School while also developing relationships with alumni, friends, foundations and corporations.
A native of Tallassee, Alabama, Caldwell spent seven years in the retail and hospitality industry before accepting a position as Development Coordinator with Auburn's Samuel Ginn College of Engineering. In 2011, she was promoted to Development Officer where she focused on leadership, major giving and Campaign Leadership Teams.
During her nine years in Engineering, she was heavily involved with event management, overseeing more than 50 a year, while also working closely with various stewardship programs. She was charged with identifying potential prospects and managed and developed implementation of Engineering Campaign Committee in preparation for the launch of the Capital Campaign for Auburn, which will occur in April of 2015. 
Caldwell played a key role in Engineering's fund raising success in the both the "IT BEGINS AT AUBURN" campaign and the Leadership phase of the "BECAUSE THIS IS AUBURN" campaign.
Prior to her work with the Ginn College of Engineering, Caldwell was the Manger of Ware Jewelers and was a sales manager for The Hotel at Auburn University.
Caldwell and her husband, Daniel, have a daughter, Julia, and live in Auburn.
---