Harrison School of Pharmacy
Faculty and Staff Directory
---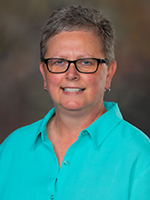 Lynn Stevenson
Executive Director Experiential Programs
Associate Clinical Professor
Units: Clinical Affairs and Outreach, Pharmacy Practice
Auburn University
Harrison School of Pharmacy
2129 Walker Building
Auburn, AL 36849
Email: tls0002@auburn.edu
Phone: 334-844-4329
Fax: 334-844-4346
---
Bio
Education:
B.S., Pharmacy - Auburn, 1992
Pharm.D. - Auburn, 1994
---
---
Dr. Lynn Stevenson is an Associate Clinical Professor of Pharmacy Practice and Executive Director of Experiential Programs within Clinical Affairs and Outreach.
She grew up in southern middle Tennessee and received a full scholarship to play basketball at Auburn University (1986-91). A four-year letter winner with the Auburn women's basketball team, she helped the Tigers to three-straight NCAA Final Fours from 1988-90. Stevenson completed a B.S. in Pharmacy in 1992 and Doctor of Pharmacy in 1994 from Auburn University. Following graduation, she completed an ASHP-accredited Pharmacy Practice Residency at The Medical Center in Columbus, Georgia. She is a Board Certified Pharmacotherapy Specialist.
She has practiced as a clinical pharmacy specialist for Huntsville Hospital System in Huntsville, Alabama and as a Clinical Pharmacist for Columbus Regional Healthcare System in Columbus, Georgia. Prior to joining the faculty of HSOP in January 2007, she served the previous four years as Outpatient Clinical Pharmacy Coordinator for Columbus Regional Healthcare System.
As Executive Director of Experiential Programs for HSOP, Stevenson is responsible for direction of the Office of Experiential Programs Office (EPO) which includes the experiential curriculum, interprofessional education and the co-curriculum. The EPO team is responsible for coordinating student pharmacist training in various practice settings in the P1-P4 years. Lynn works closely with the EPO team, HSOP faculty and affiliate faculty to provide student pharmacists with the best possible training experiences.
Stevenson was the recipient of the inaugural HSOP Pinnacle Award in 2019. The Pinnacle Award is given to a HSOP Faculty or Staff member who exemplifies the School's core values of "Inspiration, Innovation, and Transformation." Before becoming a faculty member with HSOP in 2007, she was honored by the school as Preceptor of the Year in 2001. She also received the 2006 Community Service Award from the Georgia Society of Health-System Pharmacists.
---