Harrison School of Pharmacy
Faculty and Staff Directory
---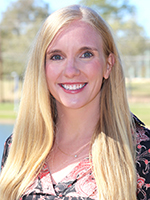 Mallory Hawkins
Director of Student Recruitment
Department: Academic Programs
Auburn University
Harrison School of Pharmacy
2320A Walker Building
Auburn, AL 36849
Email: mlw0019@auburn.edu
Phone: 334-844-8378
Fax: 334-844-8353
---
Bio
Education:
B.A., Communication - Auburn, 2012
M.Ed., Higher Education - West Alabama, 2019
---
Mallory Wilson Hawkins joined the Harrison School of Pharmacy as Director of Student Recruitment on June 1, 2021. She graduated from Auburn University in 2012 with a bachelor's degree in communications and completed her master's degree in higher education from the University of West Alabama in 2019. She was born and raised in Andalusia, Alabama.
Hawkins returned to Auburn in 2015 to work as the Student Services Coordinator at the then-newest branch of the Edward Via College of Osteopathic Medicine. In July of 2017, Hawkins assumed the role of Director of Admissions at VCOM-Auburn.
In that position, Hawkins thrived while tirelessly recruiting students to meet the college mission of preparing future physicians to meet the needs of rural and medically underserved populations. In addition to recruiting across the Southeast and conducting prospective student interviews, Hawkins represented the College at numerous regional and national conferences. Hawkins has a strong history of collaboration, working closely with professional organizations, community partners and the student ambassador program. Hawkins was also excited to have had the opportunity to participate in VCOM's international medical outreach trips.
Hawkins is proud to be an Auburn University graduate and is a steadfast Tigers fan. She is committed to Auburn University, the Auburn community and to mentoring and advising students interested in the pharmacy profession.
---