Harrison School of Pharmacy
Faculty and Staff Directory
---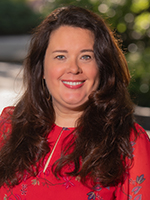 Miranda Andrus
Clinical Professor
Unit: Pharmacy Practice
UAB-Huntsville
Division of Family Medicine
301 Governors Drive
Huntsville, AL 35801
Email: andrumr@auburn.edu
Phone: 256-551-4458
---
---
Bio
Education:
---
Dr. Miranda Andrus currently serves as Clinical Professor of Pharmacy Practice with Auburn University Harrison School of Pharmacy and Clinical Professor of Family Medicine with the University of Alabama-Birmingham (UAB) School of Medicine in Huntsville. Dr. Andrus earned a Doctor of Pharmacy degree, graduating Magna Cum Laude, from the Samford University McWhorter School of Pharmacy in 1999. She completed a post-graduate specialty residency in Primary Care at the Durham VA Medical Center and UNC-Chapel Hill School of Pharmacy in 2000. In 2002, Dr. Andrus became a Board Certified Pharmacotherapy Specialist.
Dr. Andrus is currently (2018-2021) serving as treasurer on the board of regents of the American College of Clinical Pharmacists (ACCP). She served as chair of the ACCP Education and Training Practice and Research Network in 2006-2007 and has served on numerous ACCP national committees. In 2009 she received the distinction of Fellow of the American College of Clinical Pharmacy (FCCP).
---
Practice Site
Dr. Andrus practices at the UAB-Huntsville Family Medicine Center where she provides pharmacotherapy services to patients and actively educates medical residents and pharmacy students in the clinical setting. Dr. Andrus previously worked for HSOP in Tuscaloosa for four years, where she practiced in rural primary care. Her areas of interest include the scholarship of teaching and learning in experiential education, tobacco abuse and treatment, diabetes, hypertension and dyslipidemia.
---