Harrison School of Pharmacy
Faculty and Staff Directory
---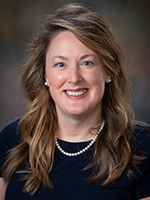 Rebecca Cummings
Professor of Practice
Unit: Academic Programs
Auburn University
Harrison School of Pharmacy
1330W Walker Building
Auburn, AL 36849
Email: rwc0034@auburn.edu
Phone: 334-844-8348
---
Bio
Education:
---
Rebecca Cummings, Pharm.D., is a Professor of Practice in the Academic Programs unit at the Harrison School of Pharmacy. She received her Pharm.D. from Samford University's McWhorter School of Pharmacy in 2002.
As a Professor of Practice, Dr. Cummings participates in the Practice Ready Curriculum with Pharm.D. students including in small and large group instruction, active delivery of educational content, and assessment of pharmacy related skills. Additionally, she precepts students in both active and simulated patient care activities, collaborates with other healthcare professionals to create and implement individualized patient care plans, utilizes an electronic health record to document all patient care activities, and identifies patients for pharmacist led interventions using population health metrics.
Following completion of her Pharm.D., Dr. Cummings completed an ASHP-accredited PGY1 residency at The Medical Center (now Piedmont Columbus Regional Midtown) in Columbus, Georgia. Following her residency, she stayed on staff at Piedmont Columbus Regional Midtown in various positions, including consultant pharmacist (2003-16), Emergency Preparedness pharmacist (2003-21), Quality and Administrative Services Manager (2013-16), Pharmacy Education Coordinator (2016-18), and Pharmacy Clinical Coordinator (2019-21).
Dr. Cummings also served as Residency Coordinator from 2016-21 and as PGY1 Residency Program Director from 2017-21. She served as Student Coordinator (2013-21) and coordinated IPPEs and APPEs for students rotating at Piedmont Columbus Regional Midtown from Auburn University, Mercer University, University of Georgia, and South University pharmacy schools.
She has remained involved in practice as a PRN Clinical Pharmacist with Piedmont Columbus Regional Midtown.
A native of Opelika, Rebecca lives there with her husband Tommy. In her free time, she enjoys traveling.
---