Harrison School of Pharmacy
Faculty and Staff Directory
---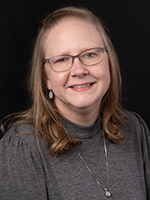 Rebecca Maxson
Associate Clinical Professor
Unit: Pharmacy Practice
Auburn University
Harrison School of Pharmacy
100 Centerview Drive
Birmingham, AL 35216
Email: maxsora@auburn.edu
Phone: 205-224-9172
Fax: 334-844-4410
---
---
Bio
Education:
B.S., Chemical Engineering - Auburn, 1991
M.S., Chemical Engineering - Auburn, 1993
Pharm.D. - Auburn, 2008
---
Areas of Interest
---
A three-time graduate from Auburn University, Dr. Rebecca Maxson earned a bachelor's degree in chemical engineering in 1991 and a master's in chemical engineering in 1993. Dr. Maxson then worked as a controls engineer in industry for 10 years before returning to The Plains to complete her pharmacy degree.
Dr. Maxson earned her Pharm.D. from HSOP in 2008 and went on to complete a PGY-1 residency at Methodist University Hospital in Memphis, Tennessee. Following her residency, she was a clinical pharmacy specialist at Princeton Baptist Medical Center in Birmingham from 2009-15. While at Princeton she rounded with the nephrology and palliative care services and was an active preceptor in Princeton's PGY-1 residency program.
Within HSOP's PRC, Dr. Maxson teaches in the areas of kidney disease and pain management.
---
Practice Site
Dr. Maxson currently practices pharmacy at the Chronic Kidney Disease (CKD) clinic which is located inside UAB's Kirklin Clinic. This clinic is a nurse-practitioner led clinic where we see patients with all levels of CKD and patients who developed acute kidney injury (AKI) while hospitalized at UAB.  Dr. Maxson cares for patients with the nurse practitioners and works closely with the clinic director on protocols and research projects for the clinic.
---