Harrison School of Pharmacy
Faculty and Staff Directory
---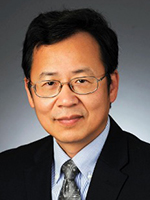 Xi Chen
Assistant Research Professor
Department: Drug Discovery and Development
Auburn University
Harrison School of Pharmacy
3211h Walker Building
Auburn, AL 36849
Email: xzc0059@auburn.edu
Phone: 334-844-8570
---
Bio
Education:
Ph.D., Medicinal Chemistry - State University of New York at Buffalo
---
Dr. Xi Chen received his Ph.D. in medicinal chemistry from SUNY Buffalo, and completed a postdoctoral fellowship at the University of Georgia. He was recruited to the Southern Research Institute (SoRI) in Birmingham, Alabama, where he served as Research Chemist from 1998-2012.
Chen has experience in the synthesis of chemically diverse compounds including nucleosides, nucleotides, heterocyclics, phospholipids, and peptides, as well as experience in liquid- and solid-phase combinatorial chemistry. While at SoRI, he designed and synthesized numerous novel small-molecule leads for anti-influenza, anti-tuberculosis, anti-viral, and anti-tumor drug development.
In 2013, Chen was recruited to the USA Mitchell Cancer Institute as Assistant Professor of Oncologic Sciences, where his research has focused on small-molecule inhibitors of "undruggable" targets for anti-cancer drug discovery and development. He has contributed pivotally to the discovery of novel molecules which selectively inhibit RAS and/or PDE-10, including multiple potential anti-cancer drug development leads for lung cancer, breast cancer and colon cancer.
Chen's research has focused on the optimization of potency and selectivity of a diverse collection of RAS-inhibitory prodrugs and bioisosteres, as well as the improvement of drug-like properties such as bioavailability, delivery and distribution.
In 2014, Chen co-founded ADT Pharmaceuticals along with co-founder colleagues Michael Boyd, Gary Piazza and Adam Keeton.
---