Auburn Pharmacist Spotlight: Takova Wallace-Gay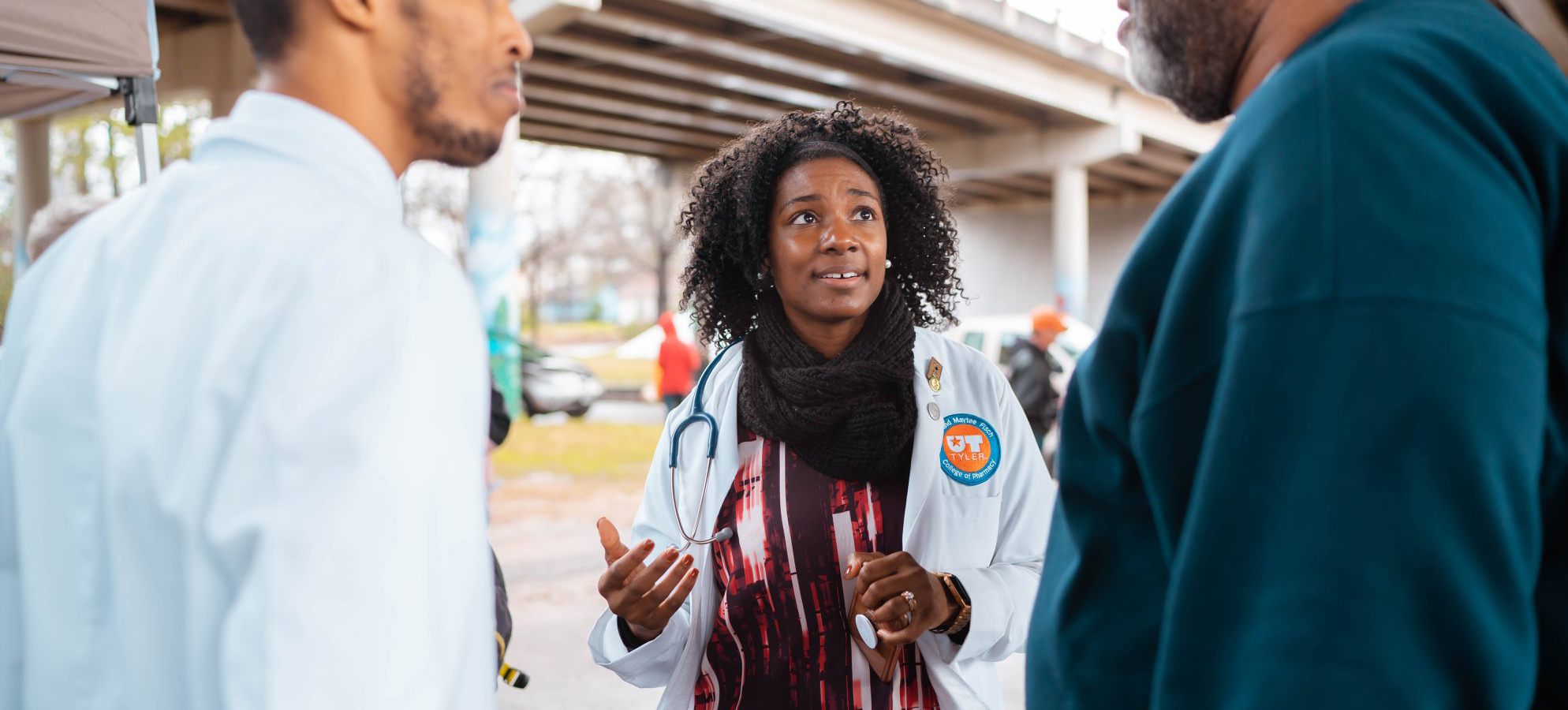 Dr. Takova Wallace-Gay '14 is a clinical assistant professor at the Fisch College of Pharmacy at the University of Texas at Tyler, and is the 2020 Texas Pharmacy Association Bowl of Hygeia recipient.
February 10, 2021
AUBURN, Alabama - A member of the Harrison School of Pharmacy Class of 2014, Dr. Takova Wallace-Gay is making a name for herself on faculty at the Fisch College of Pharmacy at the University of Texas at Tyler. Now in her fourth year as an assistant clinical professor, Wallace-Gay was recognized this summer with the Bowl of Hygeia from the Texas Pharmacy Association.
Wallace-Gay earned a Bachelor of Science degree from Tuskegee in 2010 before completing her Pharm.D. at HSOP in 2014. She went on to complete two residencies, the first at the Central Alabama Veterans Health Care System and a PGY-2 with Columbus Regional Health, Midtown Medical Center before moving on to UT Tyler.
Transitioning to academia was something Wallace-Gay always had the desire to do, but her experiences under ambulatory care faculty at HSOP solidified that decision.
"Early on, I was able to observe the ambulatory care model from Dr. Miranda Andrus and Dr. Haley Phillipe in Huntsville. My personal experiences and desires coupled with their leadership in this area helped me to make this decision very early in my fourth year," Wallace-Gay said. "I later had the opportunity to learn under the clerkship of Drs. Pamela Stamm and Lori Hornsby and these examples of clinical ambulatory care faculty positions served as validation for my decision to serve as an academic and ambulatory care pharmacist."
That desire to teach and mentor others has also taken a position in her practice areas as Wallace-Gay regularly leads medication and health safety information sessions for east Texas school children and underserved populations in Tyler.
"To me, focusing on this group helps plant seeds that they can nurture as they grow," Wallace-Gay said. "I have helped deliver point of care class sessions for health track students in high school and provided blood pressure and blood glucose screening for students and their caregiver. Additionally, these efforts led to an official partnership with a local school district, and I facilitated third and fourth grade student visits on campus where we utilized APhA medication safety educational tools and named them students pharmacists for a day."
She has also worked to establish an interprofessional clinic with Under the Bridge ministries to assist underserved members of the community. After seeing the need in the community, Wallace-Gay has worked to expand the service to reach more of those in need.
"I have always been concerned about how best to serve those who are in complex and unfortunate psychosocial and economic situations and as the UT Tyler SNPhA chapter advisor, we've been able to serve those underserved populations," Wallace-Gay said. "We started providing screening for individuals who congregate for mission services at Under the Bridge in Tyler and after noticing a grave need, I expanded this service to include medical, nursing, occupational therapy and dental hygiene learners and clinicians."
As with many others, with the onset of COVID-19, they had to take some time away to re-group and identify how best to proceed with the program. After a six-month break, the program started back in September with new procedures to counter the virus while serving the community.
"We are working towards stabilizing and expanding this service with hopes of helping people find the consistent help that they need," Wallace-Gay said. "Our long-term hope is that we can increase the frequency and provide more services in this setting."
For her efforts, Wallace-Gay was honored by the Texas Pharmacy Association with the Bowl of Hygeia, the award that recognizes a pharmacist who continually has demonstrated professional excellence and made significant public service contributions to their communities.
"I was very honored to have been nominated by a colleague and humbled to have received the award, joining the roster with so many incredible and service-oriented pharmacists," Wallace-Gay said. "I am relentless in my service efforts because this is where I feel that I have been blessed to make the most impact from community to collegiate service. So, to have others recognize my efforts on such a prestigious platform was a blessing and such an honor."
She has also taken an active role at Auburn, accepting a position on the Dean's Advisory Council, a group of Auburn alumni and friends who work together to support the vision and goals of HSOP.
"Being selected as a member of the DAC is such an honor as this role allows me to contribute to my alma mater by providing insight on aspects such as curricular structure, recruitment and research," Wallace-Gay said. "As an alumnus, I have a vested interest in the well-being of HSOP and students receiving an education through the program. I appreciate being able to provide an outside perspective to the academic processes that I know the faculty and staff of the HSOP are working tirelessly to perfect."
Looking back on her time on the Plains, Wallace-Gay points out that she was fortunate to be around for Cam Newton and the 2010 National Championship, but points out it is the Auburn Family and relationships that make the lasting impact.
"Being there during the Cam Newton era enhanced my involvement in the campus culture. Some of my favorite memories are from walking to campus for tailgating and greeting everyone with a 'War Eagle!' along the way," Wallace-Gay said. "As most pharmacy students do, I spent most of my time in the Walker building attending class, studying or participating in various events. Because of this, I gained some extremely valuable relationships during my years in the program."
----------
About the Harrison School of Pharmacy
Auburn University's Harrison School of Pharmacy is ranked among the top 25 percent of all pharmacy schools in the United States, according to U.S. News & World Report. Fully accredited by the Accreditation Council for Pharmacy Education (ACPE), the School offers doctoral degrees in pharmacy (Pharm.D.) and pharmaceutical sciences (Ph.D.) while also offering a master's in pharmaceutical sciences. The School's commitment to world-class scholarship and interdisciplinary research speaks to Auburn's overarching Carnegie R1 designation that places Auburn among the top 100 doctoral research universities in the nation. For more information about the School, please call 334.844.8348 or visit http://pharmacy.auburn.edu.
Making Medications Work Through Innovative Research, Education and Patient Care
---