Piazza joins HSOP as Department Head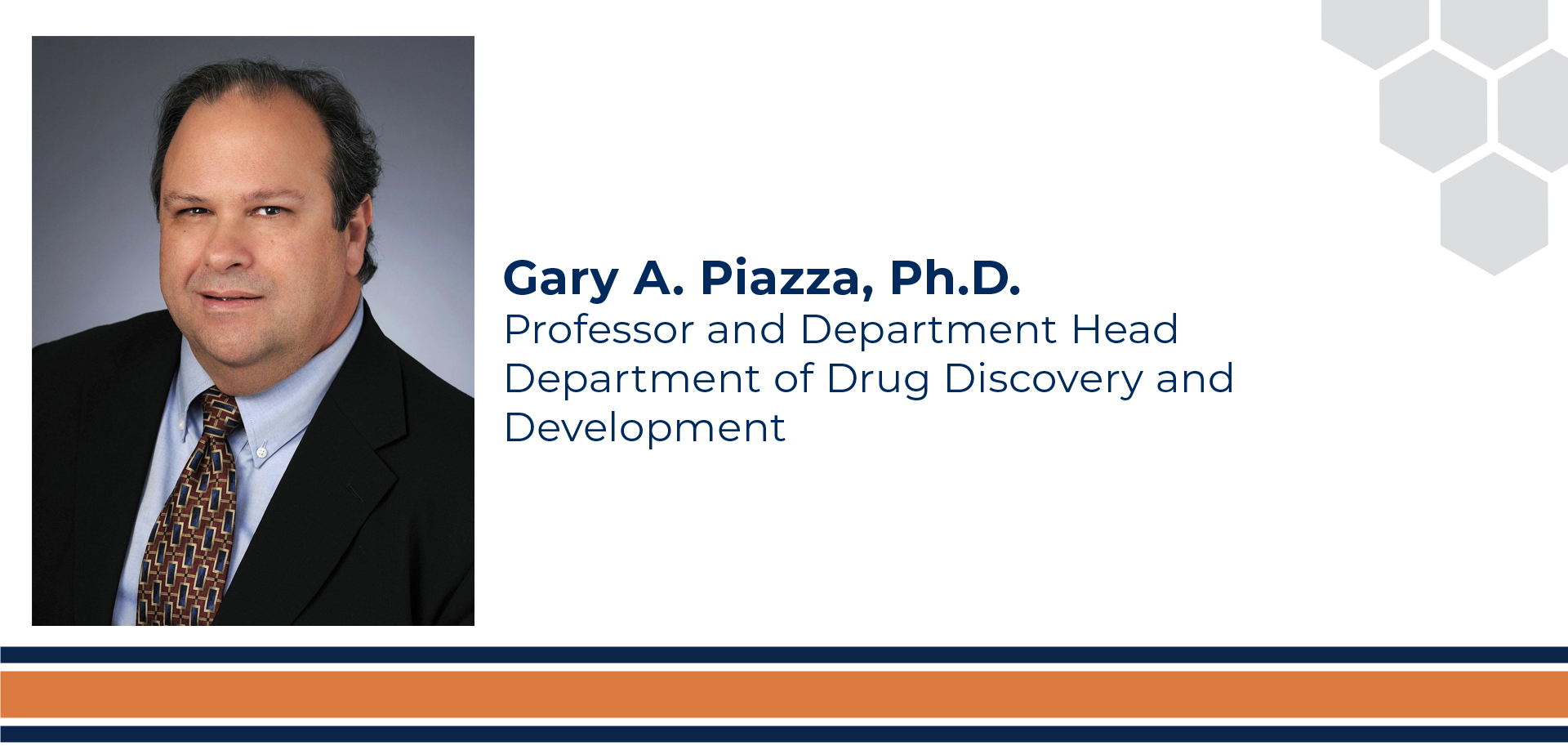 March 23, 2021
AUBURN, Alabama - Dr. Gary Piazza has been named the department head and professor for the Harrison School of Pharmacy's Department of Drug Discovery and Development, Dean Richard Hansen announced Tuesday. A highly-respected cancer investigator with more than 30 years in the field, Piazza comes to Auburn after 10 years at the Mitchell Cancer Institute at the University of South Alabama.
"We are extremely excited to welcome Dr. Piazza to the Harrison School of Pharmacy family," Hansen said. "He is an established leader and innovator in his field and will enhance cancer research within the Harrison School of Pharmacy and Auburn University."
In his most recent role, Piazza served as professor of oncologic science and pharmacology, program director of chemoprevention and experimental therapeutics and chief of the Drug Discovery and Development Research Center at South Alabama's Mitchell Cancer Institute. With his wealth of experience in cancer research, Hansen is enthusiastic about his addition to the school's faculty.
"Dr. Piazza has a rich history in leading drug discovery teams throughout his distinguished career," Hansen said. "With the knowledge and experience his team brings, we have the opportunity to enhance and develop our work and really accelerate our aspirations in this area."
For Piazza, the environment at Auburn, along with its commitment to education and research were motivating factors to move his lab to the Plains.
"I believe the position at the Harrison School of Pharmacy has the potential to provide an outstanding environment to grow my research program," Piazza said. "It will also allow me to have a positive impact on others, especially by mentoring junior faculty and students. I am excited to join the Auburn Family, with its high standards for education, research and its entrepreneurial spirit."
Piazza is a 1981 graduate of Dominican University in Chicago, earning a bachelor's degree in biology and psychology. He then moved to Alabama and completed a Ph.D. in pharmacology from the University of Alabama at Birmingham, or UAB, in 1985.
Upon graduation, Piazza completed postdoctoral training at the Fox Chase Cancer Center in 1987. He then served as a research assistant professor at Brown University from 1989-91.
Piazza entered the pharmaceutical industry with the Proctor and Gamble Company in Cincinnati as a staff scientist from 1991-95 and as director of biology with Cell Pathways, Inc. in Denver from 1995-2001. He then returned to academia as director of pharmacology at the Institute of Drug Development and adjunct associate professor at the Texas Health Science Center in San Antonio from 2001-03.
From 2003-11, Piazza joined Southern Research where he served as the principal investigator and program director for a National Institutes of Health Molecular Libraries Screening Center and adjunct professor at UAB until 2011. From there, Piazza moved to his most recent appointments at the University of South Alabama.
With extensive experience and expertise in the field, as well as a familiarity with peer institutions in the state, Piazza is excited for potential collaborations and growth within the department.
"For the past 20 years, I have worked with many talented scientists across the state at UAB, South Alabama and Alabama, and feel I know the drug discovery and development landscape in the state quite well," Piazza said. "I hope to continue these local collaborations as well as with other investigators throughout the world with the intent of not only strengthening my research, but also to bring in others from the Department of Drug Discovery and Development.
"The diverse expertise in pharmaceutical research is a clear strength of the department that could lead to tremendous synergy within the state and for Auburn to become a world-class leader in the field of drug discovery and development."
Piazza has been awarded numerous National Institutes of Health/National Cancer Institute grants as a principal investigator with at least three R01s running concurrently since 2011. He has a broad research background in cancer biology with interests in anti-cancer drug discovery and development.
He has more than 130 publications and is an inventor on numerous patents. Three distinct classes of experimental anticancer compounds emerged from this research that are in various stages of preclinical development. The compounds selectively inhibit the activity of oncoproteins, such as RAS or β-catenin that are mutated and drive numerous malignancies, including colon, lung, ovarian, breast and pancreatic cancers. Piazza is also a Fellow of the National Academy of Inventors and co-founder of ADT Pharmaceuticals LLC.
Joining Piazza in his move to Auburn will be his lab research team, including Dr. Yulia Maxuitenko, Dr. Adam Keeton, Dr. Xi Chen and lab manager Kristy Berry.
The Department of Drug Discovery and Development at the Harrison School of Pharmacy is a diverse and dynamic unit that focuses on several therapeutic areas, including diabetes, cardiovascular diseases, infectious diseases, neurodegenerative disorders, and oncology. Investigators are generating lead molecules with therapeutic potential, elucidating mechanisms of disease, optimizing drug delivery strategies and studying drug disposition.
The department is comprised of more than 20 faculty members in the fields of pharmacology, pharmaceutics and medicinal chemistry with labs located in the Walker Building and the state-of-the-art Pharmacy Research Building.
----------
About the Harrison School of Pharmacy
Auburn University's Harrison School of Pharmacy is ranked among the top 25 percent of all pharmacy schools in the United States, according to U.S. News & World Report. Fully accredited by the Accreditation Council for Pharmacy Education (ACPE), the School offers doctoral degrees in pharmacy (Pharm.D.) and pharmaceutical sciences (Ph.D.) while also offering a master's in pharmaceutical sciences. The School's commitment to world-class scholarship and interdisciplinary research speaks to Auburn's overarching Carnegie R1 designation that places Auburn among the top 100 doctoral research universities in the nation. For more information about the School, please call 334.844.8348 or visit http://pharmacy.auburn.edu.
Making Medications Work Through Innovative Research, Education and Patient Care
---