Maddie Sheffield: 2021 President's Award Winner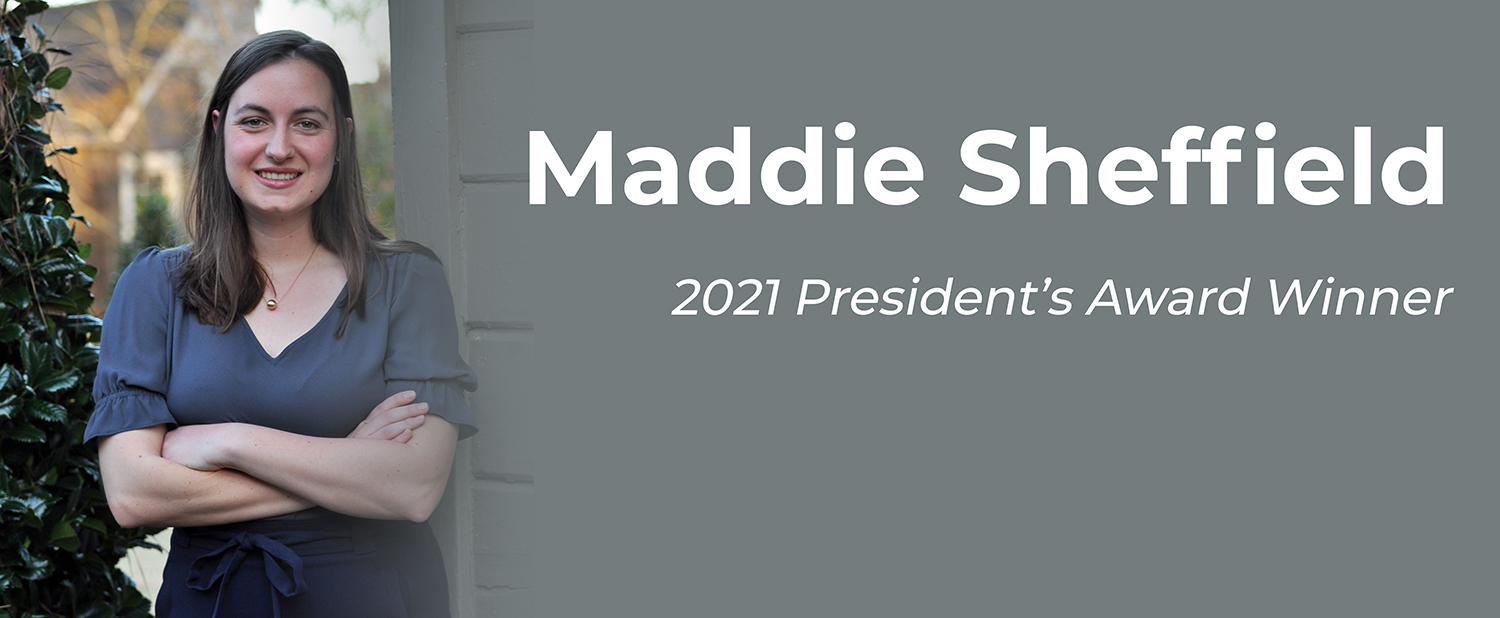 April 30, 2021
AUBURN, Alabama - Coming from a health care family, Maddie Sheffield was able to see the impact her family members were able to make in their communities and knew she wanted to help in the same way.
That dream takes its next step May 3 as Sheffield, this year's school recipient of the Auburn University President's Award, walks across the stage at the 2021 Harrison School of Pharmacy Commencement. She is one of 151 graduate earning doctor of pharmacy degrees, along with 13 graduate students earning four master's degrees and nine doctor of philosophy degrees.
The President's Award recognizes a student from each school or college that possesses outstanding qualities of leadership, citizenship, character and promise of professional ability.
"It is such an honor for me to be recognized for these qualities, especially when I am representing the Harrison School of Pharmacy's faculty, staff, and students," Sheffield said. "The environment at HSOP is supporting and challenging, and it certainly pushed me to achieve my goals and fulfill these qualities. I have gotten to this point with the help from peer and faculty mentors that have pushed me to be my very best and have led by example. I aim to continue to grow and present these qualities throughout my career."
For Sheffield, her desire to attend Auburn came after visiting her older sister on the Plains. After that experience, she knew she wanted to be a part of the Auburn Family.
"I loved the family community that was available at Auburn and I knew that this community extended to the pharmacy school," Sheffield said. "I wanted that supportive environment as I went through the rigorous education of pharmacy school and started my career. I knew that Harrison School of Pharmacy would provide me with everything I needed to pursue any career path."
Reflecting on her time at the Harrison School of Pharmacy, Sheffield remembers time with the HSOP Ambassadors and being a part of a Hargreaves Cup victory in 2019. She also fondly remembers time with her patient care team and the relationships with other students and patients.
"I love my team members from my class, and it was always a great break from work to talk with them weekly," Sheffield said. "I also loved going to see patients, making an impact in their care, teaching students younger than me and learning from students older than me. It really impacted my clinical knowledge and confidence in working with patients."
That clinical knowledge and experience was also amplified this past year by Dr. Tom Achey, an HSOP preceptor and assistant director of pharmacy at Princeton Baptist Medical Center in Birmingham, and Dr. Rebecca Maxson, an assistant clinical professor in HSOP's Department of Pharmacy Practice who also precepts students at her practice site in Birmingham.
"Dr. Achey spent significant time teaching me about the pharmacy industry and administration, which impacted my view of pharmacy as a whole and will allow me to be a truly well-rounded pharmacist," Sheffield said. "Dr. Maxson taught me to go beyond the medication when caring for patients, and I will be able to fully care for patients going forward because of this.
"They both spent significant time helping me through the residency application process with my CV, letters of recommendation and endless career advice, and I would not be at this next step without them."
That next step will be to Emory University Hospital, where she matched for a PGY1 residency program. She will start in her new role June 21. Sheffield encouraged to pursue the position at Emory after shadowing a solid organ transplant pharmacist there during her second year of pharmacy school. At Emory, she is looking forward to the opportunities there and the wide variety of rotations, such as solid organ transplant and oncology.
"When interviewing there, I could tell that the environment was supportive and challenging, and I knew the independence they offered would fully prepare me to be a great pharmacist," Sheffield said. "The one-on-one mentorship available especially appealed to me because I know the year ahead will be rigorous. I am primarily interested in critical care and internal medicine, and Emory offers PGY2s in both areas and will give me a great foundation in both."
Upon completion of her residency and a potential PGY2 year, Sheffield hopes to pursue a career as a clinical specialist that participates in direct patient care, precepts students and conducts research to directly impact her patients.
That all begins with the steps she takes across the stage on May 3. Even after she completed her bachelor's degree during her first year of pharmacy school, she elected not to walk, saving that moment for the day she becomes a pharmacist.
"This is the culmination of my hard work for seven years as well as the support that I have received from my friends, family and the faculty and staff at Harrison School of Pharmacy," Sheffield said. "It will mark the beginning of my career as a pharmacist, where I hope to impact patients and students as I have seen my preceptors do this year."
----------
About the Harrison School of Pharmacy
Auburn University's Harrison School of Pharmacy is ranked among the top 25 percent of all pharmacy schools in the United States, according to U.S. News & World Report. Fully accredited by the Accreditation Council for Pharmacy Education (ACPE), the School offers doctoral degrees in pharmacy (Pharm.D.) and pharmaceutical sciences (Ph.D.) while also offering a master's in pharmaceutical sciences. The School's commitment to world-class scholarship and interdisciplinary research speaks to Auburn's overarching Carnegie R1 designation that places Auburn among the top 100 doctoral research universities in the nation. For more information about the School, please call 334.844.8348 or visit http://pharmacy.auburn.edu.
Making Medications Work Through Innovative Research, Education and Patient Care
---