Three HSOP Students Named AFPE Pre-Doctoral Fellows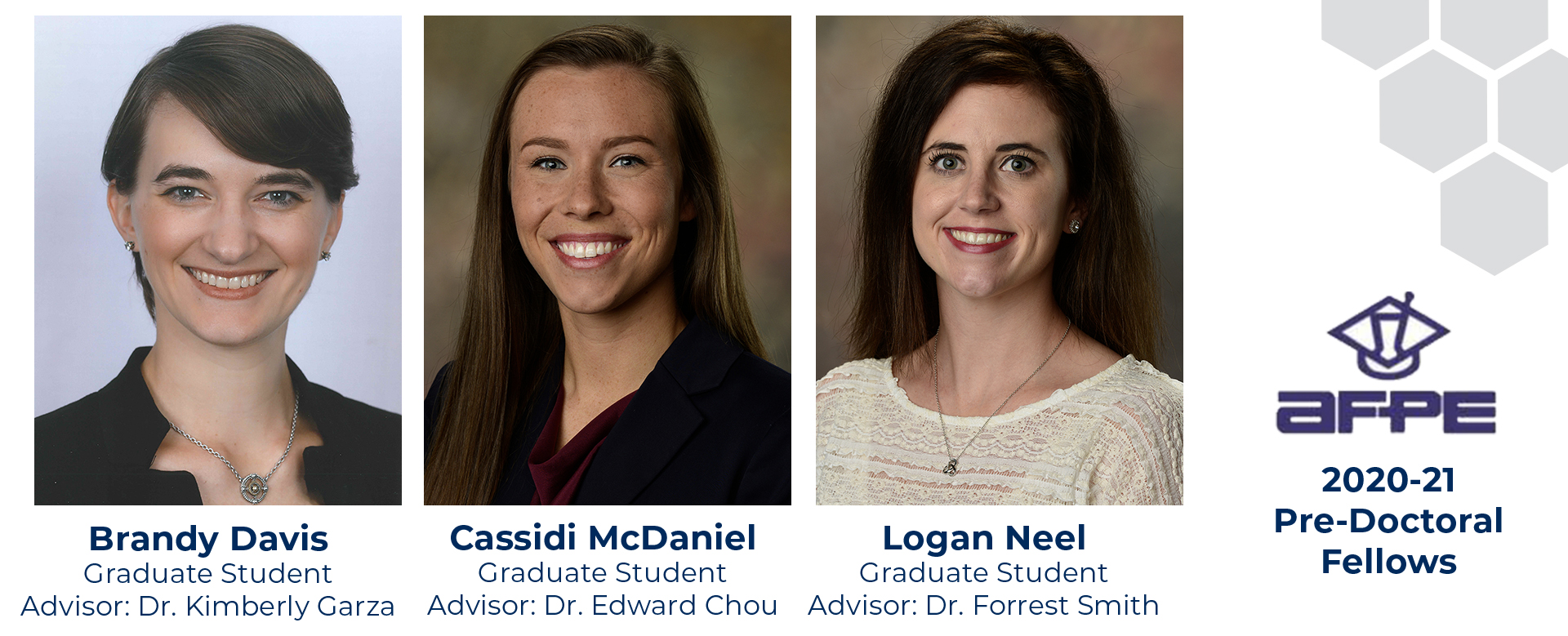 ---
AUBURN, Alabama- Three Harrison School of Pharmacy graduate students recently received prestigious pre-doctoral fellowships from the American Foundation for Pharmaceutical Education, or AFPE.
Earning the fellowships were Brandy Davis, Cassidi McDaniel and Logan Neel. Davis and McDaniel received fellowships in the Social and Administrative Sciences category while Neel is in the Drug Discovery/Medicinal Chemistry category. Just 21 pre-doctoral fellowships were awarded nationwide. The primary goal of the AFPE Pre-Doctoral Research Fellowship program is to positively impact patient and public health by supporting high performing students who possess the skill and aptitude to become outstanding scientists and leaders in the pharmaceutical industry, academia and the government/nonprofit sectors.
"The AFPE pre-doctoral fellowship is a great honor and is a reflection on the hard work and meaningful research produced by our students," said Richard A. Hansen, dean of the Harrison School of Pharmacy. "This is the fourth year in a row for HSOP to have a student selected and the third year in a row to get three students in the program. This is very exciting and further shows why Auburn is a premier destination for pharmacy education."
Davis, a Ph.D. student pursuing the Health Outcomes Research and Policy option, is working under Dr. Kimberly Garza on a project titled "Implementing a depression screening and referral service in rural community pharmacies: A mixed methods comparative case study."
The purpose of this study is to examine and compare strategies used to implement depression screening services in rural community pharmacies.
"We will use a comparative case study approach in order to gain an in-depth understanding of preferred strategies used by rural pharmacists as well as barriers and facilitators to said strategies," said Davis. "The study results will empower community pharmacists in rural settings to provide depression screening services to patients by giving a detailed description of which implementation strategies are preferred and effective."
McDaniel, a Ph.D. student pursuing the Health Outcomes Research and Policy option, is working under Dr. C. Edward Chou on a project titled "Improving access to quality care for rural residents with diabetes: developing a framework for care transitions and policy implications."
The project aims to develop a transitions of care framework for patients with diabetes, along with stipulations for rural residents, impacting research, clinical practice and policy. Findings will assist the design of a transitions of care program. The program will be pilot tested in clinical practice to determine the effect on hospital readmission rates.
"I hope to improve transitions of care and provide further direction towards minimizing the economic and humanistic burden of hospital readmission rates among patients with diabetes, especially those residing in rural communities, through my research," said McDaniel.
Neel, a Ph.D. student pursuing the Medicinal Chemistry option, is working under Dr. Forrest Smith on a project titled "Computational design and synthesis of novel cannabinoid receptor 2 selective agonists."
Neel is receiving the fellowship for a second year, furthering her work that includes using computational modeling in order to design selective cannabinoid receptor 2, or CB2, agonists.
"The computational design of a three-dimensional protein, CB2, will allow for a better understanding of the active site," said Neel. "The CB2 model will be a predicted structure based on a known crystal structure with high sequence identities compared to CB2. Once an accurate model has been created, it is a goal for the model to be able to depict between an agonist and an antagonist. Another goal would be to design a selective agonist with a high affinity for the CB2 receptor and to synthesize the compound within the laboratory."
---
----------
About the Harrison School of Pharmacy
Auburn University's Harrison School of Pharmacy is ranked among the top 25 percent of all pharmacy schools in the United States, according to U.S. News & World Report. Fully accredited by the Accreditation Council for Pharmacy Education (ACPE), the School offers doctoral degrees in pharmacy (Pharm.D.) and pharmaceutical sciences (Ph.D.) while also offering a master's in pharmaceutical sciences. The School's commitment to world-class scholarship and interdisciplinary research speaks to Auburn's overarching Carnegie R1 designation that places Auburn among the top 100 doctoral research universities in the nation. For more information about the School, please call 334.844.8348 or visit http://pharmacy.auburn.edu.
Making Medications Work Through Innovative Research, Education and Patient Care
---