HSOP Class of 2024 welcomed with new-look orientation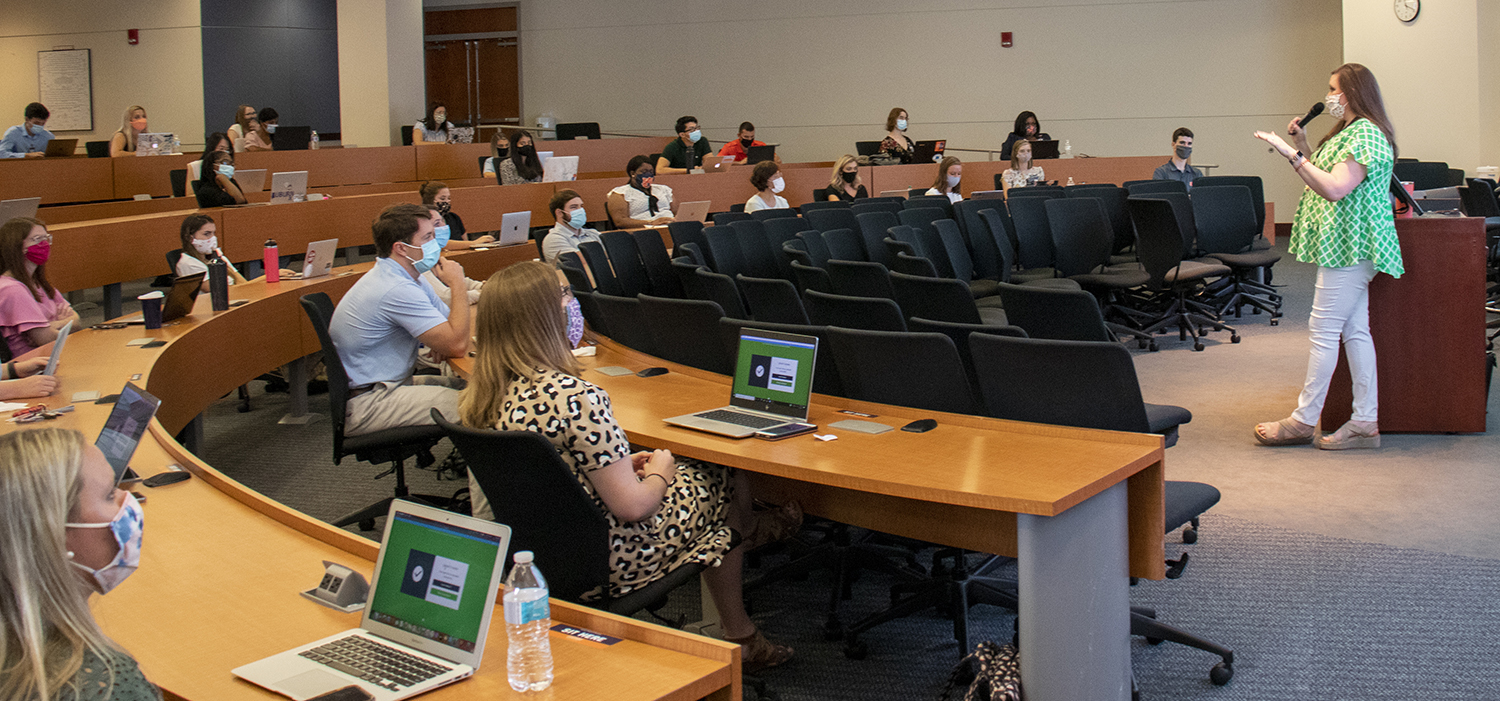 P1 Curriculum Coordinator Dr. Lindsey Moseley addresses students during orientation.
---
AUBURN, Alabama- The Harrison School of Pharmacy welcomed members of its Class of 2024 to campus last week as orientation for the first-year students began. Orientation looked different than in years past with social distancing and virtual learning integrated into the delivery of the instruction.
Even with the changes, the Harrison School of Pharmacy, or HSOP, was able to push through and provide an innovative learning experience without sacrificing the quality of the content.
"Extensive work was done to ensure that each class within HSOP has appropriate time on campus in this blended delivery model," said Dr. Brad Wright, Hill Crest Associate Clinical Professor and director of the professional program. "We wanted to make sure we start the orientation experience strong and finish strong; therefore, the decision was made to bring students on campus Monday and Friday morning as this helps enhance the entire orientation experience. The orientation team worked hard to ensure that the days on campus include meaningful activities to engage students in their orientation experience."
The week-long orientation began with students on their respective campuses in Auburn and Mobile. Six classrooms were utilized, three on each campus, to provide proper social distancing along with the required face masks.
The week's content covered a broad spectrum of information from learning more about the pharmacy profession to specifics of daily life as a pharmacy student.
"The first-year students are introduced to many aspects of the Harrison School of Pharmacy during the week including the curriculum, student organizations, advocacy and resilience," said Dr. Karen Marlowe, Davis Professor and assistant dean on the Mobile campus. "The educational model is designed to follow the same types of sessions and activities that will be used throughout the curriculum to help the students begin to adapt the modes of learning used throughout their years at HSOP. This week sets the foundation for the rest of the year."
---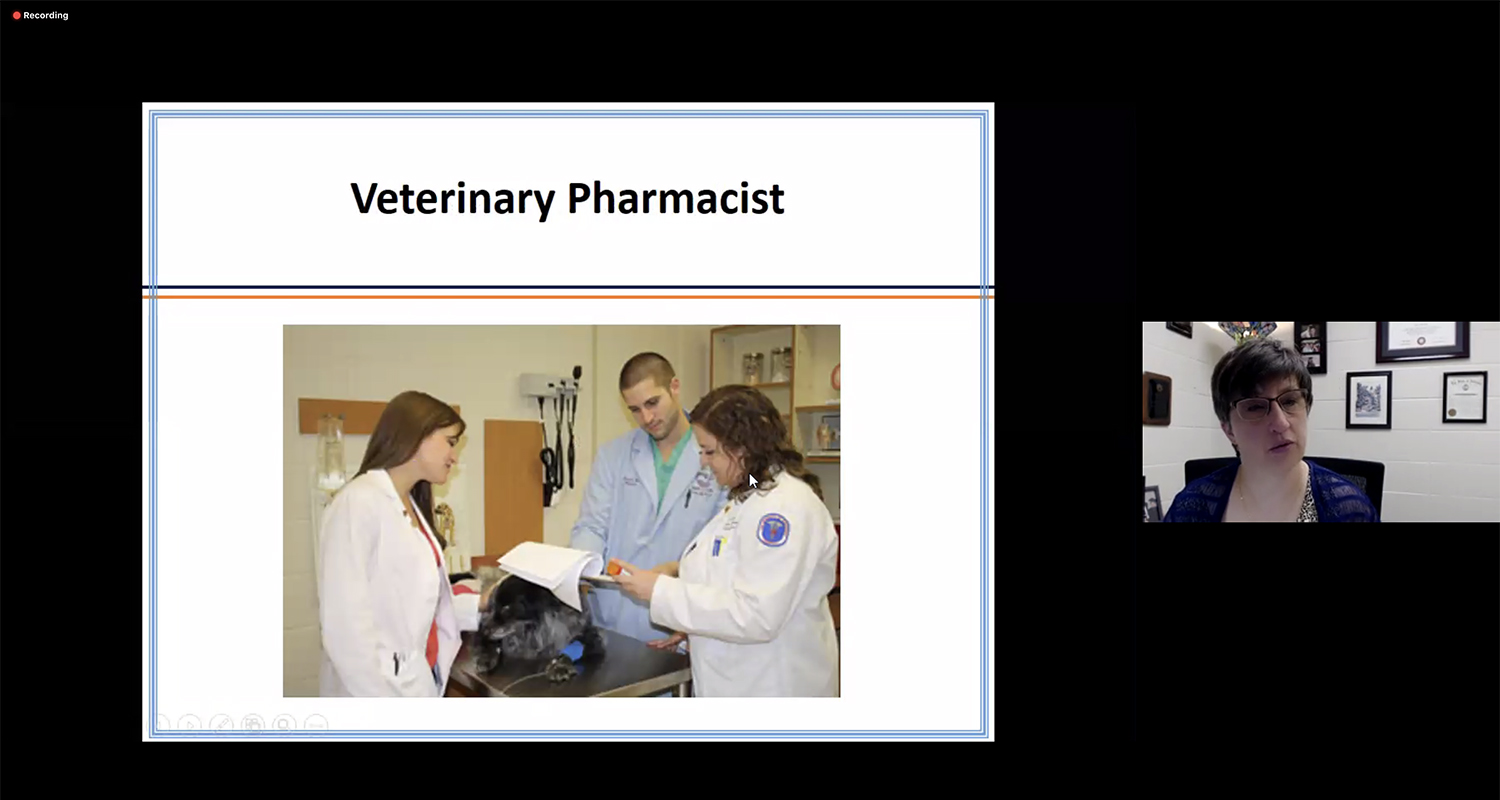 All virtual instruction during orientation week was delivered live by HSOP faculty.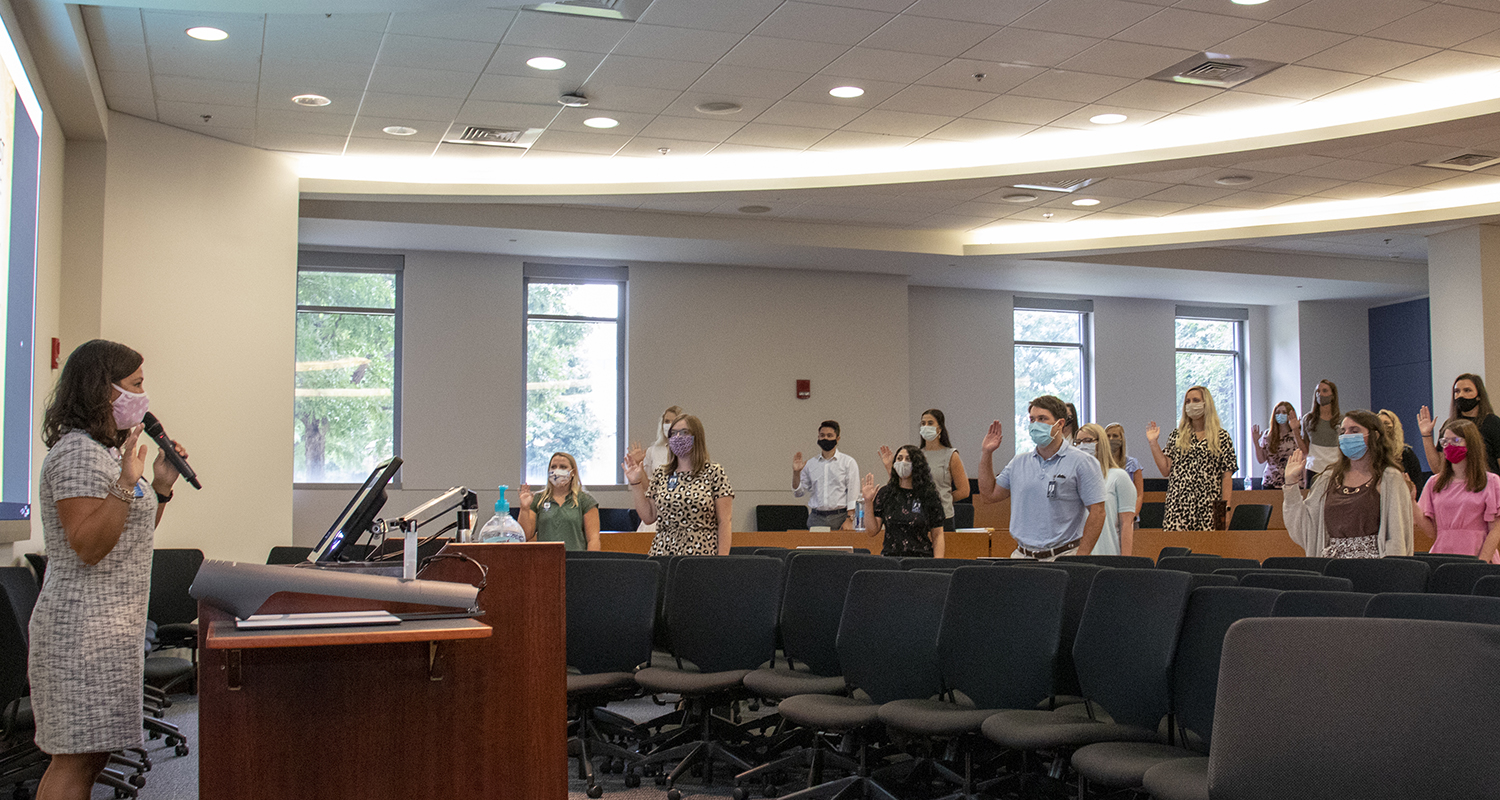 Student Council President Lauren Campisi administers the Oath of a Pharmacist.
---
Even with the challenges posed by the COVID-19 pandemic, students were appreciative of the efforts to provide the best orientation experience as possible.
"I really appreciate the faculty doing everything in their power to reduce the spread of COVID," said Katie Couture, a first-year student from Surfside Beach, South Carolina. "Of course, in-person classes are always ideal, but I really appreciate the adaptability provided by being able to use Zoom. I don't feel like anything is lost in terms of communication and I think as P1s being introduced to teamwork via Zoom this early in orientation will just work to our advantage navigating our P1 year as a team while learning in a blended format."
Zoom videoconferencing was utilized for virtual instruction throughout most of the week. All instruction was offered live and included faculty at practice sites in Auburn, Mobile, Huntsville, Tuscaloosa, Mississippi and Georgia, as well as special guest speakers.
With faculty stationed at practice sites around the state, the utilization of Zoom was not a new concept to HSOP faculty as they regularly use the technology to connect with students on the Auburn and Mobile campuses.
"I have been an off-site faculty member my entire career, whether in Mobile or Huntsville. Since the day I started at HSOP, it has been clear that the school embraces technology to keep faculty and students connected across the state of Alabama," said Wright. "As a result of this culture, I have always felt connected to the main campus, other faculty and our students even though I am off-site. This all helped HSOP transition to a remote delivery model in the spring and has helped the school plan a strong blended delivery model that also includes remote delivery this fall."
While Zoom and other programs can seem one-sided with a speaker and a viewer, faculty use a variety of resources to make the content interactive and engaging. Items like Poll Everywhere, chats, discussion forums and Zoom breakout rooms were used to foster this engagement, as well as a series of team building exercises and group projects.
"During orientation, we enjoyed several types of team building from ice breakers on the first day, to learning about the impact of learning and leadership styles, to asking students to complete group projects during the week," said Marlowe. "We want to model early on the importance of being a team-ready pharmacist."
---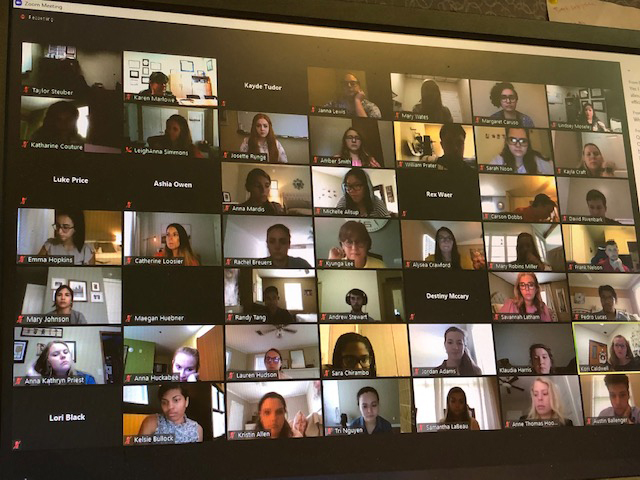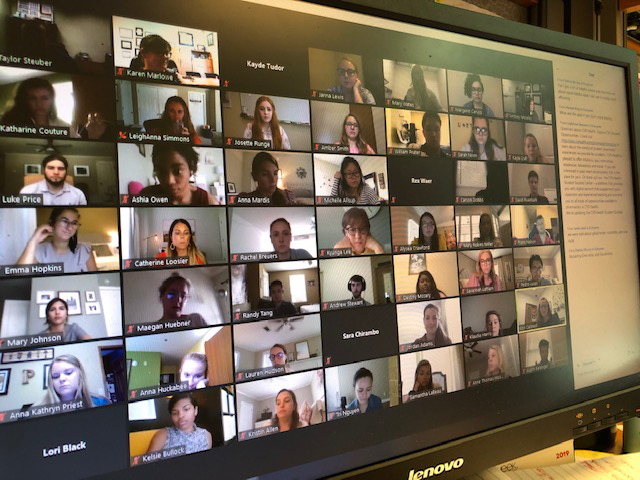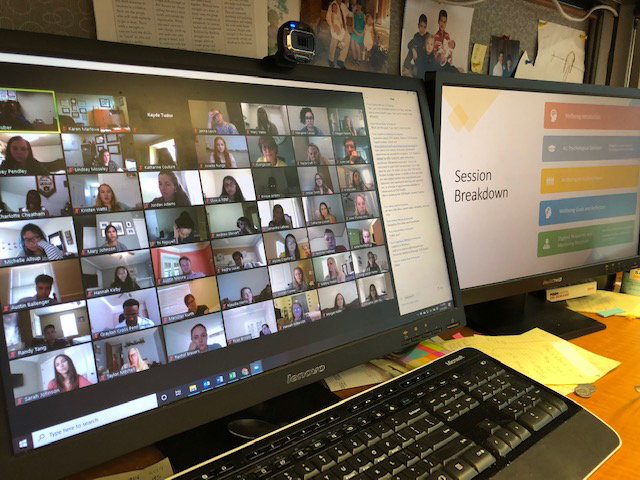 Students in class descussion as part of a Zoom-delivered class.
---
From a student perspective, going through this type of orientation prepares them for what is to come in the fall semester as the hybrid nature of instruction carries over. The semester will rely on virtual learning for much of the material while bringing students on campus for labs, assessments and other activities that call for in-person interaction.
"The structure and mixed nature of instruction has been very enjoyable. The Zoom meetings have been incredibly organized, much more so than any undergrad class I had in the spring or any organizational meeting I have been a part of," said David Rivenbark, a first-year student from Lubbock, Texas. "There was a good balance in each session between listening to faculty and breaking out into group rooms. Overall, I have been incredibly impressed with how well organized and prepared HSOP has been."
The Class of 2024 is made up of 131 students with 110 on the Auburn campus and 21 on the Mobile campus. The group brings a diverse background to HSOP as the class is made up of students from 12 different states, including Alabama, Florida, Georgia, Hawaii, Illinois, North Carolina, New York, Oklahoma, South Carolina, Tennessee, Texas and Virginia, as well as one from Vietnam. Members of the class also come to Auburn from 28 different colleges and universities.
---
----------
About the Harrison School of Pharmacy
Auburn University's Harrison School of Pharmacy is ranked among the top 25 percent of all pharmacy schools in the United States, according to U.S. News & World Report. Fully accredited by the Accreditation Council for Pharmacy Education (ACPE), the School offers doctoral degrees in pharmacy (Pharm.D.) and pharmaceutical sciences (Ph.D.) while also offering a master's in pharmaceutical sciences. The School's commitment to world-class scholarship and interdisciplinary research speaks to Auburn's overarching Carnegie R1 designation that places Auburn among the top 100 doctoral research universities in the nation. For more information about the School, please call 334.844.8348 or visit http://pharmacy.auburn.edu.
Making Medications Work Through Innovative Research, Education and Patient Care
---