Ralph Sorrell named to APA Hall of Fame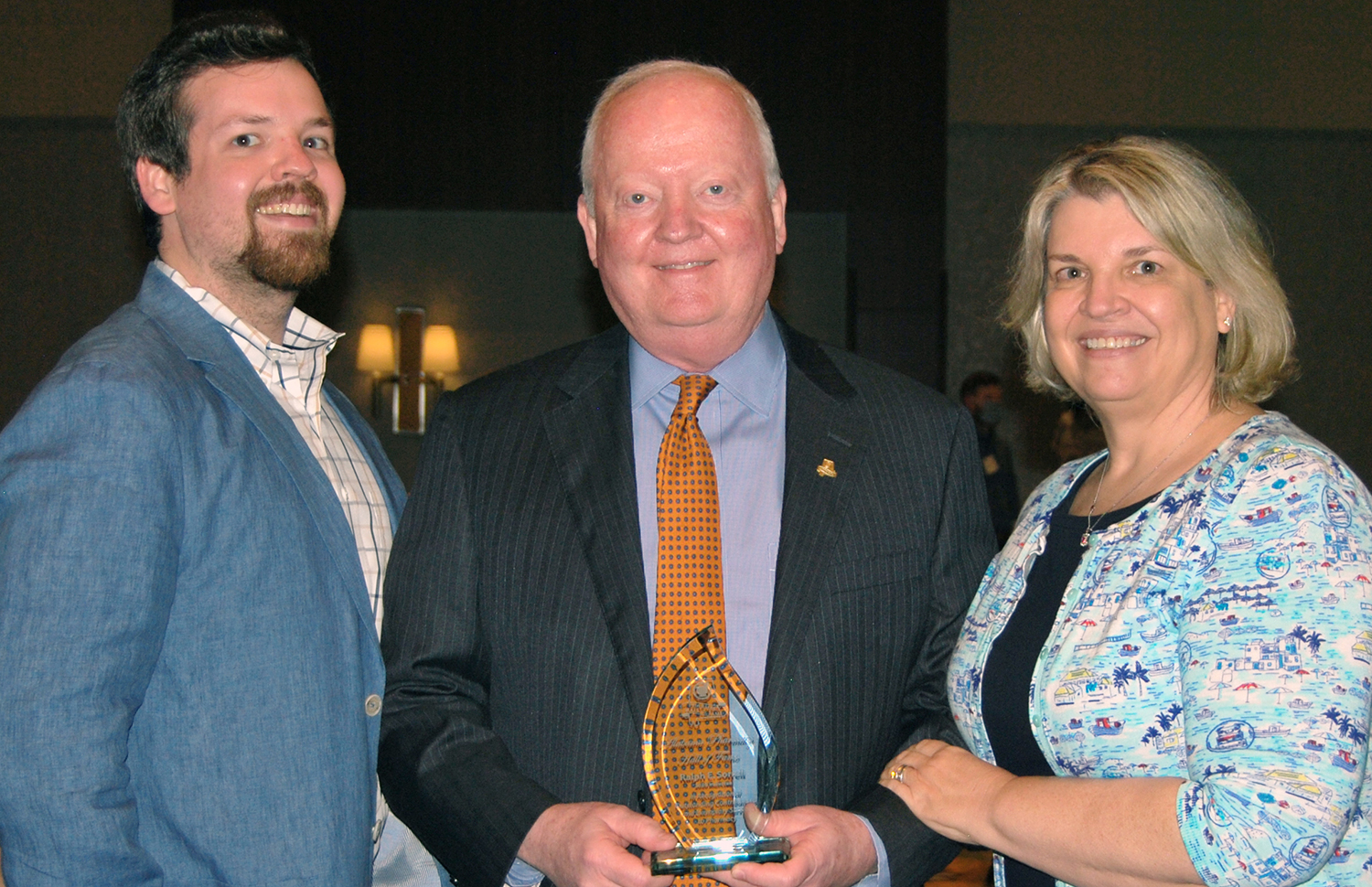 Ralph Sorrell (center) with his son Allen and wife Becky at APA's 139th Annual Meeting.
September 30, 2020
AUBURN, Alabama - Harrison School of Pharmacy alumnus Ralph Sorrell was inducted into the Alabama Pharmacy Hall of Fame at the Alabama Pharmacy Association's (APA) 139th Annual Meeting and Awards Luncheon held at the Renaissance Montgomery Hotel and Spa at the Convention Center in Montgomery, Alabama.
"The sheer number of pharmacists who have been positively impacted by Ralph Sorrell's mentorship is tremendous," said Louise Jones, APA chief executive officer. "His leadership in the profession is undeniable and he is most deserving of this recognition."
A native of Pelham, Alabama, Sorrell earned his degree from the Harrison School of Pharmacy in 1980. While at Auburn, he was involved in Phi Delta Chi pharmacy fraternity and served as National Vice-President of Phi Lambda Sigma Leadership Society.
Sorrell's career started out at Mobile Infirmary Medical Center where he worked for six years. While practicing there, he developed an interest in providing IV (parenteral) treatment to patients in the home care setting, something the practice act did not cover at the time. Ambulance companies were considering getting into the business which pharmacy viewed as professional practice. Ralph led an APA committee to propose and write the first set of guidelines and regulations for parenteral services in Alabama.
He established Total Parenteral Services (TPS) in 1984, one of the first pharmacies in the state offering IV treatment to patients in the home care setting. In 1986 Ralph sold his interest in TPS and joined in pharmacy practice with Gerald Calma at Ritch's Pharmacy and Ritch's Vital Care in Mountain Brook. Sorrell and Keith Conner purchased the pharmacies from Calma in 1997, where Sorrell still practices today.
It was at the 1985 APA annual convention that Sorrell's path crossed with that of young pharmacist, Rebecca Jones. They were introduced by Becky's college roommate and both had to deliver reports at the first general session. Approximately a year later they were engaged on Jubilee Point at the Grand Hotel in Point Clear. Three months later, the two were married and today have two children, Allen and Grace.
Ralph and Becky are continuous supporters of their alma mata as members of the Foy 25 year Society, the Samford Society, HSOP's Apothecary Society and Prescription Club, most recently establishing the Reeve Sorrell Community Pharmacy Annual Scholarship.
A member of APA since 1980, Sorrell has held numerous leadership roles including the APA Research and Education Foundation Board president and service on the committee that established the APA Scholarship Foundation Endowment Campaign. As APA President from 1995-96, Sorrell was instrumental in the development of young pharmacist programs to foster and encourage new practitioners to become engaged in the association and their profession.
Sorrell became interested in a position on the State Board of Pharmacy early in his career due to mentors who served on the board. He witnessed firsthand how their work protected and improved the quality of pharmacy care for the citizens of Alabama. Now serving as President of the State Board, he has had that same opportunity himself and will complete a five-year term in December.
As a member of the American Pharmacists Association (APhA) and the National Community Pharmacists Association (NCPA), Sorrell has served as a member of their House of Delegates for more than ten years, representing Alabama pharmacists in a national forum. He is also proud to have been a member and president of the Jefferson County Pharmaceutical Association.
Sorrell has been recognized for his work and service with the 1989 Marlon-Merrell Dow Distinguished Young Pharmacist Award; 1995 NARD Leadership Award; 1996 Merck Pharmacist Award; 1996 J. Wayne Staggs Distinguished Service Award; Bristol Myers Pharmacy Leadership Award; 2015 APA President's Mate Award; and the McKesson Leadership Award.
The Alabama Pharmacy Hall of Fame was established in 2015 and acknowledges achievements by those engaged in the profession of pharmacy, whether alive or deceased, and recognizes their outstanding contributions or exemplary service to pharmacy and/or to healthcare. This can be demonstrated through exceptional achievement over the life of their career in pharmacy or an exceptional act during their career, or both.
---
----------
About the Harrison School of Pharmacy
Auburn University's Harrison School of Pharmacy is ranked among the top 25 percent of all pharmacy schools in the United States, according to U.S. News & World Report. Fully accredited by the Accreditation Council for Pharmacy Education (ACPE), the School offers doctoral degrees in pharmacy (Pharm.D.) and pharmaceutical sciences (Ph.D.) while also offering a master's in pharmaceutical sciences. The School's commitment to world-class scholarship and interdisciplinary research speaks to Auburn's overarching Carnegie R1 designation that places Auburn among the top 100 doctoral research universities in the nation. For more information about the School, please call 334.844.8348 or visit http://pharmacy.auburn.edu.
Making Medications Work Through Innovative Research, Education and Patient Care
---