HSOP offering Medicare Part D counseling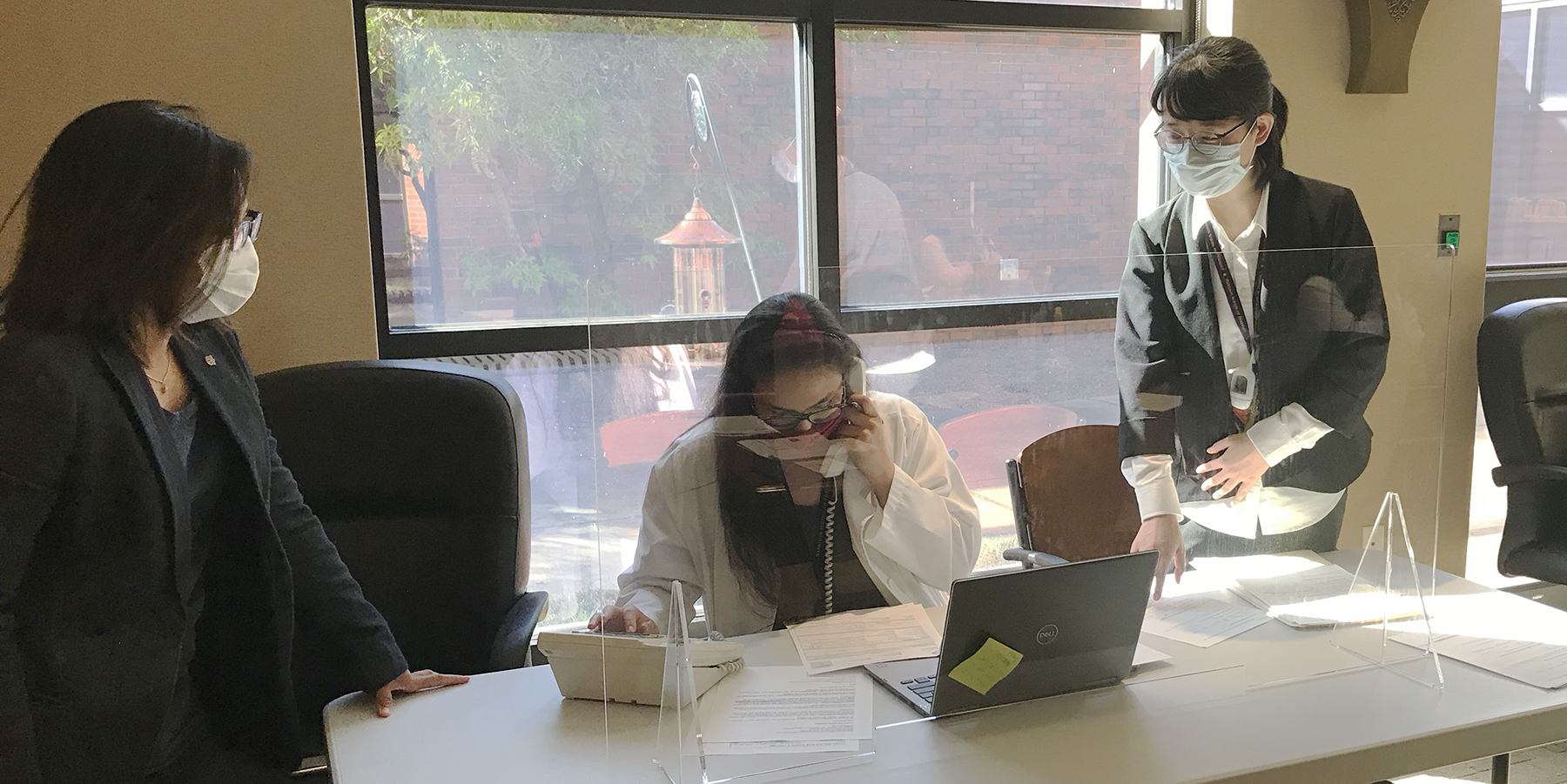 A student-counselor speaks to a patient over the phone while Dr. Salisa Westrick (left) and graduate student Yi Zhao observe.
October 26, 2020
AUBURN, Alabama - Counselors from the Auburn University Harrison School of Pharmacy and the Alabama State Health Insurance and Assistance Program, or SHIP, are scheduling joint counseling sessions in Alabama to assist those with the Medicare Part D prescription plan.
The first joint counseling session was held on Oct. 19 with remaining sessions available on Oct. 28 and Nov. 4. Because of the COVID-19 pandemic, telephone and Zoom counseling sessions are available. Both remaining sessions will be conducted from the Lee Russell Council of Governments at 2207 Gateway Drive in Opelika. The Oct. 28 session is from 8:30 a.m. – 12 p.m. and the Nov. 4 session is from 8 a.m. – 12 p.m. Medicare beneficiaries who are interested in receiving assistance should contact SHIP by calling 1-800-Age-Line.
Medicare open enrollment runs from now through Dec. 7. At the counseling sessions, beneficiaries will receive unbiased and personalized information from certified counselors to help them select the Medicare Part D plan that is best for them.
"A Medicare beneficiary faces a choice of a number of plans and these plans change every year," said Dr. Lindsey Hohmann, an assistant professor in the Department of Pharmacy Practice who is in her first year as the program's coordinator. "Under Medicare Part D, private insurance providers offer a wide range of prescription drug plans that vary in terms of costs and benefits. Because plan coverage and cost change each year, we recommend that beneficiaries evaluate Medicare plans every year."
The counselors at the session include students from the Harrison School of Pharmacy, as well as staff from the Alabama State Health Insurance & Assistance Program.
The estimated average annual savings for a Medicare beneficiary who attended an Open Enrollment event in a previous year was approximately $1,600 per year, if the least expensive plan was chosen.
"Along with the enrollment counseling, we can help beneficiaries determine if they are qualified for a subsidy program," said Hohmann. "If qualified, beneficiaries would receive additional financial assistance to help cover out-of-pocket costs."
Medicare is the federal health insurance program for people 65 and older and for some younger adults with permanent disabilities and medical conditions. While Medicare prescription drug coverage, known as Part D, is optional, many Medicare beneficiaries enroll in either stand-alone prescription drug plans, or PDPs, or integrated managed care plans that have prescription drug coverage, or MA-PDs.
Medicare currently provides prescription drug coverage for more than 44 million Americans and, of those, 762,336 reside in Alabama, according to CMS. Specifically, stand-alone PDPs and MA-PDs enroll more than 361,166 and 381,170 beneficiaries, respectively.
Counseling sessions are offered at no cost to Medicare beneficiaries. When contacting SHIP to schedule an appointment, beneficiaries should have a list of prescription medications, their Medicare card, as well as other insurance cards available. To assess whether they are qualified for subsidy programs, beneficiaries should know their gross income per month. More information can be found online at www.alabamamedicarehelp.org.
---
----------
About the Harrison School of Pharmacy
Auburn University's Harrison School of Pharmacy is ranked among the top 25 percent of all pharmacy schools in the United States, according to U.S. News & World Report. Fully accredited by the Accreditation Council for Pharmacy Education (ACPE), the School offers doctoral degrees in pharmacy (Pharm.D.) and pharmaceutical sciences (Ph.D.) while also offering a master's in pharmaceutical sciences. The School's commitment to world-class scholarship and interdisciplinary research speaks to Auburn's overarching Carnegie R1 designation that places Auburn among the top 100 doctoral research universities in the nation. For more information about the School, please call 334.844.8348 or visit http://pharmacy.auburn.edu.
Making Medications Work Through Innovative Research, Education and Patient Care
---