New Faculty Spotlight: Dr. Courtney Alexander Brings Pharmacogenomic Experience to HSOP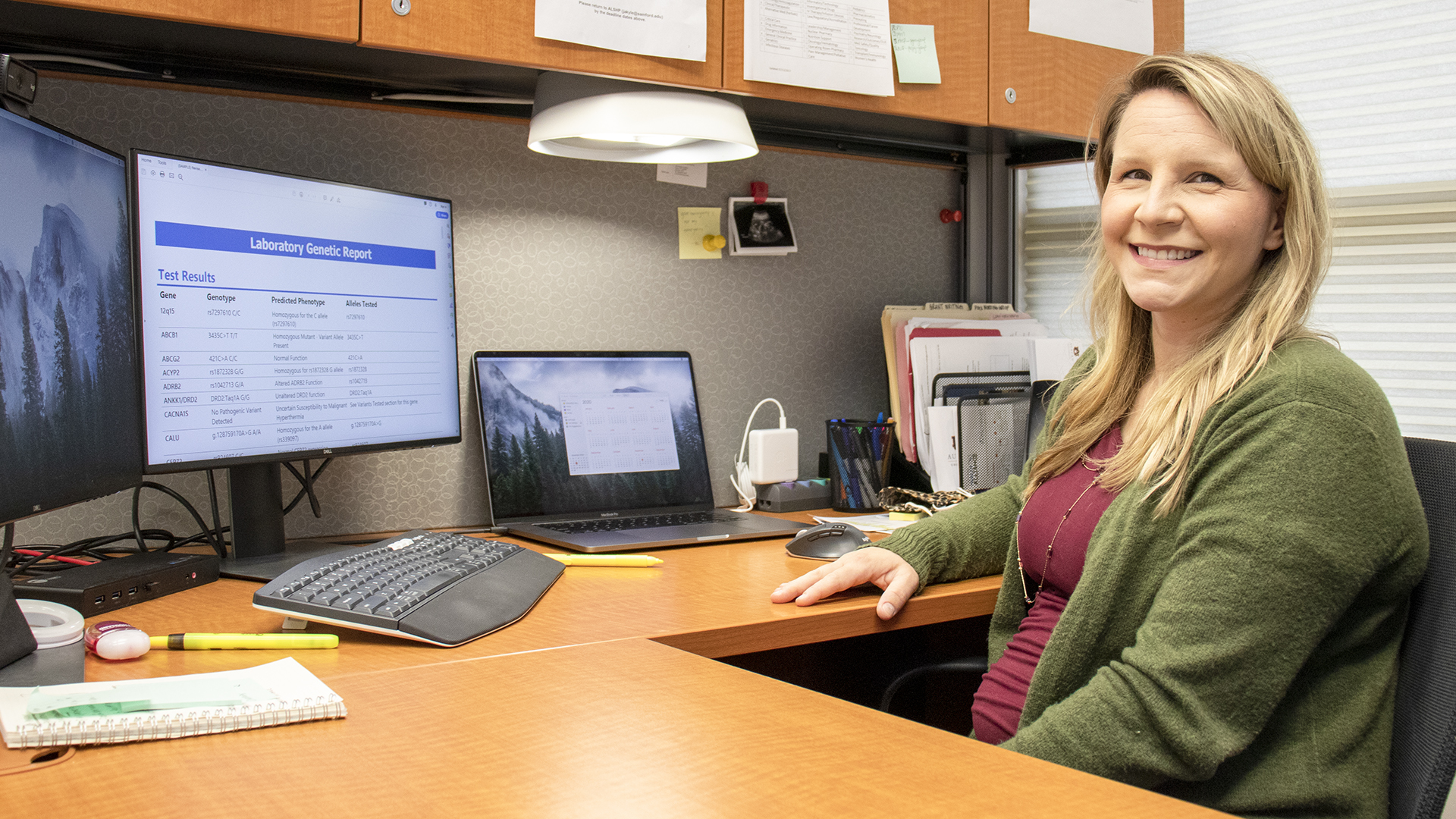 November 17, 2020
By Kenzi Huseman
AUBURN, Alabama - With advancing technology, pharmacists are able to provide a specialized approach to medications through pharmacogenomics. Embracing this opportunity, the Harrison School of Pharmacy welcomed back alumna Dr. Courtney Alexander to further develop a precision medicine program.
Alexander joined the Harrison School of Pharmacy, or HSOP, as the newly-created assistant professor of clinical pharmacogenomics in the Department of Pharmacy Practice and as an ambulatory clinical pharmacist in the Division of Clinical Affairs and Outreach. With her, Alexander brings years of experience in the field of pharmacogenomics that she wishes to build upon, assist Auburn employees with and pass down to HSOP students.
Alexander is all too familiar with the Auburn community as she graduated from HSOP herself in 2013. Upon graduation, she completed a PGY1 pharmacy residency at MD Anderson Cancer Center and a PGY2 oncology residency at St. Jude Children's Research Hospital, where she first encountered pharmacogenomics in practice.
Pharmacogenomics is the study of how humans respond to drugs based on their genomes; therefore, the field combines elements from both pharmacology and genomics.
"Pharmacogenomics is becoming more and more common within the oncology practice area as a whole given the desire to target specific markers on tumor cells to optimize cure rates and minimize toxicity from nonspecific chemotherapy agents," said Alexander. "Some patients may experience a lack of efficacy with certain medications whereas some patients may experience increased toxicity compared to the general population."
Alexander gave the example of mercaptopurine, a common chemotherapy drug used to treat pediatric patients with acute lymphoblastic leukemia. The enzyme thiopurine methyltransferase (TPMT) usually metabolizes mercaptopurine in patients; however about 10% of the population is either missing TPMT or have low levels causing toxicity. With pharmacogenomics, researchers can test the patient for TPMT before using mercaptopurine to reduce toxicity.
"We have long recognized that individuals respond differently to medications," said Alexander. "With the availability of next generation sequencing, patient-specific pharmacogenomic data are more readily accessible than ever before."
Alexander is working with Auburn University Pharmaceutical Care Center to implement a new program called the TigerMeds Personalized Prescription Program. Through this program, patients will have the opportunity to receive pharmacogenomic testing, along with individualized consultations to discuss the results.
Ultimately, with the help of the patient's physician, patients will receive medications more personalized to their genomics.
"Although there is much we still don't know within the field, our knowledge is growing rapidly with the goal of improving patient outcomes and reducing toxicity," said Alexander.
Along with rolling out the TigerMeds Personalized Prescription Program, Alexander will return to the classroom, introducing pharmacogenomics to the next generation of pharmacists.
"I feel so fortunate to be back at HSOP collaborating with my former professors and ultimately giving back to our profession through the education of future pharmacists and advancement of research in pharmacogenomics," said Alexander.
---
----------
About the Harrison School of Pharmacy
Auburn University's Harrison School of Pharmacy is ranked among the top 25 percent of all pharmacy schools in the United States, according to U.S. News & World Report. Fully accredited by the Accreditation Council for Pharmacy Education (ACPE), the School offers doctoral degrees in pharmacy (Pharm.D.) and pharmaceutical sciences (Ph.D.) while also offering a master's in pharmaceutical sciences. The School's commitment to world-class scholarship and interdisciplinary research speaks to Auburn's overarching Carnegie R1 designation that places Auburn among the top 100 doctoral research universities in the nation. For more information about the School, please call 334.844.8348 or visit http://pharmacy.auburn.edu.
Making Medications Work Through Innovative Research, Education and Patient Care
---