Calderón Recognized for Success in Student Mentoring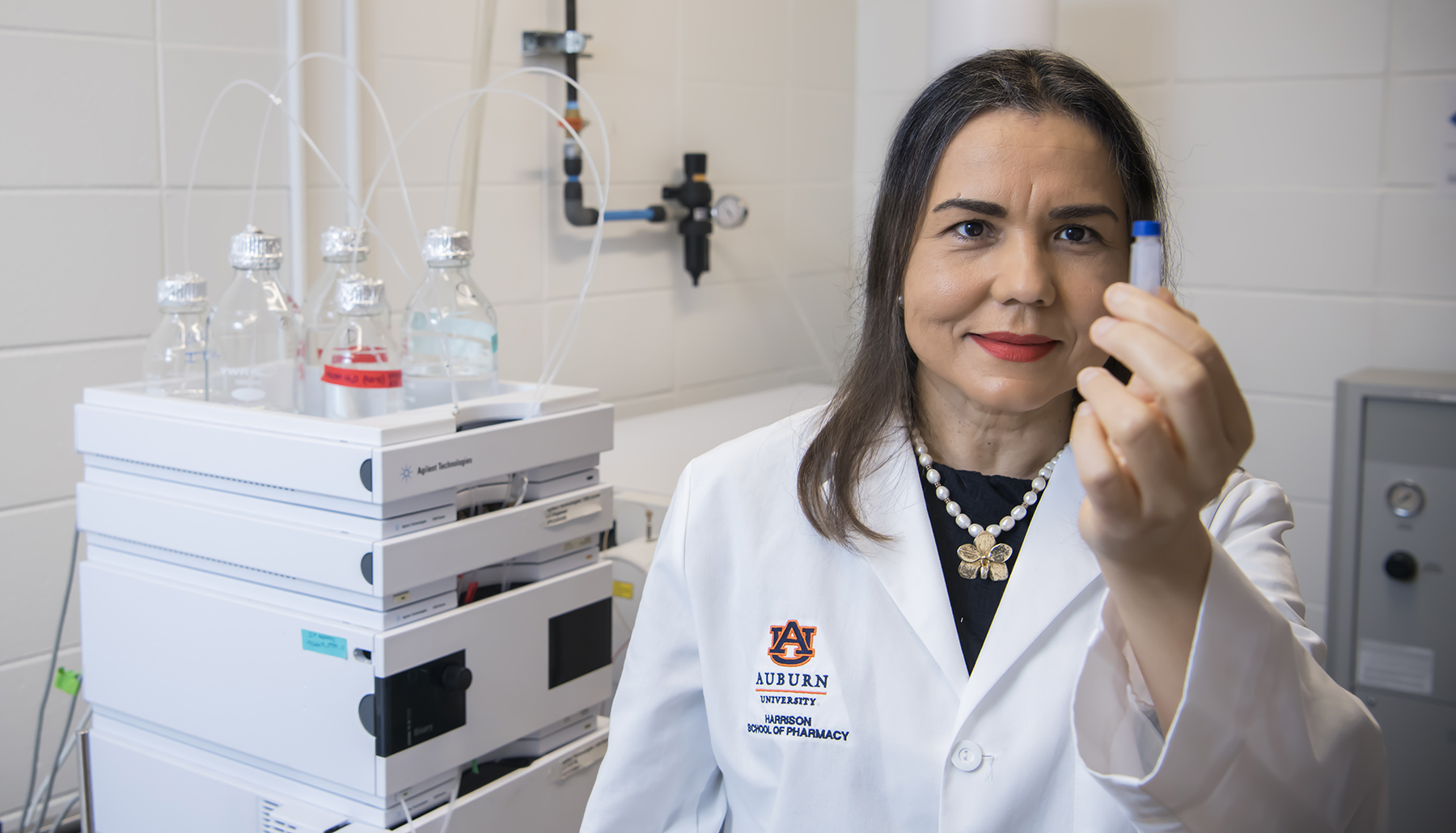 December 1, 2020
AUBURN, Alabama - Inspired by her own undergraduate mentor, the Harrison School of Pharmacy's Dr. Angela Calderón makes it a priority to guide and mentor students in her own lab. Her efforts were recently recognized with the Provost Award for Faculty Excellence in Undergraduate Research Mentoring, one of Auburn University's most prestigious faculty awards.
"Dr. Calderón is a leader in the Harrison School of Pharmacy's efforts to provide impactful and innovative research opportunities for students," said Richard A. Hansen, dean of the Harrison School of Pharmacy "Not only do her students participate in research, but they excel and make a difference in the meaningful work going on in her lab. Dr. Calderón has particularly made an impact in developing and motivating students from underrepresented areas, including female and minority students."
The Provost Award for Faculty Excellence in Undergraduate Research Mentoring was established in 2012. The award recognizes faculty members who demonstrate a strong commitment to undergraduate research and outstanding services to students and whose efforts support Auburn students interested in careers in research and creative work. Dr. Calderón was formally recognized with the award at the annual Faculty Awards Program on Nov. 18, 2020.
Dr. Calderón, an associate professor in the Department of Drug Discovery and Development, specializes in natural drug products research, specifically applications of mass spectrometry to natural products drug discovery and quality and safety assessment of botanical dietary supplements. Since arriving at Auburn in 2008, she has mentored a number of undergraduate students with a strong representation from minority and female students.
"I remember that I studied the first medicinal plant during my undergraduate pharmacy studies," Calderón said. "My undergraduate research mentor sparked my curiosity in pharmacognosy research and motivated me to become a scientist. The opportunity to have supportive mentors from my undergraduate studies to my postdoctoral studies helped me to reach my professional goals."
---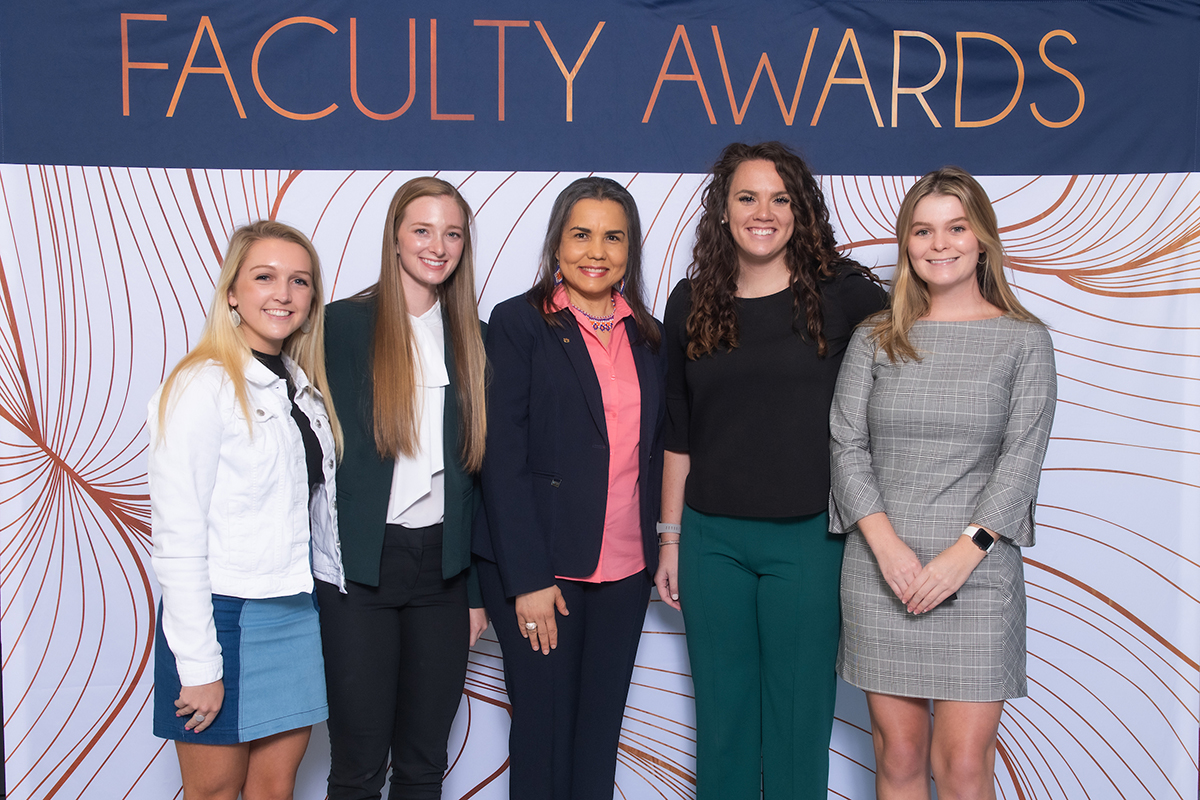 Dr. Calderón (center) with students from her lab at the Faculty Awards Program.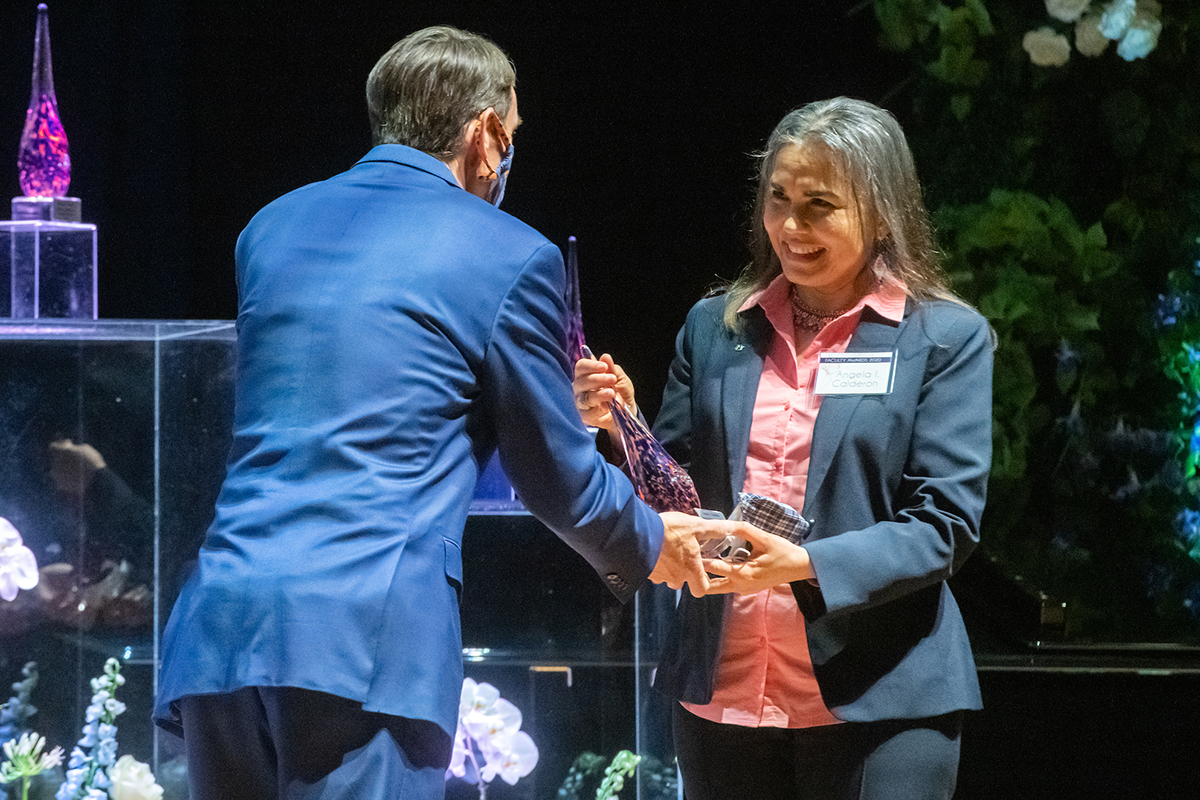 Dr. Calderón receives her award from Provost Bill Hardgrave
---
This experience motivated Calderón to start a mentorship program for undergraduate students in her research group. Knowing the value of undergraduate students getting that meaningful experience early in their academic career guides her in working with the next generation of scientists.
"Undergraduate students who participate in hands-on research are more likely to pursue advanced degrees and careers in science, technology and engineering fields," Calderón said. "In my lab, my contribution is to educate the next generation of natural products researchers with unique skills in mass spectrometry."
Calderón's commitment to motivating underrepresented students to build credentials in health sciences and STEM, fields in which women and students from underserved communities have found it difficult to thrive, is of particular importance to her.
"Based on the data and my experience as female faculty, I want to contribute to the increase the number of female scientists," Calderón said. "I strongly believe that diversity in science enhances creativity. It can lead to unfettered discoveries and breakthrough innovations."
Under her mentorship, students have demonstrated excellence in research endeavors through publications in more than a dozen journals and book chapters, several Honors College theses and many more presentations. Altogether, her undergraduate students have netted 22 regional and national awards recognizing their research contributions. Among the recognitions are awards from the American Society of Pharmacognosy, fellowships from the National Science Foundation, the UAB School of Medicine and internships with NASA.
---
----------
About the Harrison School of Pharmacy
Auburn University's Harrison School of Pharmacy is ranked among the top 25 percent of all pharmacy schools in the United States, according to U.S. News & World Report. Fully accredited by the Accreditation Council for Pharmacy Education (ACPE), the School offers doctoral degrees in pharmacy (Pharm.D.) and pharmaceutical sciences (Ph.D.) while also offering a master's in pharmaceutical sciences. The School's commitment to world-class scholarship and interdisciplinary research speaks to Auburn's overarching Carnegie R1 designation that places Auburn among the top 100 doctoral research universities in the nation. For more information about the School, please call 334.844.8348 or visit http://pharmacy.auburn.edu.
Making Medications Work Through Innovative Research, Education and Patient Care
---