Faculty Earn Promotion and Tenure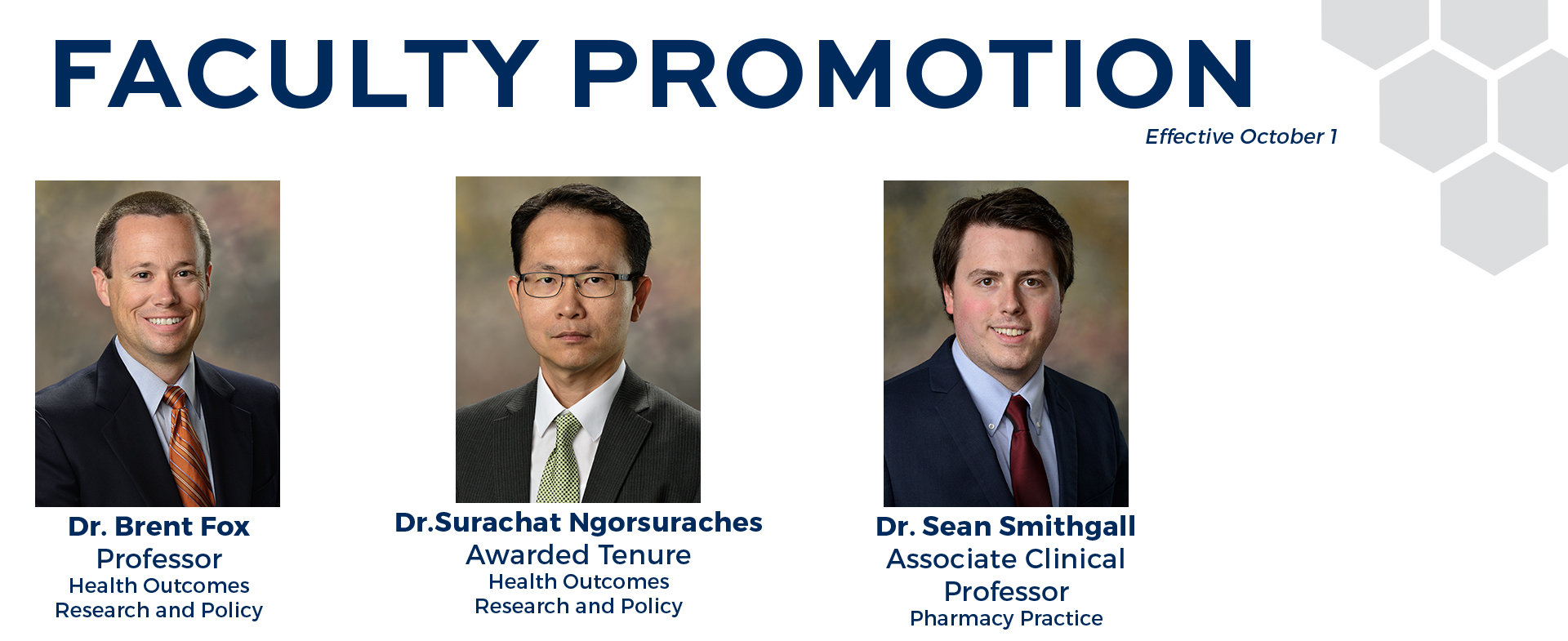 March 9, 2022
AUBURN, Alabama - Three Harrison College of Pharmacy faculty members were recently awarded with promotion or tenure, recognizing their outstanding efforts to the school. The promotions are effective October 1, 2022.
"Congratulations to these exceptional faculty and researchers who have reached the next milestone in their careers," said Dan Surry, acting dean of the Harrison College of Pharmacy. "In the ever-changing health care world, it is vital to have researchers and practitioners committed to identifying and developing new and innovative ways to improve health outcomes."
In the Department of Health Outcomes Research and Policy, Dr. Brent Fox was promoted to professor. Fox, a three-time Auburn graduate, has been with HCOP since 2008. Additionally, Surachat Ngorsuraches, associate professor in the department, was granted tenure. He has been with the college since 2018.
In the Department of Pharmacy Practice, Dr. Sean Smithgall was promoted to associate clinical professor. Smithgall has been with HCOP since 2016.
"Each of these three outstanding faculty members represent the best and the brightest of our profession," said Surry. "Through their tireless work, intelligence and commitment to others over many years, they have achieved career milestones of which they should be justifiably proud."
---
----------
About the Harrison College of Pharmacy
Auburn University's Harrison College of Pharmacy is ranked among the top 25 percent of all pharmacy programs in the United States, according to U.S. News & World Report. Fully accredited by the Accreditation Council for Pharmacy Education (ACPE), the College offers doctoral degrees in pharmacy (Pharm.D.) and pharmaceutical sciences (Ph.D.) while also offering a master's in pharmaceutical sciences. The College's commitment to world-class scholarship and interdisciplinary research speaks to Auburn's overarching Carnegie R1 designation that places Auburn among the top 100 doctoral research universities in the nation. For more information about the School, please call 334.844.8348 or visit http://pharmacy.auburn.edu.
Making Medications Work Through Innovative Research, Education and Patient Care
---