Moore appointed as interim dean of Harrison College of Pharmacy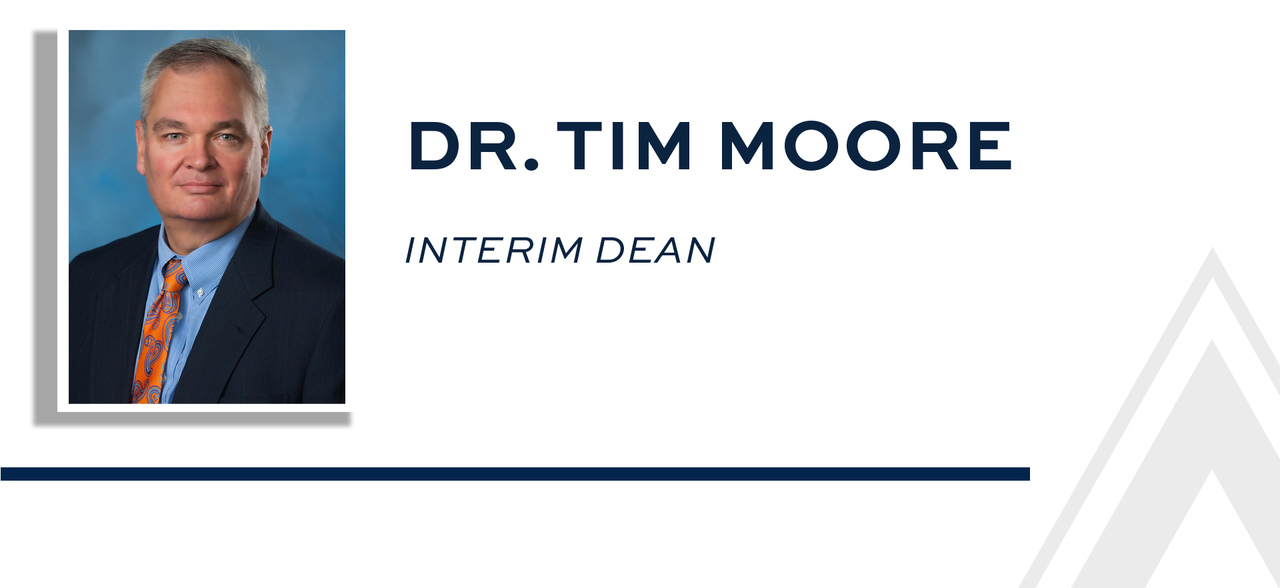 May 3, 2022
AUBURN, Alabama - Following an internal search, Dr. Tim Moore, the W.W. Walker Professor and associate dean for research in Auburn University's Harrison College of Pharmacy, has been named interim dean of the college, effective June 1.
An experienced administrator and prominent biomedical and pharmaceutical scholar, Moore has held various leadership roles in medical research and academia for more than two decades, including several prominent positions with the National Institutes of Health. As interim dean, Moore will provide leadership to more than 650 professional and graduate students and 200 faculty and staff members across the college, which continues to be ranked in the top 25 percent of pharmacy schools and colleges nationally.
"With his extensive leadership experience, exceptional scholarly record and collaborative approach, I am confident Dr. Moore will continue to elevate the college's research, academic, and clinical mission," said Interim Provost Vini Nathan. "I look forward to working with him as we strengthen the role of the college in developing innovative, solution-based programs to address our society's most critical health care challenges."
With vast experience developing and implementing research-based translational programs, Moore is a noted expert in pulmonary physiology and lung vascular health and disease. A former medical officer and chief of the Lung Biology and Disease Branch of the Division of Lung Diseases at the National Institutes of Health/National Heart, Lung, and Blood Institute (NHLBI), Moore is credited with implementing the first, translationally focused national research program in pulmonary hypertension/pulmonary vascular disease. While at NHLBI, Moore also served as director of the NHLBI Science Moving Towards Research Translation and Therapy Program, or SMARTT, and was the program director of the lung cell/vascular biology program.
A 1991 Auburn graduate, Moore holds doctorates in biomedical sciences and medicine from the University of South Alabama. Following his postdoctoral work in pharmacology and physiology, Moore completed an internal medicine internship at the University of Maryland, Mercy Medical Center, and subsequently served as a clinical resident in anesthesiology and critical care at Johns Hopkins Medical Institutions, where he also conducted vascular research.
While his experience at Auburn has provided him with a strong sense of the college's strengths and opportunities, Moore plans to approach the role of interim dean with an emphasis on continued momentum and preparing the college to attract the best dean candidates.
"The Harrison College of Pharmacy is a special place with great students and an outstanding faculty and staff with a long history of training the next generation of pharmacists and pharmaceutical scientists," said Moore. "I am honored to be given the responsibility of leading the college through this time of transition and I look forward to working with my peers and colleagues as we continue that tradition of innovative and exciting work."
Moore joined the Harrison College of Pharmacy in 2016 as department head in the Department of Drug Discovery and Development. Under his leadership, Moore oversaw the opening of the university's first Pharmacy Research Building and fostered the department's growth in research funding, student retention and faculty recruitment.
After three years as department head, Moore transitioned to the role of associate dean in 2019, where he has continued to strengthen the college's external funding and strategic research activities. Guided by his collaborative leadership approach, the college has added the Center for Neuroscience Initiative; Center for Pharmacogenomics and Single-Cell Omics Initiative; Center for Opioid Research, Education and Outreach; Cancer Research Center; and the Auburn-VCOM Institute for Clinical Research.
The university will launch a search for a permanent dean in the coming months.
---
----------
About the Harrison College of Pharmacy
Auburn University's Harrison College of Pharmacy is ranked among the top 25 percent of all pharmacy programs in the United States, according to U.S. News & World Report. Fully accredited by the Accreditation Council for Pharmacy Education (ACPE), the College offers doctoral degrees in pharmacy (Pharm.D.) and pharmaceutical sciences (Ph.D.) while also offering a master's in pharmaceutical sciences. The College's commitment to world-class scholarship and interdisciplinary research speaks to Auburn's overarching Carnegie R1 designation that places Auburn among the top 100 doctoral research universities in the nation. For more information about the School, please call 334.844.8348 or visit http://pharmacy.auburn.edu.
Making Medications Work Through Innovative Research, Education and Patient Care
---