2022 President's Award: Linda Tran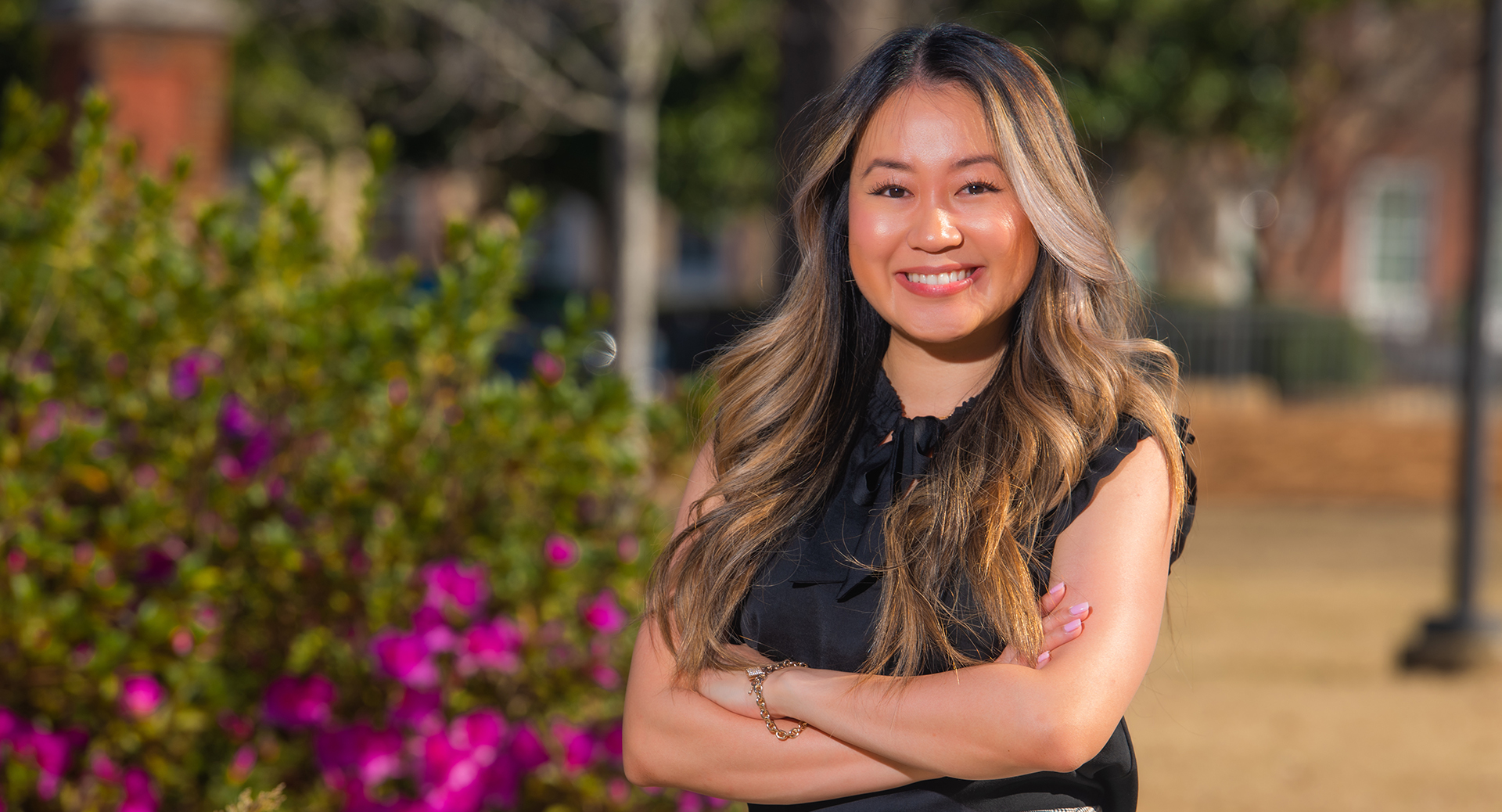 May 6, 2022
By Taylor Brown
AUBURN, Alabama - From an early age, Linda Tran knew she wanted to pursue a career in pharmacy and came to Auburn to achieve this goal.
After spending seven years on The Plains accomplishing her long-life goal, Tran, this year's recipient of the President Award at Auburn University's Harrison College of Pharmacy, will officially become Linda Tran, Pharm.D., May 9.
The President's Award recognizes one student from each school or college that possess outstanding qualities of leadership, citizenship, character and promise of professional ability.
"I am truly honored to be recognized as the 2022 recipient for the Harrison College of Pharmacy," said Tran. "This award represents the culmination of the hard work that I have dedicated to my education as well as the mentorship and encouragement that I have received from faculty, friends and family over the years."
Her love for Auburn came as soon as she stepped on campus, but the support she received from faculty, staff and current students at the Harrison College of Pharmacy through undergrad kept her here to get her Pharm.D.
"Choosing to stay and joining the Auburn Pharmily was the easiest decision I could ever make," said Tran.
During her time, Tran reflected on serving as a Recruitment Coordinator of the HCOP Ambassadors, Pharmacy Camp Counselor, and memories from Hargreaves Day in 2019.
"I loved being able to serve as a Pharmacy Camp Counselor and teaching high school campers about compounding various dosage forms, obtaining and interpreting vital signs, sterile compounding and utilizing various devices such as inhalers and insulin pens," said Tran.
Being one of the first classes to go through the Practice-Ready Curriculum, Tran feels well-prepared for patient care and continuing her future career path.
"HCOP has done a fantastic job in providing the foundational knowledge and clinical skill sets for its developing pharmacology specialists and drug information experts," said Tran, "By the time I reached my APPE rotations during P4 year, I was able to seamlessly integrate into an interdisciplinary team and make recommendations for a variety of disease states to optimize patient outcomes."
Dr. Jessica Starr and Dr. Kristi Kelley served as mentors to Tran during her time at HCOP, helping her through the challenging residency application process and providing several opportunities to help her explore her interest in academia.
"Dr. Starr and Dr. Kelley have made profound impacts on me during my time in pharmacy school," said Tran, "These two faculty members have helped shaped me to be the soon-to-be pharmacist I am today."
After spending the last seven years at HCOP, Tran is returning home to Mobile, Alabama to complete her PGY-1 residency with USA Health. After having two rotations within the USA Health System, an emergency medicine/trauma rotation and a pharmacy IT rotation, she fell in love with emergency medicine.
Tran became inspired by the rapid expansion and number of opportunities the USA Health system provided, leading to her big decision to move back home.
"These two decisions turned out to be the most life-changing decisions for me, and I never saw myself returning home to the city of Mobile until these rotations," said Tran, "I am so excited to see what the upcoming residency year holds."
Looking at her future, Tran wants to become a board-certified clinical pharmacy specialist in either critical care or emergency medicine, precept pharmacy students and residents, and hold a clinical teaching position at a pharmacy or medical school.
This journey begins as she walks across the stage on May 9, alongside her peers and fellow graduates.
"I am so proud to be representing the Harrison College of Pharmacy and to be a part of the Auburn Pharmily," said Tran.
---
----------
About the Harrison College of Pharmacy
Auburn University's Harrison College of Pharmacy is ranked among the top 25 percent of all pharmacy programs in the United States, according to U.S. News & World Report. Fully accredited by the Accreditation Council for Pharmacy Education (ACPE), the College offers doctoral degrees in pharmacy (Pharm.D.) and pharmaceutical sciences (Ph.D.) while also offering a master's in pharmaceutical sciences. The College's commitment to world-class scholarship and interdisciplinary research speaks to Auburn's overarching Carnegie R1 designation that places Auburn among the top 100 doctoral research universities in the nation. For more information about the School, please call 334.844.8348 or visit http://pharmacy.auburn.edu.
Making Medications Work Through Innovative Research, Education and Patient Care
---