HCOP awards 152 degrees at 2022 Commencement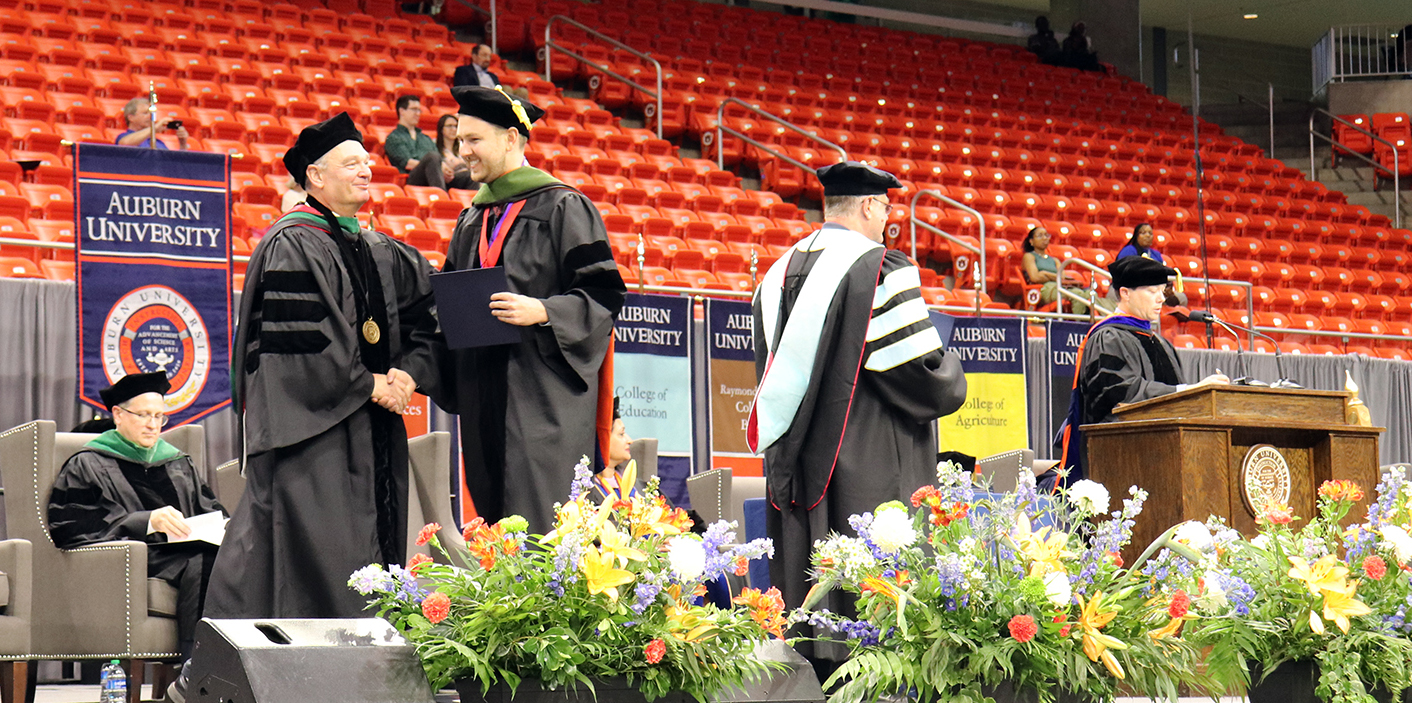 May 9, 2022
AUBURN, Alabama - Auburn University's James I. Harrison College of Pharmacy held its 2022 commencement ceremony on Monday, May 9 at Neville Arena. The class of 2022 included 141 students receiving the Doctor of Pharmacy (Pharm.D.) degree. One student received a Master of Science (M.S.) degree, and 10 others received Doctor of Philosophy (Ph.D.) degrees.
"We are very proud of the Class of 2022 for all their hard work and the extreme challenges they had to overcome to get here today," said Dan Surry, acting dean of the Harrison College of Pharmacy. "These challenges include not only completing a demanding course of study over the past few years, but also overcoming many rapid changes during the most uncertain and often painful days any of us have ever experienced in healthcare and higher education.  This is truly a special group of graduates, they are all heroes, and I am inspired by their dedication and resilience."
The ceremony included a commencement address from Dr. Scott Harris, Alabama's State Health Officer. Josh Davis served as he graduate student graduation marshal and Lauren Campisi served as the Pharm.D. student marshal.
The Class of 2022 included representatives from five foreign countries, including Bangladesh, China, Indonesia, Kenya and Saudi Arabia; 13 states, including Alabama, Arizona, Arkansas, Florida, Georgia, Illinois, Louisiana, Mississippi, North Carolina, Ohio, Tennessee, Texas and Wisconsin; and Puerto Rico.
As the public pharmacy school of the state of Alabama, the Harrison College of Pharmacy continues educating more Alabama pharmacists than anywhere in the world with 110 of the graduates hailing from the state. Additionally, the vast majority of the graduates are remaining in the state to continue serving the people of Alabama.
2022 Graduates
Doctor of Philosophy Degrees
+ Ahmed Alnaim
+ Ammar Bahauddin
+ Josh Davis
+# Shahariar Fahim
+ Fnu Ibtisam
# Shanese Lani Jasper
+ Lauren Lucas
# Shenqi Qian
Jared Senfeld
# Yi Shi
Master of Science Degree
~ Xiangzhong Xue
+ Anticipated Degree Completion Summer 2022
~ Degree Conferred Fall 2021
# In Absentia
---
Doctor of Pharmacy
***John David Abrams
*Catherine Grace Ankersen
Caleb Aycock
***Christopher Landon Baker
Michael Eugene Ball
Riley Bitely
***Sydney Meadows Bowman
**LaTarius Boyd
Miles Bragdon-Hall
*Rachel Elizabeth Buchanan
Dre'Shun Marcel Buford
Daniel Buo
*Meredith McCall Burns
**Lauren Elizabeth Campisi
William Creed Carleton
Belinda Casey Carter
*Justin Paul Carter
Holli Mikhaila Chandler
**Jaden Alma-Marie Chandler
*Meagan Tamera Clausell
Victoria Lynn Cochran
*Wyvolyn Marica Craig
**Bailee-Ryan Marie Crump
***Megan Elizabeth Cullip
Hannah Davis
*Tessa Colleen Dimick
Kevin Duy Doan
**Jessica Breann Doll
Seth Daniel Donaldson
***Victoria Lynn Donaldson
Caroline Cooper Dunn
*Haley Mitchell Durham
*Courtney McKenzie Edmunds
Kayleigh Danielle Eller
*Courtney Leann Ellison
Joshua Blake Elrod
Lorean Andrea Emory
Keyan R. Fahimipour
**Zuri Amanda Foster
*Jessica Rose Freeman
Ayzia Monna Gholston
***Jessica Jacobs Gibbs
***Gabrielle Alexis Gill
Ada Griffin
Dwight Dennis Groshek
Jayson Patrick Hairston
Connor Lane Hall
*Olivia Daly Hammond
*Lauren Davis Hart
*Charles Gregory Hartley II
**Matthew Dolfi Hecker
Justin E. Henry
***Luke Thomas Hentrich
*Harrison Gregory Hightower
*Mackenzie Erin Hill
**Bradley John Hoffman
*William Turner Huddleston
***Cecilia Marie Hughes
*Jessica Marie Huneck
Silvia Wahu Kamau
**Taylor L. Kellogg
**Katie Murphy Knight
**Kaitlynn Shan Krupp
Shelby Marie Langford
Tho Duc Le
Amanda Marie Lenzie
Elizabeth June Locklier
*James Howard Lott IV
***Dwight Alexander Love
José Rafael Lugo-Martínez
Benjamin Chase Marler
*Janet Lindsey Martin
*Patrick L. Martin
***Autumn Elizabeth Matthews
**Lauren Cery McConnell
*Julie Allison McDaniel
*Jacy Lee McPherson
Walter A. Meadows
**Ashlee Nicole Milam
Stephen Tyler Miller
*Joseph Tyler Mitchell
***Harley Nicole Moore
*Claire Elise Mullins
*Cynthia Thuy-Nhi Nguyen
Valerie Valente Nicholson
Dana Ogab-Norton
***Yumi Oh
**Savannah Joy Owen
*Courtney Clemmons Parker
***John Kelly Parker
*Sha'Torrie Emira Parrish
Victoria Eatman Pate
Bhumika Patel
*Savannah Jo Payne
Benjamin Allen Peters
**James Enloe Pitt IV
*Rebecca Diane Poarch
Sarah Katherine Powell
**Emily Tara Rajan
Jennifer Michelle Rammage
***Adrianna Taylor Reagan
***Andrew Blake Revels
Haley Marie Rivers
Hannah Noel Schaffner
*Eric David Schueller
Mara Lyn Scheurer
***Callie Carter Seales
Adam Louis Seele
***Jared Shawn Sibley
***Samantha Leigh Billings Spark
***Steven E. Stadler
Abbee Gale Stallone
Timara Keiana Stallworth
David Brooks Steele, Jr.
Nina Kate Stewart
Raven LeShea Stewart
Jonathan Perry Stinson
Sydney McLaren Straughn
Nicholas William Taraschi
***Gregory Keith Taylor
Paige Lorraine Taylor
*Tam Cao Taylor
Wallace Angus Timms
***Linda Tran
*Micaela Faye Truett
***Robin Grace Tumlinson
Tyler Dalton Turner
***Sara Danielle Tyler
***Jordan Marie Tynes
Javier Alejandro Urbina
*Katherine Ann Valentine
Matthew Ethem Vickers
Gracelyn Keiley Wade
*Dylan Joshua Waer
Brianna R. Whitfield
Dw'Nesia Lyna Williams
***Trey William Willoughby
***Alexis Nicole Young
Leila Yusuf
Andrei Leonid Znamenski
* Cum Laude
** Magna Cum Laude
*** Summa Cum Laude
---
----------
About the Harrison College of Pharmacy
Auburn University's Harrison College of Pharmacy is ranked among the top 25 percent of all pharmacy programs in the United States, according to U.S. News & World Report. Fully accredited by the Accreditation Council for Pharmacy Education (ACPE), the College offers doctoral degrees in pharmacy (Pharm.D.) and pharmaceutical sciences (Ph.D.) while also offering a master's in pharmaceutical sciences. The College's commitment to world-class scholarship and interdisciplinary research speaks to Auburn's overarching Carnegie R1 designation that places Auburn among the top 100 doctoral research universities in the nation. For more information about the School, please call 334.844.8348 or visit http://pharmacy.auburn.edu.
Making Medications Work Through Innovative Research, Education and Patient Care
---