Randall Clark appointed as acting associate dean for research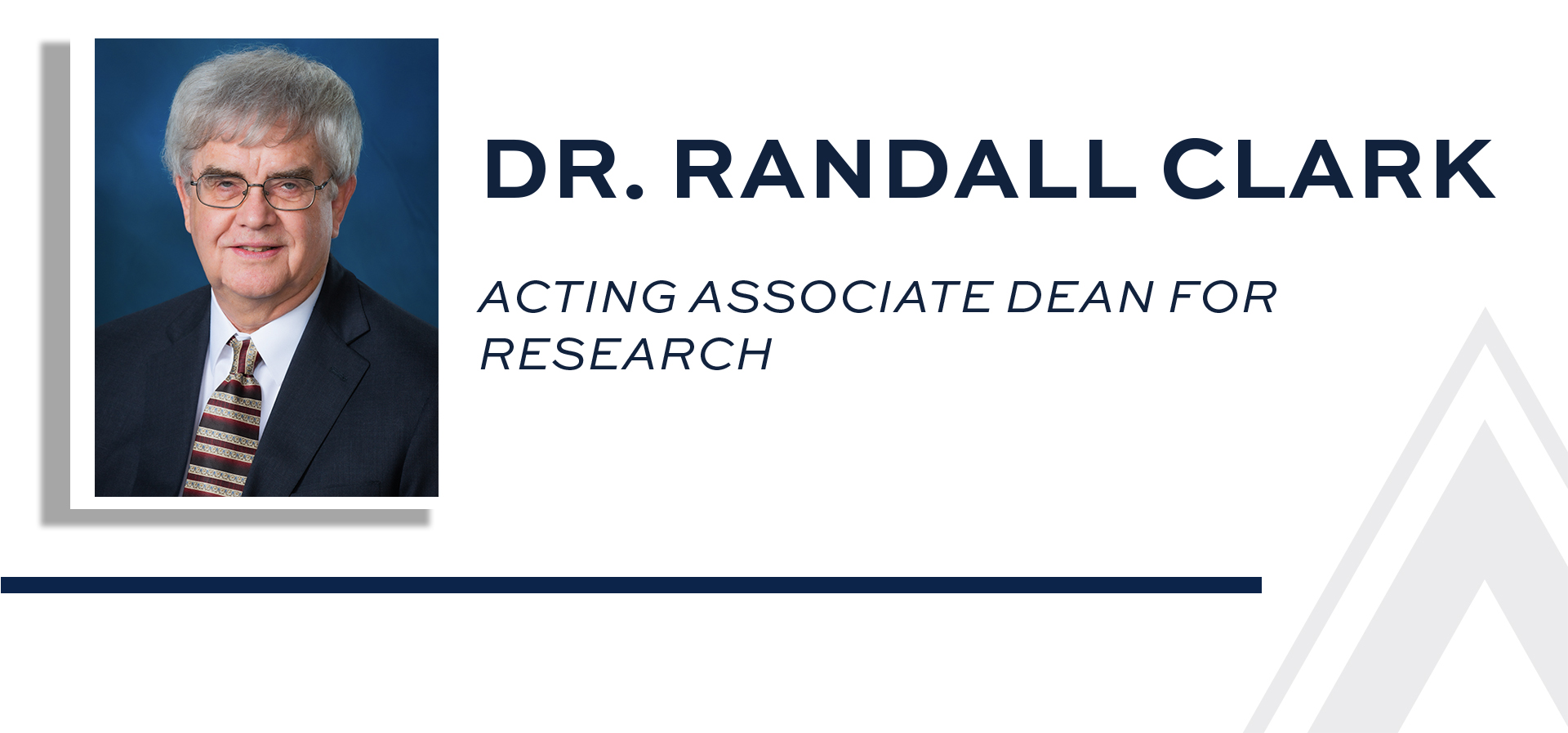 June 10, 2022
AUBURN, Alabama - Dr. C. Randall Clark, a veteran faculty member and investigator with almost 50 years of experience with the Harrison College of Pharmacy, has been selected as the college's acting associate dean for research, Interim Dean Timothy Moore announced June 10. Clark will assume his new duties July 1.
"It is certainly an honor to be selected for the acting associate dean for research position," said Clark. "I appreciate the confidence implied in my selection and it is my desire to continue the work of this office and our previous ADR, Dr. Tim Moore. I look forward to working with faculty, staff and students to advance the mission of the HCOP Division of Research."
Clark joined the Harrison College of Pharmacy, or HCOP, faculty in 1973 as an assistant professor of medicinal chemistry following the completion of his Ph.D. at the University of Mississippi. He was promoted to professor in 1983 and has held the title of Gilliland Professor since 2016. Since arriving at HCOP, he has played a significant role in growing the medicinal chemistry program into one of the most respected in the country.
"Dr. Clark has an esteemed career at Auburn University and carries a tremendous amount of respect from HCOP students, faculty and staff, from across the entire university community, and from the large numbers of HCOP alumni that he has instructed and mentored over many years," said Moore. "His accumulated knowledge of the HCOP and Auburn research enterprise will continue to enhance our goals of research growth and maintain prominence as a Carnegie R1 research institution."
Along with his faculty duties and research, Clark has been of service to the university in a variety of committees and appointments. He has served on the Auburn University Graduate Council, served as chair of the graduate school's Graduate Faculty Credentials Committee, the Auburn Research Council, three terms on the Auburn Promotion and Tenure Committee and more than 20 years as chair of the Drug Testing/Drug Education in Athletics Committee.
"This position is a central part of the Harrison College of Pharmacy organization. The research enterprise at AU and HCOP is very dynamic, a growing and changing process," said Clark. "It is a major focus within our university and its various programs. HCOP researchers are making significant contributions to improving the lives of our citizens and the economy of our state, and it is my goal to maintain our quality research programs and to assist in the growth of our HCOP research portfolio."
As acting associate dean for research, Clark will provide guidance and leadership over HCOP research initiatives across all departments and units. He will oversee the college's extramural funding program, including proposal submissions and post-award management. In addition, he will serve as a member of the college's senior leadership team and advise the interim dean in all aspects of the day-to-day management of the college.
"The HCOP research enterprise is a major component of our program and I have been a part of that growth from almost the very beginning," said Clark. "I believe I have a clear understanding of the efforts and commitments required to be a successful academic researcher.
"Our HCOP researchers are active in a diverse array of programs, and we are always seeking new ways to contribute to the mission of our university. It is my desire to foster and mentor my colleagues providing them with the support and infrastructure needed for additional research growth and productivity."
As an investigator, Clark has been involved in research related to forensic chemistry for more than 40 years. In the last 20 years, he has secured more than $3 million in funding for associated projects from the National Institute for Justice and the Department of Justice. He has more than 260 publications and more than 4,000 total citations.
---
----------
About the Harrison College of Pharmacy
Auburn University's Harrison College of Pharmacy is ranked among the top 25 percent of all pharmacy programs in the United States, according to U.S. News & World Report. Fully accredited by the Accreditation Council for Pharmacy Education (ACPE), the College offers doctoral degrees in pharmacy (Pharm.D.) and pharmaceutical sciences (Ph.D.) while also offering a master's in pharmaceutical sciences. The College's commitment to world-class scholarship and interdisciplinary research speaks to Auburn's overarching Carnegie R1 designation that places Auburn among the top 100 doctoral research universities in the nation. For more information about the School, please call 334.844.8348 or visit http://pharmacy.auburn.edu.
Making Medications Work Through Innovative Research, Education and Patient Care
---