Mallory Hawkins: HSOP's new Director of Student Recruitment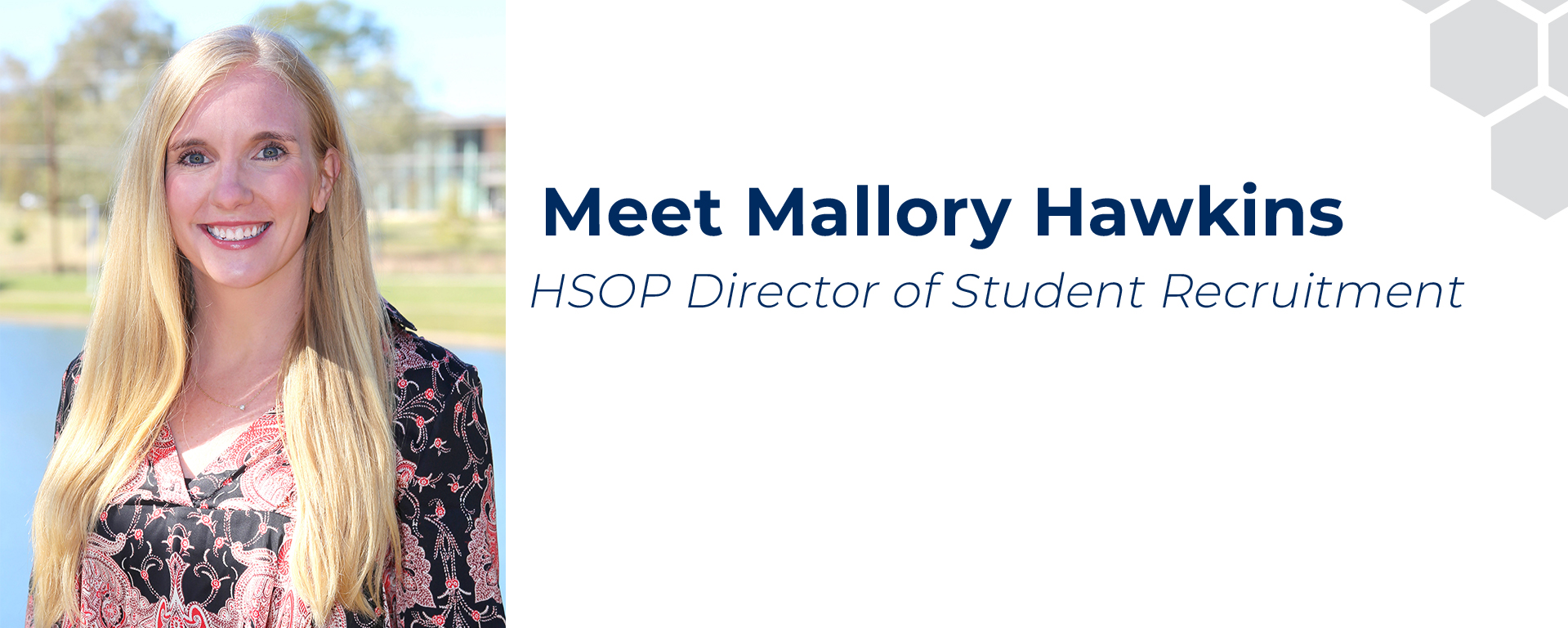 July 14, 2021
AUBURN, Alabama - The Harrison School of Pharmacy is excited to welcome Mallory Hawkins to the school as its Director of Student Recruitment. A 2012 Auburn University graduate, Hawkins has worked in health care higher education for the last six years.
With applications opening for the Class of 2026, the Harrison School of Pharmacy welcomes interested students to reach out to Mallory and learn more about the exciting options available at Auburn University.
---
---
Tell us about yourself:
"I grew up in Andalusia, Alabama, which is a small town in south Alabama also known as 'CANDYland' during the holiday season. I married my husband Kyle in June of 2020 in an intimate ceremony on Lake Martin. We have two dogs, Cash and Boone, who are best described as Mutt and Jeff.
"We have a very large extended family that lives all over the state of Alabama. We love spending time with our nieces and nephews any chance we get. When we are not spending time with our family, we love to attend concerts, cheer on the Auburn Tigers, spend time outdoors and thrift for unique treasures and antiques. We also love to travel and hope to enjoy more of that in 2021!"
What interested you in pursuing the recruitment job with HSOP?
"After almost six years of experience in student affairs and admissions, I found that the recruitment portion of admissions was my passion. The recruitment process is where I found that I could be the most creative and interact with students, making this position at HSOP a perfect fit. It also helped that everyone in Auburn had nothing to but wonderful things to say about administration, faculty and staff at HSOP. After my interview day, I knew I was where I was supposed to be."

What has surprised you about the field of pharmacy?
"My second week on campus I was able to participate in HSOP's Pharmacy Camp that is offered to high school students interested in pharmacy. Through this experience I was able to see a lot of the hands-on skills students learn throughout our curriculum, as well as tour our amazing research facility. Throughout camp I was blown away at just how many career opportunities our students have after they graduate. I am so excited to share all the knowledge I gained with prospective students."
Why do you enjoy working with students?
"Navigating the application process can be a stressful experience. Having someone in your corner cheering you on and providing advice can make a huge difference when deciding on where you want to further your education. I think it is evident to anyone I work with that I truly enjoy being that person for prospective students. Whether it is tough conversations or just a few words of encouragement, I strive to impact each student I work with. Seeing them through the application process and then watching them walk across the stage to receive a degree is the most rewarding experience."
Why is pharmacy an exciting field for students to get in to?
"The role of a pharmacist is expanding. Pharmacists are playing an increasingly vital role in management of chronic disease, preventive health and wellness and other areas of direct patient care. I believe that this last year has really showed the world just how important a pharmacist role is.
"I also believe that the career options students have in pharmacy is incredible. Not only can students purse a career in chain or independent pharmacy, but they can work in ambulatory care, compounding, infusion or veterinary pharmacy, just to name a few. I am excited to see where the field of pharmacy is headed and so honored to play even a small role in helping students purse this profession."
Why did you choose to attend Auburn University?
"I chose Auburn because from the moment I step foot on campus I felt like I belonged. I had a student tell me one time that Auburn is one of those places you do not have to fit into, Auburn just fits into you. I truly believe that and hope that students get that feeling when they visit campus."
What is it about Auburn that makes it a special place?
"The family atmosphere is what makes Auburn such a special place and it is why I came back six years ago. Having grown up in a small town, I value a sense of community and know firsthand that it takes a village. Auburn has been that village for me, and I am so thankful that I can continue to be part of the Auburn Family."
What are you most looking forward to in getting out to meet prospective students and guidance counselors?
"Most of all, I am looking forward to seeing students in person. I am so grateful for Zoom and how it has kept me connected with students, but nothing can compare to face-to-face interaction. Beyond that, I am looking forward to sharing all the wonderful things we have going on at HSOP and in the profession of pharmacy."

What have you already seen that makes HSOP a special place?
"The faculty and staff who make up the Harrison School of Pharmacy are some of the brightest individuals I have had the pleasure of working with. It is because of their commitment to students that HSOP is such a special place. It is evident that everyone here is genuinely invested in the success of the students and the school. I am honored to be among such an amazing group of people."
---
----------
About the Harrison School of Pharmacy
Auburn University's Harrison School of Pharmacy is ranked among the top 25 percent of all pharmacy schools in the United States, according to U.S. News & World Report. Fully accredited by the Accreditation Council for Pharmacy Education (ACPE), the School offers doctoral degrees in pharmacy (Pharm.D.) and pharmaceutical sciences (Ph.D.) while also offering a master's in pharmaceutical sciences. The School's commitment to world-class scholarship and interdisciplinary research speaks to Auburn's overarching Carnegie R1 designation that places Auburn among the top 100 doctoral research universities in the nation. For more information about the School, please call 334.844.8348 or visit http://pharmacy.auburn.edu.
Making Medications Work Through Innovative Research, Education and Patient Care
---