HSOP initiates 30 into Rho Chi Society

Auburn Initiates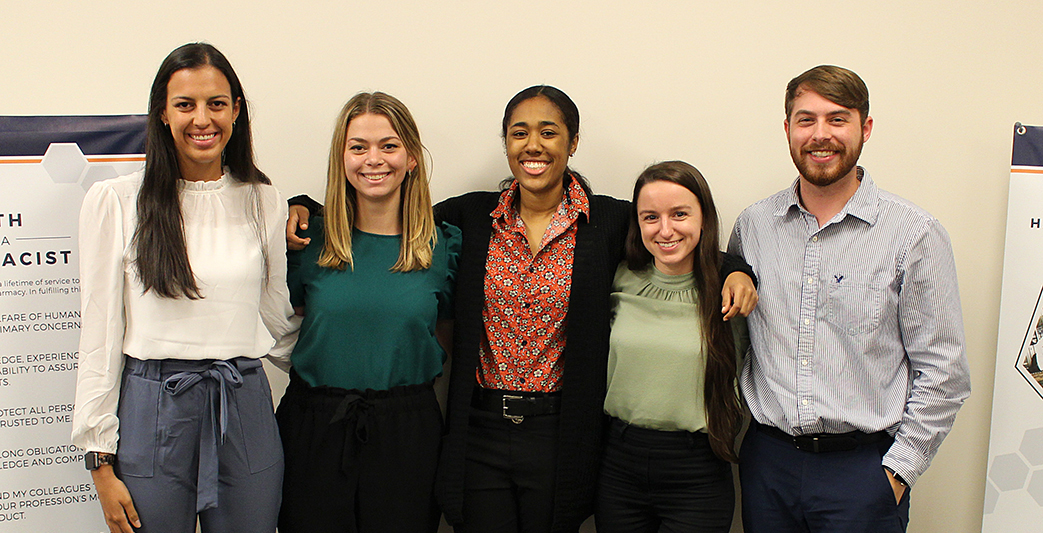 Mobile Initiates
October 6, 2021
---
AUBURN, Alabama – Thirty students were inducted into the Zeta Chapter of the Rho Chi Pharmacy Honor Society on Tuesday, September 28. The initiation ceremony was held on both the Auburn and Mobile campuses.
Dr. Erin McCreary, clinical assistant professor at the University of Pittsburgh School of Medicine and director of stewardship innovation with UPMC and Infectious Disease Connect, served as the keynote speaker. A member of Rho Chi, she graduated from HSOP with her Pharm.D. in 2015.
The initiation was administered by Dr. Paul Jungnickel, the chapter faculty advisor and associate dean for academic programs at HSOP, and current chapter president Victoria Donaldson.
Of the 30 initiated, 29 are Pharm.D. students with one graduate student. Those initiated were:
Alexa Kathleen Allen
Shelby Bradley
Haley Brobst
Rayna Burkard
Jessica Canaday
Kaylee Denise Carlson
William G. Cordell
Trish Elder
Lauren Fleming
Rachel Anne Friend
Brittany Gayle
Shelton Kate Givens
Kristin Alicia Hendricks
Claire Hiott
Caroline Arden Jackson
Brady Myles Kent
Mattie Caroline Kilpatrick
Samantha Lightle
Mallory Anne McClung
Cassidi Crosby McDaniel
Lindsey Moore
Zoe Nadler
Devon Ploshay
Allison Sell
Samantha Sims
Lauren Steil
Paiton Trovinger
Jessica Walton
Robert Wescovich
Raegan Thompson Willoughby
Founded in 1922, Rho Chi is an international honor society for pharmaceutical sciences that seeks to advance pharmacy through intellectual leadership. To be invited to join, students must rank in the top 20 percent of their class, have a minimum GPA of 3.0, have not been disciplined for violations of academic integrity or professional standards, and must be elected by a vote of the current chapter members. Auburn's Zeta Chapter was established in 1925 as the sixth Rho Chi chapter in the country.
---
----------
About the Harrison School of Pharmacy
Auburn University's Harrison School of Pharmacy is ranked among the top 25 percent of all pharmacy schools in the United States, according to U.S. News & World Report. Fully accredited by the Accreditation Council for Pharmacy Education (ACPE), the School offers doctoral degrees in pharmacy (Pharm.D.) and pharmaceutical sciences (Ph.D.) while also offering a master's in pharmaceutical sciences. The School's commitment to world-class scholarship and interdisciplinary research speaks to Auburn's overarching Carnegie R1 designation that places Auburn among the top 100 doctoral research universities in the nation. For more information about the School, please call 334.844.8348 or visit http://pharmacy.auburn.edu.
Making Medications Work Through Innovative Research, Education and Patient Care
---