Calderón awarded R15 grant from NIH to study açaí and cancer drugs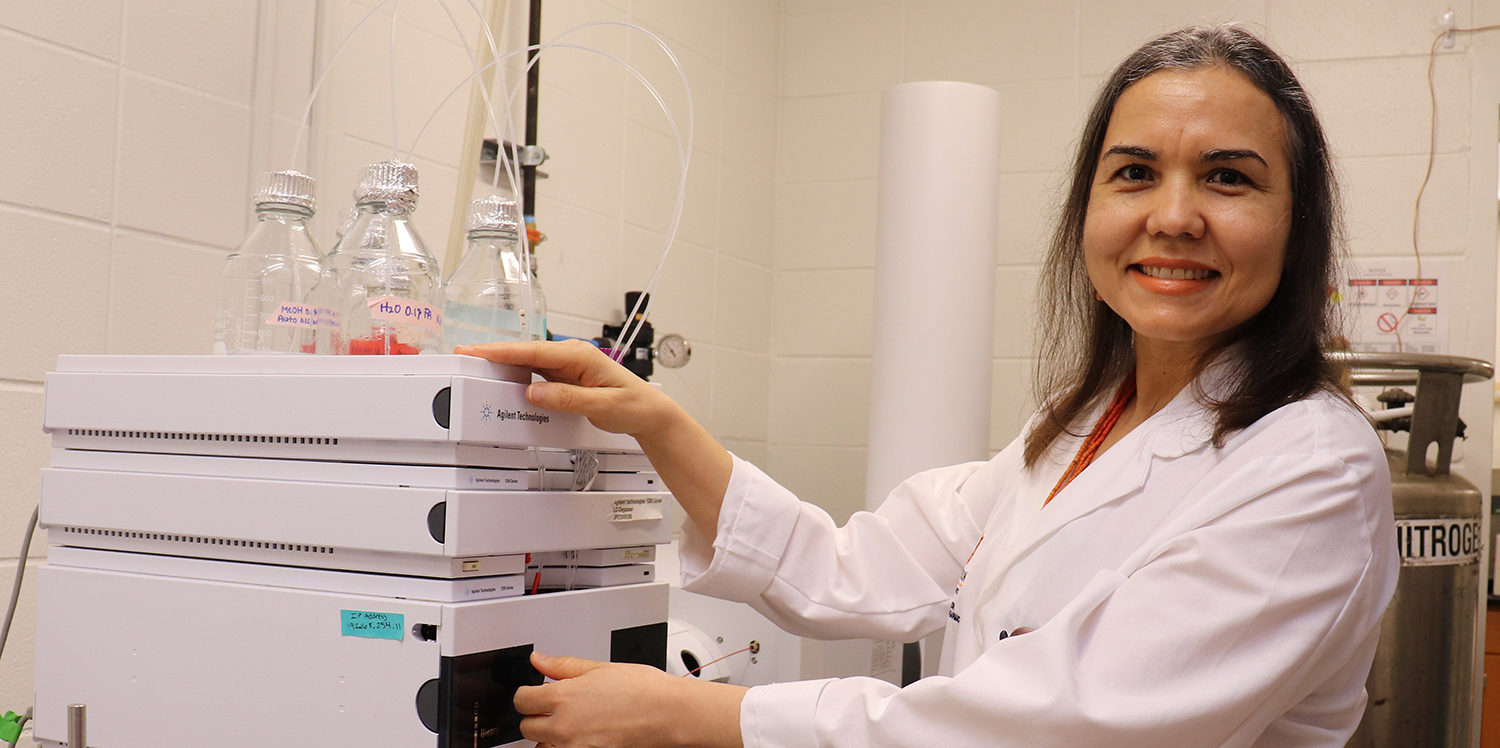 October 20, 2021
---
AUBURN, Alabama – A popular botanical dietary supplement in the United States, açaí is known for numerous health benefits. However, with prevalent use of the supplement among cancer patients, the National Institutes of Health has awarded Auburn University's Angela Calderón a three-year, $440,590 grant to study the interactions between the supplement and anticancer drugs.
Titled "Unravelling the mechanism of acai BDS-anticancer drug interaction: A preliminary approach," the R15 grant is supported by the National Center For Complementary and Integrative Health and the Office of Dietary Supplements of the National Institutes of Health.
Additionally, the project is funded as part of the Research Enhancement Award Program for Health Professional Schools and Graduate Schools. As part of the program, Calderón, an associate professor in the Harrison School of Pharmacy's Department of Drug Discovery and Development, is charged with exposing undergraduate and/or graduate students at health professional schools or graduate schools to meritorious research projects and to strengthen the research environment of the institution.
"My R15 focuses particularly on training female and underrepresented minority students for biomedical sciences research careers," said Calderón. "Students will receive training in various disciplines such as pharmacognosy and natural products chemistry, pharmacology, pharmacokinetics and statistics. The distinct contribution of this project to students training is its interdisciplinary nature."
Açaí is one of the top 40 botanical supplements in the United States market, but little is known about the combined use of the dietary supplement with anticancer drugs and the potential for adverse effects. Calderón's study will establish a foundation of information on the interactions between açaí botanical dietary supplements and anticancer drugs. Her findings will be used to promote appropriate use of botanical dietary supplements and to improve understanding of potential adverse events.
"Numerous claims about açaí's potential to complement conventional chemotherapeutic drugs have been made," said Calderón. "Açaí's chemoprotective activity against cancer has been attributed to its anti-inflammatory, antioxidant, antiproliferative and proapoptotic properties in preclinical models."
For Calderón, being able to incorporate more women and underrepresented minorities on the project is important in promoting and encouraging diversity in the biomedical workforce.
"As the United States population becomes increasingly diverse, reflection of that diversity among the biomedical research workforce is vital," said Calderón. "The increase of diverse backgrounds of scientists can enhance the diversity of ideas for scientific progress."
Along with her team of undergraduate and graduate students, Calderón will be joined by an interdisciplinary group of investigators across the Auburn campus. Joining her are Satyanarayana Pondugula, associate professor, College of Veterinary Medicine; Rusty Arnold, professor, Harrison School of Pharmacy; Jingyi Zheng, assistant professor, College of Sciences and Mathematics; and Jianzhong Shen, professor, Harrison School of Pharmacy.
---
----------
About the Harrison School of Pharmacy
Auburn University's Harrison School of Pharmacy is ranked among the top 25 percent of all pharmacy schools in the United States, according to U.S. News & World Report. Fully accredited by the Accreditation Council for Pharmacy Education (ACPE), the School offers doctoral degrees in pharmacy (Pharm.D.) and pharmaceutical sciences (Ph.D.) while also offering a master's in pharmaceutical sciences. The School's commitment to world-class scholarship and interdisciplinary research speaks to Auburn's overarching Carnegie R1 designation that places Auburn among the top 100 doctoral research universities in the nation. For more information about the School, please call 334.844.8348 or visit http://pharmacy.auburn.edu.
Making Medications Work Through Innovative Research, Education and Patient Care
---