HSOP and VA partnering to bring innovative technology to mental health treatment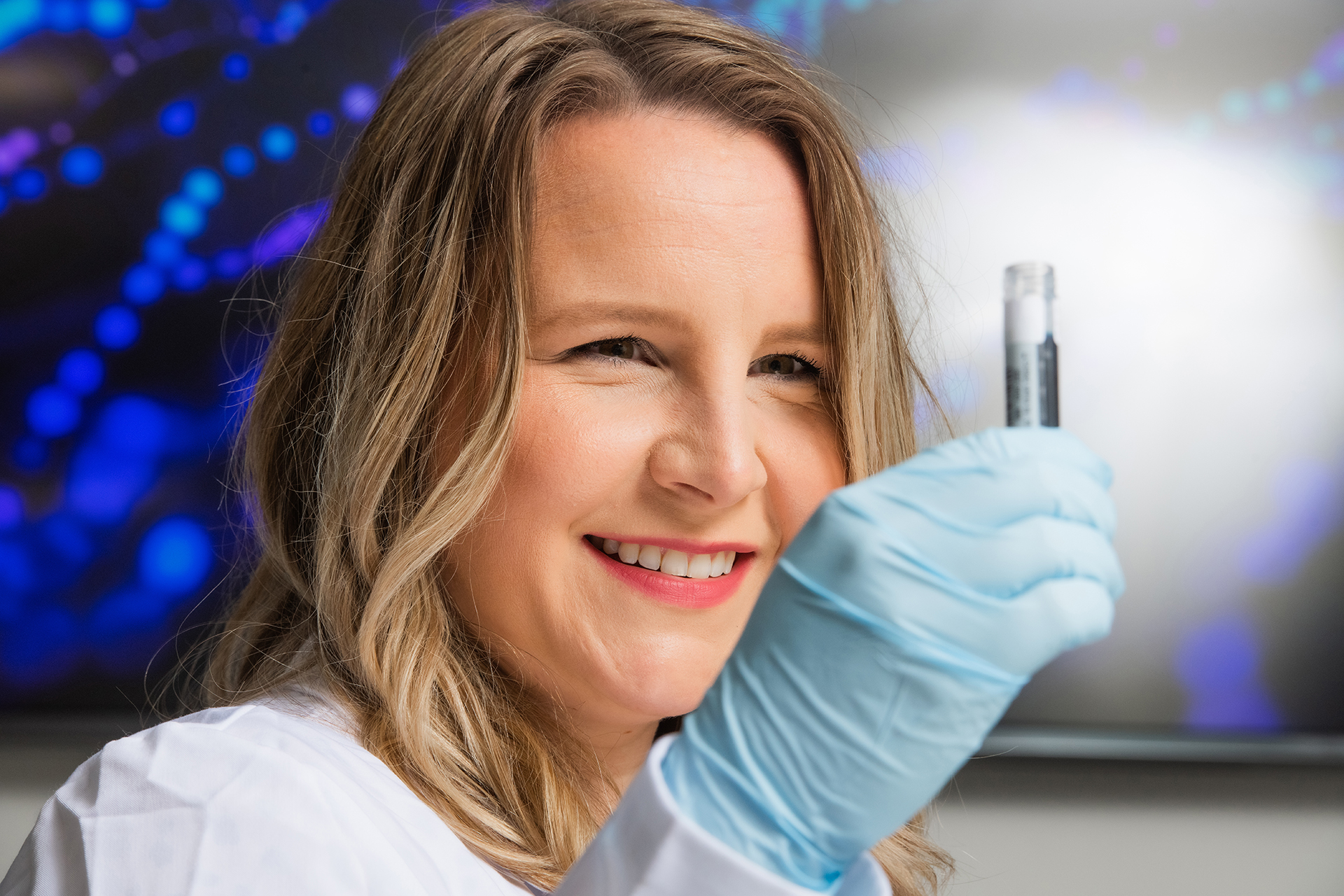 Dr. Courtney Alexander holds up a sample in the lab
November 11, 2021
---
AUBURN, Alabama – Many United States veterans are impacted by mental health challenges, and finding the right combination of medications can play a significant role in improving their health and quality of life. A faculty member within the Harrison School of Pharmacy, or HSOP, is partnering with the United States Department of Veterans Affairs to evaluate how pharmacogenomics may improve medication selection and dosing for mental health disorders such as major depressive disorder.
Leading this program is Dr. Courtney Watts Alexander, assistant professor of clinical pharmacogenomics. A 2013 HSOP graduate, she completed two years of post-doctoral residency training at the University of Texas MD Anderson Cancer Center and at St. Jude Children's Research Hospital. This is where she first encountered pharmacogenomics. She is now implementing this science through various programs at Auburn.
Partnering with the Tuscaloosa VA Medical Center and supported by a pilot grant from the UAB Center for Clinical and Translational Science, Alexander is leading a team that is assessing how often pharmacogenomic evaluation identifies significant drug-gene interactions that, when addressed, may lead to improvements in medication selection and dosing for the treatment of major depressive disorder. The project uses the school's telehealth infrastructure to provide virtual, individualized pharmacogenomics consultations with veterans.
"HSOP faculty and students are providing important outreach to veterans which increases patient access to pharmacogenomic testing and consultation services. By providing patient care through telehealth technology, we have an opportunity to reach a large population of veterans throughout Alabama," said Kimberly Braxton Lloyd, HSOP's associate dean of clinical affairs and outreach.
"The AUPCC has an existing collaborative relationship with the Tuscaloosa VA. Our pharmacy faculty, staff, and students provide care to VA patients through the AUPCC's Population Health Clinic where telehealth technology is available. Through routine, remote patient interactions, we review patient's medications; identify medication use problems; provide medication education; collect efficacy data; and watch for adverse effects. Our clinicians and students can order refills, schedule appointments, order labs, recommend vaccinations, and document care in the medical record," said Braxton Lloyd. "The addition of a pharmacogenomics consulting service expands Auburn's opportunity to improve patient care."
Alexander added, "We have direct access to the VA patient dashboard that facilitates the identification of patients who would benefit from our consultation services. The interprofessional health care team at the VA values this collaboration and is excited about the improvements in medication use that may be realized."
By learning more about how the patient metabolizes medications, the team can evaluate medication selection and dosing, which may allow prediction of therapeutic failures before they occur. Patients also receive a comprehensive report of how their personal pharmacogenomic results impact medications they may potentially receive in the future.
"Through participation in this project, pharmacy students and residents learn how to integrate pharmacogenomics, a relatively new area of medical science, into the medication care plan," said Braxton Lloyd. "They are also learning how to provide remote care to patients through the use of technology. The importance of this mode of patient interaction was highlighted throughout the pandemic."
The collaboration between Auburn and the VA allows Alexander and her team to make a significant impact on the veteran population in Alabama. This may develop into a unique care model for the treatment of major depressive disorder.
---
----------
About the Harrison School of Pharmacy
Auburn University's Harrison School of Pharmacy is ranked among the top 25 percent of all pharmacy schools in the United States, according to U.S. News & World Report. Fully accredited by the Accreditation Council for Pharmacy Education (ACPE), the School offers doctoral degrees in pharmacy (Pharm.D.) and pharmaceutical sciences (Ph.D.) while also offering a master's in pharmaceutical sciences. The School's commitment to world-class scholarship and interdisciplinary research speaks to Auburn's overarching Carnegie R1 designation that places Auburn among the top 100 doctoral research universities in the nation. For more information about the School, please call 334.844.8348 or visit http://pharmacy.auburn.edu.
Making Medications Work Through Innovative Research, Education and Patient Care
---