Expert Answers: Opioid epidemic in Alabama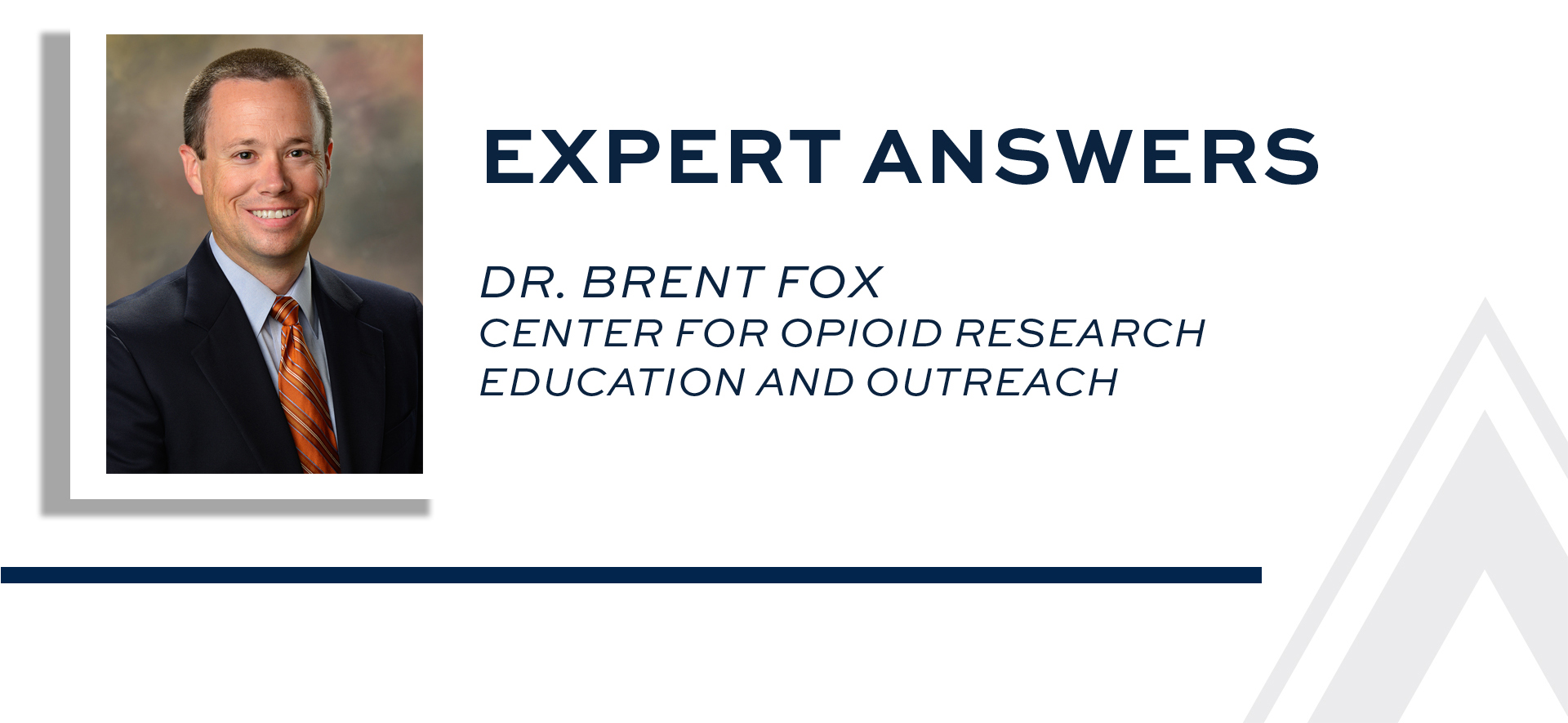 January 30, 2023
---
AUBURN, Alabama – The Harrison College of Pharmacy's Center for Opioid Research, Education and Outreach, or COACH, is active in working with leaders and professionals across the state in combatting the opioid crisis.
A key revelation in their work is the fact there is no one singular solution to the problem. Communities cannot just arrest their way out of it, but rather work through collaboration and education to bring people from a variety of backgrounds to work together.
The team has accomplished this through a series of town hall programs across the state, as well as co-hosting the 2023 Substance Misuse Summit with the Alabama Department of Public Health. Events such as these bring law enforcement, medical professionals, first responders, community leaders and others together in one forum to identify ways they can work together to combat the crisis.
With the 2023 Summit on the horizon, Dr. Brent Fox, one of the Summit organizers and a professor in the Harrison College of Pharmacy's Department of Health Outcomes Research and Policy, discusses current events and new initiatives related to the opioid crisis.
You are part of a team that recently got support from the ADPH to deliver educational programming related to the opioid epidemic. Why are educational programs like important?
Prior to the COVID-19 pandemic, the opioid epidemic was the greatest public health threat in this country. Unfortunately, substance use disorders and overdoses increased during the pandemic. As we emerge from the pandemic, we must refocus our attention on this epidemic.
One component involved town halls, including CE credit, for health care professionals on the PDMP. What is the PDMP and how is it a useful tool in learning more about the problem and combatting it?
The Prescription Drug Monitoring Program, or PDMP, is an online database of controlled substances, including opioids, that have been dispensed to patients pursuant to a prescription. Currently, each state manages and maintains a state-wide PDMP. However, many states, including Alabama, can view PDMP data from other states.
At its core, the PDMP is useful because it provides prescribers and pharmacists with current dispensing histories for their patients. These health care professionals can then make informed decisions regarding their patients' care. This includes identifying patients whose use of opioids and other controlled substances warrants further inquiry.
What are some things health care providers are surprised to learn about the PDMP?
A relatively recent development allows prescribers and pharmacists to integrate the PDMP into their existing computer systems, where they document their clinical activities. This integration eliminates the need for health care professionals to leave their clinical software system to access the PDMP through their web-browser.
The Alabama Department of Public Health currently has funding to cover the monthly fee charged by the PDMP software vendor. Many health care professionals are not aware of this funding.
When learning about the PDMP, why is it important to have prescribers and pharmacists together and part of the discussion?
Prescribers and pharmacists share responsibility for their patients' care. However, busy work environments in different locations and settings limit their interactions and communication with each other regarding the patient.
In the context of opioids and other controlled substances, the PDMP can bridge the gap when health care providers have limited ability to communicate about a patient's medication therapy.
The second component of the program is a summit scheduled for February 3. Who is invited to learn more about participate in the summit?
The summit, sponsored by the Alabama Department of Public Health, is an interdisciplinary, knowledge-based program open to virtually anyone who plays a role in the fight against substance use disorders, including opioids.
Attendees from the following disciplines will receive continuing education credit for attending the summit: mental health professionals, nurses, nurse practitioners, pharmacists, pharmacy technicians, physicians, physician assistants, dentist, and social workers. Other professions invited to the summit include law enforcement, community leaders, and school counselors.
What is the theme or primary message you all hope to communicate during this year's Summit?
Our 2023 Summit's theme centers around both current and emerging issues related to substance misuse in Alabama. We will emphasize that no one individual or profession can tackle the substance misuse problem in our state.
It is a multi-dimensional problem requiring an interdisciplinary solution. Alabamians should collaborate with one another based on their individual experiences, content knowledge, and available resources to tackle this crisis.
Why is it important to have representatives from these various groups participate in the Summit?
We learned during the pandemic that there is value in being in the same room when addressing complex issues. The summit will provide a forum for a diverse group of stakeholders to engage in an open dialogue regarding current issues and potential solutions.
For someone who attends, what do you hope they take away from the experience?
Individuals from all walks of life and professions are working to combat this crisis and make a difference in the lives of those struggling with substance use disorders. It is important for these individuals to share their experiences and to learn about available resources to assist those living with substance use disorders.
What are some new topics that will be addressed during the Summit?
The entire day will address timely topics relevant for attendees. In terms of topics that are emerging, as Alabama has recently passed legislation legalizing the use of medical marijuana in certain circumstances, we felt it pertinent to include this topic during this year's summit.
Other topics include updates from state leaders regarding state challenges and priorities and documentation strategies and tools to ensure patient safety and improve communication between providers.
Additionally, fentanyl remains a critically important issue throughout the state. We have two sessions related to fentanyl trends and impact as well as test strip distribution programs.
You can learn more about COACH and its programs by visiting https://auburncoach.org/.
---
----------
About the Harrison College of Pharmacy
Auburn University's Harrison College of Pharmacy is ranked among the top 25 percent of all pharmacy programs in the United States, according to U.S. News & World Report. Fully accredited by the Accreditation Council for Pharmacy Education (ACPE), the College offers doctoral degrees in pharmacy (Pharm.D.) and pharmaceutical sciences (Ph.D.) while also offering a master's in pharmaceutical sciences. The College's commitment to world-class scholarship and interdisciplinary research speaks to Auburn's overarching Carnegie R1 designation that places Auburn among the top 100 doctoral research universities in the nation. For more information about the College, please call 334.844.8348 or visit http://pharmacy.auburn.edu.
Making Medications Work Through Innovative Research, Education and Patient Care
---