Kabre Heck earns NIH research fellowship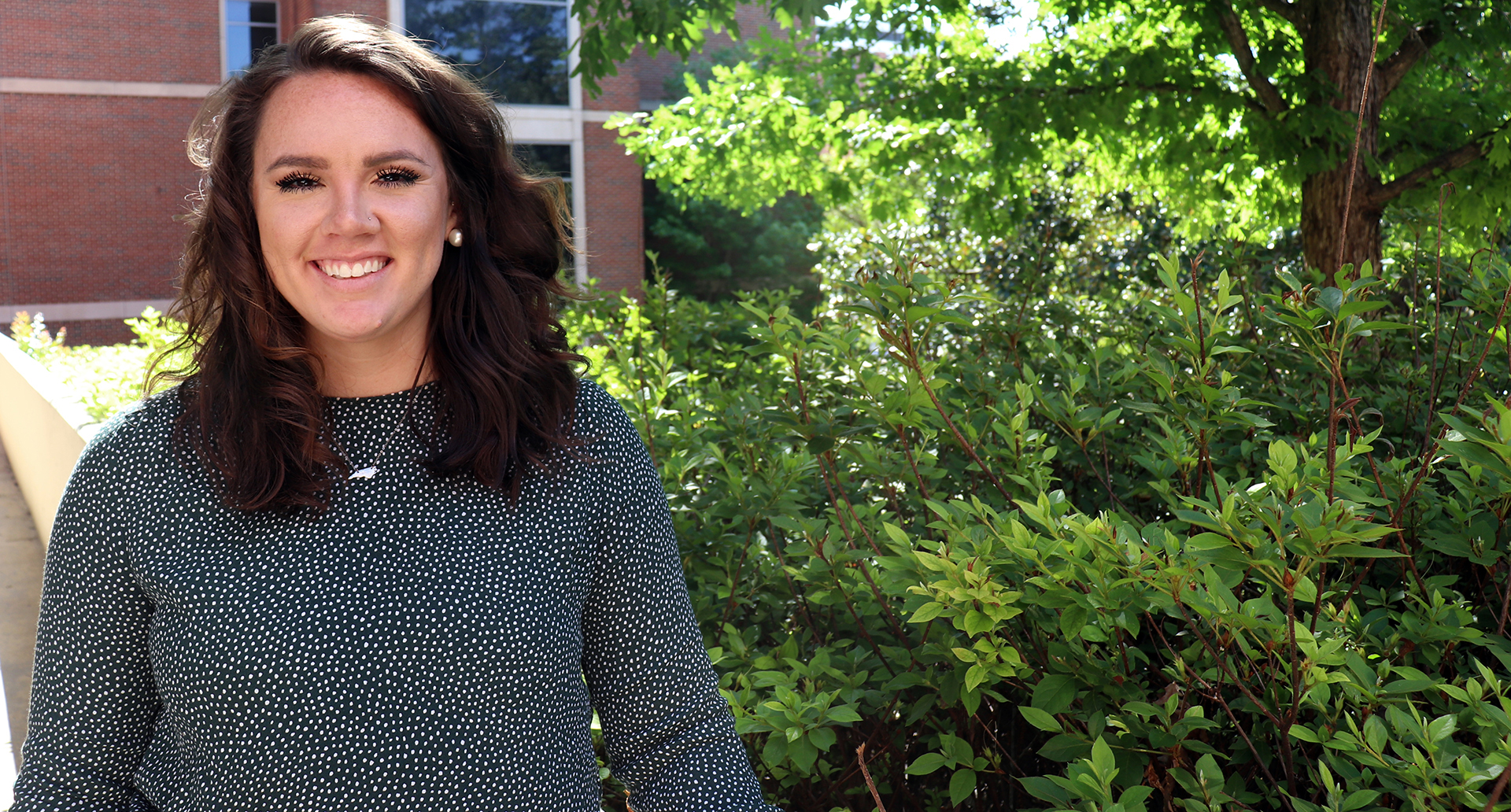 April 18, 2023
---
By Amy Weaver
AUBURN, Alabama – Kabre Heck is the first student from Auburn University's Harrison College of Pharmacy to earn a research fellowship from the National Institutes of Health aimed at promoting diversity in health-related research.
She joins just seven Auburn students who previously earned F31 fellowships through the National Institutes of Health, or NIH.
Heck came to Auburn in 2019 after graduating from Lenoir-Rhyne University in Hickory, North Carolina, with a bachelor's degree in medical studies. She initially enrolled in a 3+2 program there as a way of earning two degrees in five years.
But rather than enroll in Lenoir-Ryne's graduate program in physician assistant studies, Heck said she sought a way, "to use my skills to help a larger number of people through research."
She became interested in pharmacy after working as a pharmacy technician throughout college and as a lab assistant in organic chemistry under Lenoir-Rhyne's Associate Professor Josh Ring.
Heck said she didn't want to be a pharmacist, but because Ring had studied at the University of Kentucky's College of Pharmacy and did post-doctoral training at Auburn's College of Sciences and Mathematics, she applied to both colleges to continue her education.
Heck found her way to the Plains and eventually to the lab of Angela Calderón, an associate professor in pharmacy's Department of Drug Discovery and Development.
Heck's research project, "Evaluation of Euterpe oleracea Mart. (açaí) for inhibition of UGTs as a mechanism of botanical-drug interactions involving anticancer drugs," is an extension of Calderón's work, "Unravelling the mechanism of acai BDS-anticancer drug interaction: A preliminary approach," for which she received an R15 grant in 2021 from the National Center for Complementary and Integrative Health and the Office of Dietary Supplements of the National Institutes of Health.
As part of her award, Calderón is charged with training her students, particularly female and underrepresented minority students, for biomedical sciences research careers.
"Kabre has emerged as a leader within my laboratory, providing hands-on research training to undergraduate students, particularly undergraduates from diverse backgrounds," Calderón noted. "She also is a leader within the college, across campus and within national organizations. Kabre is honest, hardworking and receptive to mentor-based direction. She thinks outside of the box and is capable of troubleshooting intellectual and hands-on problems."
Heck is looking to show that botanical dietary supplements containing açaí can cause life-threatening drug interactions when taken with anti-cancer drugs that are metabolized by a certain liver enzyme.
"Different than a pharmaceutical with one active ingredient, botanicals often contain many compounds which may cause health effects, beneficial or detrimental," she said. "In addition to seeing if açaí causes these effects, my project is also focused on using a software tool created in our lab in collaboration with Dr. [Cheryl] Seals' team in computer science to predict which compounds in açaí may be causing these botanical-drug interactions.
"Both my work and Dr. Calderón's work encompass drug metabolism and natural product chemistry. Her work included different levels of drug metabolism throughout, but didn't include a specific family of enzymes, UGTs, which is where my fellowship project comes in."
Heck solidified her interest in natural product chemistry and separation science at Auburn as she searched for a graduate school mentor.
"I was genuinely intrigued by how chromatography [the process for separating components of a mixture] had been developed over the years and how specific they become to be tailored to the needs of chemists based on the compounds they needed to resolve," Heck explained. "I chose Dr. Angela Calderón as my mentor due to her expertise in natural product chemistry and separation science, specifically liquid chromatography and mass spectrometry."
Heck said she was eligible to apply for the NIH F31 fellowship after Calderón received the R15 from NIH. She said a course in the Harrison College of Pharmacy called Introduction to Grant Writing helped her write the grant application for three different fellowships.
"Dr. Calderón encouraged me to apply using a new project that could be an extension of the aims proposed in her grant," she said.
The F31 fellowship grants Heck more than $65,000 to support her research.
The NIH's National Center for Complementary and Integrative Health, or NCCIH, awards the F31, known as the Ruth L. Kirschstein National Research Service Awards for Individual Predoctoral Fellowships to Promote Diversity in Health-Related Research.
The aim is to enhance the diversity of the biomedical, behavioral and clinical research workforce by supporting the research training of predoctoral students from diverse backgrounds. Candidates include those from racial and ethnic groups underrepresented in these research areas, persons with disabilities and those from disadvantaged backgrounds.
Calderón is listed as Heck's sponsor for the award, while Gary Piazza, the W.W. Walker Professor and head of the Department of Drug Discovery and Development, is the co-sponsor.
Heck is the first Auburn pharmacy student and only the eighth student at Auburn to earn this award.
"I am honored and incredibly proud of myself," she admitted. "This is the product of the hardest thing I have ever worked for in my life – 70 pages of me and my science under a microscope.
"While the numbers speak to how difficult it is to obtain one of these fellowships, I think that we are doing incredible research here at Auburn and in the Harrison College of Pharmacy, and I hope to see many more of these awards in the future."
Heck plans to graduate in May 2024, and would like to land, "a job in the mass spectrometry industry where I can work for a company that allows me to either help other scientists build mass spectrometry methods for their needs or to perform research and development to create new chromatography and mass spectrometry instrumentation.
"I'm also open to positions in academia or government but writing this grant has taught me a lot about how difficult it is to have to secure your own funding. I now have a much greater appreciation for faculty, knowing how much work goes into this process."
Calderón remains optimistic Heck will have a successful research career.
"She is one of the most well-rounded graduate students, in terms of excellence in teaching, research and outreach," she said. "She is an outstanding colleague among her peers and is frequently asked to engage with potential applicants to our pharmaceutical sciences graduate program during recruiting opportunities, as well as serve as a peer mentor for the Auburn Graduate School First-Year Experience Mentorship Program."
---
----------
About the Harrison College of Pharmacy
Auburn University's Harrison College of Pharmacy is ranked among the top 25 percent of all pharmacy programs in the United States, according to U.S. News & World Report. Fully accredited by the Accreditation Council for Pharmacy Education (ACPE), the College offers doctoral degrees in pharmacy (Pharm.D.) and pharmaceutical sciences (Ph.D.) while also offering a master's in pharmaceutical sciences. The College's commitment to world-class scholarship and interdisciplinary research speaks to Auburn's overarching Carnegie R1 designation that places Auburn among the top 100 doctoral research universities in the nation. For more information about the College, please call 334.844.8348 or visit http://pharmacy.auburn.edu.
Making Medications Work Through Innovative Research, Education and Patient Care
---