Faculty Earn Promotion and Tenure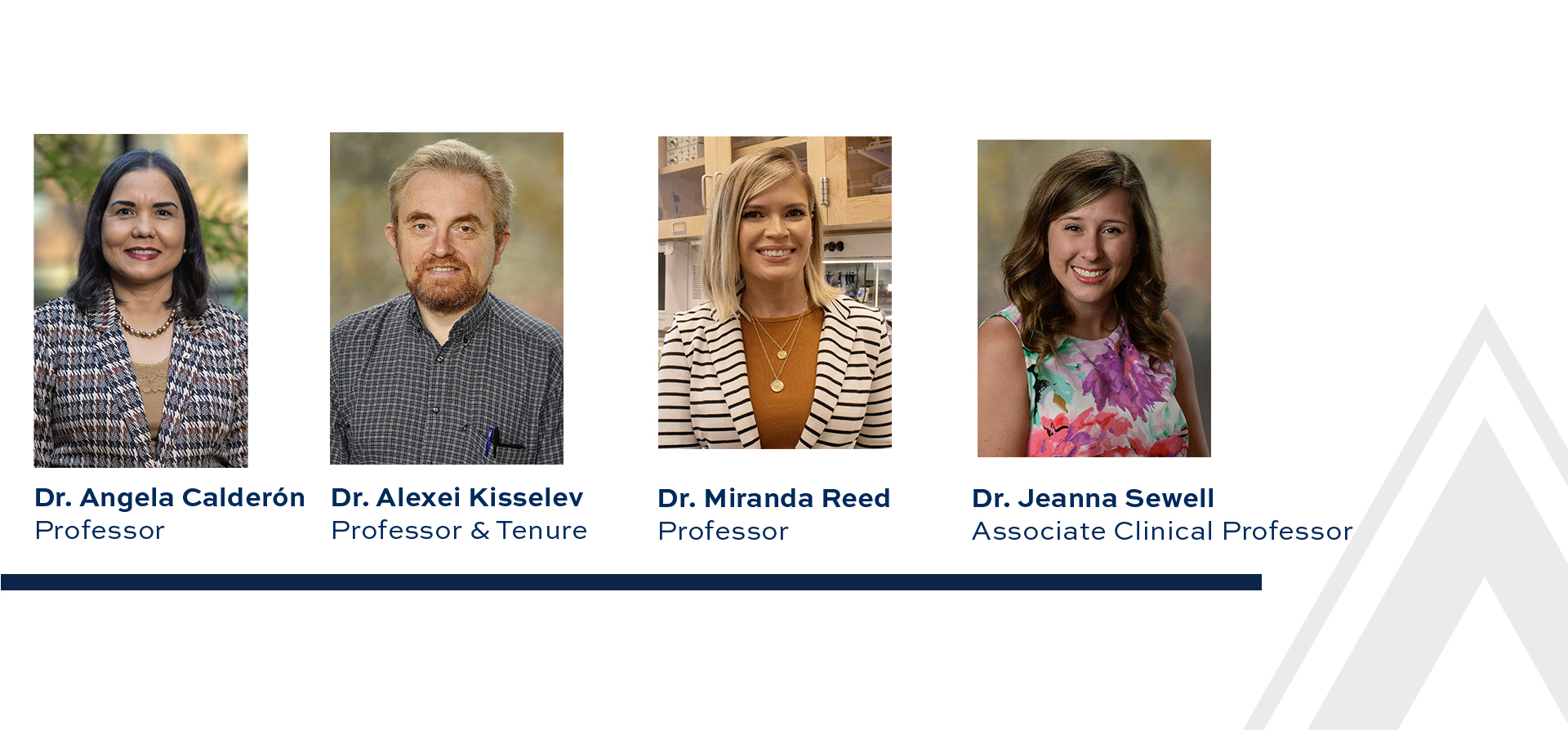 April 26, 2023
---
AUBURN, Alabama – Four Harrison College of Pharmacy faculty members were recently awarded with promotion or tenure, recognizing their outstanding efforts to the school. The promotions are effective October 1, 2023.
"I would like to congratulate these outstanding faculty members who have reached this important milestone," said Timothy Moore, interim dean of the Harrison College of Pharmacy. "These exceptional teachers and investigators have exemplified our ideals of teaching, research and outreach, and they are very deserving."
In the Department of Pharmacy Practice, Dr. Jeanna Sewell was promoted to associate clinical professor. A 2014 HCOP graduate, she joined the college as a faculty member in 2016 and also currently serves as our director of interprofessional education.
In the Department of Drug Discovery and Development, Drs. Angela Calderón, Alexei Kisselev and Miranda Reed were promoted to professor with Kisselev also granted tenure. Calderón joined HCOP in 2008 as an assistant professor and was promoted to associate professor in 2015. Kisselev joined the college as an associate professor in 2017 while Reed came on in 2015 as an associate professor.
"In the dynamic world of health care and pharmaceutical science, it is critical to have practitioners and investigators that are continually working to advance health outcomes," said Moore. "We are fortunate to have an outstanding group in our college such as these that do just that and we look forward to their success in years to come."
---
----------
About the Harrison College of Pharmacy
Auburn University's Harrison College of Pharmacy is ranked among the top 25 percent of all pharmacy programs in the United States, according to U.S. News & World Report. Fully accredited by the Accreditation Council for Pharmacy Education (ACPE), the College offers doctoral degrees in pharmacy (Pharm.D.) and pharmaceutical sciences (Ph.D.) while also offering a master's in pharmaceutical sciences. The College's commitment to world-class scholarship and interdisciplinary research speaks to Auburn's overarching Carnegie R1 designation that places Auburn among the top 100 doctoral research universities in the nation. For more information about the College, please call 334.844.8348 or visit http://pharmacy.auburn.edu.
Making Medications Work Through Innovative Research, Education and Patient Care
---