Will Cordell: 2023 Pharm.D. Graduation Marshal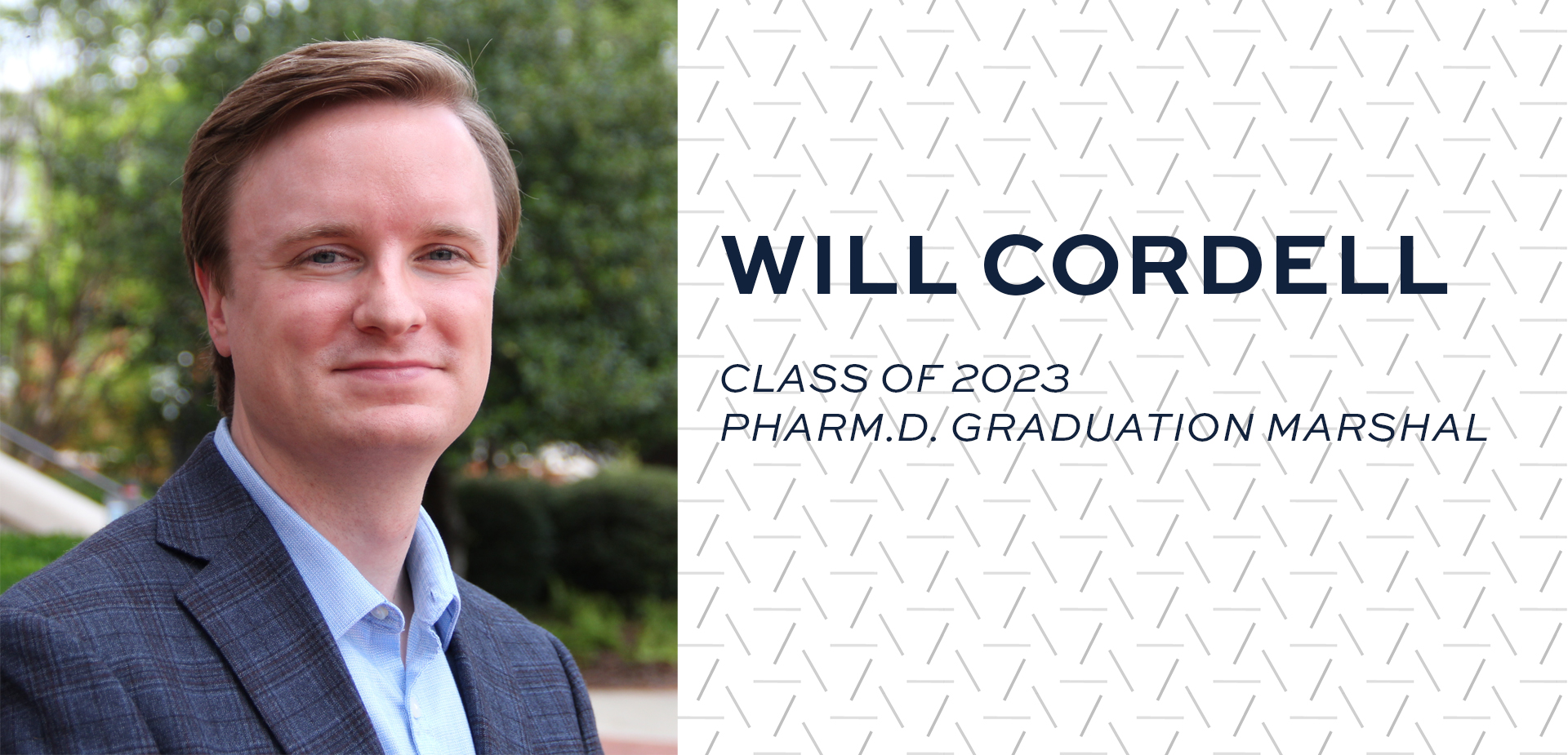 May 2, 2023
---
By Judith Fuller
AUBURN, Alabama – Growing up in the small town of Section, Alabama, Will Cordell, chose to pursue a career in pharmacy after getting a summer job at Section Pharmacy, the local drugstore in his hometown. From that summer job to the Harrison College of Pharmacy, Cordell will take the next step in his career as he graduates as a member of the Class of 2023 on Monday, May 8. In recognition of his efforts, Cordell was chosen as this year's Pharm.D. Graduation Marshal.
It was while working that summer job at Section Pharmacy that Cordell was inspired by the impacts that the pharmacists were able to make on patient care daily.
"As I learned more about pharmacy practice, I was drawn to pharmacists' ability to provide patient-specific medication recommendations as well as make interventions to promote patient safety," said Cordell. "I knew pharmacy would be a challenging and rewarding field that would allow me to make lasting impacts in patients' lives, and I am proud to graduate as part of the latest generation of Auburn pharmacists."
Cordell, the son of Jon and Deb Cordell, attended Auburn, graduating from the College of Sciences and Mathematics with his undergraduate degree in biomedical sciences in 2019. He decided to stay at Auburn and pursue his Pharm.D. at the Harrison College of Pharmacy and will now pursue further clinical training as a PGY-1 resident with the University of Kansas Health System in Kansas City, Kansas.
When Cordell was evaluating pharmacy programs, he was drawn to the Harrison College of Pharmacy because of its innovative curriculum that integrated pharmacology, pharmacokinetics, social sciences, and pharmacy practice into a comprehensive, streamlined learning model that spanned the three years of didactic learning.
"The Practice Ready Curriculum trains capable pharmacists and provides graduates with the foundations necessary to practice in any setting," said Cordell. "Auburn has a history of producing exceptional pharmacists who are devoted to advancing the profession and providing outstanding patient care, and I knew that I wanted to be a part of that legacy."
Cordell was very involved in his time at Auburn being an APA Board of Trustees Member and a Harrison College of Pharmacy Ambassador, along with memberships in several student organizations.
Cordell says that as he looks back on his time as an Auburn student, he feels profoundly grateful for every opportunity he has been given since coming to The Plains as an undergraduate in 2015 and that he is thankful to have crossed paths with so many wonderful people during his time at Auburn.
"We always hear about the Auburn Family. It is not something that can be explained, but it is something that can only be experienced," said Cordell. "The people I have met over these last several years have pushed me to grow personally, intellectually, and professionally, and I can confidently say that I would not be the person I am today without my Auburn Family and the lasting impacts they have made on my life.
"I am proud of my time at Auburn, and I wouldn't change a single thing."
After graduation, Cordell plans to pursue advanced specialty residency training and board certification in psychiatric pharmacy practice.
"I am interested in practicing in various settings in both inpatient and outpatient psychiatry while maintaining a focus on the academic element of practice and exploring my research interests including the treatment of serious mental illness and the management of patients with comorbid serious mental illness and HIV infection," said Cordell.
---
----------
About the Harrison College of Pharmacy
Auburn University's Harrison College of Pharmacy is ranked among the top 25 percent of all pharmacy programs in the United States, according to U.S. News & World Report. Fully accredited by the Accreditation Council for Pharmacy Education (ACPE), the College offers doctoral degrees in pharmacy (Pharm.D.) and pharmaceutical sciences (Ph.D.) while also offering a master's in pharmaceutical sciences. The College's commitment to world-class scholarship and interdisciplinary research speaks to Auburn's overarching Carnegie R1 designation that places Auburn among the top 100 doctoral research universities in the nation. For more information about the College, please call 334.844.8348 or visit http://pharmacy.auburn.edu.
Making Medications Work Through Innovative Research, Education and Patient Care
---