Leigh Ann Ross named dean of the Harrison College of Pharmacy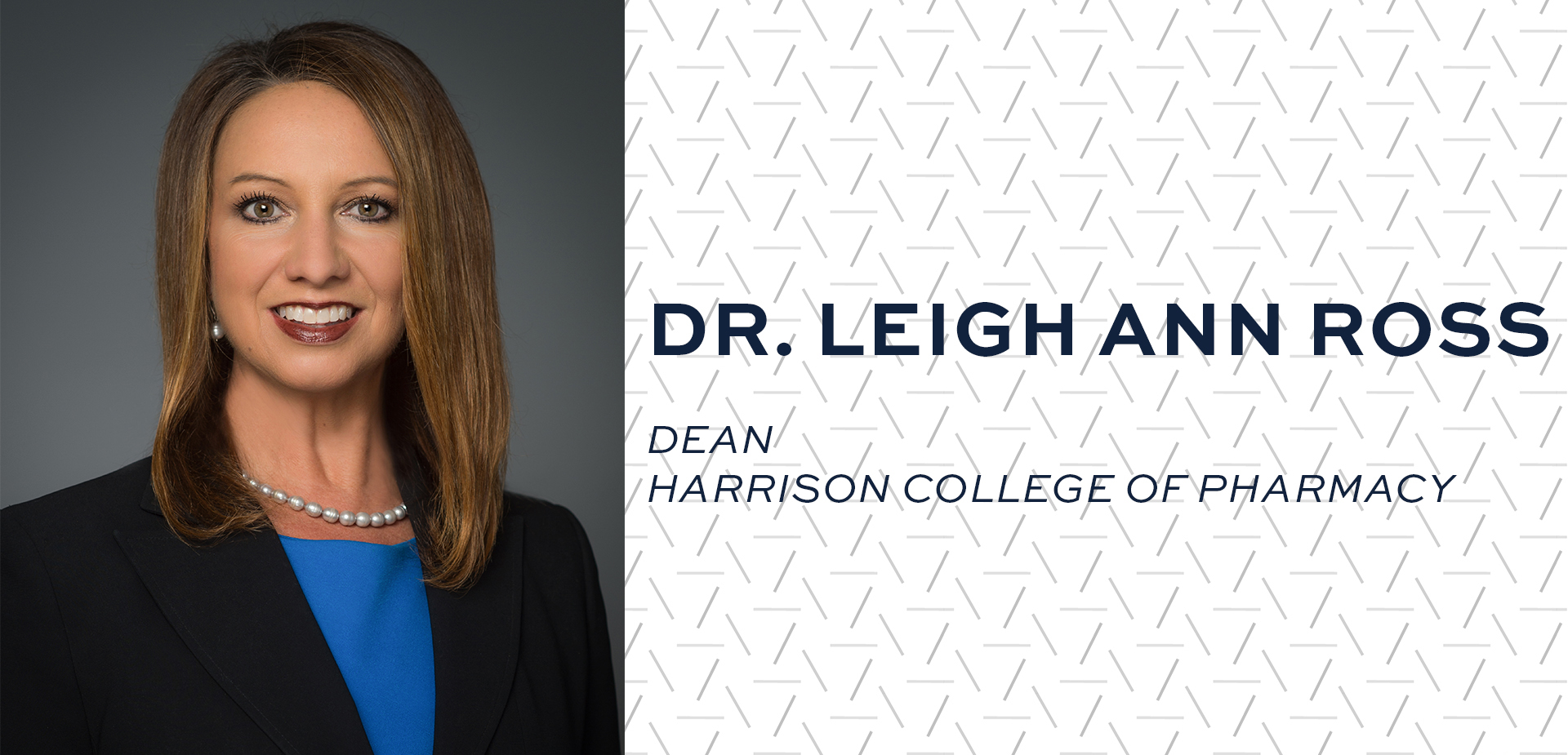 May 3, 2023
---
AUBURN, Alabama – Following a national search, Leigh Ann Ross, Pharm.D., BCPS, FASHP, FCCP, FAPhA, FNAP, has been named dean of the Harrison College of Pharmacy, or HCOP, beginning July 1.
A renowned pharmacy educator, practitioner, researcher, and administrator, Ross comes to Auburn from The University of Mississippi, or UM, where she holds multiple leadership roles, including associate dean for clinical affairs, director of the Center for Clinical and Translational Science and professor in the Department of Pharmacy Practice.
A board-certified pharmacotherapy specialist, Ross brings more than two decades of experience to Auburn, including extensive advocacy for pharmacists in the expanding role of patient care, resulting in new pathways for pharmacists as healthcare leaders. With an emphasis on faculty development and advancing the college's research portfolio, Ross will work with stakeholders across the college to develop innovative curricula designed to promote clinical knowledge, advance translational research and strengthen pharmacist competencies.
"In addition to being a noted researcher and scholar, Dr. Ross is an effective administrator who will bring a wealth of knowledge, enthusiasm and innovation to the Harrison College of Pharmacy," Interim Provost Vini Nathan said. "As the role of pharmacy professionals continues to evolve, I am confident that she will advance the college's mission by bolstering its research capabilities, increasing the health care resources provided to our state and fostering an exceptional academic experience for our pharmacy faculty and students."
As director of CCTS, Ross leads the center's efforts to foster patient-based clinical research and support collaborations designed to address healthcare issues. Comprised of three primary units, Ross oversees the center's pre-clinical/translational, clinical research and community/population divisions. Working together, these units advance cardiometabolic disorders and community-based research. During its first five years, the center generated nearly $5M in extramural funding, including two National Institutes of Health Clinical and Translational Science Award partnerships with the University of Alabama-Birmingham and the Mississippi Center for Clinical and Translational Research, a collaboration that engages multiple institutions across the State.
As an associate dean for clinical affairs, Ross has provided strategic leadership to several initiatives designed to strengthen the School of Pharmacy's educational programs, research, outreach and service programs, opportunities she looks forward to continuing as dean.
"I am honored to be given this opportunity to lead such a distinguished institution and to work alongside the talented students, faculty, and staff," Ross said. "I am passionate about advancing the pharmacy profession through education, research, and service. Pharmacy plays a critical role in improving public health, and I am committed to working with all members of the college to prepare our graduates to meet the ever-changing needs of our society."
In addition to establishing and leading the university's Pharmaceutical Care Clinics from 2000 through 2006, Ross developed curricular tools and opportunities for students to advance drug therapy management for diseases such as diabetes, dyslipidemia, anticoagulation, and asthma. As a result, the clinic received the Best Practice Award from the American Society of Health Systems Pharmacists in 2003.
A staunch advocate for health care education and research, Ross completed a Congressional Fellowship in the Office of then-US Senator Thad Cochran from 2006 to 2008 and continues to work with the University of Mississippi and University of Mississippi Medical Center governmental affairs teams to advance Federal and State legislative, policy, and regulatory issues. She is the immediate past president of the American College of Clinical Pharmacy and the former president of the Mississippi Pharmacists Association and the Mississippi Biotechnology Association.
"I am excited to be part of the Auburn University community, and I am committed to advancing our shared mission. I look forward to working together to make the Harrison College of Pharmacy the best it can be," Ross said.
Ross holds a BBA and a PharmD degree from the University of Mississippi and completed a primary care pharmacy residency at the University of Mississippi Medical Center.
---
----------
About the Harrison College of Pharmacy
Auburn University's Harrison College of Pharmacy is ranked among the top 25 percent of all pharmacy programs in the United States, according to U.S. News & World Report. Fully accredited by the Accreditation Council for Pharmacy Education (ACPE), the College offers doctoral degrees in pharmacy (Pharm.D.) and pharmaceutical sciences (Ph.D.) while also offering a master's in pharmaceutical sciences. The College's commitment to world-class scholarship and interdisciplinary research speaks to Auburn's overarching Carnegie R1 designation that places Auburn among the top 100 doctoral research universities in the nation. For more information about the College, please call 334.844.8348 or visit http://pharmacy.auburn.edu.
Making Medications Work Through Innovative Research, Education and Patient Care
---