Caroline Jackson: Continuing a pharmacy legacy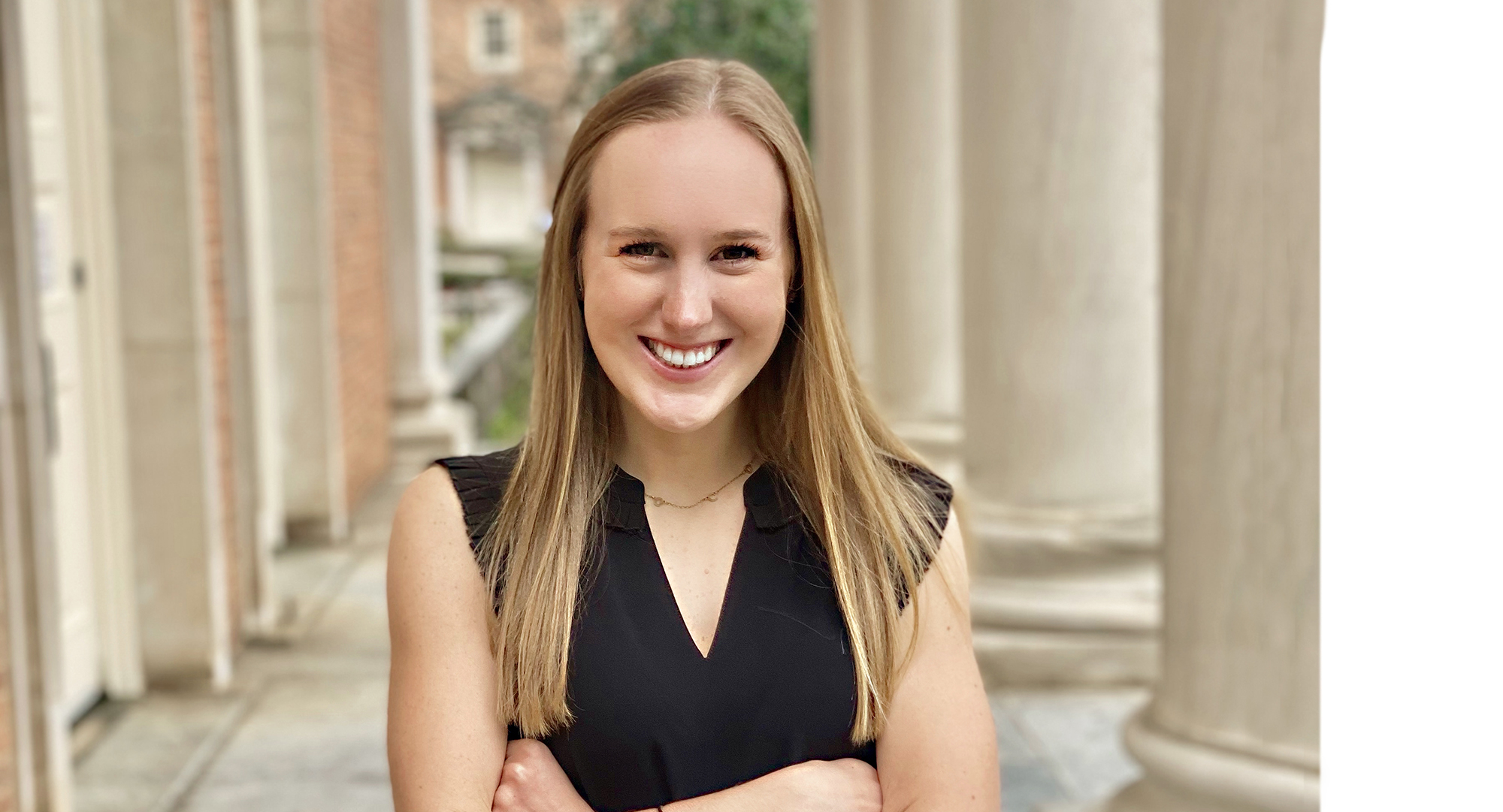 May 5, 2023
---
By Matt Crouch
AUBURN, Alabama – Growing up the child of a couple of pharmacists, Caroline Jackson was exposed to the profession at an early age. Watching her parents work and seeing the impacts they made on patients' health outcomes led her from Vestavia Hills to Auburn and now graduation as a member of the Harrison College of Pharmacy Class of 2023.
An outstanding student throughout her time at HCOP, Jackson was recently recognized as the Harrison College of Pharmacy's 2023 President's Award winner. The award recognizes one graduate in each college who has completed at least three semesters at Auburn with a minimum grade-point average of 3.40 and possesses outstanding qualities of leadership, citizenship, character and promise of professional ability.
"I was absolutely shocked to learn that I had won the President's Award! I am so grateful and honored to be recognized for this award because I feel that it recognizes the dedication and hard work that I put towards my education the past four years," said Jackson. "I am so thankful to my professors, preceptors, mentors and friends for supporting and encouraging me to reach this point."
Part of reaching this point is graduation day. From there, she will begin a PGY-1 residency with Vanderbilt University Medical Center. After seven years at Auburn, three as an undergraduate and four at HCOP, Jackson says reaching this point is bittersweet.
"My professors, mentors and classmates have played such a pivotal role of my time at Auburn, and I cannot thank them enough for being a part of the education and training that has gotten me where I am today," said Jackson.
One of those pivotal professors is the one she grew up watching. Caroline's mother, Cherry Jackson, is a professor in HCOP's Department of Pharmacy Practice and as a Board Certified Psychiatric Pharmacist, maintains a practice at the Community Psychiatry Program at the University of Alabama – Birmingham.
"My mom has always been a huge influence on me, she inspired me to push myself and follow my dreams of being a clinical pharmacist," said Jackson. "I would not be where I am today without her constant support."
While her mom was very influential, she also credits another HCOP alum for making a big impact into her decision to pursue pharmacy school. Participating in a job shadow program while in high school, she shadowed Dr. Emily Waite, a member of the HCOP Class of 2009 and an oncology clinical pharmacist at Children's of Alabama.
"That experience showed me the role of a clinical pharmacist in a hospital and confirmed that I wanted to pursue a career in pharmacy so that I could make an impact like Dr. Waite did on a daily basis," said Jackson.
After falling in love with the Auburn campus, the people and he value of an Auburn education, Jackson chose to come to The Plains for her undergraduate coursework. That quality of education also convinced her to stay and complete her Pharm.D. with HCOP.
"I decided to stay at Auburn and attend the Harrison College of Pharmacy because everyone at the College was so welcoming and supportive," said Jackson. "I was very intrigued about getting to learn about pharmacy through the Practice-Ready Curriculum where I would be able to learn both foundational and clinical knowledge in order to become a medication expert."
During her time at HCOP, she was able to serve as the president of Rho Chi Honor Society and be the Student Affairs Coordinator of the Harrison College of Pharmacy Ambassadors. She also got the opportunity to be a member of the College of Psychiatric and Neurologic Pharmacists, where she served as mental health outreach chair and secretary. She also served as a peer tutor and as a mentor through the Early Assurance Program.
Through all of her involvement, her experience as an HCOP Ambassador stands out among the others.
"My favorite memories from my time at HCOP was being involved in the Ambassador Program," said Jackson. "This experience allowed me to meet and interact with current students, prospective students and their families, as well as alumni. Being an ambassador presented me with exciting opportunities including giving tours, help with the White Coat Ceremony and Graduation, and hosting the Alumni Reception during Hargreaves Weekend."
Among the outstanding faculty she learned under, Jackson said it was the teaching of Dr. Jessica Starr, an associate clinical professor in the Department of Pharmacy Practice, that really made an impact on her.
"Dr. Jessica Starr had a profound impact on me throughout pharmacy school as a professor, preceptor and mentor," said Jackson. "Her teaching inspired my interest in cardiology, her preceptorship taught me the importance of optimizing patient care, and her mentorship was key while navigating the process of applying to and interviewing for residency programs.
Moving on to her residency at Vanderbilt University Medical Center, she is excited to work and learn at a site with a wide range of rotation options, including cardiology, critical care, solid organ transplant and stroke. She is also interested in the opportunity to train at a Level I Trauma Center, Regional Burn Center and Comprehensive Stroke Center.
"I felt that the program director, coordinator, current residents and preceptors were so welcoming and would challenge me to become an outstanding clinical pharmacist," said Jackson.
Moving beyond her residency, she would like to pursue a second-year program in either critical care or cardiology with an ultimate goal of being a critical care pharmacist in a cardiac unit and to be a preceptor for future pharmacy students.
Leaving Auburn, she is excited about the future, but fondly looks back on her time at Auburn and the support of the Auburn Family.
"The Auburn Pharmacy Family is very important to me," said Jackson. "I constantly felt supported by my classmates, professors, administration and alumni throughout my years and am excited to continue being a member of the Auburn Pharmacy Family for life!"
---
----------
About the Harrison College of Pharmacy
Auburn University's Harrison College of Pharmacy is ranked among the top 25 percent of all pharmacy programs in the United States, according to U.S. News & World Report. Fully accredited by the Accreditation Council for Pharmacy Education (ACPE), the College offers doctoral degrees in pharmacy (Pharm.D.) and pharmaceutical sciences (Ph.D.) while also offering a master's in pharmaceutical sciences. The College's commitment to world-class scholarship and interdisciplinary research speaks to Auburn's overarching Carnegie R1 designation that places Auburn among the top 100 doctoral research universities in the nation. For more information about the College, please call 334.844.8348 or visit http://pharmacy.auburn.edu.
Making Medications Work Through Innovative Research, Education and Patient Care
---