HCOP awards 155 degrees at 2023 Commencement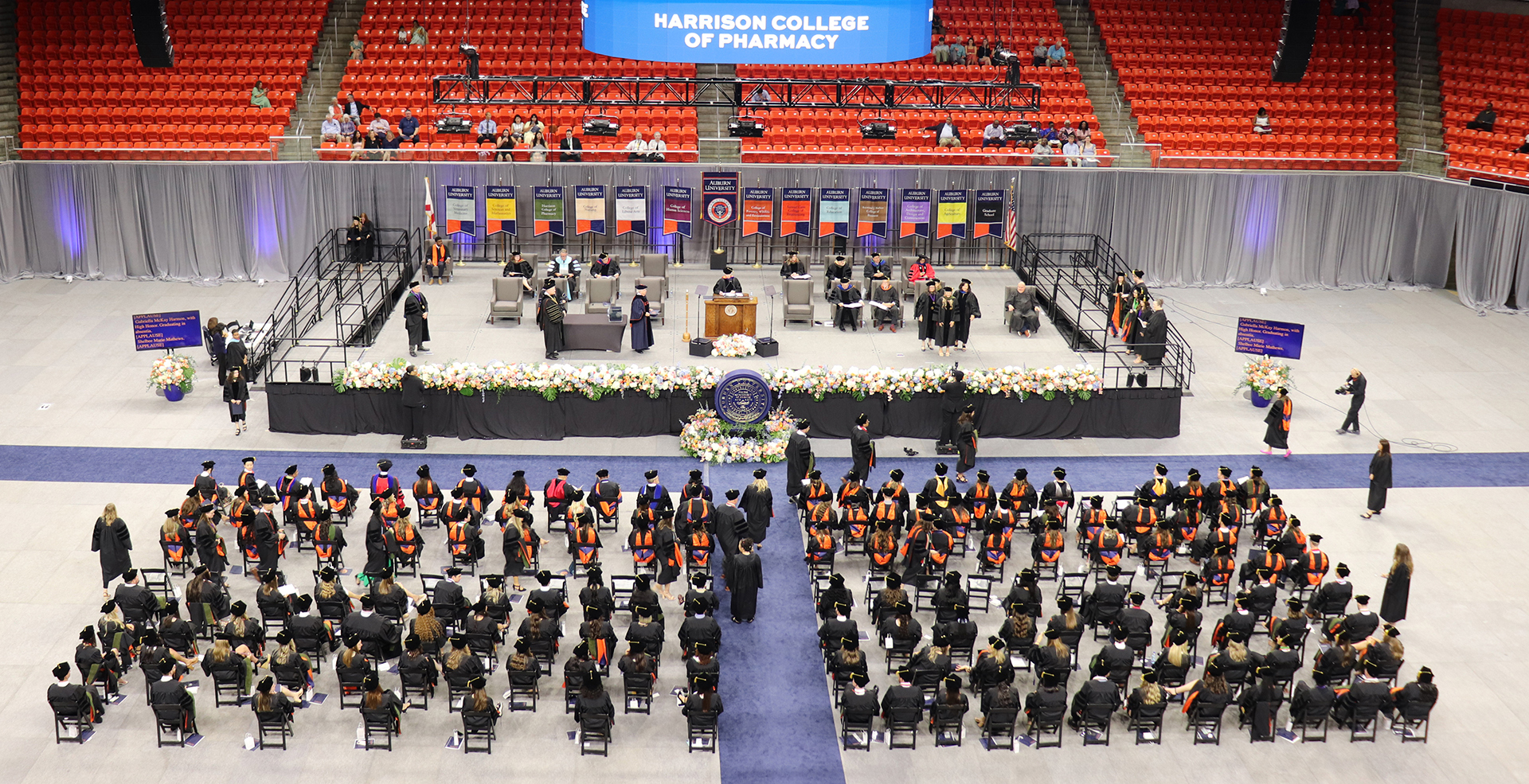 May 9, 2023
---
AUBURN, Alabama – Auburn University's James I. Harrison College of Pharmacy held its 2023 commencement ceremony on Monday, May 8 at Neville Arena. The class of 2023 included 141 students receiving the Doctor of Pharmacy (Pharm.D.) degree. Two students received a Master of Science (M.S.) degree, and 12 others received Doctor of Philosophy (Ph.D.) degrees.
"Congratulations to the Class of 2023. They worked very hard to reach this moment, including long hours spent in the classrooms, team rooms, research labs, skills labs and embedded within our great communities in Alabama," said Timothy Moore, interim dean of the Harrison College of Pharmacy. "Our graduates completed a demanding course of study over the past few years and I am amazed every day by their dedication and resilience, and unwavering commitment to rigor and professionalism."
The ceremony included a commencement address from Darrell Craven '07, president of the Auburn Pharmacy Alumni Affiliate and director of national accounts with Alkermes. Cassidi McDaniel Crosby served as he graduate student graduation marshal and Will Cordell served as the Pharm.D. student marshal.
The Class of 2023 included representatives from seven foreign countries, including Bangladesh, China, India, Indonesia, Nepal, Nigeria and Vietnam; 12 states, including Alabama, Alaska, California, Colorado, Florida, Georgia, Illinois, Indiana, Louisiana, New York, North Carolina and Tennessee.
As the public pharmacy school of the state of Alabama, the Harrison College of Pharmacy continues educating more Alabama pharmacists than anywhere in the world with 116 of the graduates hailing from the state. Additionally, the vast majority of the graduates are remaining in the state to continue serving the people of Alabama.
For the first time, graduating members of the Pharm.D. class participated as members of their Village. Auburn is known as the, "Loveliest Village on the Plains," and for the Harrison College of Pharmacy Villages are an essential component to the development students' professional identity.
Through the Villages system, students have a ready-made system of peer and faculty mentors to help guide them through this life experience. HCOP has 14 Villages, two in Mobile and 12 in Auburn. Each Village's name was created by its members and reflect significant pharmacy, health and Auburn symbols, while some incorporate their numbered origins.
---
2023 Graduates
Doctor of Philosophy Degrees
Olasubomi Atinuke Akintola
Sayak Chakravarti
Ibtisam Ibtisam
Tyler Jenkins
Lauren Lucas
Cassidi Crosby McDaniel
Nabin Poudel
Sindhu Ramesh
Warren Smith
Cong Bang Truong
Yi Zhao
Chenyu Zou
Master of Science Degree
Salsabil Ahmed
Surekha Kadannagari
---
Doctor of Pharmacy

Apothecary Village
Vindhya Rani Basetty
Lauren Elizabeth Fleming
Jazmyne Zhane Jackson
Alex Lassard
Ashley Murphy
Alexandra Nicole Partridge
Kreyas Patel
Shaikh Nayab Samin
Madison Anne Sanders
William Stuart Schoenrock
Alycia Wang
RayLee Ann Whitten
Double-Helix Village
Jacob Nathaniel Abraham
Summer Rae Duley
Jillian Hensleigh Farrow
Margaret Goode
Randy Lee Hooks III
Jessie Warren Jones
Joseph Evan Lawson
Ashley Brooke McCauley
Danielle Elyse Wilson
Gr8est Village on the Plains
Molly Colquitt Gambill
Jonathan Lee Gray
Kristin Alicia Hendricks
Mattie Caroline Kilpatrick
Alyson Smith
Ifeoma Oluchi Ugwuegbulam
Charles Jordan Vaughn
Haley Marie Wade
Peyton Danielle Wood
HIPAAgriffs
Carly Ann Albright
Brittiny L. Boyd
Rachel Anne Friend
Shelton Kate Givens
Andrew Allan Gwaltney
Taylor Fallon Hartzog
Joanna Ryan Mixon
Savannah Rae Simpson
Larissa Lynn Wolfe
MIghty Village
William Holcombe Adams V
Jaeshon Joseph Baldwin
Kaitlin Beyler
Haley Brobst
Tiffany Jo Cadwallader
Kathryn Elizabeth Dorsten
Gabriella McKay Harmon
Shelbee Marie Mathews
Jennifer Zoe Nadler
Dharti Patel
Michael Wade Patterson
Samantha Lynn Sims
Toomer's Oaks Village
Alexa Kathleen Allen
Jose Yoni Calderon-Reyes
Ryan McMicheal Crosby
Patricia Elizabeth Elder
Charles Matthew Hadley
Madeline Ann Harter
Mallory Anne McClung
Duy Thao Ngoc Nguyen
Harrison Stiger Riggs
Rayna Burkard Ward
Village of Ophiuchus
Jacob Davis Chesnutt
Adrian Hunter Courville
Baylea Jade Kyle
Samuel Grady Legg
Omoyemwen Abigail Obakpolor
Sandra Edwards Perry
Emily Grace Crow Roberson
Ashia TaMia Wordlaw
Trilogy Village
Anthony Vincent Campbell
Sayantoni Dhar
Diana Thuy Van Doan
Benjamin Lamar Jones
Lela Smith Kelley
Brady Myles Kent
Ansley Danielle Laurie
Morgan Tew Norris
Erin Elizabeth Schuld
Kylie Nicole Sheats
Jesse Jaynes Stermer
Village 1885
Zachary Bryant Blackmon
Shelby Bradley
William Grason Cordell
Evie Elizabeth Hackney
William Lloyd Kendrick
Samantha Ann Lightle
Faith Crawford Martin
Alex Noble
Allison Sell Raymond
Jeffrey Corbin Stauter
Village of Galen
Zeke Edward Bellomy
Hannah Reilly Bricker
Mackenzie Brooke Brown
Elisabeth Danielle Clark
Wraychel Renee Hudson
Sadie Gayle Newhouse
Anthony Ryan Pinto
Thomas Gregory Rosandich
Lauren Ashley Steil
Emily Katelyn Whitehurst
Holly Grace Wiggins
Village of Hygeia
Katelyn Elizabeth Carswell
Hannah Dianne Lambert
Colin Scott Mallory
Savanna Marie Metzler
Lindsey Frances Moore
Caleb Hogan Moses
Devon Marie Ploshay
Virginia Grace Reese
Kaylee Denise Rivenbark
Raegan Thompson Willoughby
Village of Legends
Alexis Vatanza Aldridge
Sieun Cynthia Bang
Lori Tim-Yang Cheng
Jessica Canaday Cohen
Emily Ann Goforth
Erin Harrell
Caroline Arden Jackson
Olivia Leila Jones
Caitlin McKenzi Shoemaker
Alana Felicia Shunnarah
Holly Nicole Webster
Village of Mobile Apothecaries
Taylor Symone Breech
Vincent Fagan
Brittany LaShawn Gayle
Kena Xtavier Lane
Mary Page Martin
Lillian Ashley Parnell
Eric Donaldson Reeves
Kinsey Paige Stewart
Paiton Trovinger
Jessica Renee Walton
Robert Jordan Wescovich
Samuel Lee Williams
Woodworth Vi11age
McKenzie Anne Hankins
Gentle Sabrina-Grace Hara
Claire E. Hiott
Rachel Swanson Parise
Julie Anne Reynolds
John Riley Shannon
Adam Bennett Smith Jr.
---
----------
About the Harrison College of Pharmacy
Auburn University's Harrison College of Pharmacy is ranked among the top 25 percent of all pharmacy programs in the United States, according to U.S. News & World Report. Fully accredited by the Accreditation Council for Pharmacy Education (ACPE), the College offers doctoral degrees in pharmacy (Pharm.D.) and pharmaceutical sciences (Ph.D.) while also offering a master's in pharmaceutical sciences. The College's commitment to world-class scholarship and interdisciplinary research speaks to Auburn's overarching Carnegie R1 designation that places Auburn among the top 100 doctoral research universities in the nation. For more information about the College, please call 334.844.8348 or visit http://pharmacy.auburn.edu.
Making Medications Work Through Innovative Research, Education and Patient Care
---