Justice joins APA Hall of Fame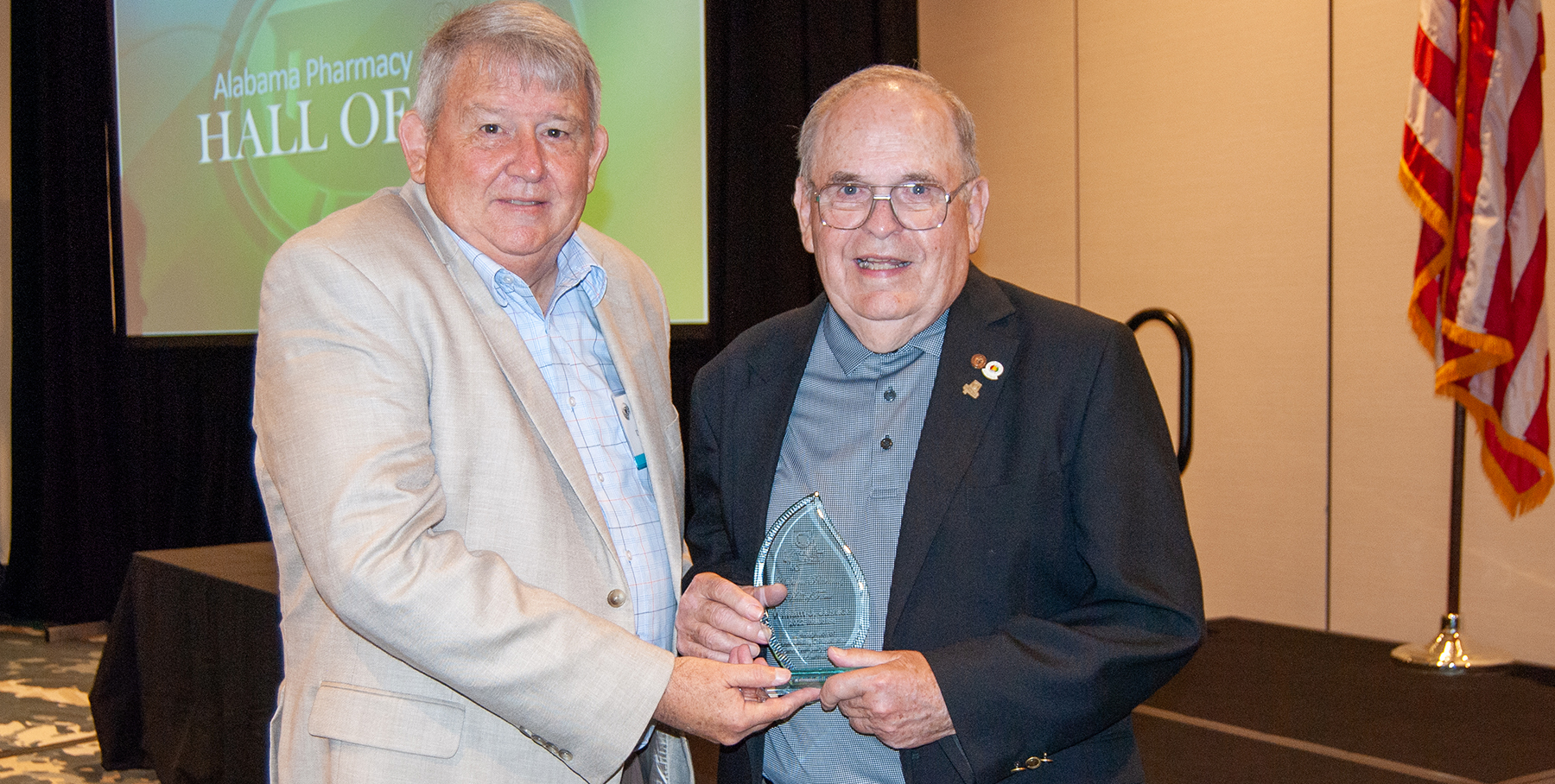 Jim Justice (right) is welcomed to the Hall of Fame by friend Danny Cottrell.
August 5, 2022
AUBURN, Alabama - Harrison College of Pharmacy alum Jim Justice was inducted into the Alabama Pharmacy Hall of Fame at the Alabama Pharmacy Association's 141st Annual Convention, held at the Lodge at Gulf State Park in Gulf Shores, Alabama.
Justice, a native of Flomaton, Alabama, received his bachelor of science degree in pharmacy from Auburn University in 1961. The child of a pharmacist, he and his three other siblings all earned pharmacy degrees from Auburn.
Justice loved the idea of practicing in a small-town pharmacy and came back to Flomaton to work with his father, eventually becoming president of Justice Rexall Drug in 1964. Understanding early how pharmacy was changing, he purchased Escambia Drug of Atmore in 1983. During this period, he became extremely active in pharmacy organizations and cooperatives and was elected to serve on the APCI board and was one of the founding directors of API. He also served on several APA committees and held the office of President in 1989. In 1999 Jim was elected by his peers to serve on the Alabama State Board of Pharmacy, completing a five-year term in 2003.
Along the way from 1995 to 2000, Justice purchased six pharmacies with partner and friend Danny Cottrell, retiring from ownership in 2003. He continued to practice in different settings including Walgreens, Mobile County Health Department, and Buy-Rite Drugs in Atmore, and today, works occasionally providing relief coverage.
Civic responsibility has led him to serve on both the Flomaton and Atmore Chamber of Commerce, the Atmore Rotary Club Board, the Flomaton Lions Club, and the Atmore Country Club. He has been treasurer of the Flomaton Methodist Church for over two decades and currently serves on the Flomaton Library Board. The mayor recently appointed him as chairman of a committee that is adopting land use and development ordinance for Flomaton. Serving on the Bank of Atmore board from 1982 to 2016, he has overseen its growth to United Bank with 21 branches, retiring from his duties with board member emeritus honors.
Awards received include the 1954 Eagle Scout Badge, 1989 NARD Pharmacy Leadership Award, 1989 Merck Award for Outstanding Achievement in the Profession of Pharmacy, 1989 APA Distinguished Service Award and the 1989 McKesson Leadership Award.
"Countless pharmacy owners from across the state will tell you that they wouldn't have been successful if it hadn't been for Jim's help and guidance," said Louise Jones, APA executive director. "APA is pleased to be able to recognize his work through his induction into the Hall of Fame."
Married to his high school sweetheart since 1960, Jim and Patsy have two children (one a pharmacist), four grandchildren, and two great-grandchildren.
The Alabama Pharmacy Hall of Fame was established in 2015 and acknowledges achievements by those engaged in the profession of pharmacy, whether alive or deceased, and recognizes their outstanding contributions or exemplary service to pharmacy and/or to healthcare. This can be demonstrated through exceptional achievement over the life of their career in pharmacy or an exceptional act during their career, or both.
---
----------
About the Harrison College of Pharmacy
Auburn University's Harrison College of Pharmacy is ranked among the top 25 percent of all pharmacy programs in the United States, according to U.S. News & World Report. Fully accredited by the Accreditation Council for Pharmacy Education (ACPE), the College offers doctoral degrees in pharmacy (Pharm.D.) and pharmaceutical sciences (Ph.D.) while also offering a master's in pharmaceutical sciences. The College's commitment to world-class scholarship and interdisciplinary research speaks to Auburn's overarching Carnegie R1 designation that places Auburn among the top 100 doctoral research universities in the nation. For more information about the School, please call 334.844.8348 or visit http://pharmacy.auburn.edu.
Making Medications Work Through Innovative Research, Education and Patient Care
---