HCOP initiates 36 into Rho Chi Society

Auburn Initiates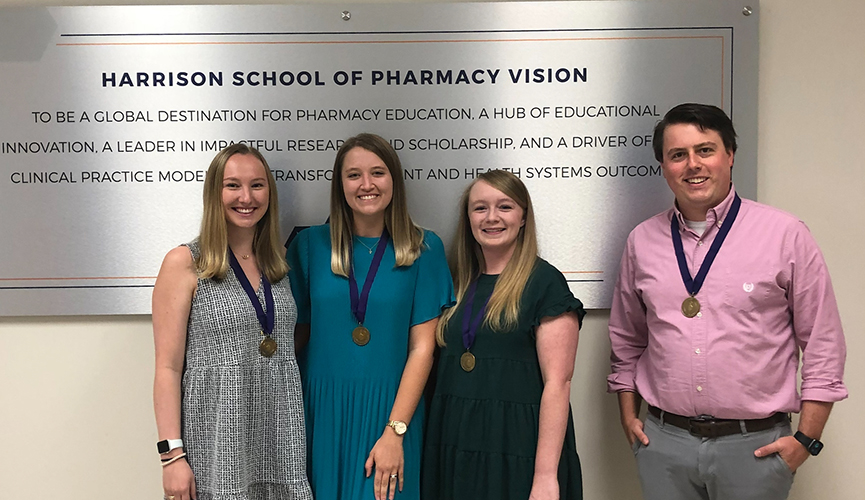 Mobile Initiates
October 7, 2022
---
AUBURN, Alabama – Thirty-six students and faculty were inducted into the Zeta Chapter of the Rho Chi Pharmacy Honor Society on Thursday, September 1. The initiation ceremony was held on both the Auburn and Mobile campuses.
Dr. Courtney Alexander, assistant professor of clinical pharmacogenomics and ambulatory clinical pharmacist with the Harrison College of Pharmacy, served as the keynote speaker. A member of Rho Chi, she graduated from HCOP with her Pharm.D. in 2013.
The initiation was administered by Dr. Paul Jungnickel, the chapter faculty advisor and senior associate dean at HCOP, and current chapter officers.
Following installation of officers, Dr. Alexander was recognized as the chapter's new advisor with Dr. Jungnickel retiring at the end of the semester.
Of the 36 initiated, 23 are Pharm.D. students, four are graduate students and nine are faculty members. Those initiated were:
Pharm.D. Students:
Kristin Allen
Sarah Grace Barnes
Ryleigh K. Berry
Rachel Breuers
Kelsie Bullock
Carson Dobbs
Jordon Ellison
Lauren Hudson
Abby Leigh Jett
Mary Katheryn Johnson
Sarah Anne Johnson
Raymond Lin
Anna Mardis
Holly C. Mitchell
Emily Lea Oliver
Shreya Patel
Anna Piech
Morgan Pierce
Amber Faith Smith
Andrew Smith
Lauren Stokes
Giovanna Valle-Ramos
Kristen Elizabeth Watts
Graduate Students:
Ishwor Poudel
Sindhu Ramesh
Fajar Setyo Wibowo
Chenyu Zou
Faculty Members
C. Edward Chou
Brent I. Fox
Amber M. Hutchison
Cherry W. Jackson
Kristi W. Kelley
Emily K. McCoy
Timothy M. Moore
Sean Smithgall
Heather P. Whitley
Founded in 1922, Rho Chi is an international honor society for pharmaceutical sciences that seeks to advance pharmacy through intellectual leadership. To be invited to join, students must rank in the top 20 percent of their class, have a minimum GPA of 3.0, have not been disciplined for violations of academic integrity or professional standards, and must be elected by a vote of the current chapter members. Auburn's Zeta Chapter was established in 1925 as the sixth Rho Chi chapter in the country.
---
----------
About the Harrison College of Pharmacy
Auburn University's Harrison College of Pharmacy is ranked among the top 25 percent of all pharmacy programs in the United States, according to U.S. News & World Report. Fully accredited by the Accreditation Council for Pharmacy Education (ACPE), the College offers doctoral degrees in pharmacy (Pharm.D.) and pharmaceutical sciences (Ph.D.) while also offering a master's in pharmaceutical sciences. The College's commitment to world-class scholarship and interdisciplinary research speaks to Auburn's overarching Carnegie R1 designation that places Auburn among the top 100 doctoral research universities in the nation. For more information about the College, please call 334.844.8348 or visit http://pharmacy.auburn.edu.
Making Medications Work Through Innovative Research, Education and Patient Care
---