Pharmacy students care for Auburn Family at football health fairs
San Jose State Tailgate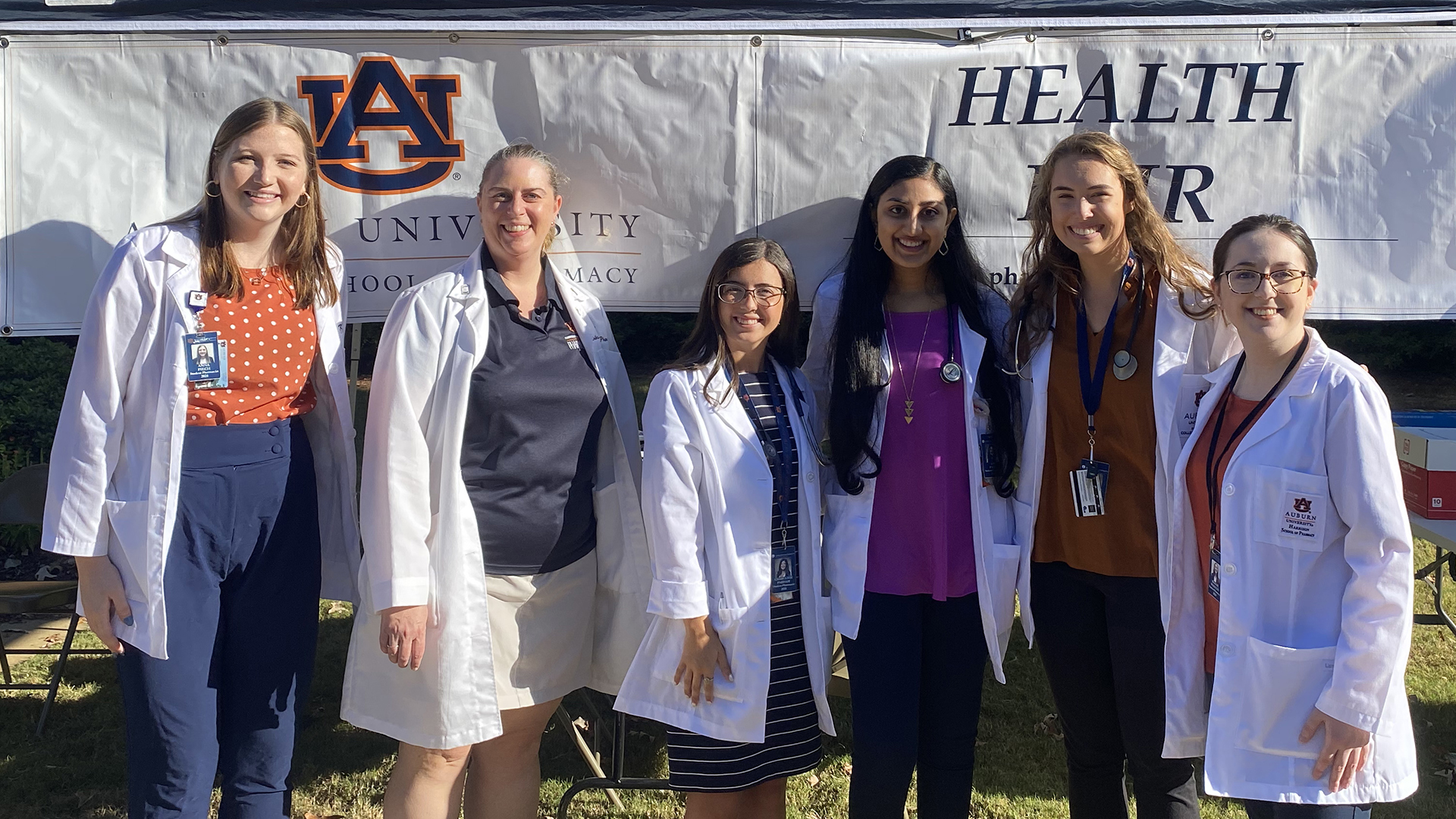 Missouri Tailgate
October 14, 2022
---
AUBURN, Alabama – With the arrival of fall comes football season on The Plains. With so many members of the Auburn Family on campus, students in the Harrison College of Pharmacy utilize the weekends as an opportunity to check up on fans and encourage healthy habits.
Continuing a tradition that began in 2017, student organizations within the college of pharmacy put on health fairs throughout the season, offering a variety of services to football fans on the Auburn campus. Health screenings including blood pressure checks, blood glucose checks, a variety of immunizations, and distribution of materials covering a number of health conditions and disease states have become commonplace on the Walker Building Lawn.
"Participating in HCOP Tailgate Health Fairs is a great way for student pharmacists to provide outreach to a diverse patient population in a non-clinical environment," said April Staton, HCOP's Director of Experiential Operations and CoCurriculum. "Performing blood pressure checks, blood glucose screening and counseling patients on their results gives students opportunities to apply what they have learned in the classroom and labs in real world settings. Providing health screenings overseen by a licensed pharmacists allows students to improve skills and increase confidence."
In 2022, students have held health fairs prior to two football games. Prior to the game against San Jose State, Equal Access Auburn and the Student College of Clinical Pharmacy partnered to host a health fair. Before the Missouri game, it was the American Pharmacists Association Academy of Student Pharmacists hosting.
At the San Jose State Health Fair, 15 student pharmacists participated, providing 40 blood pressure screenings and 33 blood glucose screenings. For the blood pressure screenings, 75% were outside of the normal limits, compared to 24% of the blood glucose. Additionally, 15 patients were provided with vaccine information and counseling.
At the Missouri Health Fair, six student pharmacists participated and administered 19 blood pressure screenings and 20 blood glucose screenings. All came back within normal limits.
"Co-Curricular activities like these events allow students to make connections between learning and providing patient care," said Staton. "Students are excited to participate, even on a game day and really enjoy being able to interact with tailgaters."
---
----------
About the Harrison College of Pharmacy
Auburn University's Harrison College of Pharmacy is ranked among the top 25 percent of all pharmacy programs in the United States, according to U.S. News & World Report. Fully accredited by the Accreditation Council for Pharmacy Education (ACPE), the College offers doctoral degrees in pharmacy (Pharm.D.) and pharmaceutical sciences (Ph.D.) while also offering a master's in pharmaceutical sciences. The College's commitment to world-class scholarship and interdisciplinary research speaks to Auburn's overarching Carnegie R1 designation that places Auburn among the top 100 doctoral research universities in the nation. For more information about the College, please call 334.844.8348 or visit http://pharmacy.auburn.edu.
Making Medications Work Through Innovative Research, Education and Patient Care
---