Get to know Dean Leigh Ann Ross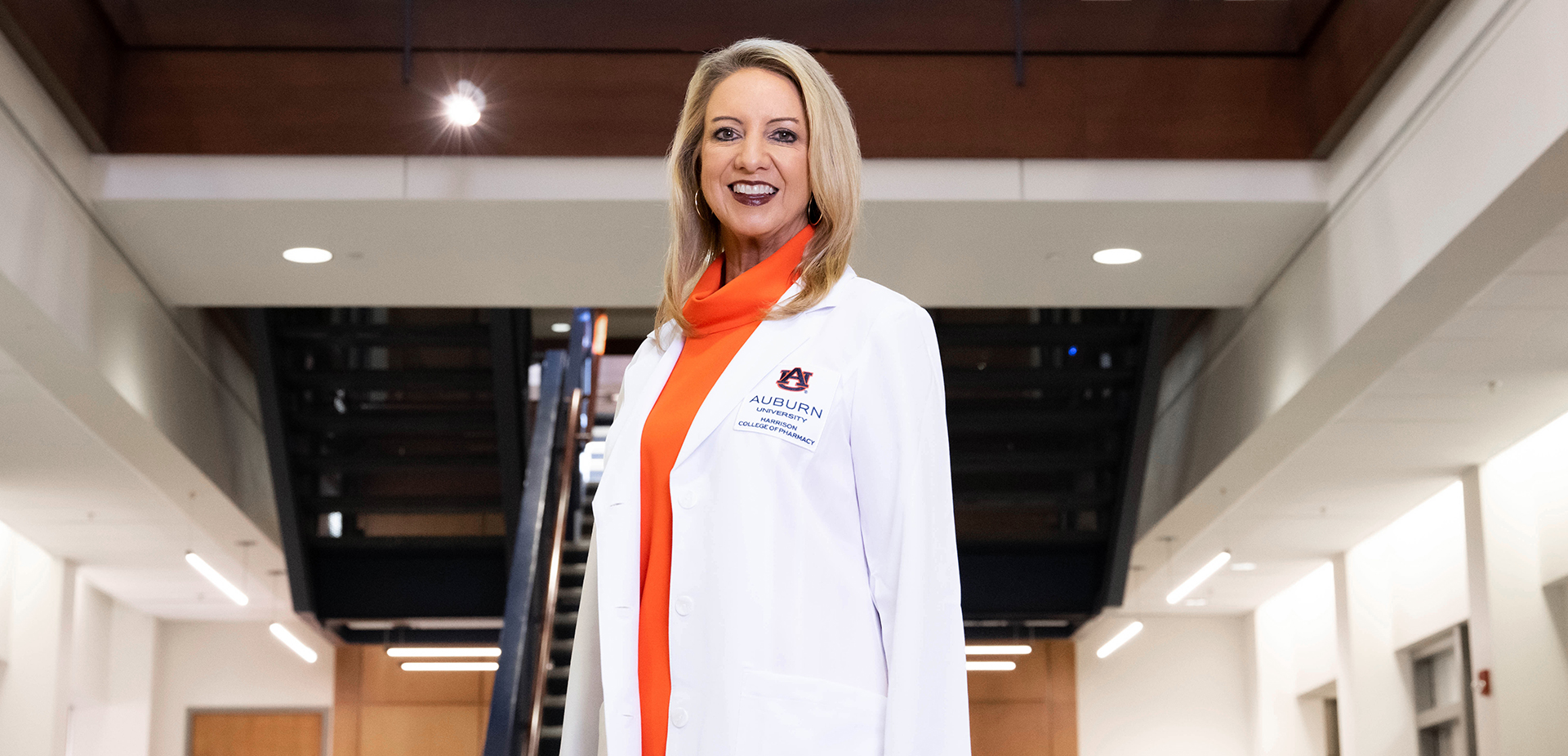 July 3, 2023
---
By Matt Crouch
AUBURN, Alabama – Basically growing up behind the counter of her father's pharmacy in a small town in northern Mississippi, Dr. Leigh Ann Ross envisioned one day being a pharmacist herself, helping those in her community with their health care needs.
Even while she pursued a bachelor's degree in business at the University of Mississippi, she kept working as a pharmacy technician, maintaining that connection to her true passion. Still intent on going into community pharmacy as she rolled in to pharmacy school, it was an experience during a fourth-year rotation that led her to clinical pharmacy and academia, ultimately leading her to the Auburn University Harrison College of Pharmacy.
Ross is the seventh dean in the college's history and the first-ever woman to hold the position of leading the only public college of pharmacy in the state of Alabama. After being selected by President Chris Roberts for the position in May, she officially assumed her new role July 1.
"What truly captivates me about Auburn University is the strong sense of community that pervades the Auburn family and the remarkable pride exhibited by Auburn students, graduates, faculty, staff and alumni speaks volumes about the extraordinary environment that exists here," said Ross. "The warm welcome I have received from everyone has been truly remarkable, and I consider myself extremely fortunate to be joining a community that upholds a steadfast commitment to excellence and mutual support."
Spending her entire career to this point in neighboring Mississippi, she was very familiar with HCOP, its faculty, staff and students.
"I have always held the Auburn University Harrison College of Pharmacy in high regard and I have been fortunate to work with HCOP faculty through the years," said Ross. "All have had a positive impact on our profession. So, the potential to work with such a dedicated and innovative group of people was what initially sparked my interest in the position."
While July 1 was her official start date, Ross has already been active on the Auburn trail this summer, engaging with a variety of members of the Auburn Pharmacy Family at events like the Alabama Pharmacy Association and Alabama Health-System Pharmacists annual meetings while also dropping in during HCOP's annual pharmacy camp.
"One of the aspects of my new role that fills me with excitement is the opportunity to connect with people and forge meaningful relationships," said Ross. "Through these interactions, I already feel a sense of belonging within the Alabama pharmacy community and I eagerly look forward to collaborating with these esteemed leaders to advance the field of pharmacy."
---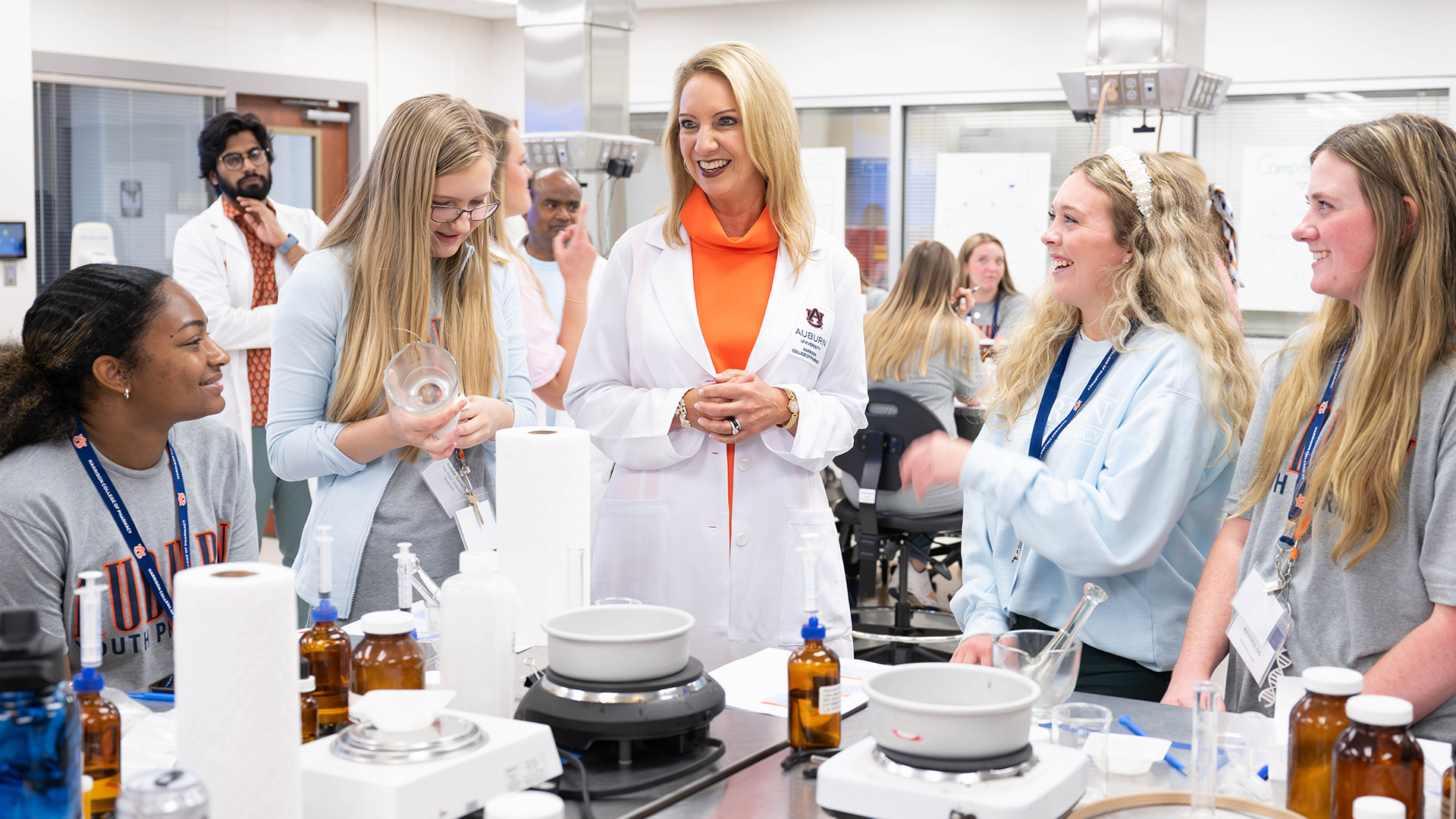 Dean Ross meets with students during Pharmacy Camp.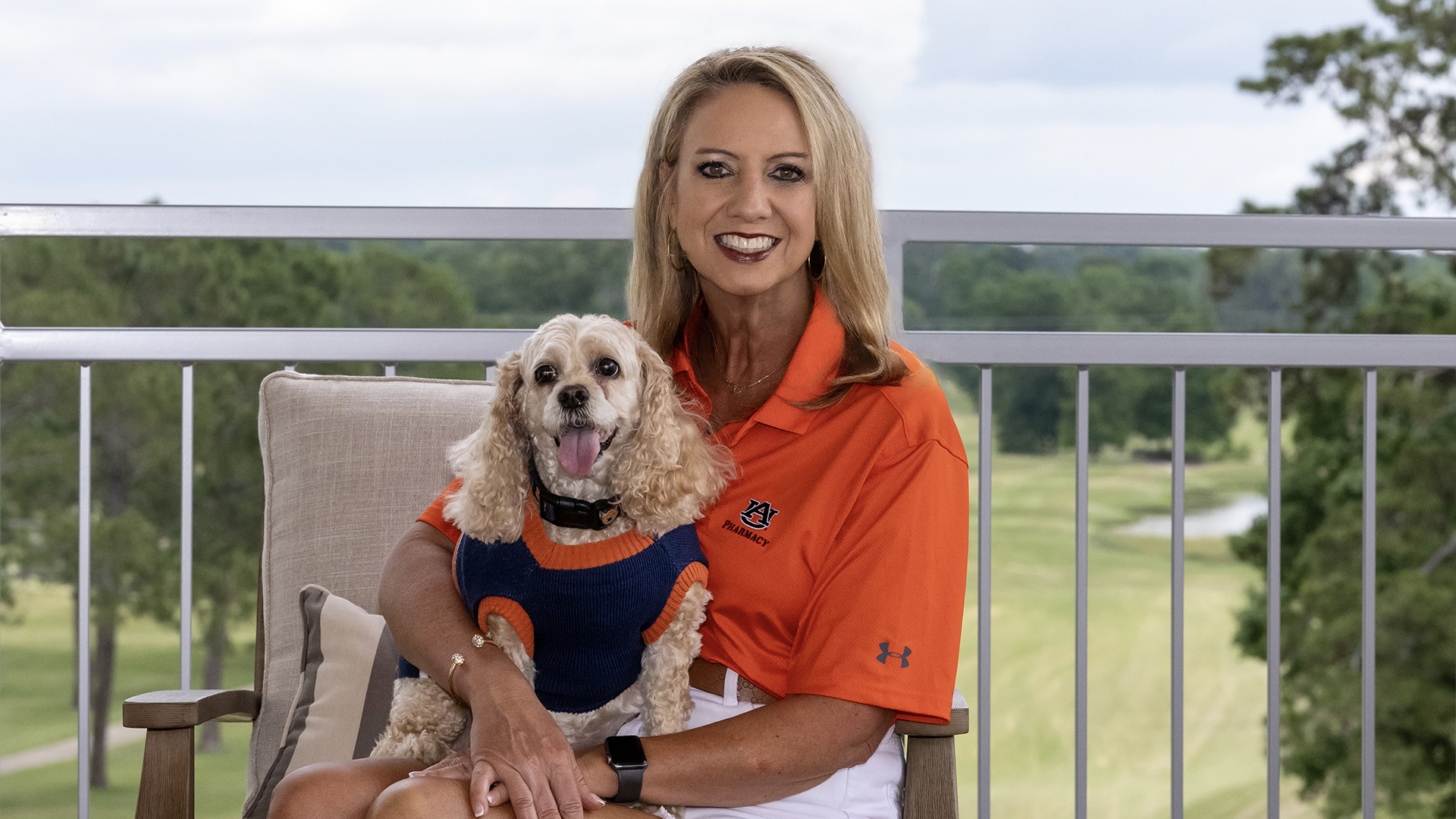 Dean Ross and her dog Mattie Reese have adopted their new Auburn colors.
---
Growing Up in a Pharmacy Family
Growing up in Pontotoc, Mississippi, a small town nestled between Oxford and Tupelo, Ross saw first-hand the impact a pharmacist can make through her father, Louis H. Ramsey. The co-owner of Ramsey-Young Pharmacy, she had an early exposure to the profession and how important the pharmacist is in their communities as the most accessible health care provider.
"My father served as a remarkable example to me in numerous aspects of life, particularly as a role model in pharmacy," said Ross. "What truly inspired me throughout the years was witnessing his genuine love for life and people and how he used his profession as a means to demonstrate this affection and care for others on a daily basis. He dedicated time to truly know each individual who walked through the pharmacy door, investing effort to ensure they felt cared for and to foster a trusting relationship."
By working in the pharmacy, Ross built a deep connection to the community pharmacy setting and the people they served every day. Service to the community and the profession was also instilled in her by her father through his service to a variety of community organizations and the state board of pharmacy.
"His actions instilled in me the understanding that pursuing a career in pharmacy was not only about personal fulfillment but also about actively engaging in service within our profession and the community," said Ross.
Pursuing Her Own Path
Community pharmacy is in her roots and was her first passion, but Ross was led to clinical pharmacy in her final year of pharmacy school.
"When I first entered pharmacy school, I envisioned myself practicing in a community pharmacy setting, much like my father," said Ross. "During my fourth year, I had a preceptor who truly showcased the profound impact a clinical pharmacist in an ambulatory care setting can have. He invested in me and encouraged me to consider applying for a residency, which ultimately allowed me to combine my passion for interacting with people, a quality that initially drew me to community pharmacy, with the opportunity to work in health professions teams to positively impact patient care."
After completing a PGY-1 residency program, Ross joined the faculty of the University of Mississippi School of Pharmacy and went to work in the Pharmaceutical Care Clinics, collaborating with clinical pharmacists to provide comprehensive medication management in areas such as anticoagulation, asthma, diabetes and dyslipidemia.
Working in the clinics gave Ross the opportunity to teach and collaborate with a variety of students and health care professionals. Being able to touch so many lives is one of the things she is most proud of from her tenure there.
Few things are as fulfilling as witnessing the success of others. Throughout my career, I have had the privilege of working closely with students, residents, and faculty who have not only become colleagues but also dear friends," said Ross. "Seeing their growth, countless achievements, and the realization of their personal and professional goals fills me with immense pride."
While there, she also spearheaded the effort to secure a dedicated facility for the school of pharmacy on the University of Mississippi Medical Center campus, giving faculty, staff, residents and students a place to come together under one roof and have a shared home to work and learn.
Ross' efforts in clinical pharmacy were recognized by her peers as she was selected to serve as president of the American College of Clinical Pharmacy.
"I was deeply humbled by the trust bestowed upon me by my peers and I was exceptionally proud of the unwavering commitment demonstrated by ACCP leaders, members and staff throughout my tenure," said Ross. "This opportunity to serve our profession stands as a true highlight in my career."
Taking Over as Dean
With broad experience in research, teaching, outreach, direct patient care and service to the profession, Ross steps into her new role as dean. Following a variety of leadership and administrative roles, she feels each step in her career has led her to this point.
"I have been fortunate to hold administrative and leadership roles within the School of Pharmacy at Ole Miss, serving as an associate dean, department chair and director of a research center," said Ross. "This breadth of experience has provided me with a deep understanding of the challenges and opportunities that lie ahead as we propel HCOP into the future.
"Most recently, my teaching interest has centered around Pharmacy leadership and advocacy, which I believe are pivotal in the role of a Dean—to advocate for the college and all its constituents. As we continue to expand our research endeavors, I aim to leverage my experience in building research programs, fostering collaborative partnerships and diversifying funding opportunities to support and enhance these initiatives."
Fully-aware of the great responsibility that comes with being Dean, Ross is excited to step into the role and guide the vision for HCOP and its impact on health care, the profession, the patients served and the next generation of pharmacists and pharmaceutical scientists that come through its doors.
"In today's rapidly evolving landscape of pharmacy education, practice models, standards of care and research endeavors, we must be prepared to navigate and embrace both current and anticipated changes through innovation," said Ross. "From my perspective, the position of a Dean presents a unique opportunity to influence the future of health care and the vital role of pharmacy within it."
As she settles in to Auburn, she is also looking forward to becoming part of the "Pharmily" and introducing a regular "War Eagle" into her vocabulary. During her visit to campus in the spring, she was able to see first-hand HCOP's Villages in action as she watched Hargreaves Day from the sidelines. Being a part of the Auburn Pharmacy Family and culture and making an impact on the lives of those within the college excites her as she begins her new role.
"Throughout my journey in academic pharmacy, I have been fortunate to have mentors who provided me unwavering support as I endeavored to make a difference in my chosen specialty," said Ross. "As a Dean, I aspire to extend that same advocacy and support to others, fostering an environment where individuals can thrive and have the necessary resources to create a positive impact."
---
----------
About the Harrison College of Pharmacy
Auburn University's Harrison College of Pharmacy is ranked among the top 25 percent of all pharmacy programs in the United States, according to U.S. News & World Report. Fully accredited by the Accreditation Council for Pharmacy Education (ACPE), the College offers doctoral degrees in pharmacy (Pharm.D.) and pharmaceutical sciences (Ph.D.) while also offering a master's in pharmaceutical sciences. The College's commitment to world-class scholarship and interdisciplinary research speaks to Auburn's overarching Carnegie R1 designation that places Auburn among the top 100 doctoral research universities in the nation. For more information about the College, please call 334.844.8348 or visit http://pharmacy.auburn.edu.
Making Medications Work Through Innovative Research, Education and Patient Care
---