HCOP faculty and staff members participate in leadership development programs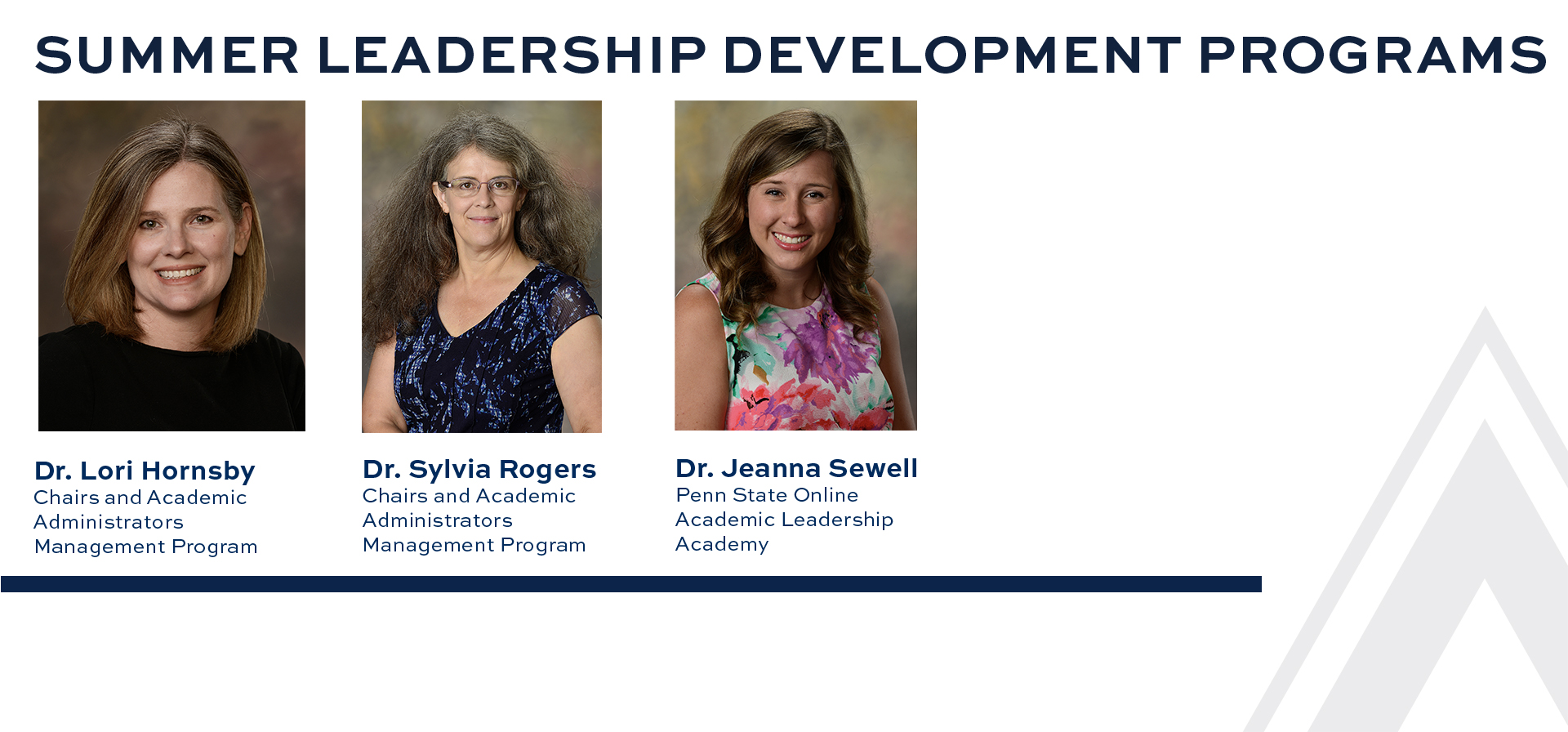 July 26, 2023
---
AUBURN, Alabama – Three members of the Harrison College of Pharmacy successfully completed nationally-respected leadership development programs this summer. Participation in the programs was sponsored by the Division of Faculty Affairs as part of the college's on-going commitment to support faculty and staff career development and to strengthen leadership at all levels of the college.
"Identifying talent and empowering the next generation of outstanding leaders is critical to the long-term success of any organization," said Leigh Ann Ross, dean of the Harrison College of Pharmacy. "Leadership development is not only a key part of our college's strategic plan, but is representative of our Core Values, which outline our commitment to 'Win as a Team' and 'Strive for Excellence.'"
Dr. Jeanna Sewell, assistant clinical professor in the Department of Pharmacy Practice, participated in Pennsylvania State University's online Academic Leadership Academy, June 12-15. The program, presented by Pennsylvania State's Center for the Study of Higher Education, covered topics including fostering a sense of belonging, career development strategies, articulating leadership principles, and administrative decision making.
Sewell said the program gave her the opportunity to network with other aspiring leaders in higher education from across the country.
"One of the most impactful takeaways for me was considering the impact belonging has and my role in helping to create a sense of belonging at our institution," said Sewell.
For more information about the Academic Leadership Academy, please visit their website.
Drs. Lori Hornsby and Sylvia Rogers participated in the Chairs and Academic Administrators Management Program, or CAAMP, in Atlanta, July 9-11. The program, developed by the Academy for Advancing Leadership, covered topics including budgets and finances, collaborative leadership, post-pandemic leadership and well-being.
"The program allowed me to further explore my leadership qualities, and more importantly provided methods for further development of my leadership skills," said Hornsby, an associate clinical professor in the Department of Pharmacy Practice. "CAAMP provided the opportunity to connect with and learn from a very diverse interprofessional group of faculty administrators regarding a variety of challenging and extremely relevant issues."
"The CAAMP program was a great opportunity to learn about important leadership topics from experts and discuss them with fellow health care education professionals," said Rogers, HCOP's director of faculty development and senior instructional designer. "The program made effective use of scenarios and group discussions, that was the best part to me."
For more information about the CAAMP program, please visit their website.
"I'm very proud of each of these dedicated members of our college who demonstrated their commitment to growing as leaders," said Ross. "We look forward to extending leadership development opportunities to more of our talented faculty and staff in the future."
Harrison College of Pharmacy personnel interested in participating in leadership development programs in the future should contact their department head or supervisor, or Dr. Daniel Surry, associate dean for faculty affairs, to discuss their career plans and development opportunities.
---
----------
About the Harrison College of Pharmacy
Auburn University's Harrison College of Pharmacy is ranked among the top 25 percent of all pharmacy programs in the United States, according to U.S. News & World Report. Fully accredited by the Accreditation Council for Pharmacy Education (ACPE), the College offers doctoral degrees in pharmacy (Pharm.D.) and pharmaceutical sciences (Ph.D.) while also offering a master's in pharmaceutical sciences. The College's commitment to world-class scholarship and interdisciplinary research speaks to Auburn's overarching Carnegie R1 designation that places Auburn among the top 100 doctoral research universities in the nation. For more information about the College, please call 334.844.8348 or visit http://pharmacy.auburn.edu.
Making Medications Work Through Innovative Research, Education and Patient Care
---