Harrison College of Pharmacy
Faculty and Staff Directory
---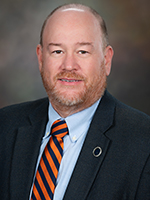 Robert D. "Rusty" Arnold
Professor
Unit: Drug Discovery and Development
Auburn University
Harrison College of Pharmacy
257 Pharmacy Research Building
Auburn, AL 36849
Email: rda0007@auburn.edu
Phone: 334-844-8434
Fax: 334-844-8331
---
Bio
Education:
B.S. Biochemistry - the State University of New York @ Plattsburgh, 1994
Ph.D. Pharmaceutical Sciences - University at Buffalo, SUNY, 2004
---
Current Professional Affiliations
Member: Auburn University Research Initiative in Cancer (AURIC), Auburn, Alabama, 2012-present
Director: Auburn University Specialized Pharmaceutical and Experimental Center for Translational Research and Analysis (SPECTRA) core facility, at Harrison College of Pharmacy, 2013-present
Adjunct Professor: Department of Small Animal Medicine and Surgery, School of Veterinary Medicine, The University of Georgia, Athens, Georgia, 2012-present
Adjunct Professor: Department of Pathobiology, College of Veterinary Medicine, Auburn University, Auburn, Alabama, 2018-present
Senior Scientist: UAB O'Neal Comprehensive Cancer Center, Member - Experimental Therapeutics, Birmingham, Alabama, 2019-present
Professor (tenured)*: Department of Drug Discovery and Development, Harrison College of Pharmacy, Auburn University, Auburn, Alabama, 2018-present
* - Primary Appointment
---
---
Current Funding
Integrating bioengineering tools, genome-wide genetic screens, and in vivo models to discover new determinants of triple-negative breast cancer cell invasion
Funder: Breast Cancer Alliance (BRCA) Exceptional Project Grant
Date: 12/1/2001 - 11/30/2022
Role: Co-Investigator
Total Cost: $68,414
Unraveling the mechanism of acai BDS-anticancer drug interaction: A preliminary approach
Funder: NIH, 1 R15 AT011047-01A1
Date: 10/01/21-09/30/24
Role: Co-Investigator
Total Cost: $440,352
Novel size-changing, a gadolinium-free contrast agent for magnetic resonance angiography
Funder: NSF, STTR Phase I, 2052242
Date: 03/15/21-02/28/23
Role: PI (AU Subcontract)
Total Cost: $256,000
---
Laboratory Personnel
Postdoc
Taraswi Mitra Ghosh, Ph.D.
Graduate Students
Ahmed Alnaim - Doctoral Candidate, DDD
Chu Zhang, M.S. - Ph.D. Student, DDD
Joshua Davis, Pharm.D. - Doctoral Candidate, DDD
Lani Jasper, M.S. - Doctoral Candidate, DDD
Manjusha Annji - Ph.D. Student, DDD (Co-advised with Dr. Jay Ramapuram)
Nur Mitra - Ph.D. Student, DDD (Co-advised with Dr. Jay Ramapuram)
Seyedeh Pegah Haji Mirza Tayeb, M.S, NSF GAANN Fellow, - Graduate Student, Chemical Engineering, (Co-advised with Dr. Allan David)
---
External Links
---
Research Interests and Selected Publications
Overview - Dr. Arnold is an industrial (Wyeth-Ayerst Research) and academically (University at Buffalo and Roswell Park Cancer Institute) trained pharmaceutical scientist with >20 years of expertise in experimental therapeutics and nanomedicine. Specifically, his laboratory is focused on developing and optimizing dosing schedules and novel composite lipid-nanoparticles as drug carriers. His research aims to gain insights into how dosing schedules and nanomedicines can be used to improve drug delivery, modulate drug exposure profiles, and improve drug treatment. His laboratory utilizes a variety of in vitro (2D and 3D) single-cell and multicellular tumor mimetics, in vivo (xenograft, orthotopic, and metastatic) models of human cancers (including, prostate, breast, brain, melanoma, and pancreatic) and applies non-compartmental and computational approaches to support the pharmacokinetic-pharmacodynamic (PK-PD) analysis, modeling and simulation of existing and investigational agents, and nanomedicines.
Furthermore, contemporary molecular techniques (RNA-seq, single-cell analysis, CRISP, etc.) are used to gain insights into disease progression, and how tumor microenvironment and alternate dosing schedules can alter the disposition and activity of therapeutic agents and nanomedicines. In addition to using conventional bioanalytical methods that employ liquid chromatography-tandem mass spectrometry (UHPLC-MS/MS), his laboratory uses a variety of optical techniques (bioluminescent, fluorescent, and multispectral optoacoustic tomography; IVIS and IThera MSOT) and magnetic resoncace imaging (MRI) to non-invasively determine tumor growth, drug/carrier distribution and treatment/toxic mediated-effects.
Development of Nanomedicines for Treatment of Prostate Cancer and Tumor Imaging - The overall goal of Dr. Arnold's research program has been focused on exploiting differences in the pathophysiology of disease states, specifically cancers, with the development and optimization of nano-particulate based strategies to improve detection and treatment of disease. Early in his career, he demonstrated that repetitive administration of pegylated, long-circulating liposomes containing doxorubicin enhanced the permeability of brain tumors to subsequent treatments. This work laid the foundation for developing concomitant therapies that exploit this "window" of opportunity and provided mechanistic insights into biodistribution and exposure profiles of different drugs and drug carriers. Over the last 10 years, I have secured an R21 (MPI) and an R01 (PI), focusing on gaining insights into strategies that alter the rate and extent of drug release and particulate uptake in prostate cancer. My laboratory has also collaborated on developing and using hyperthermia-based magnetic nanoparticles, novel imaging techniques (NSF STTR), and 3D tumor micro mimetic systems (R43 and R44 w/CFDRC Huntsville, AL). Overall, my laboratory is conducting research critical to understanding cancer biology to improve drug delivery and achieve optimal exposure profiles.
Brannen A., Eggert M., Smith, M., Nahrendorf, M., Arnold, R.D. and Panizzi, P. Multi-Angle In Vivo Bioluminescence Imaging Using the Mouse Imaging Spinner (MiSpinner) Shows Potential for Accurate Monitoring of Tumor Development, Scientific Reports (2018) 8(3321), doi:10.1038/s41598-018-21668-4.
Quach, N.D., Eggert, M., Ingram, L., Ghosh, D., Seth, S., Nagy, T., Dawson, M.R., Arnold, R.D. and Cummings, B.S., Paradoxical role of glypican-1 in prostate cancer cell and tumor Scientific Reports (2019) 9(1) 1-15, doi: 10.1038/s41598-019-47874-22
Pradhan, S., Smith, A.M., Garson, C.J., Hassani, I., Seeto, W., Pant, K., Arnold, R.D., Prabhakarpandian, B. and Lipke, E.A., A microvascularized tumor-mimetic platform for assessing anti-cancer drug efficacy, Scientific Reports (2018), 8(317) 1-15, doi:10.1038/s41598-018-21075-9
59.  Najahi-Missaoui, W., Arnold. R.D., and Cummings, B.S., Safe Nanoparticles: Are we there yet?  International Journal of Molecular Sciences, (2021) 22(1), 385, doi.org/10.3390/ijms22010385 
Ghosh, T.M., White, J., Davis, J., Mazumder, S., Kansom, T., Skarupa, E., Barnett, G.S., Bird, R.C., Mitra, A.K., Yates, C., Cummings, B.S, and Arnold, R.D., Identification and characterization of key differentially expressed genes associated with metronomic dosing of topotecan in human prostate cancer, Frontiers Pharmacology - Pharmacogenetics and Pharmacogenomics, (2021) 12:36951, doi.org/10.3389/fphar.2021.73695
Ghosh, T.M., Kansom, T., Skarupa, E., Alnaim, A., Mazumder, S., Bird, A., Opanasopit, P., Mitra, A.K., and Arnold, R.D., Synergistic anticancer effects of semi-synthetic andrographolide analogue (3A.1) and taxane derivatives against prostate cancer, Journal of Pharmacology and Experimental Therapeutics, (2022) 380(3) 180-201, doi.org/10.1124/jpet.121.000898
---
Experimental Therapeutics (PK) and Dose Optimization - Dr. Arnold's laboratory uses pharmacokinetic (PK) and pharmacodynamic (PD) principles as tools for the selection of novel therapeutic agents, investigation of drug interactions, and rational design of passively and actively targeted drug delivery systems. His laboratory uses a variety of laboratory and computational approaches to describe drug kinetics and biodistribution, establish exposure-response relationships, develop PK/PD models and conduct simulations to evaluate potential dosing schedules, look for evidence of drug-drug interactions (DDI), and/or the development of novel hypotheses. Utilizing his PK/PD analysis expertise, he has evaluated the disposition of investigational agents, botanical mixtures, and complex nanomedicines. Studies have examined the effect of food on drug PK, looked at drug-drug interactions, and used population and mechanistic computational modeling to examine factors that control the distribution of TocosolTM, a nano-emulsion containing paclitaxel in humans, and correlated exposure to antitumor activity and toxicity. These approaches have also been applied to a variety of collaborators examining the effects of antagonists on drug efflux proteins drug-drug interactions and collaborating with veterinarians working on translating FDA-approved drugs for humans to various companion and exotic (zoo and wildlife) animals.
Bulitta, J.B., Zhao, P., Arnold, R.D., Kessler, D.R., Daifuku, R., Pratt, J., Luciano, G., Hanauske, A.R., Gelderblom, H., Awada, A. and Jusko, W.J., Mechanistic population pharmacokinetics of total and unbound paclitaxel for a new nanodroplet formulation vs. Taxol in cancer patients, Cancer Chemotherapy and Pharmacology, (2009) 63:1035-1048, doi:10.1007/s00280-008-0827-2
O'Conner, R., O'Leary, M.O., Ballot, R., Collins, C., Kinsella, P., Mager, D.M., Arnold, R.D., O'Driscoll, L.O., Larkin, A.M., Kennedy, S., Fennelly, D., Clynes, M. and Crown, J., A Phase 1 clinical and pharmacokinetic study of the multidrug resistance protein-1 (MRP-1) inhibitor sulindac, in combination with epirubicin in patients with advanced cancer. Cancer Chemotherapy and Pharmacology, (2007) 59(1):79-87, doi:10.1007/s00280-006-0240-7
Aljuffali, I., Mock, J., Costyn, L.J., Cummings, B.S., Nagy, T. and Arnold, R.D., Enhanced antitumor activity of low-dose continuous administration schedules of Topotecan in prostate cancer, Cancer Biology, and Therapy, (2011) 12(5) 407-420, doi:10.4161/cbt.12.5.15950
Kang, JY., Eggert, M., Mouli, S., Aljuffali, I., Fu, X., Nie, B., Sheil, A., Waddey, K., Oldham, C.D., May, S.W., Amin, R. and Arnold, R.D., Pharmacokinetics, antitumor and cardioprotective effects of liposome-encapsulated phenylaminoethyl selenide in human prostate cancer rodent models, Pharmaceutical Research (2015), 32(3) 852-862 doi: 10.1007/s11095-014-1501-5
Vazquez, I., Taylor, A., Smith, A., Duran, S., Ravis, W., Jasper, S. and Arnold, R.D., Pharmacokinetics of multivesicular liposomal encapsulated cytarabine (DepoCyt™) when administered subcutaneously in dogs, Journal of Veterinary Internal Medicine, (2020), 5(22) 1563-1569, doi.org/10.1111/jvim.15809)
Frugé, A.D.,  Smith, K.S., Riviere, A.J., Tenpenny-Chigas, R., Demark-Wahnefried, W., Arthur,  A.E., Murrah, W.M., van der Pol, W.J., Morrow, C.D., *Jasper, S.L., Arnold, R.D., and Braxton-Lloyd, K., A dietary intervention high in green leafy vegetables reduces oxidative DNA damage in adults at increased risk of colorectal cancer: biological outcomes of the randomized controlled Meat and Three Greens (M3G) Feasibility Trial, Nutrients (2021) 13(4), 1220, doi.org/10.3390/nu13041220.
Osburn, S.C., Roberson, P.A., Medler, J.A., Shake, J., Arnold, R.D., Alamdari, N., Bucci, Luke, R., Vance, A., Sharafi, M., Young, K.C., and Roberts, M.D., Effects of 12-week multivitamin and omega-3 supplementation on micronutrient levels and red blood cell fatty acid in pre-menopausal women, Frontiers in Nutrition (2021), 8:610382, doi.org/10.3389/fnut.2021.610382
---
CNS Disorders, Drug Toxicity and Treatment - Dr. Arnold's initial research focused on the effect of drug encapsulation into long-circulating, lipid-based nanoparticles (pegylated liposomes) on the barrier properties of the blood tumor brain barrier (BTBB) as well as its effect on normal blood-brain barrier (BBB). Utilizing both classical bioanalytical measures (HPLC, LC-MS/MS) and small animal non-invasive imaging (MRI), he demonstrated how repetitive dosing altered blood flow and resulted in enhanced uptake of the brain. Since then, he has consulted with academic and industrial researchers interested in developing therapies for CNS diseases/disorders and drug toxicity. My laboratory has shown the impact of repetitive dosing of nanoparticles, carrying anticancer agents, on brain penetrance, BBB compromise, as well as neurotoxicity and cardiotoxicity using a variety of small animal (mouse and rat) models.
Arnold, R.D., Mager, D.E., Slack, J.E. and Straubinger, R.M., Effect of repetitive administration of Doxorubicin-containing liposomes on plasma pharmacokinetics and drug biodistribution in a rat brain tumor model. Clinical Cancer Research, (2005) 11(24):8856-8865, doi:10.1158/1078-0432
Zhao, Q., Luning, W., Cheng, R., Mao, L., Arnold, R.D., Howerth, E. Chen, G., and Platt, S., Magnetic nanoparticle-based hyperthermia for head & neck cancer in mouse models, Theranostics, (2012); 2(1) 86-94. doi:10.7150/thno.3854
Boozer, L.B., Platt, S.R., Haley, A.C., Linville, A., Kent, M., Barron, L., and Nie, B., and Arnold, R.D., Pharmacokinetic Evaluation of Generic and Brand-Name Extended-Release Formulations of Levetiracetam in Dogs, American Journal of Veterinary Research, (2015) 76(8) 719-723, doi: 10.2460/ajvr.76.8.719
Aldawsari, M.F., Lau, V.W., Babu, R.J., Arnold, R.D. and Platt, S.R., Pharmacokinetic evaluation of a novel buccal midazolam gel in healthy dogs, American Journal of Veterinary Research (2018) 79(1) 73-82-10, doi:10.2460/ajvr.79.1.73
Alhowail, A.H., Pinky, P.D., Eggert, M., Bloemer, J., Woodie, L.W., Buabeid, M.A., Bhattacharya, S., Jasper, S., J., Bhattacharya, D., Dhanasekaran, M., Arnold, R.D., and Suppiramaniam, V., Doxorubicin impairs hippocampal synaptic plasticity by alteration of AMPA receptor function and signaling, Heliyon, (2021), 7:e07456, doi.org/10.1016/j.heliyon.2021.e07456
Fu, X., Eggert, M., Yoo, S., Patel, N., Zhong, J., Steinke, I., Govindarajulu, M., Turumtay, E.A., Panizzi, P., Beyers, R., Denney, T., Arnold, R.D., and Amin, R., The cardioprotective mechanism of phenylaminoethyl selenides (PAESe) against doxorubicin-induced cardiotoxicity involves frataxin, Frontiers Physiology (2021) 11, 574656, doi.org/10.3389/fphar.2020.574656
---