HSOP Awards 164 Degrees at 2021 Commencement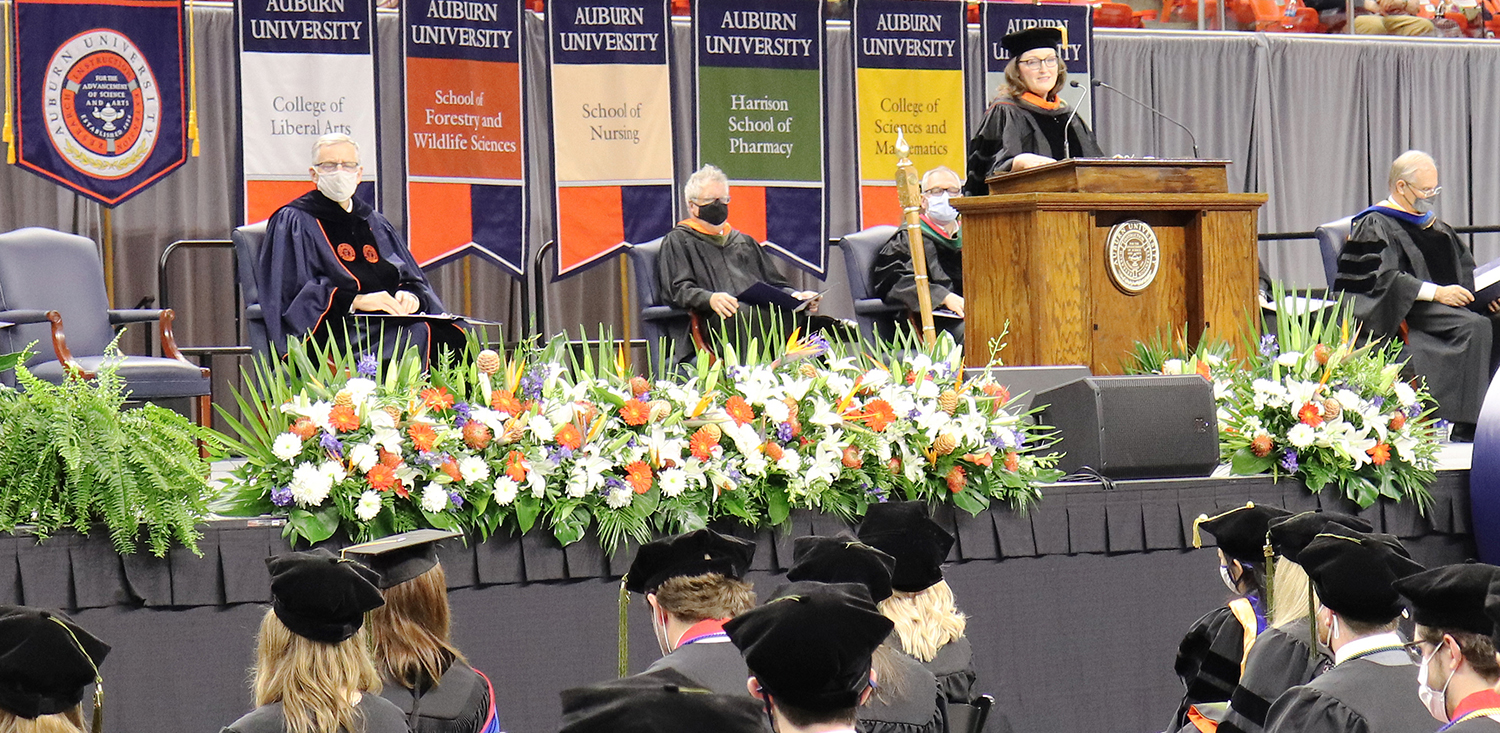 Dr. Laura Matthews, HSOP Class of 2008, gave the commencement address.
May 4, 2021
AUBURN, Alabama - Auburn University's James I. Harrison School of Pharmacy held its Spring 2021 commencement ceremony on Monday, May 3 at Auburn Arena. The class of 2021 included 151 students receiving the Doctor of Pharmacy (Pharm.D.) degree. Four students received a Master of Science (M.S.) degree, and nine others received Doctor of Philosophy (Ph.D.) degrees.
---
---
"The Class of 2021 had a very unique and challenging end to their time in pharmacy school, but they took those challenges head on and we are very proud of them to see them reach this point in their careers," said Richard A. Hansen, dean of the Harrison School of Pharmacy.
"Auburn University and the Harrison School of Pharmacy are leaders in training the next generation of pharmacists and pharmaceutical scientists that will improve health outcomes in the state of Alabama and the world. I am inspired by their dedication and resilience and I know they will have a great impact on their communities and the profession."
The ceremony included a commencement address from Dr. Laura Matthews, a member of the Class of 2008. Matthews is the Director of Inpatient Pharmacy Services for East Alabama Health, which includes pharmacy services for the EAMC-Opelika campus, EAMC-Lanier campus, the Spencer Cancer Center and the new EAMC-Freestanding Emergency Department.
In her address, Matthews discussed various states of being, including Be Aware, Be Intentional, Be Reliable, Be Steady, Be Prepared and Be Ready.
"You have been well prepared to enter the workforce as pharmacy professionals," Matthews said. "Now embrace every day with a focus on excellence in care for every patient, every prescription, every project, every task you take on, because it really matters."
The class was also welcomed to the alumni ranks by Darrell Craven ('82), president of the Auburn Pharmacy Alumni Affiliate. Vicki Faulk ('89), the mother of Class of 2021 member Bailey Little, administered the Oath of a Pharmacist to the class.
The Class of 2021 included representatives from nine foreign countries, including Bangladesh, China, India, Jordan, Nepal, Nigeria, Saudi Arabia, Venezuela and Zambia; and 16 states, including Alabama, Arkansas, Connecticut, Florida, Georgia, Kentucky, Louisiana, Minnesota, Mississippi, New York, North Carolina, Pennsylvania, South Carolina, Tennessee, Texas and Virginia.
As the public pharmacy school of the state of Alabama, the Harrison School of Pharmacy continues educating more Alabama pharmacists than anywhere in the world with 109 of the graduates hailing from the state. Additionally, the vast majority of the graduates are remaining in the state to continue serving the people of Alabama.
---
2021 Graduates
Doctor of Philosophy Degrees
+ Mohammed Almaghrabi
+ Saud Alqahtani
+ Wu Chen
Chao Li
+ Anna Huskey
+ Shanese Lani Jasper
~ Ruth Ndarake Jeminiwa
Ahmed Ullah Mishuk
+ Logan Taylor Neel
Master of Science Degrees
Sura Oklah AlMahasis
Bidur Banjara
* Junwei Wang
* Chu Zhang
GUIDE: ~ Degree Conferred Spring 2020 | + Anticipated Degree Completion Summer 2021 | * In Absentia
---
Doctor of Pharmacy
GUIDE: * Cum Laude | ** Magna Cum Laude | *** Summa Cum Laude
**Kaitlyn Abbott
Somer Alexandria Adjei
Bailey Elizabeth Agee
*Amanda Michelle Altstatt
**Devin Christopher Archer
**Anna Hatcher Aubrey
**Sarah Parker Aycock
Aubrey Lynn Baker
Christopher Austin Barnett
Shelby Paige Battles
Hashan Bradley Bhim
*Thomas David Bidwell
Aaron Walter Bissell
***Hannah Elizabeth Black
*Annabelle Evelyn Wilder Bradley
Katherine Elizabeth Bricco
*Kaitlyn Brooke Byrd
*Taylor Lauren Byrd
*Christina Noelle Camp
Emily Every Campbell
**Holly Lee Clark
Cameron T. Clary
*Kylee Brianna Clay
**Grace Coefield
*Benjamin Patrick Collins
*Marion Elizabeth Colvin
***Laura Ashley Comalander
Lindsay Ann Crockett
*Leah Kaitlin Croft
*Antonio Fuller Currie
Katherine Shorter Currie
**Katherine Elizabeth Davis
*Nicholas Lou DeGrood
Willie Nathanael Dunnam
**Allison Brooke Durant
Jared Thomas Edwards
*Kadijah LeChe' Edwards
Alexander Jacob Ellison
Christopher David Ellison
Leslie Paige Evans
***Allison May Field
***Alexa Reanne Filley
Vriana Nadine Marie Fincher
Jessica Lynne Flaherty
**Savannah Grace Fowler
**Joseph Clayton Frangipane
Marouf Gakou
Alexander Louis Glass
Shelby Lynn Godfrey
*William Pierce Gowan
***Kelsey Laine Hall
*Courtney Allis Hamby
***Shelby Means Harris
**Tinia Denice Harris
*Nicholas Harrison
Abigail Smith Harvard
*Tyler Gray Haynes
Caitlin Olivia Henderson
*James Robert Holland III
**John Charles Holt
*Justin Blake Huckaby
Marley Jane Hudson
Tristan Ettrick Hughes
**Madissen St. Clair Humphries
Zachary Huppert
George Thomas Illiano
*Hannah Haynes Jeter
***Logan Alise Jones
*Kaitlin Nicole Kennedy
*Megan Kilgore
Alexis Michaela Kozar
**Hayden Nicole Lee
*Bailey Michelle Little
Emily Caylor Marcato
Victoria Ann Marshall
***Taylor Lynn Mathwich
Zachary McGrady
Olivia DeShon McNeal
Whitney Burden McNeil
*Nicole Renee Mikovilje
*Rebecca Lynn Mills
**Carolyne Baker Milner
Seyed Aminoddin Mirramezani
*Alena Nichole Mitchell
*Emily Kristen Morris
Taylor Diggs Mosteller
***Chanley Lynn Moye
*Karleigh Nicole Neese
Abigale Newman
Matthew P. Newman
Maribeth Amanda Newton
Rachel Ann Newton
**Jennifer Tuyet Nguyen
Mustabshira Nisar
Rachel Ann Padgett
Jimyeong Park
***Chance Garnett Partlow
**AnnaClaire Rogers Paschal
*Deep Ashvin Patel
Jessica Bharat Patel
Kajal Jayesh Patel
Komal Kamleshkumar Patel
*Priya Anant Patel
*Priyal Pravin Patel
Michelle Aneesah Patten
Katie Allen Pearson
**Jourdan Elliott Pendley
**Anna Lee Petitt
**Clayton James Price
Anna-Kathryn Michelle Priest
***Alec Ryne Raley
*Charlsie Anna Rampy
**Jamie Carl Rasinen
*Tyler James Richardson
*Julia Ann Riehl
Sean Andrew Roberts
***Ashley Taylor Robertson
**Helen Taylor Roe
***Cailyn Levant Sandoval
**Amie Rae Sauer
Jazzmine Bianca Scott
**Trent Allen Settles
***Madeline Lynne Sheffield
***Nathaniel Silar
Lena Silavanh
**Victoria Noel Simmons
Paden Mikaela Smith
***Rachel Lynn Spencer
***Jackson Harvey Spradlin
*Alexandra Helen Steege
Britini Ann Stevens
***Landon Forrest Stewart
Kayleigh Larison Stringer
*Mallory Renee Stringer
Taylor I. Tabb
Marckel Lynette Thomas
Eric Donald Thomason
Anthony Evan Todaro
Obianuju Ukwuoma
**Rex Lee Waer
Patti Ann Wagner
*Mary Elizabeth Wates
*Justin Haas Weinstein
*Alec Ryan Wesolowski
Haylie Brooke Whiteside
Erin Nicole Williams
*Samantha Lorraine Wood
***John Andrew Woods
Joseph Raymond Wysocki
Ziju Zhu
Mafe Zmajevac
---
----------
About the Harrison School of Pharmacy
Auburn University's Harrison School of Pharmacy is ranked among the top 25 percent of all pharmacy schools in the United States, according to U.S. News & World Report. Fully accredited by the Accreditation Council for Pharmacy Education (ACPE), the School offers doctoral degrees in pharmacy (Pharm.D.) and pharmaceutical sciences (Ph.D.) while also offering a master's in pharmaceutical sciences. The School's commitment to world-class scholarship and interdisciplinary research speaks to Auburn's overarching Carnegie R1 designation that places Auburn among the top 100 doctoral research universities in the nation. For more information about the School, please call 334.844.8348 or visit http://pharmacy.auburn.edu.
Making Medications Work Through Innovative Research, Education and Patient Care
---