Updated September 30, 2020
The Auburn Pharmacist Online is an electronic newsletter providing news, events and updates from the Harrison School of Pharmacy. Have something you would like included? Email hsopcomm@auburn.edu.
---

---
---
---
---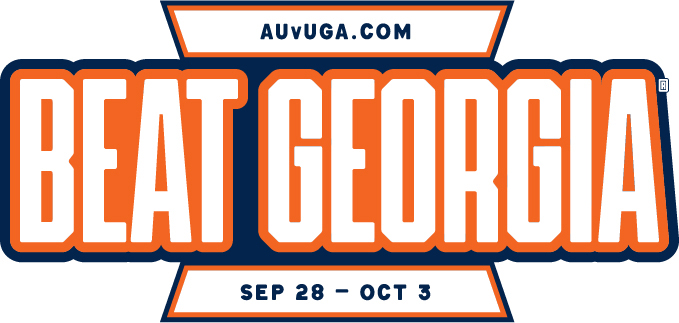 Help Auburn Beat Georgia
This year, Auburn is meeting Georgia on—and off—the field in a Beat Week Giving Challenge. Auburn donors are challenging Georgia donors to show their support. By giving to your favorite program at Auburn to win bragging rights and to show the Bulldogs what Auburn Family really means.
HSOP embraces "a spirit that is not afraid" through our annual Hargreaves Day, a field day dedicated to increasing camaraderie among the faculty and students. Help HSOP continue the Hargreaves Day tradition by embracing your competitive spirit to beat Georgia. Support Auburn and HSOP by visiting https://alumniq.auburn.edu/giving/to/hsopbeat.
---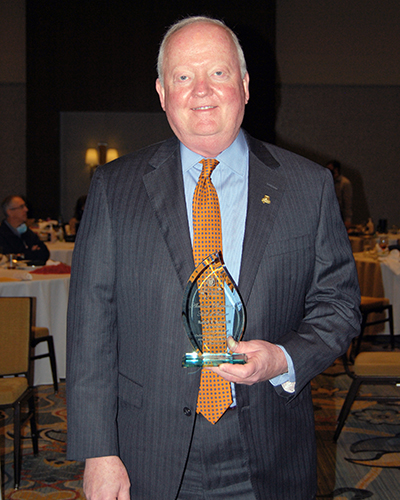 Ralph Sorrell Named to APA Hall of Fame
HSOP alumnus Ralph Sorrell was inducted into the Alabama Pharmacy Hall of Fame at the Alabama Pharmacy Association's (APA) 139th Annual Meeting and Awards Luncheon held at the Renaissance Montgomery Hotel and Spa at the Convention Center in Montgomery, Alabama. A native of Pelham, Alabama, Sorrell earned his degree from the Harrison School of Pharmacy in 1980. Ralph and his wife Becky are continuous supporters of their alma mata as members of the Foy 25 year Society, the Samford Society, HSOP's Apothecary Society and Prescription Club, most recently establishing the Reeve Sorrell Community Pharmacy Annual Scholarship. Learn more about Sorrell and his outstanding career.
---

HSOP Contingent Receives Nine APA Awards
HSOP was well-represented with nine major award winners at the 2020 Alabama Pharmacy Association 139th Annual Meeting and Awards Luncheon.
Stacy Giles ('92) won the National Community Pharmacists Association Leadership Award while Gay Massey ('84) and Starr Miller were two of the three recipients of the APA Advocate Award. Kelli Newman ('97) won the J. Wayne Staggs Distinguished Service Award with Jeremy Smith ('13) receiving the Distinguished Young Pharmacist Award. Morgan Williams ('20) took the R. Lee Evans Student Professionalism Award while Ross Woods ('15) earning the Excellence in Innovation Award.
Additionally, Marilyn Bulloch, associate clinical professor in HSOP's Department of Pharmacy Practice, was selected as the Faculty Member of the Year and Paige Patterson, assistant director of business operations in HSOP's Division of Clinical Affairs and Outreach, received the Mitchel C. Rothholz President's Award. Learn more about all the award winners.
---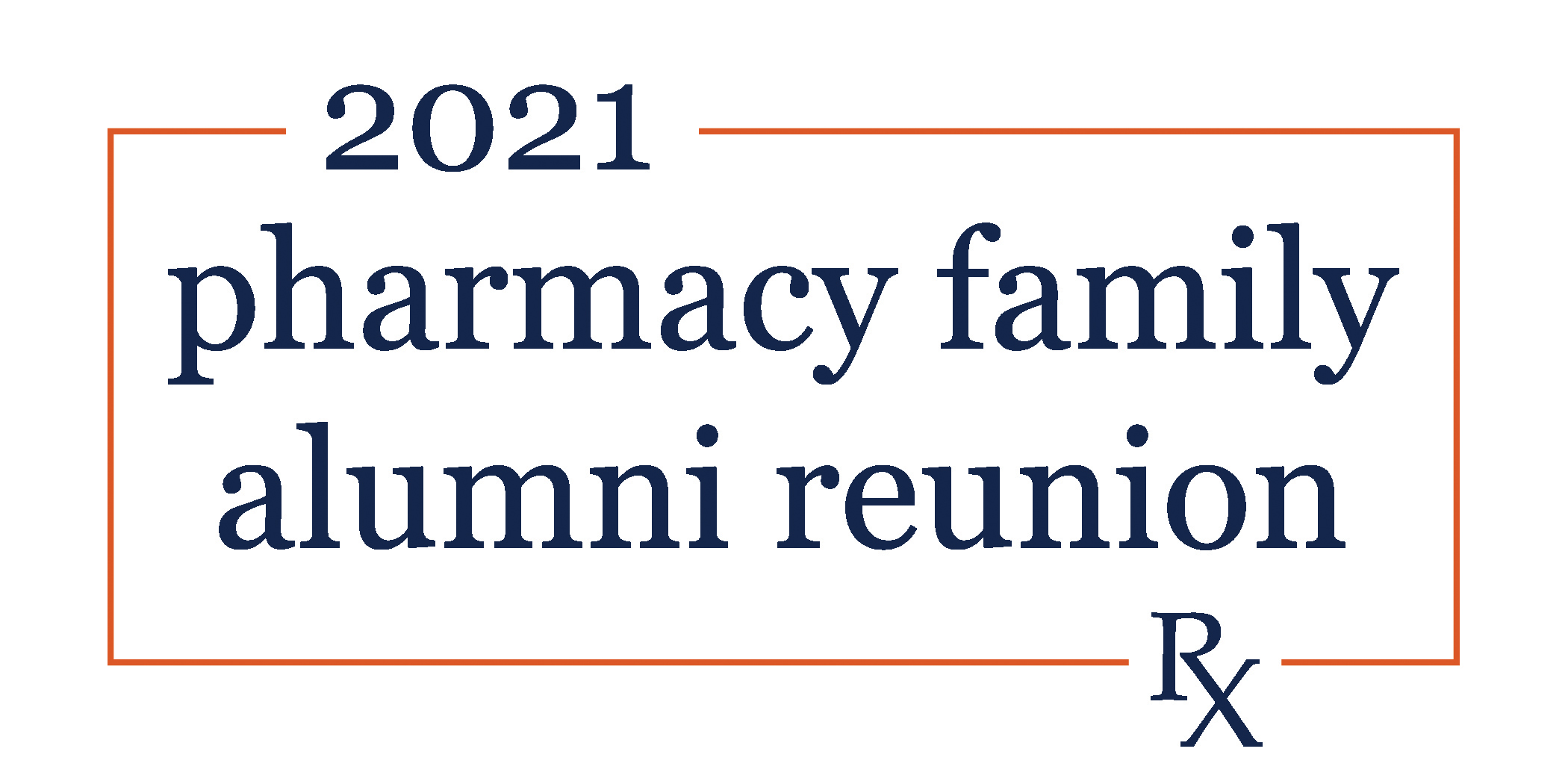 Pharmacy Family Reunion Set for March 26-27
Mark your calendars for a weekend on The Plains! Come back to Auburn and enjoy a reunion with the pharmacy family, March 26-27. The Auburn Pharmacy Alumni Affiliate and the HSOP Office of Development & Alumni Affairs welcome graduates back for a weekend of fun. Come home and spend a weekend socializing with other alumni and participate in a free continuing education opportunity. Watch for more information coming soon.
---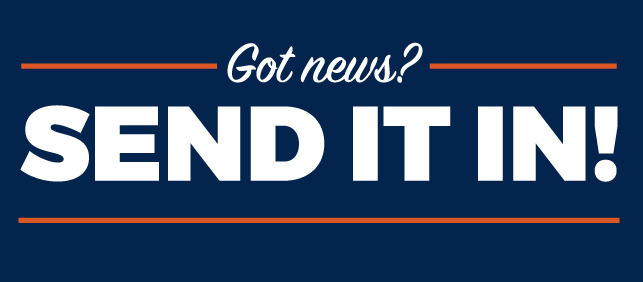 We Want to Hear from You
One of our favorite things around the Harrison School of Pharmacy is when we hear from our alumni and friends. We would love to hear from you with updates on your practice, career, or life in general. Please send any updates or news items you have to hsopcomm@auburn.edu.
---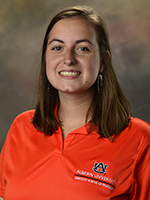 Sheffield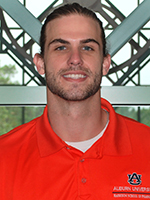 Partlow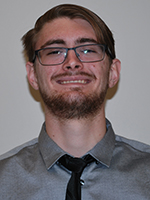 Silar
ACCP Clinical Challenge Team Advances to Quarterfinals
The HSOP team competing in the American College of Clinical Pharmacy (ACCP) Clinical Pharmacy Challenge recently advanced out of the fourth round and into the national quarterfinals. The team is made up of Maddie Sheffield (Captain), Chance Partlow, and Nate Silar. The competition started with 109 entries in the first round. It was trimmed to 64 in round two, 32 in round three, and 16 in round four.
Joining HSOP in the quarterfinals are the University of Arkansas for Medical Sciences College of Pharmacy, University of Cincinnati James L. Winkle College of Pharmacy, University of Iowa College of Pharmacy, University of Kentucky College of Pharmacy, University of Missouri-Kansas City School of Pharmacy, University of Nebraska Medical Center College of Pharmacy, and University of Pittsburgh School of Pharmacy. The ACCP Clinical Pharmacy Challenge is a team-based competition in which teams of three students compete against teams from other schools and colleges of pharmacy in a "quiz bowl"–type format. The quarterfinals will take place Oct. 12, followed by the semifinals on Oct. 14, and finals on Oct. 16.
---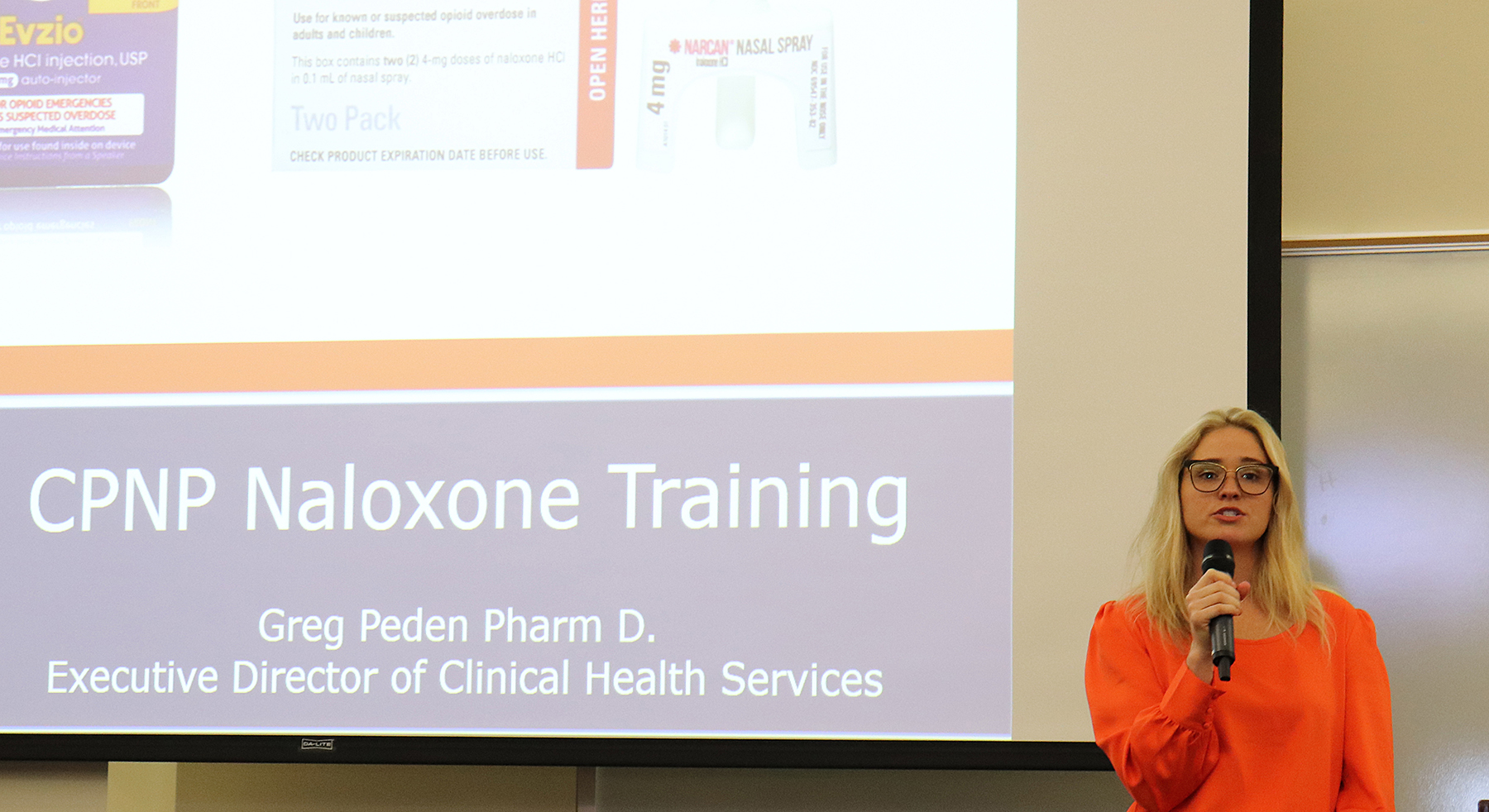 HSOP Students Take Initiative in Opioid Crisis with Naloxone Training
During the 2019-20 academic year, more than 300 students received naloxone training through a collaboration between the HSOP CPNP chapter and the Center for Opioid Research, Education and Outreach. For CPNP member Kaitlin Kennedy, spreading awareness and education on addiction is personal. Learn more about this important program.
---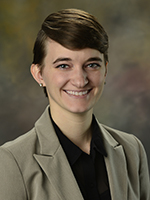 HORP Students and Faculty Published in JAPhA
Brandy Davis, graduate student in Health Outcomes Research and Policy, was recently the first author on an article in the Journal of the American Pharmacists Association titled "The clinical impact of pharmacist services on mental health collaborative teams: A systematic review." Joining her on the publication were HORP faculty Drs. Jingjing Qian, Surachat Ngorsuraches, and Kimberly Garza, as well as fellow student Ruth Jeminiwa. The article evaluated the clinical impact of mental health collaborative teams that include pharmacists.
---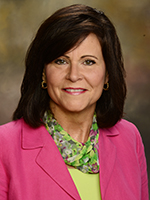 Kavookjian Named ADCES Presidential Candidate
Dr. Jan Kavookjian, associate professor in the Department of Health Outcomes Research and Policy, has been slated as a candidate for president-elect for the Association of Diabetes Care and Education Specialists (ADCES). With more than 12,000 members, ADCES is an interdisciplinary professional membership organization dedicated to improving prediabetes, diabetes and cardiometabolic care through innovative education, management and support. Voting opened Sept. 8 and ran through Sept. 30.
---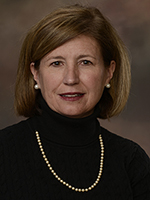 Jackson Receives Saklad Memorial Award
Dr. Cherry Jackson, clinical professor in the Department of Pharmacy Practice, was recently named the recipient of the 2021 Judith J. Saklad Memorial Award from the College of Psychiatric and Neurologic Pharmacists, or CPNP. The award is presented annually to a senior psychiatric pharmacy practitioner who has achieved a level of professional distinction and represents the qualities and ideals of professional enthusiasm, a passion for optimizing patient care, and continuing dedication to the practice of psychiatric pharmacy.
The Saklad Memorial Award is named after the late Judith J. Saklad, and will be presented at the 2021 Annual Meeting, scheduled for April 18-21 in ChampionsGate, Florida. Jackson is a fellow of both the American Society of Health System Pharmacists and the American College of Clinical Pharmacy (FCCP). She is a founding member of CPNP and a past president of the CPNP Board of Directors. Her clinical research interests are in the treatment of serious mental illness (SMI), pharmacogenomics, and the adverse effects of psychotropic drugs.
---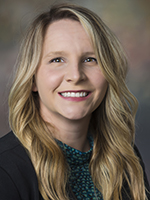 Alexander Joins HSOP Faculty
Dr. Courtney Alexander, a member of the HSOP Class of 2013, joined the school as a faculty member in August. Alexander serves as an assistant professor of clinical pharmacogenomics in the Department of Pharmacy Practice and an ambulatory care pharmacist in the AU Pharmaceutical Care Center where she will focus on pharmacogenomics. Prior to joining HSOP, she worked at Prisma-Health Upstate in Greenville, South Carolina where she served as a clinical pharmacy specialist in pediatric hematology/oncology. In conjunction with this position, she served as an affiliate clinical assistant professor with the University of South Carolina School of Medicine Greenville and an adjunct assistant professor with the University of South Carolina College of Pharmacy.
---
Faculty and Students Collaborate on Article in JAPhA
Faculty and students across HSOP recently collaborated on an article in the Journal of the American Pharmacists Association titled "Recommendations to protect patients and health care practices from Medicare and Medicaid fraud." Dr. Lindsey Hohmann, assistant professor in Pharmacy Practice, and Dr. Salisa Westrick, department head in Health Outcomes Research and Policy, worked with students Bidur Banjara (HORP graduate student), Yi Zhao (HORP graduate student), and Kavon Diggs (Pharm.D. candidate) on the article. The paper describes the types and trends of Medicare and Medicaid fraud that are committed and provide recommendations to protect patients and health care practices.
---
HSOP Faculty Published in Journal of Family Practice
Drs. Bobby Helmer, Allison Helmer, and Sean Smithgall were recently published in the Journal of Family Practice with their article titled "Dual antiplatelet Tx for stroke prevention: Worth the risk?" This review explores the role of dual antiplatelet therapy for secondary prevention of noncardioembolic ischemic stroke or transient ischemic attack (TIA), with particular focus on acute use of CLO-ASA.
---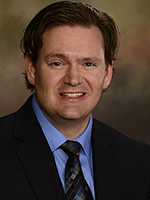 ---
---