Updated July 21, 2020
The Auburn Pharmacist Online is an electronic newsletter providing news, events and updates from the Harrison School of Pharmacy. Have something you would like included? Email hsopcomm@auburn.edu.
---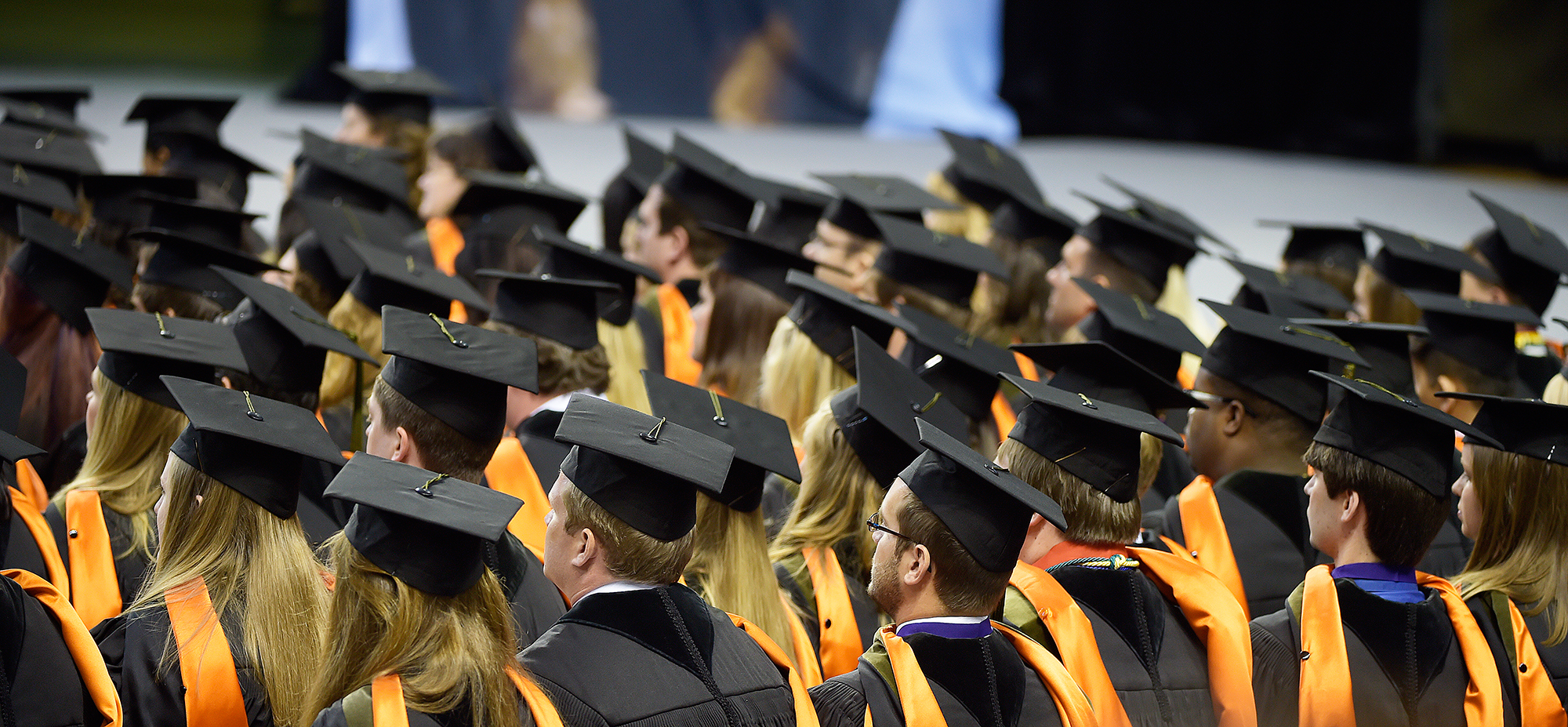 Graduation Information Available
Information on the Class of 2020 Commencement Ceremony is available on the HSOP website. Included on the page are safety protocols and operations regarding social distancing and safety precautions. For those not able to make it, a live video stream will be available on the graduation page as well as directly on the school's YouTube page.
---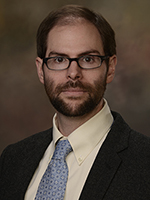 Eiland and Pinner Running for ASHP Positions
Dr. Lea Eiland, Clinical Professor and Associate Department Head in Pharmacy Practice, and Dr. Nathan Pinner, Associate Clinical Professor in Pharmacy Practice, were recently selected as election candidates for the American Society of Health-System Pharmacists (ASHP). Dr. Eiland is running for President-Elect while Dr. Pinner is running for Director-at-Large of the Section of Clinical Specialists and Scientists. The full slate of candidates can be found on the ASHP website.
---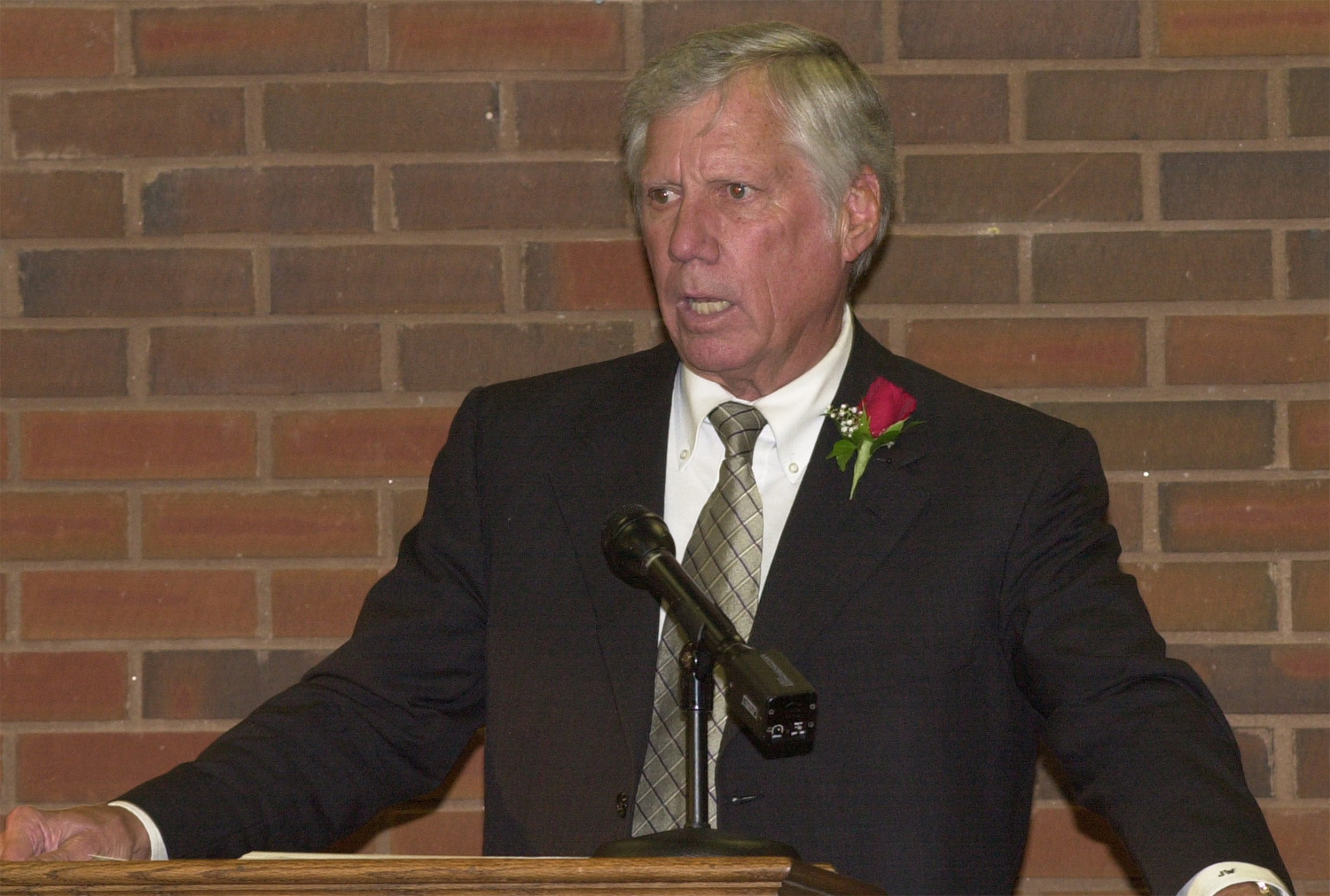 HSOP Mourns Loss of James O. Walker, Sr.
HSOP mours the passing of James Orr Walker, Sr., who passed away on July 20. He and his family helped fund the Walker Building classroom and clinic additions in 2000, leading to the building being named after his father W. W. Walker, Jr. Walker Drug Co., a leading wholesale drug company based in Birmingham, was started by W.W. Walker, Jr. with Jim joining him at the company upon his graduation from Auburn in 1957. Walker has served in numerous leadership roles in his community, including President of the Birmingham Better Business Bureau, Secretary of the Birmingham Kiwanis Club, and Board member for Carraway Methodist Hospital for 15 years. He was honored in 2002 with the Alabama Pharmacy Association President's Special Achievement Award, the 2010 Bowl of Hygeia Award, and was inducted into the APA Hall of Fame in 2015. Within HSOP, he previously served on the Dean's Advisory Council and was a great supporter of HSOP by establishing the W.W. Walker Professorship and the Walker Family Funds for Excellence.
---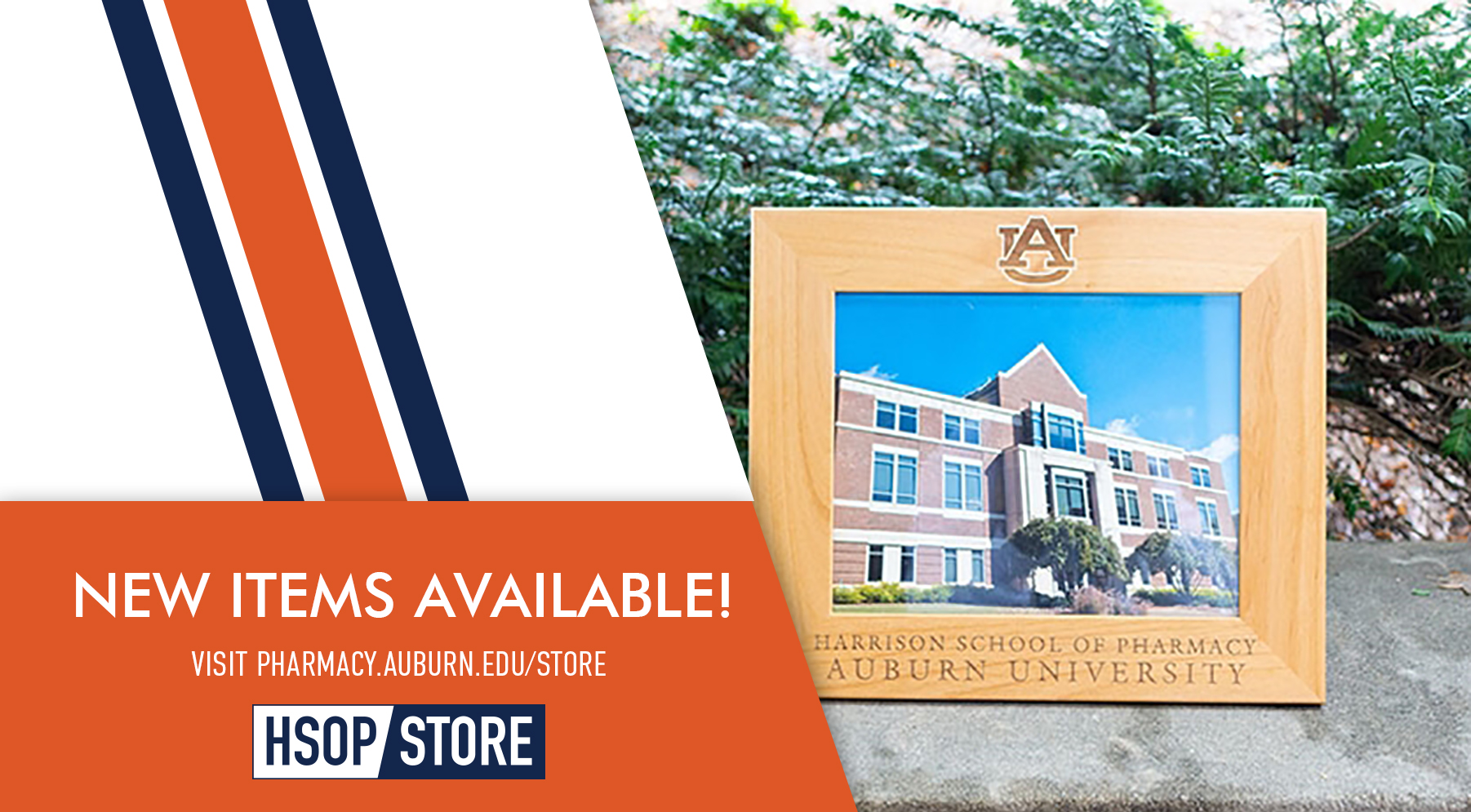 New Items Available in the HSOP School Store
New items are available in the HSOP School Store, including an 8x10 picture frame that is ideal to display your state pharmacy license. Launched in partnership with the Auburn University Bookstore, the online store also includes apparel, drinkware, and other items. All proceeds from the HSOP store will be used to support student success through various programs. To learn more, click HERE or visit pharmacy.auburn.edu/store.
---

Reed and Suppiramaniam Receive $1.7 million NIH Grant
HSOP's Dr. Miranda Reed and Dr. Vishnu Suppiramaniam recently received a $1.7 million grant to study the effects of marijuana use during pregnancy. Funded by the National Institutes of Health-National Institute on Drug Abuse, the project will look at the prenatal effects of THC while also investigating treatment options. Learn more about this potentially life-saving work.
---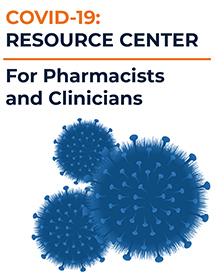 CAO Creates COVID-19 Resource for Pharmacists
In an effort to assist pharmacists and practitioners throughout the state in navigating these new and unique times with COVID-19, the team from HSOP's Division of Clinical Affairs and Outreach has developed a resource center at pharmacy.auburn.edu/covid/. Check out the frequently asked questions and best practices. If you have any further questions, feel free to reach out at hsopcao@auburn.edu.
---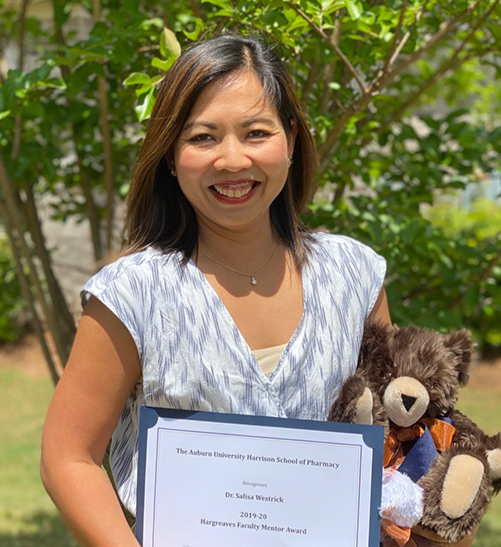 HSOP Holds 60th Annual Hargreaves Awards
Outstanding HSOP students, staff, faculty members and preceptors were recognized in a virtual ceremony on May 15 as part of the 60th Annual Hargreaves Awards Program. In all, more than 25 awards were given to more than 40 recipients. Dr. Salisa Westrick took the top honor, the Hargreaves Faculty Mentor Award. Check out the full listing of award winners.
---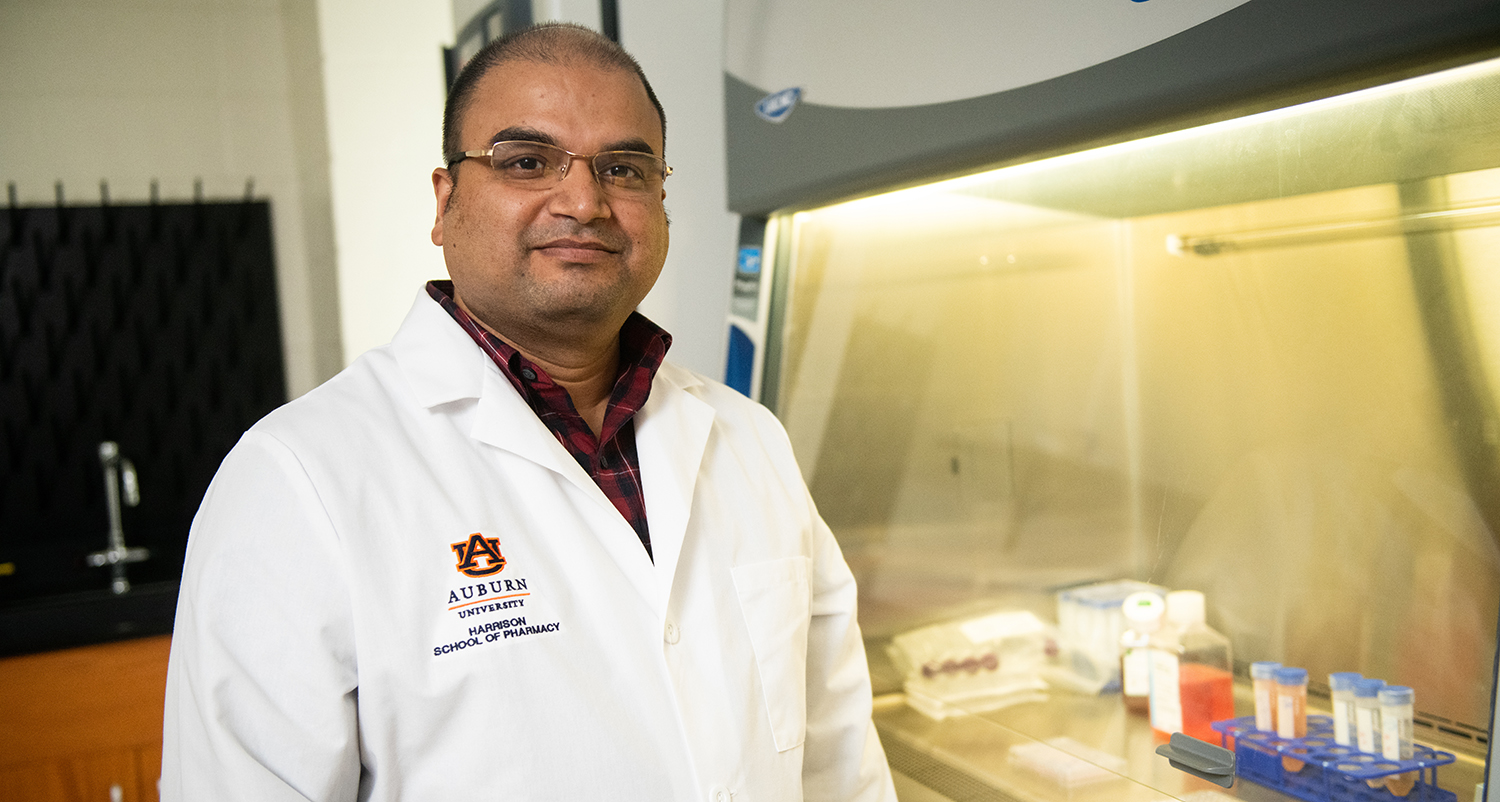 Center for Pharmacogenomics and Single-Cell Omics Established
Recognizing the importance of genomics in modern health care and a rise in precision medicine, HSOP created the Center for Pharmacogenomics and Single-Cell Omics Initiative, or AUPharmGx, under the direction of Dr. Amit Mitra. One year later, the initiative—a first of its kind in the state of Alabama—is seeing early positive returns, placing Auburn at the forefront of the growing science. Read more on the HSOP website.
---
Drug Information Center Warns Against Exposure to Cleaning Products and Disinfectants
With the emergence of the COVID-19 pandemic, people have been exposed to new phrases, practices and ways of life. Among them is an increase in the purchase and use of multipurpose cleaning agents as people try to disinfect their homes and protect against the virus. With increased use comes increased risk as there has been a spike in reported poisonings. HSOP's Drug Information Center provides information and guidance as we do our best to stay safe.
---
Drug Information Center Addresses COVID and Summer Sun
In the latest issues of the AU InforMed Newsletter, a regular publication from the HSOP Drug Information Center, the staff addresses COVID and Summer Sun. In Issue 311, COVID-19 is discussed, as well as treatments and the evolution of treatments. In Issue 312, the DIC addresses Summer sun safety tips, risk factors, UV radiation, sunscreen, and skin cancer. Read more on the AU InforMed website.
---

---
---
---
---
---
---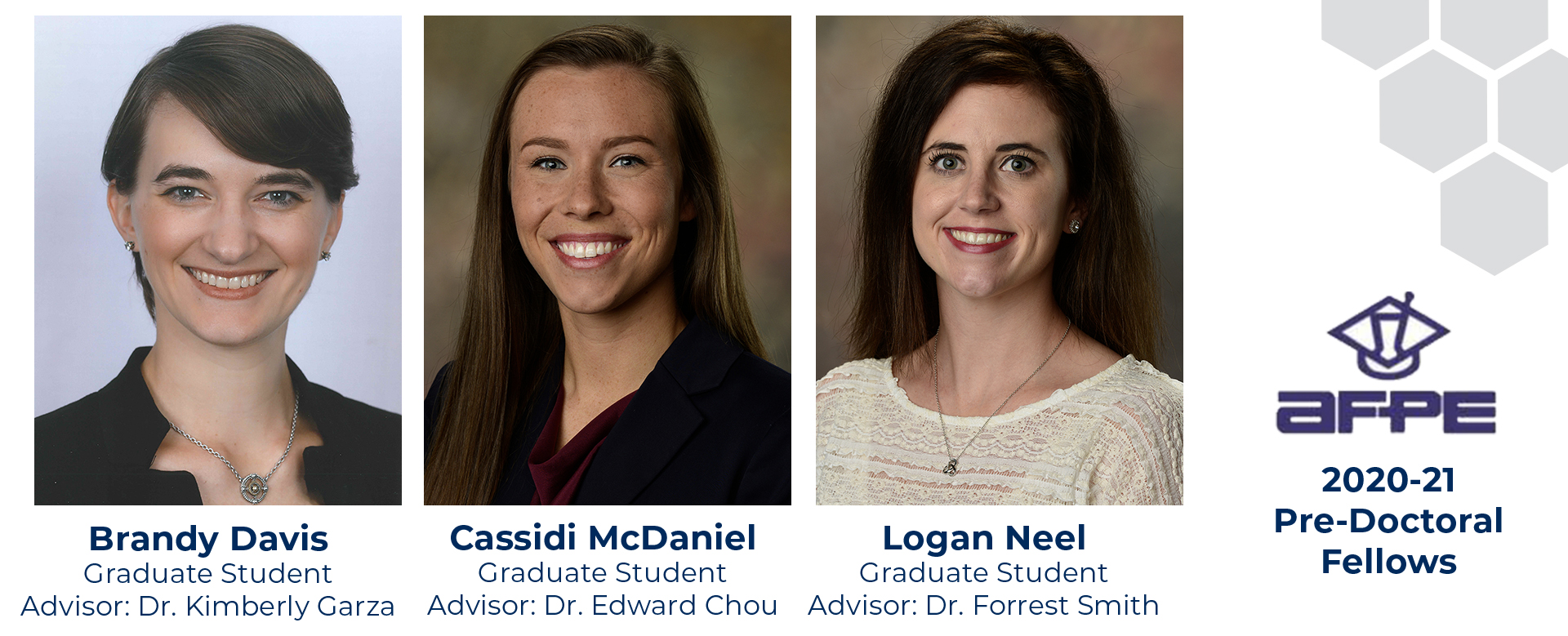 Three Graduate Students Named AFPE Pre-Doctoral Fellows
Three HSOP graduate students recently received prestigious pre-doctoral fellowships from the American Foundation for Pharmaceutical Education, or AFPE. Earning the fellowships were Brandy Davis, Cassidi McDaniel and Logan Neel. Davis and McDaniel received fellowships in the Social and Administrative Sciences category while Neel is in the Drug Discovery/Medicinal Chemistry category. Just 21 pre-doctoral fellowships were awarded nationwide. Learn more about their projects on the HSOP website.
---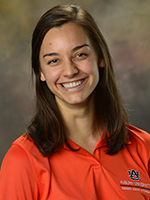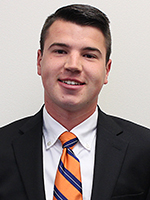 Two P4s Named to ASHP Student Forum Advisory Groups
Two HSOP P4s were recently named to American Society of Health-System Pharmacists Student Forum Advisory Groups. The groups provide advice and guidance to the Pharmacy Student Forum regarding the unique needs of student members and how these needs might be addressed by the provision of resources and programs by ASHP. Anna Lee Petitt and Devin Archer were selected to the Advancement of Professional Practice Advisory Group. The Advancement of Professional Practice Advisory Group serves to advise ASHP regarding the development and support of programs designed to engage and educate students regarding initiatives to advance the practice of pharmacy.
---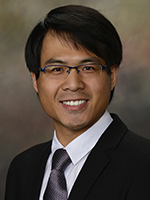 Li Recognized for Work in Cancer Survivorship
Motivated by his uncle's battle with cancer, HSOP graduate student Chao Li is learning more about cancer survivorship. Pursuing the health outcomes research and policy option, his work has brought him recent acclaim from the PhRMA Foundation and the Auburn University Graduate School. Learn more about Li and his work.
Additionally, Li was recently the first author in an article in the journal PLOS One. Titled "Generic escitalopram initiation and substitution among Medicare beneficiaries: A new user cohort study," his co-authors included HSOP faculty Dr. Jingjing Qian, Dr. Li Chen, and Dean Richard Hansen, along with fellow graduate students Nan Huo and Ahmed Mishuk. The objective of the article was to examine patterns of generic escitalopram initiation and substitution among Medicare beneficiaries.
---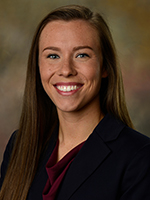 McDaniel
McDonald
McDaniel and McDonald Selected as AACP Walmart Scholars
Cassidi McDaniel and Courtney McDonald were recently selected as 2020 American Association of Colleges of Pharmacy Walmart Scholars. McDaniel is a graduate student pursuing the health outcomes research and policy option while McDonald is a member of the Pharm.D. Class of 2020. The pair was two of just 85 recipients nationwide of the awards. The Walmart Scholars Program provides $1,000 scholarships to students to participate in the 2020 AACP Annual Meeting and Teachers Seminar with a faculty mentor. McDaniel's mentor is Dr. C. Edward Chou while McDonald's is Dr. Katelin Lisenby.
---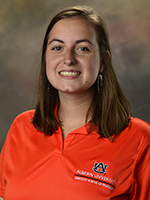 Sheffield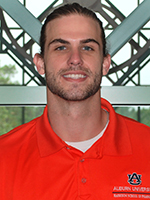 Partlow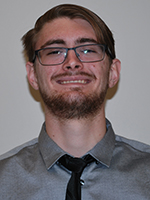 Silar
ACCP Clinical Pharmacy Challenge Team Selected
Following the local SCCP Clinical Pharmacy Challenge, the team of Maddie Sheffield, Chance Partlow, and Nate Silar has been selected to represent HSOP at the 2020 ACCP Clinical Pharmacy Challenge. Emily Marcato and Nick Harrison were selected as team alternates. The ACCP Clinical Pharmacy Challenge is a team-based competition. Teams of three students will compete against teams from other schools and colleges of pharmacy in a "quiz bowl"–type format. The HSOP team will begin competing in the preliminary rounds of the national competition virtually in August and September. The quarterfinal, semifinal, and final rounds will be held live at the American College of Clinical Pharmacy (ACCP) Annual Meeting in Dallas, Texas, Oct. 24-26, 2020.
---
COVID Impact on APPE Rotations
What is it like being on your P4 rotations during a pandemic? HSOP's Fuller Currie, Allison Field, and Pierce Gowan talk about their experience in an article from Pharmacy Times.
---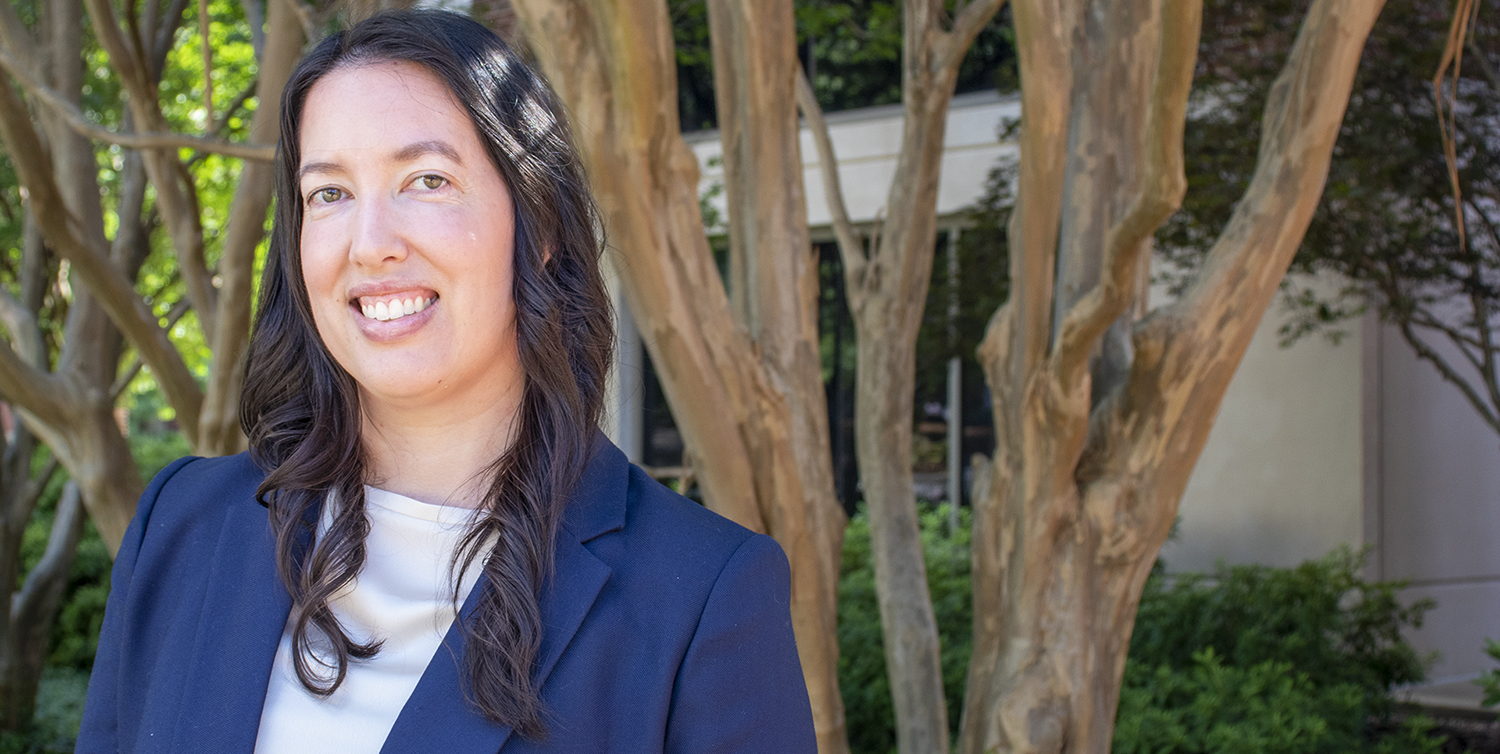 Natalie Hohmann Receives PhRMA Research Starter Grant
Dr. Natalie Hohmann, assistant professor in the Department of Pharmacy Practice, recently received a Research Starter Grant from the PhRMA Foundation. The $100,000 award furthers her project titled "Psychosocial Factors Affecting Genetic Testing Decisions in Cancer." Dr. Surachat Ngorsuraches from the Department of Health Outcomes Research and Policy has served as Hohmann's research mentor through the process. Learn more about the project on the HSOP website.
---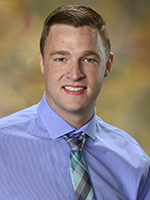 Astle/Ozanam Partner in Telehealth Services
Dr. Kevin Astle, assistant clinical professor in the Department of Pharmacy Practie, recently partnered with Ozanam Charitable Pharmacy in Mobile for a telehealth MTM project. Funded by a $47,500 grant to Ozanam from the Gulf State Health Policy Center. After face-to-face MTM services were discontinued, the telehealth MTM project emphasized understanding and addressing the holistic well-being of Ozanam's patients. Along with Astle, several HSOP students participated in the project.
---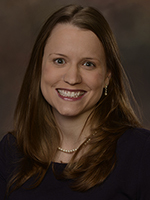 FDA Warns of Methanol-Based Hand Sanitizers
The U.S. Food and Drug Administration recently warned about methanol-based hand sanitizer manufactured by Eskbiochem SA de CV in Mexico. HSOP's Dr. Marilyn Bulloch explains the dangers of methanol and what to look out for if you feel you have been exposed. Learn more on the HSOP website.
---
CAO Receives Pharmacy Residency Grant
The Division of Clinical Affairs and Outreach received a grant for $119,740 from Star Pharmacy to fund the development and implementation of a community pharmacy residency program designed to support the advancement of clinical services in the community pharmacy setting. The PI on the grant is Dr. Kimberly Braxton Lloyd who will provide oversight for all aspects of this collaboration. Dr. Greg Peden, Dr. Courtney Gamston, and Dr. Spencer Durham are co-investigators. Peden will serve as the Residency Program Director (RPD), Gamston will be the Clinical Coordinator, and Durham will provide residency project support. Dr. Kruti Patel, a 2020 HSOP Graduate, is the first HSOP-Star Pharmacy PGY-1 community pharmacy resident.
---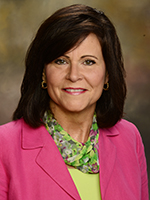 Kavookjian Named ADCES Fellow
Dr. Jan Kavookjian, associate professor in the Department of Health Outcomes Research and Policy, was recently named a Fellow by the Association of Diabetes Care and Education Specialists. She is one of just six recognized as Fellows in 2020. ADCES Fellows are a distinguished group of diabetes care and education specialists that are recognized for outstanding contributions to diabetes care and education through clinical practice, research, education or health policy. ADCES is made up of more than 12,000 members, spanning across health professions and research scholars.
---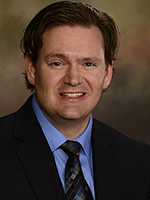 Durham Receives Grant from Medcom
Dr. Spencer Durham recently received a $10,500 grant from Medcom, a company that hosts continuing education programs for pharmacists and pharmacy technicians across the VA Health System. Five faculty, including Durham, Dr. Pamela Stamm, Dr. Kristi Kelley, Dr. Sean Smithgall, and Dr. Kevin Astle, will provide programs for VA pharmacists and pharmacy technicians on various topics.
---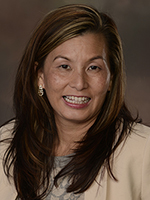 ---
Bulloch and P4s Published in Pharmacy Times on COVID-19 Therapies
Dr. Marilyn Bulloch and P4 students Fuller Currie, Allison Field, and Pierce Gowan had their article titled "Evaluating the Efficacy of Adjunctive Therapies Used to Treat COVID-19: The Role of Famotidine, Melatonin, and Thiamine" published in Pharmacy Times. In the conclusion, the authors write "Although further studies are needed to establish a firm recommendation regarding the use of H2RAs, melatonin, and thiamine in the treatment of COVID-19 positive patients, their ease of access, relatively low price, and strong safety profiles makes them attractive choices as adjuvant therapies. It's important to note that although reasonable pharmacologic mechanisms have been proposed for their role in COVID-19, there are limited data evaluating their actual efficacy in real patients with the novel virus."
---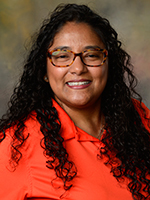 Heard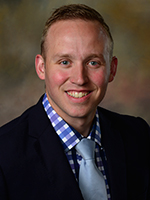 Steuber
Steuber and Heard Published in Diagnostic Microbiology and Infectious Disease
Dr. Taylor Steuber and Dr. Glady's Heard had their paper titled "Utilization and Impact of a Rapid Candida Panel on Antifungal Stewardship Program within a Large Community Hospital" published in the journal Diagnostic Microbiology and Infectious Disease. According to the paper, the result was "antifungal optimization occurred in 54% of patients who had antifungal orders at the time of T2CP test. Antifungal therapy was avoided in 60.4% of negative cases. Patients with negative T2CP had significantly fewer days of therapy compared to positive tests."
---
Kavookian Talks Motivational Interviewing with Diabetes Patients
Behavioral change is a basic requirement for improving diabetes outcomes, but making those changes can be difficult for people with diabetes and for practitioners charged with helping them. Dr. Jan Kavookian recently talked with Susan Weiner about using motivational interviewing techniques to empower people with diabetes to take control of their disease management. Read more in the article on healio.com.
---
---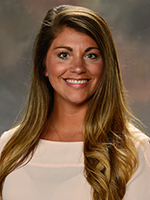 Slater Published in Currents in Pharmacy Teaching and Learning
Dr. Nicole Slater, along with HSOP alums Dr. Anthony Todd and Dr. Abby Grimm, recently had their paper titled "Pharmacy students as educators: An interprofessional approach to insulin management education published in Currents" in Pharmacy Teaching and Learning. The study used peer-assisted teaching by pharmacy students to educate nursing and medical students on the topic of insulin management. The authors conclude "the education provided by student pharmacists improved knowledge and confidence in selecting, dosing, administering, and counseling on insulin products, but not with adjusting therapy. Although the student nurses and student physicians valued pharmacy prior to the study, their willingness to reach out to pharmacists increased. This study demonstrates the usefulness of PAT for collaboration between healthcare professional students for improved knowledge and confidence to ultimately enhance patient-centered care."
---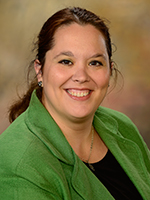 Ford
Kleppinger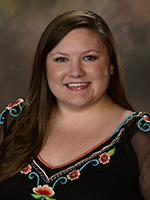 Moseley
Moseley, Ford, and Kleppinger Published in AJPE
Dr. Lindsey Moseley, Dr. Channing Ford, and Dr. Erika Kleppinger recently had papers published in an issue of the American Journal of Pharmacy Education focused on qualitative research. Moseley and Ford published a paper titled "Using Focus Groups to Explore Evolving Perceptions of Student Pharmacists' Curricular Experiences." In the paper, the authors determined their findings "further support the school of pharmacy's transition to an integrated, practice-ready curriculum, which is rooted in active- and problem-based learning. This transition also opens the door for further research exploring the connection between Chickering's vectors and student pharmacists' identity development and sense of self-authorship."
Additionally, Ford and Kleppinger published a paper titled "Exploring the Impact of Participating as Pharmacy Camp Counselors on Student Pharmacists' Professional Identity." The authors found that student pharmacists serving as camp counselors developed the following overarching themes related to professionalism: "professional identity, appropriate professional and personal boundaries, engagement, team building, rapport building, empathy, teaching/mentoring, learning, dress code compliance, and respect/appreciation for faculty members."
---
---