Updated February 17, 2022
The Auburn Pharmacist Online is an electronic newsletter providing news, events and updates from the Harrison College of Pharmacy. Have something you would like included? Email hsopcomm@auburn.edu.
---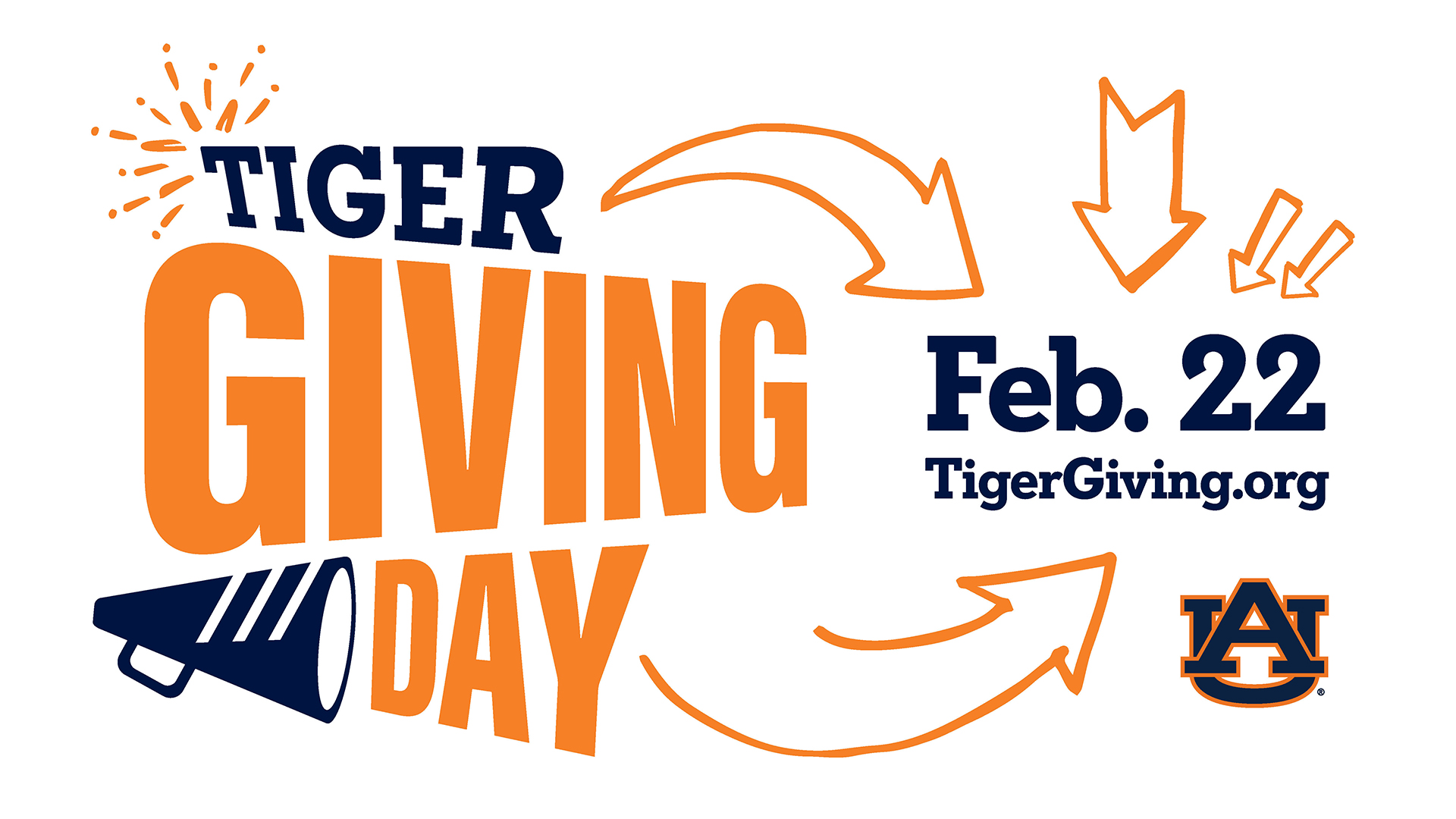 Tiger Giving Day is Feb. 22
Join the Harrison College of Pharmacy on Feb. 22 for Tiger Giving Day! This year we are raising money to create a series of workshops across the state to educate middle and junior high school students on the dangers of illicit drugs while also introducing them to the vital role played by pharmacists. Learn more about this year's Tiger Giving Day at TigerGiving.org.
---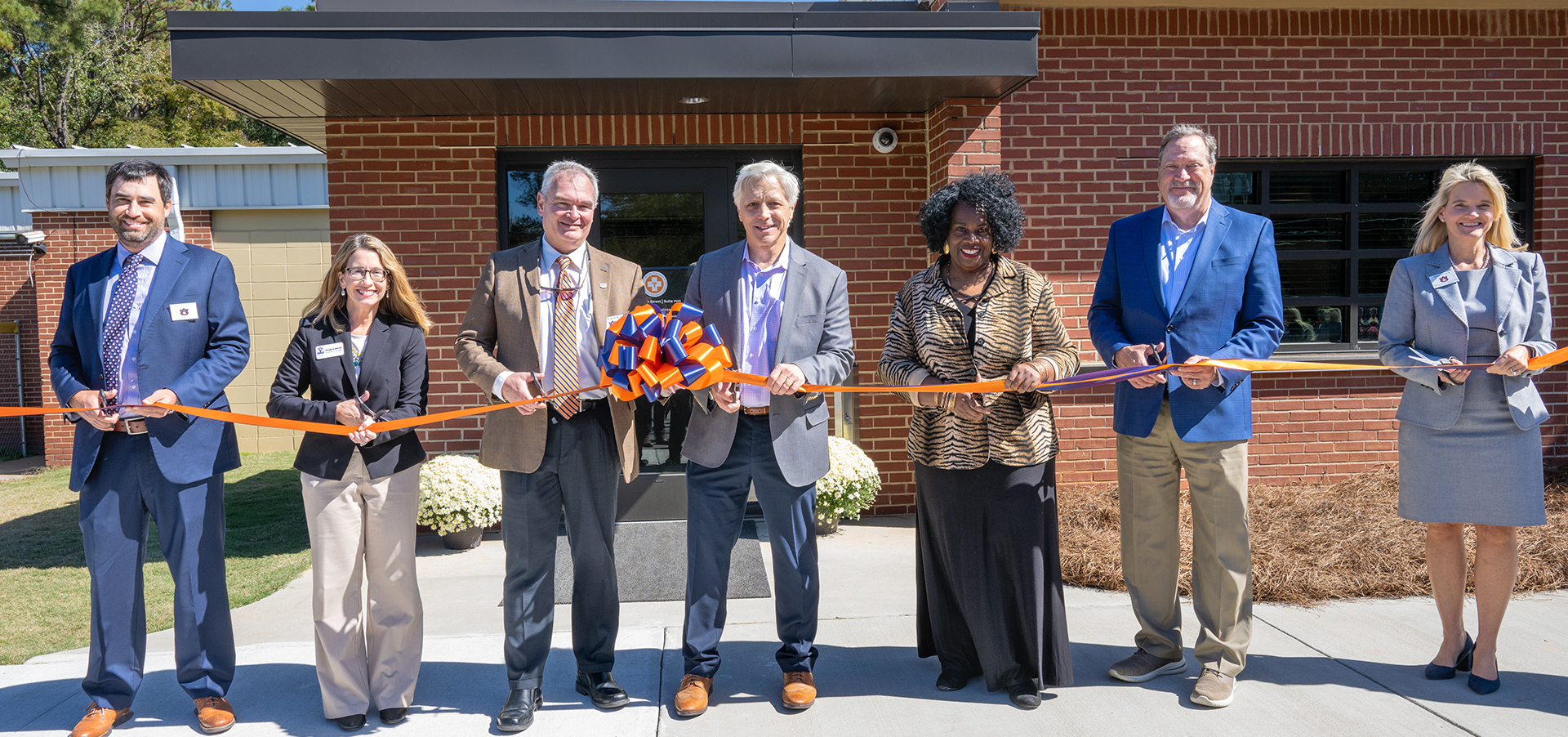 Auburn celebrates opening of clinic in Boykin Community Center
With a mission to bring health care access to the uninsured and underinsured in the Auburn community, the Auburn University Health Care and Education Clinic officially opened its doors in Northwest Auburn. The opening was commemorated with a ribbon cutting and open house. Participating in the ribbon cutting were representatives from the Auburn University Harrison College of Pharmacy, Auburn University College of Nursing, Edward Via College of Osteopathic Medicine and officials from the City of Auburn. Read more about the open house and the clinic. Read more about the clinic on the HCOP website.
---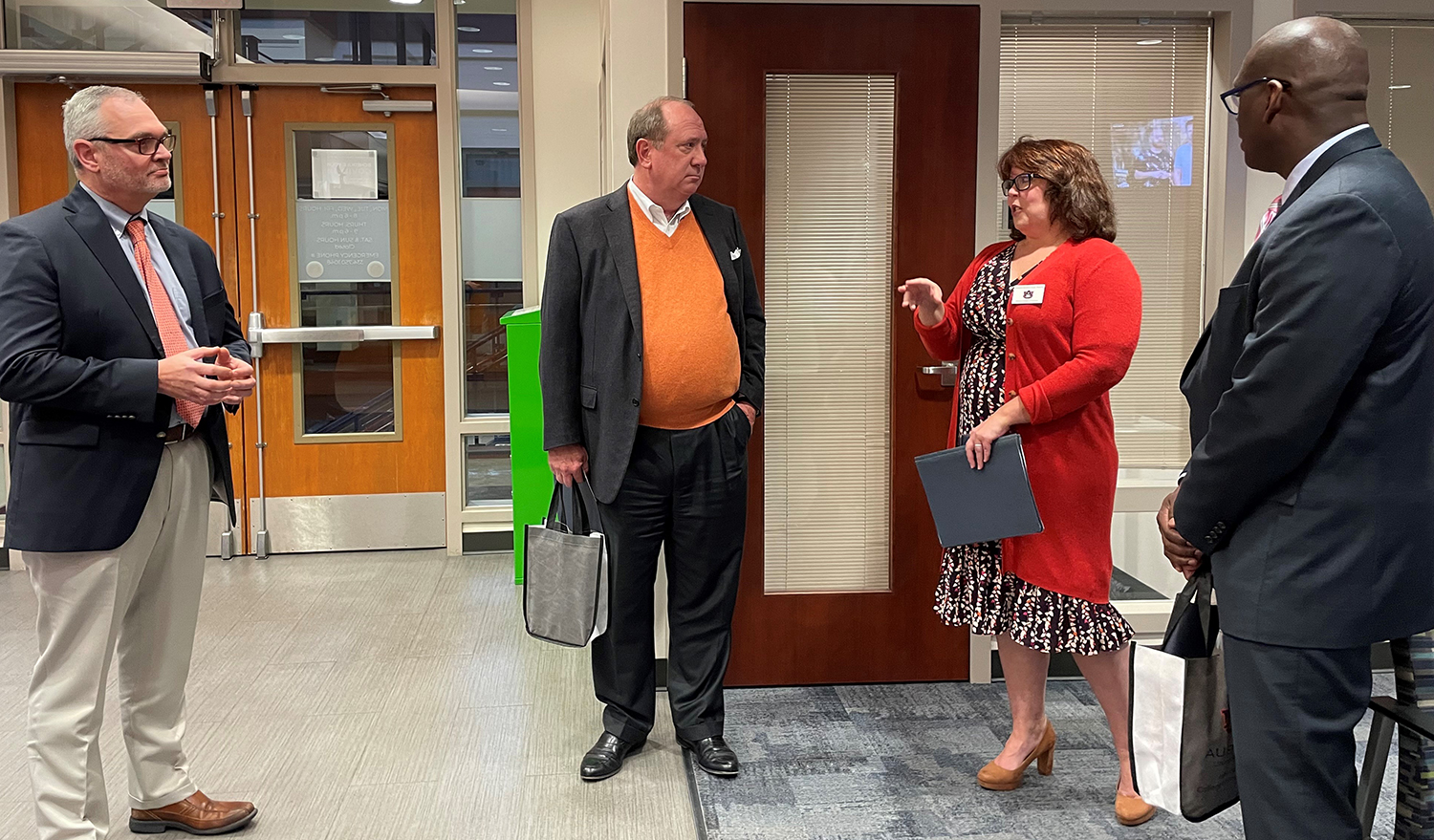 Trustees visit HCOP
Each college at Auburn University has members of the Board of Trustees assigned to them on a rotating basis. HCOP's newest trustees are Raymond Harbert and Quentin Riggins and the pair made a visit to HCOP in early February. Harbert and Riggins toured the Walker Building, AUPCC, and the Pharmacy Research Building, learning about the innovative and diverse work going on within the college. Harbert is chairman and chief executive officer of Harbert Management Corporation and has been a member of the Board of Trustees since 2009. Riggins is senior vice president of Governmental and Corporate Affairs for Alabama Power and has been a member of the Board of Trustees since 2017.
---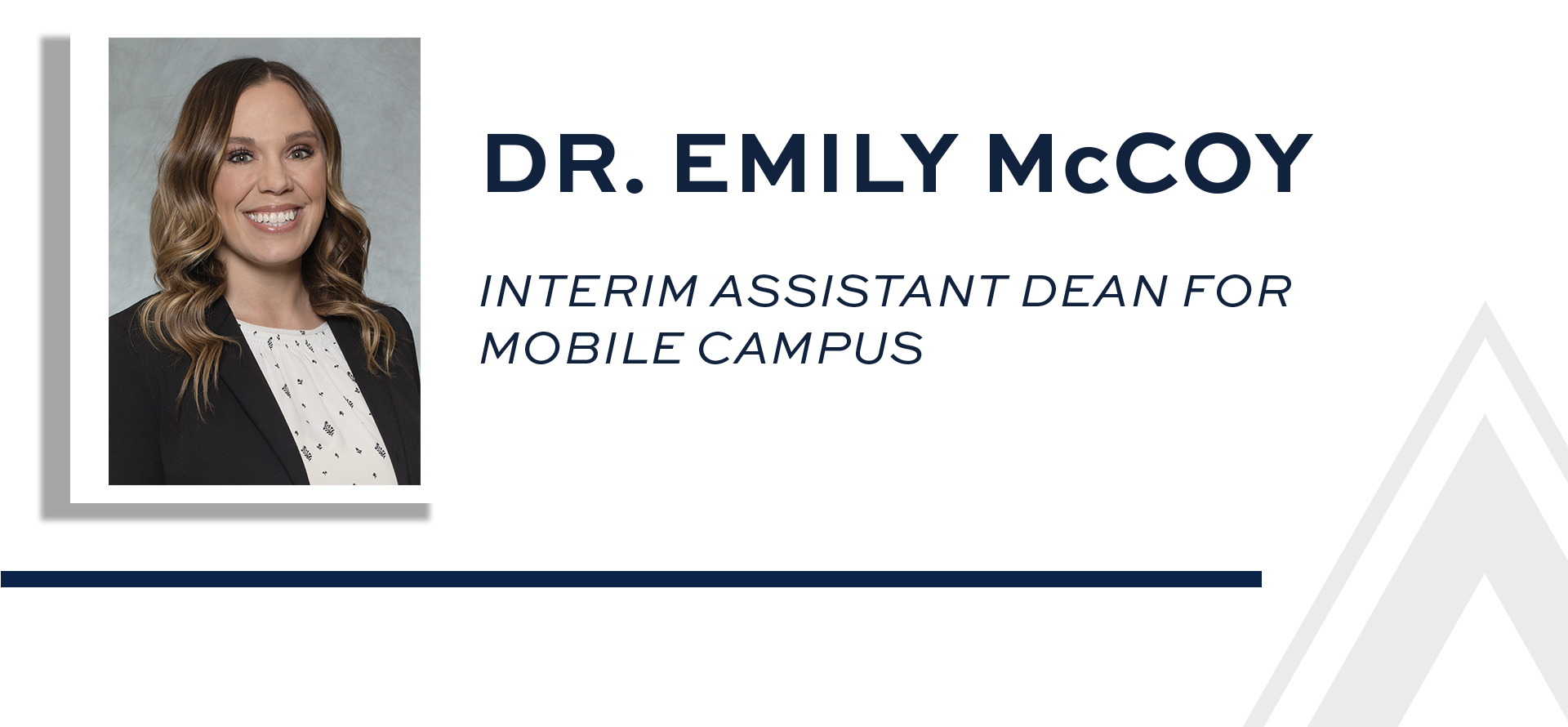 McCoy named Interim Assistant Dean of Mobile Campus
Dr. Emily McCoy, an associate clinical professor in the Department of Pharmacy Practice, has been named interim assistant dean of the Mobile Campus. She assumed her new role Nov. 1. McCoy is a 2008 Pharm.D. graduate of the University of Tennessee. She completed a residency with the University of Tennessee/St. Francis Family Medicine before joining the HCOP faculty in 2009. In that time she has taken progressively more responsibility on the campus, including working with a variety of student organizations and assuming the role of assistant director of student affairs. Read more the HCOP website.
---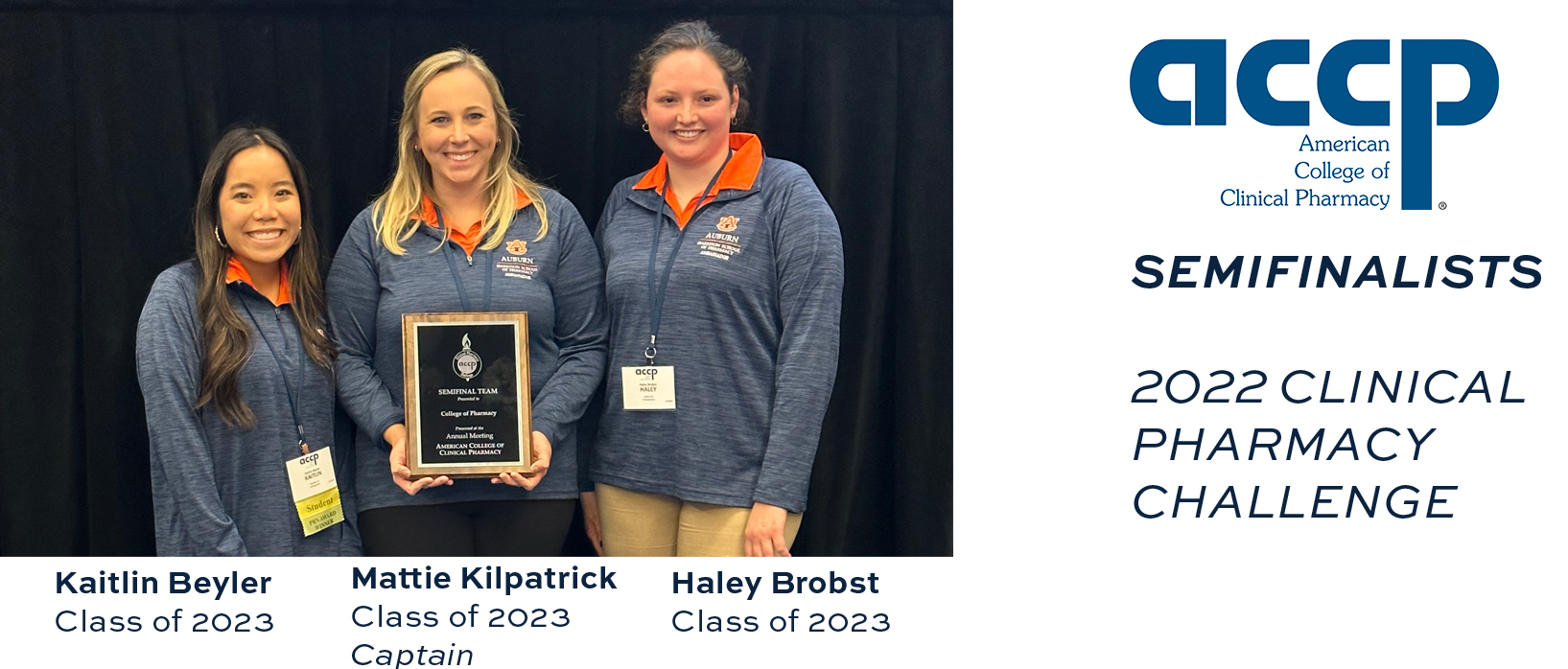 American College of Clinical Pharmacy team finishes in top four
The HCOP team competed in the American College of Clinical Pharmacy Clinical Pharmacy Challenge and finished the competition in the top four nationally. The team consisted of team captain Mattie Kilpatrick, Kaitlin Beyler and Haley Brobst, along with alternates Rachel Friend and Jillian Farrow. All five are members of the Class of 2023. Dr. Emily McCoy serves as the faculty advisor. The finish came after six rounds of competition, including participation from 114 institutions representing 43 states, the District of Columbia, and two international institutions. It also marks the third year in a row for the Auburn team to finish in the top 16.
---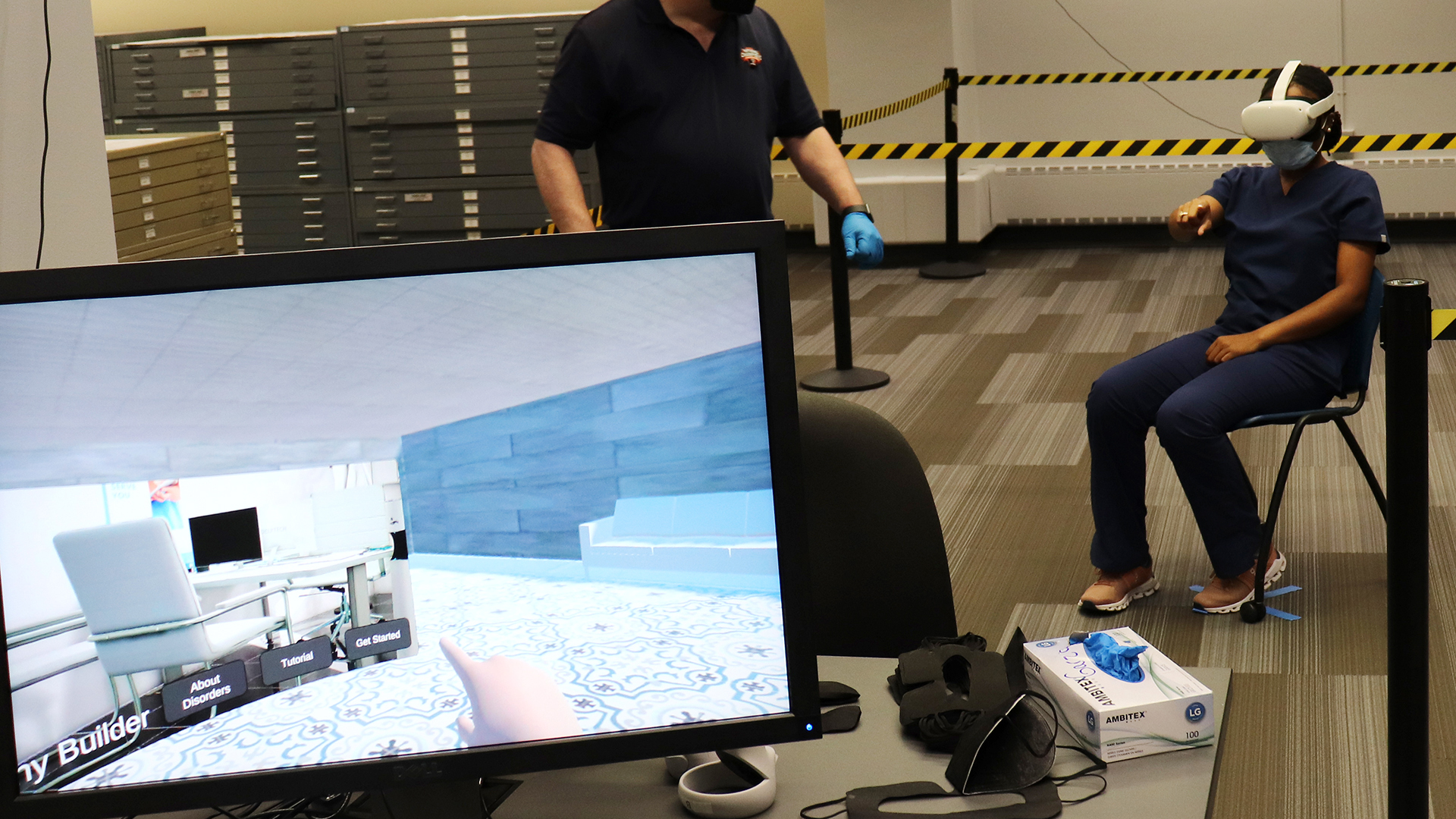 Virtual reality incorporated into HCOP curriculum
In the fall semester, virtual reality was incorporated into HCOP's Practice Ready Curriculum for the first time. First-year student pharmacists participated in a simulation using VR to experience challenges in completing everyday tasks related to self-care and medication-taking that might be experienced by patients living with physical impairments due to chronic disease. In an immersive virtual environment, students sorted pills by color with and without simulated color blindness to experience the difference in how colors are perceived and the challenges that can create for patients managing their medication therapy.
Outside of VR, students experienced difficulty in filling a pill box with impairments that limit ability to grasp small objects, often experienced with arthritic conditions. These activities are intended to promote empathy for patients living with chronic disease and thereby support professional identity formation. The experience is the product of a project titled "Combining Haptics with VR to Support Professional Identity Development in Student Pharmacists through empathy for Patients." Dr. Kim Garza, associate professor in the Department of Health Outcomes Research and Policy, is a co-investigator on the project.
---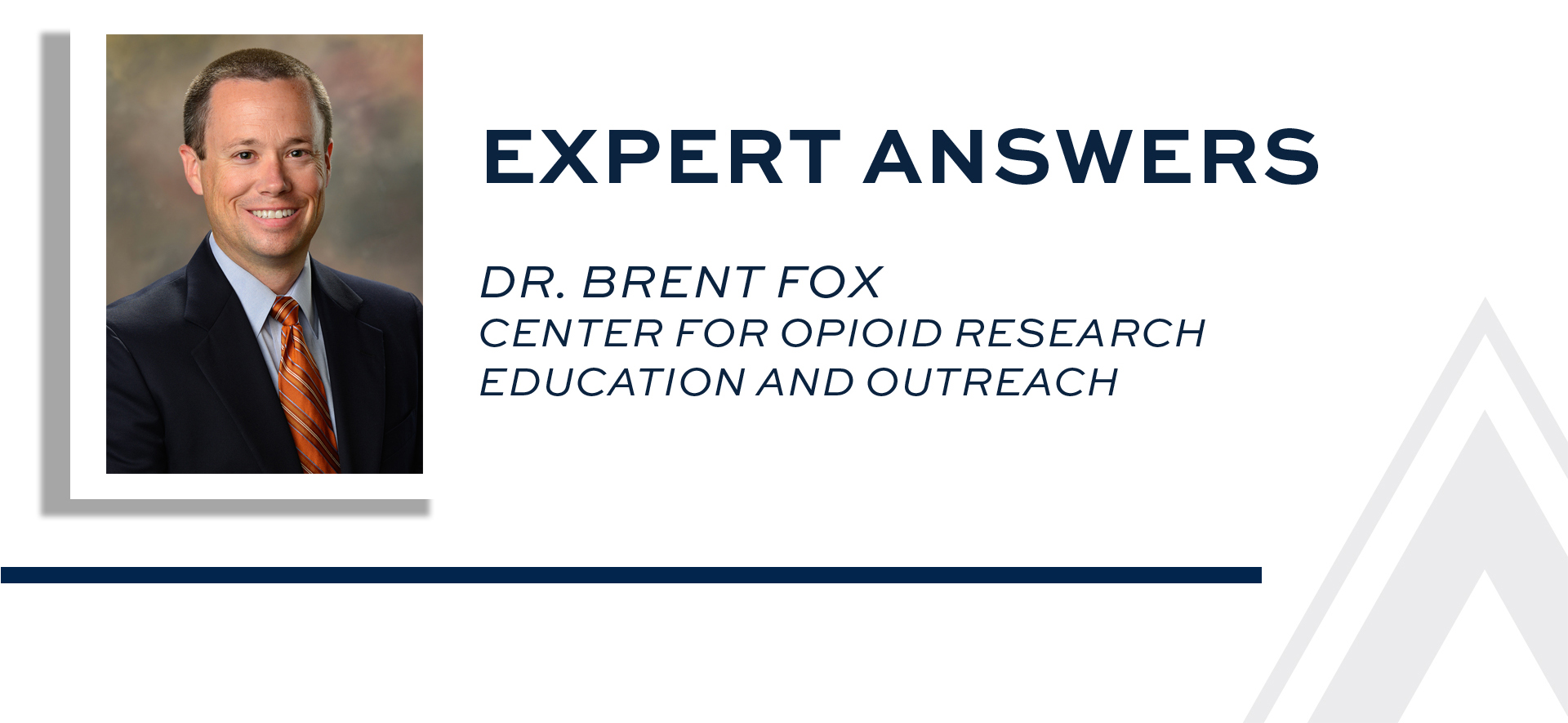 Expert Ansers: Opioid epidemic in Alabama
The Harrison College of Pharmacy's Center for Opioid Research, Education and Outreach, or COACH, is active in working with leaders and professionals across the state in combatting the opioid crisis. The team has accomplished this through a series of town hall programs across the state, as well as co-hosting the 2023 Substance Misuse Summit with the Alabama Department of Public Health. Events such as these bring law enforcement, medical professionals, first responders, community leaders and others together in one forum to identify ways they can work together to combat the crisis.
Dr. Brent Fox, professor in HCOP's Department of Health Outcomes Research and Policy, discusses current events and new initiatives related to the opioid crisis. Read more the HCOP website.
---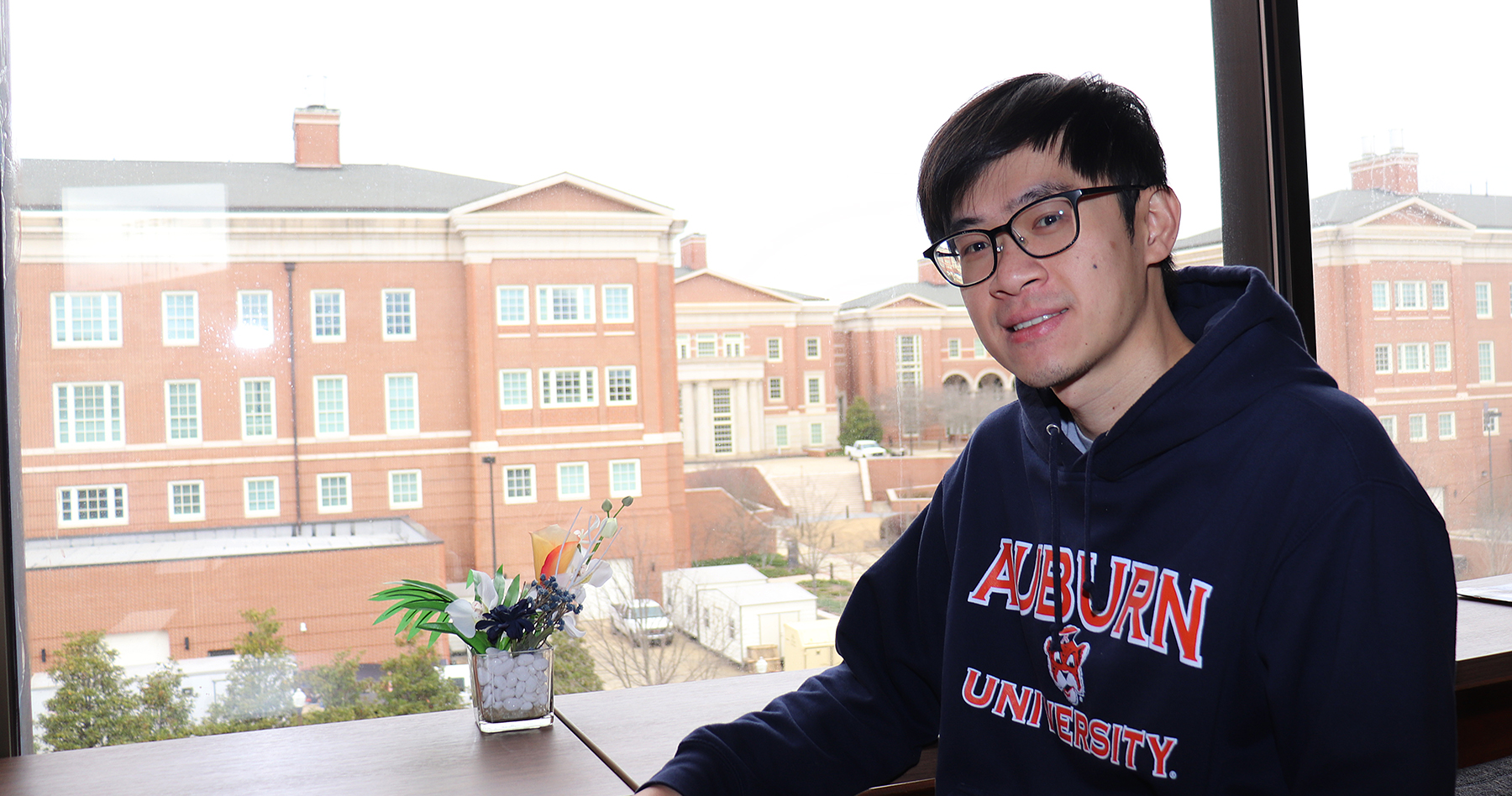 Lai, HCOP receive support from Innovation and Value Initiative
HCOP and the Innovation and Value Initiative have recently partnered to offer a fellowship to a graduate student within the college. The fellowship is the first and only one offered by the organization. The creation of the fellowship is a partnership with Dr. Surachat Ngorsuraches, associate professor in the Department of Health Outcomes Research and Policy. It is $50,000 and can be renewed for a second year. Tim Lai, a graduate student working under Ngorsuraches will be the first recipient of the fellowship. Read more the HCOP website.
---
Catch up on the latest issues of AU InforMed
Read the latest issues of AU InforMed, the newsletter of the Bedsole Drug Information Center at HCOP. Recent topics include HIV and new drugs in 2022. Read them and more on the AU InforMed website.
---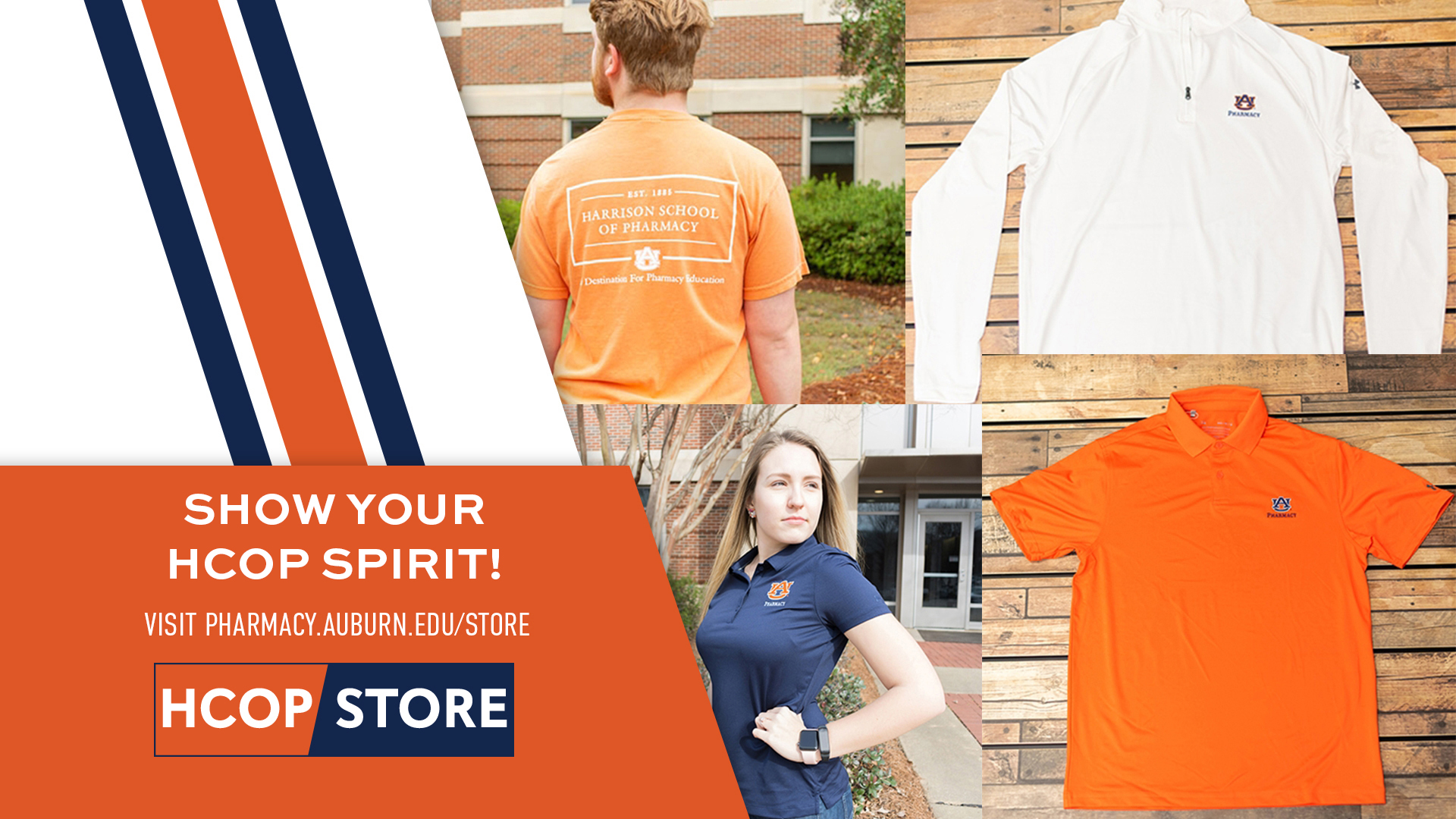 New Items Available in the HCOP School Store
HCOP items are available in the School Store, including new apparel from Under Armour. Launched in partnership with the Auburn University Bookstore, the online store also includes apparel, drinkware, and other items. All proceeds from the HSOP store will be used to support student success through various programs. To learn more, click HERE or visit pharmacy.auburn.edu/store.
---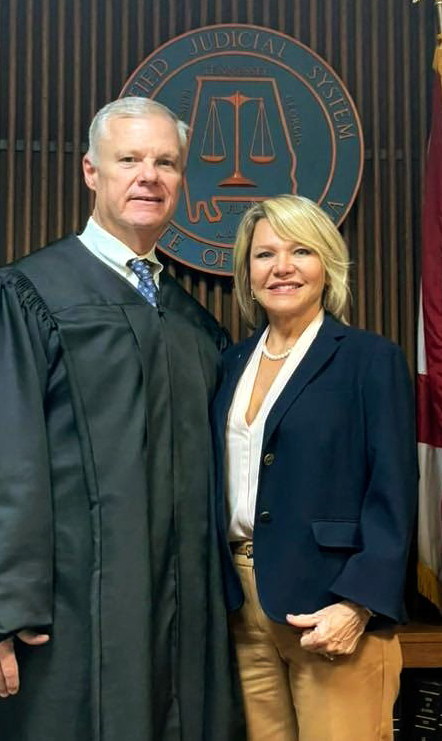 Stacy Giles selected to Board of Pharmacy
Stacy Sharp Giles ('92) was appointed by Governor Kay Ivey to the independent community pharmacy seat of the Board of Pharmacy for a five-year term beginning in 2023. She replaces outgoing president and HCOP alum Chris Phung. Giles graduated from HCOP in 1992 and opened Rainsville Drugs in Rainsville that same year. She has worked in the community pharmacy setting since the age of 17 and her pharmacy practice has thrived on serving patients' prescription needs along with other services including vaccinations, hormone testing, biometric screenings, compounding, all with an emphasis on personalized care. Giles is a past president of the Alabama Pharmacy Association where she continues to be actively involved, is a member of NCPA, and is engaged at HCOP as an Affiliate Clinical Instructor of Pharmacy Practice, preceptor, life member of the Auburn Pharmacy Alumni Affiliate, and donor of an Auburn Pharmacy Endowed Scholarship.
Stacy is married to Bobby Giles '92 and they reside in Auburn, Alabama. Stacy and Bobby have two sons, Jack, a freshman at Auburn University, and Graham, a sophomore at Auburn High.
---
Alumni Update: Charles Causey
Charles Causey graduated from Auburn with his pharmacy degree in 1975 and immediately took a job with Superx Drugs, then a division of Kroger, in West Virginia. Once there, he met his future wife Charlotte and the couple were married six months later, and have now been married 46 years. He spent 10 years with Superx before taking a job with Kmart. Eleven years later, he was back at Kroger, where he remained for 20 years until retirement. While at Kroger, he was pharmacist of the year at division level twice and once at regional level. Upon retiring, the couple moved back Alabama in 2018 and are currently enjoying their retirement.
---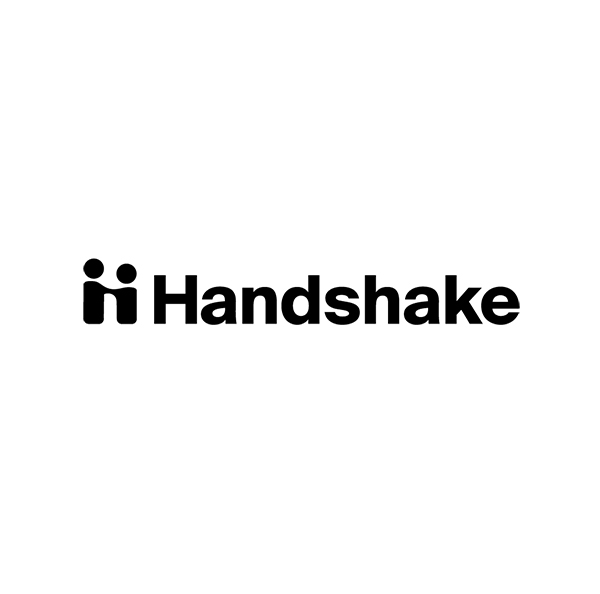 HCOP utilizing Handshake Career Center
The Harrison College of Pharmacy has adopted the use of Handshake, Auburn University's job platform through the Career Center. Handshake allows current students, alumni, and employers to post and search for jobs. Current students and alumni with an active Auburn account can access Handshake using their Auburn University Credentials. Alumni without an active Auburn account can gain access to Handshake by contacting the Auburn University Career Center at 334-844-4744. Employers looking to post a position will create an employer profile for their company. Alumni employers should utilize their individual profile to search for jobs and create a separate employer profile to post jobs. Please see below guide for employers to create a Handshake profile.
Please visit career.auburn.edu/handshake to access Handshake. For additional information, please contact Brianna Foster at b.foster@auburn.edu or 334-844-8371.
---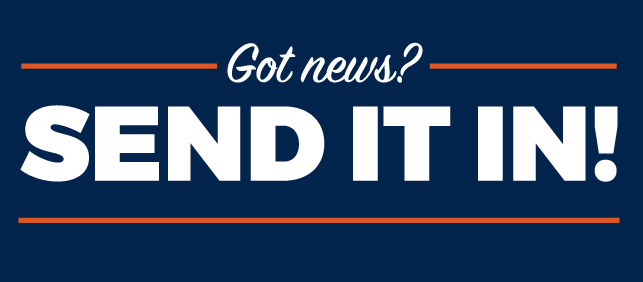 We Want to Hear from You
One of our favorite things around the Harrison College of Pharmacy is when we hear from our alumni and friends. We would love to hear from you with updates on your practice, career, or life in general. Please send any updates or news items you have to hsopcomm@auburn.edu.
---

Rho Chi initiates 36
The HCOP chapter of Rho Chi held its initiation in the fall, welcoming 36 new members to its rolls. Of the 36, we are Pharm.D. students, four are graduate students and nine are faculty members. Learn more about the organization and this year's initiates on the HCOP website.
---
Students care for Auburn Family at football health fairs
With the arrival of fall comes football season on The Plains. With so many members of the Auburn Family on campus, students in the Harrison College of Pharmacy utilize the weekends as an opportunity to check up on fans and encourage healthy habits. Learn more about this season's football tailgate health fairs.
---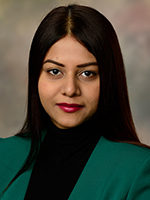 Tanni
Tanni selected for SEC Emerging Scholars program
Kaniz Afroz Tanni, a pharmaceutical sciences doctoral student pursuing the Health Outcomes Research and Policy option, was selected for the Southeastern Conference's Emerging Scholars Program. The program provides a space for students to gain insightful professional development and networking tools for building careers in higher education.
The program was established in 2021 by conference institutions' provosts to help support current doctoral students and postdoctoral researchers from historically underrepresented groups who are considering becoming faculty members. In line with Auburn's efforts to increase learning opportunities for underrepresented students, the Office of Inclusion and Diversity, or OID, is Auburn's designated representative for the initiative and worked collaboratively with the Graduate School to select three doctoral students and one postdoctoral fellow to participate this year.
---
Beyler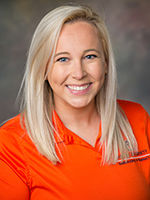 Kilpatrick
HCOP team advances to ASHP national semifinals
The team of Kaitlin Beyler and Mattie Kilpatrick, both members of the HCOP Class of 2023, won the local American Society of Health-System Pharmacists Clinical Skills Competition and represented HCOP on the national level. The duo competed in the national semifinals as one of 142 teams from around the country. The competition is an interactive, team-based analysis of clinical scenarios for hospital and health-system pharmacists.
---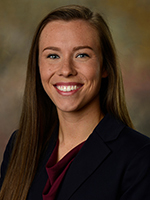 McDaniel
McDaniel, Kavookjian and Whitley published in Patient Education and Counseling
Graduate student Cassidi McDaniel was recently the first author on an article in the journal Patient Education and Counseling along with Dr. Jan Kavookjian, associate professor in the Department of Health Outcomes Research and Policy and Dr. Heather Whitley, clinical professor in the Department of Pharmacy Practice. Titled "Telehealth delivery of motivational interviewing for diabetes management: A systematic review of randomized controlled trials," the article looks at randomized controlled trials, studying the effects of motivational interviewing-based telehealth interventions on outcomes among persons with diabetes or prediabetes.
---
Exploring Diabetes videos win awards
During the fall, 26 members of the Class of 2025 participated in the Exploring Diabetes elective. In addition to meeting for two hours weekly, they also engaged in various patient-related tasks that are commonly conducted by people living with diabetes. The students formed groups and developed short videos sharing what they learned or how their perceptions changed as a result of completing the elective course. After a college-wide vote, The Sleepover was awarded Most Entertaining while Diabetes Mythbusters was named Most Informative.
---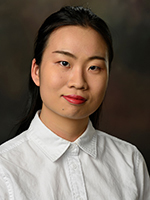 Zou
Zou selected for CCTS program
Chenyu Zou, a graduate student pursuing the Health Outcomes Research and Policy option, was recently selected for the CCTS Clinical and Translation Science Training Program with the Center for Clinical and Translational Science at UAB. She is one of just three Auburn students selected for the prestigious program.
The CTSTP is a six-month certificate program that provides training in clinical and translational research, including approximately 50 hours of didactic instruction as well as interactive experiences. Course content represents the following modules: Clinical Trials, Epidemiology, Biostatistics, Ethics, Clinical Genetics Research, Behavioral Research, Outcomes Research, and Dissemination of Results.
---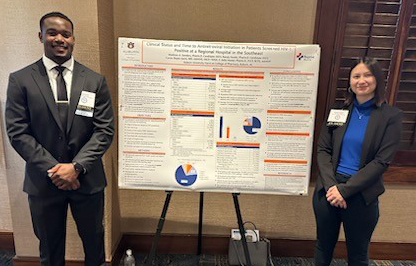 Pharm.D. students win third place in poster competition
Madison Sanders and Randy Hooks, both members of the Class of 2023 took third place in the poster competition at the 70th Annual AlSHP Annual Clinical Meeting in Prattville. The poster was titled "Clinical Status and Time to Antiretroviral Initiation in Patients Screened HIV-1 Positive at a Regional Hospital in the Southeast," and Dr. Kelly Hester served as a co-author.
---
Abstract wins award as ASH annual meeting
A team from the Department of Drug Discovery and Development was recognized at the American Society of Hematology annual meeting for their abstract. Titled "Validation of a Novel Rac1 Inhibitor As Potent Secdrug Against Activating Ras Mutant and Drug-Resistant Multiple Myeloma," the abstract received an Abstract Achievement Award at the meeting in New Orleans. Graduate student Salsabil Ahmed, working under the direction of Dr. Amit Mitra, served as the first author. Others contributing were Dr. Dr. Suman Mazumder and Dr. Tim Moore.
---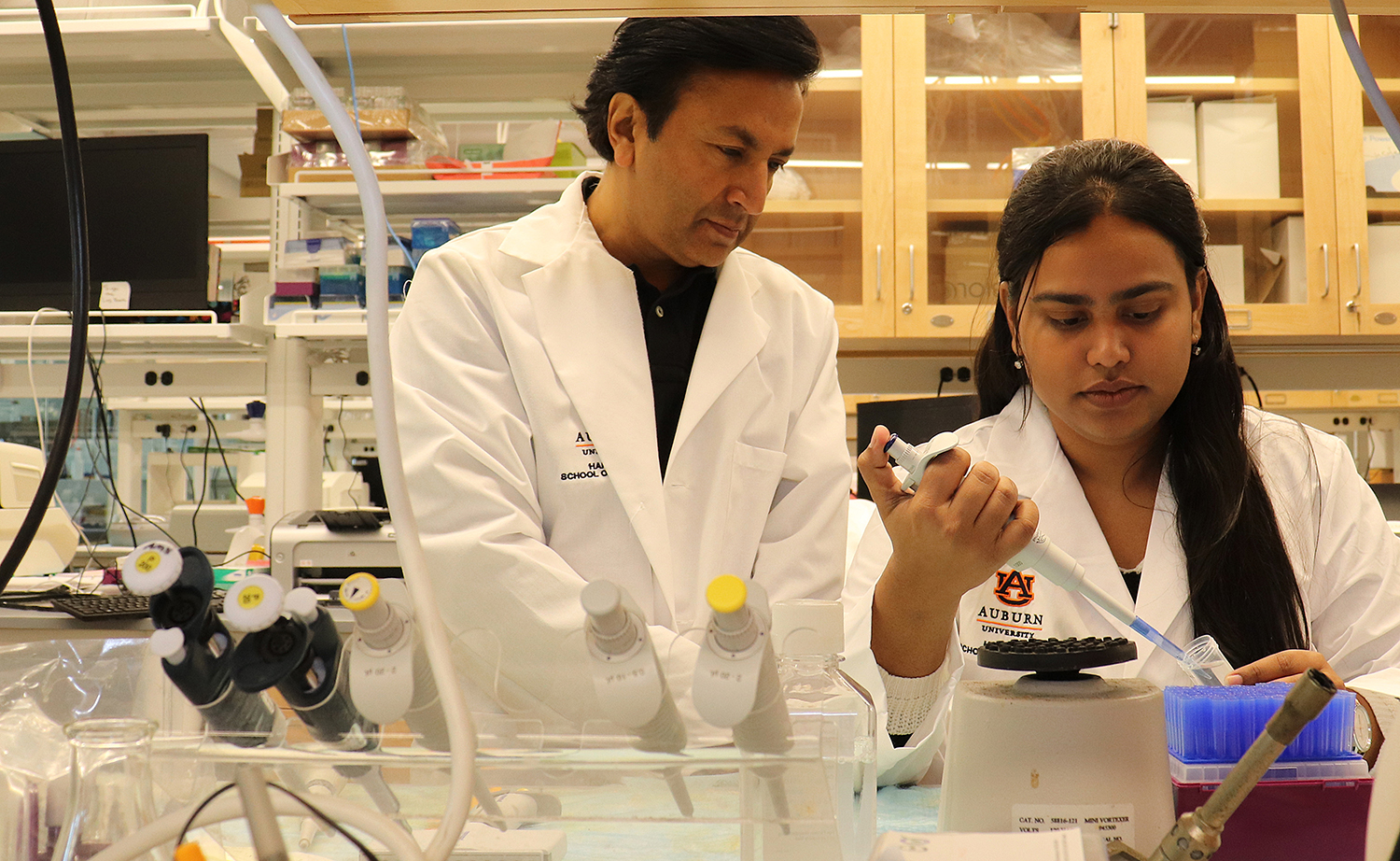 Amin developing Alzheimer's drug with NIH support
With a novel approach to treating Alzheimer's disease, HCOP's Dr. Raj Amin, associate professor in the Department of Drug Discovery and Development, is partnering with the biopharmaceutical company Oleolive to further advance the candidate drug in phase 2 studies. The study is supported by a $2.58 million grant through the National Institutes of Health Small Business Technology Transfer Program. Learn more on the HCOP website.
---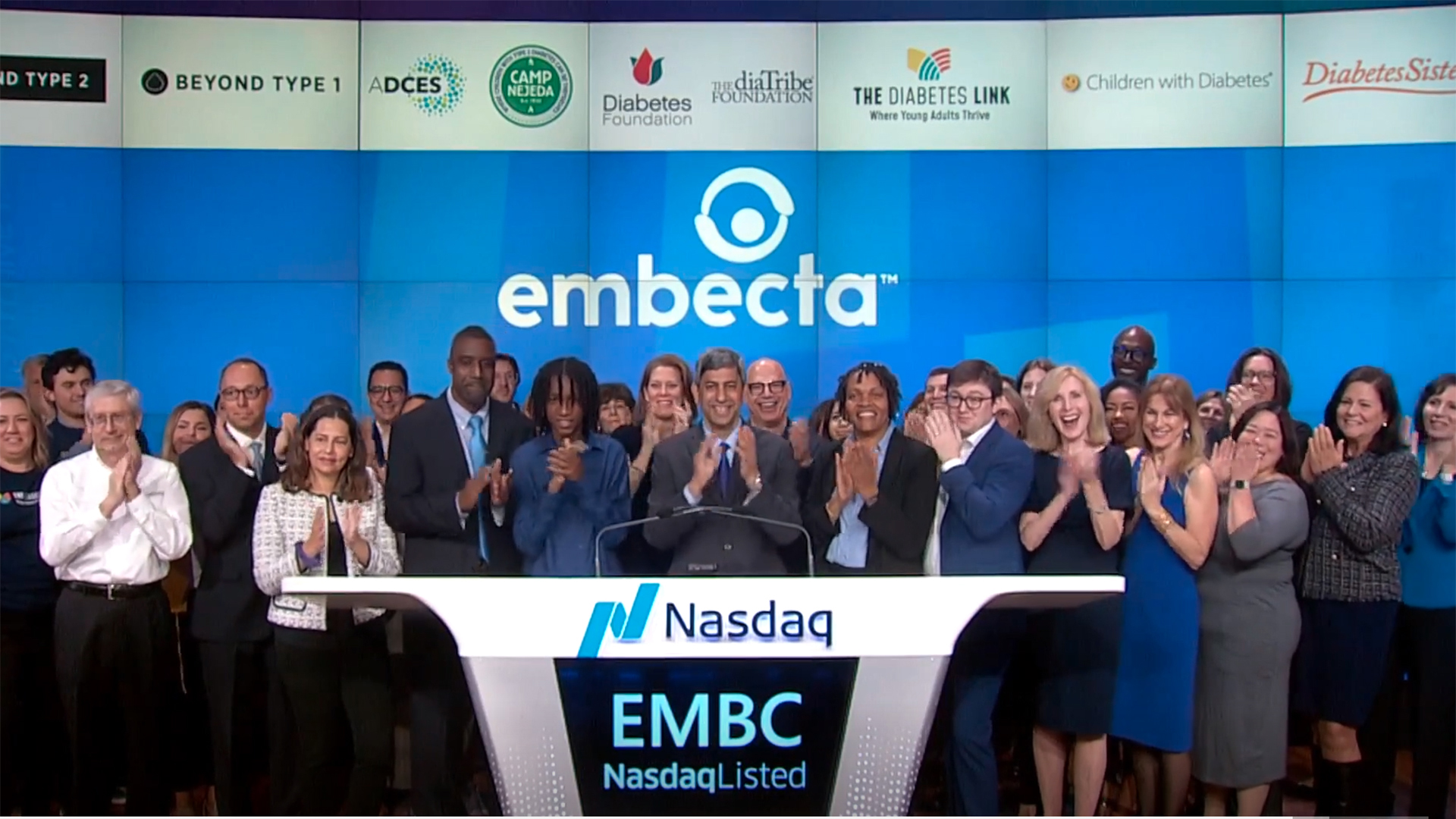 Kavookjian highlights advancements during World Diabetes Month
Spanning the country, working with Diabetes Care and Education Specialists, health care professionals and leaders of other diabetes organizations, every day is about diabetes awareness for Dr. Jan Kavookjian, associate professor in the Department of Health Outcomes Research and Policy. During national Diabetes Awareness Month, she was particularly excited about some of the advances she has seen, improving the lives of the more than 37 million people in the United States living with diabetes. Learn more on the HCOP website.
---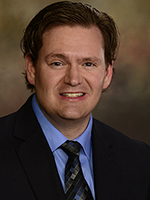 Durham
Durham receives infectious disease award
Dr. Spencer Durham, associate clinical professor in the Department of Pharmacy Practice, was recognized by the American College of Clinical Pharmacy Infectious Diseases PRN with its 2022 Clinical Practice Award. Historically not presented to full-time faculty members, the award recognizes excellence in clinical infectious diseases pharmacy practice by an active member of the ID PRN. The recipient must have made significant and sustained contributions to ACCP and the ID PRN.
---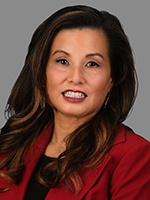 Chung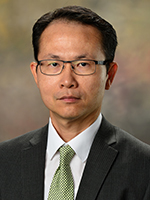 Ngorsuraches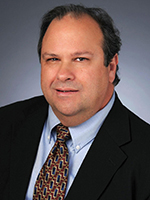 Piazza
Chung, Ngorsuraches and Piazza receive South Korea travel grant
Dr. Allison Chung, associate clinical professor in the Department of Pharmacy Practice, Dr. Surachat Ngorsuraches, associate professor in the Department of Health Outcomes Research and Policy, and Dr. Gary Piazza, department head in drug Discovery and Development, received the 2023 Research and Scholarship Connections Travel Grant from Auburn's Office of International Programs. They will travel as part of a group to visit Keimyung University in Daegu, South Korea over Spring Break, March 4-12. While there, they will have meetings with university, government and industry contacts in their particular areas.
---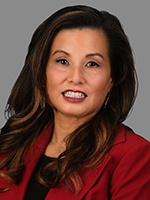 Chung
Chung receives ACCP Pediatrics PRN award
Dr. Allison Chung, associate professor in the Department of Pharmacy Practice, was recognized with the ACCP Pediatrics Practice Research Network Achievement Award during the American College of Clinical Pharmacy annual meeting. The ACCP Pediatrics PRN awards one award per year to an individual who is a full ACCP member and member of the Pediatrics PRN, demonstrates leadership in pediatric pharmacy, sustains a high level of contribution related to practice, education, research, service, and/or advocacy in pediatric pharmacy and has maintained a high level of active service and contributions within ACCP and the Pediatrics PRN.
---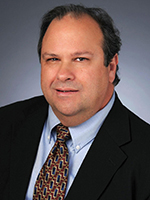 Piazza
Piazza presents as part of international symposium; published in Frontiers in Oncology
Dr. Gary Piazza, W.W. Walker Professor and department head in Drug Discovery and Development, presented at the inaugural International Symposium on Innovations in Pharmaceutical Science and International Young Scholars Forum on Medicine, hosted by the Medical School of Shanghai University. Piazza's virtual presentation was titled "Novel dual-acting RAS and beta-catenin inhibitor for lung cancer." His was one of just eight presentations from United States-based presenters.
---
Piazza also co-authored an editorial in the molecular and cellular oncology section of the journal Frontiers in Oncology. Written along with faculty from the University of Alabama-Birmingham and the University of Ferrara in Italy, the editorial is titled "Targeting the Wnt/β-catenin signaling pathway in cancer."
---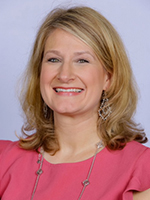 Kelley
Kelley quoted in article on diabetes
Dr. Kristi Kelley, clinical professor in the Department of Pharmacy Practice, was quoted in an article in Pharmacy Practice News on diabetes. Titled "Ambulatory Rx Pharmacists Cut HbA1c in Diabetes," she talks about the pharmacists' role in helping diabetes patients.
---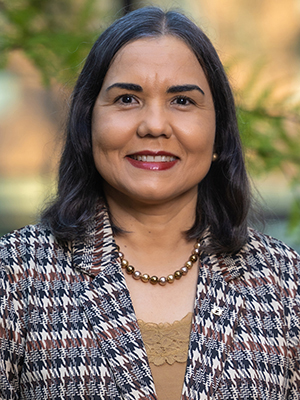 Calderon
Calderon lab published in Food Chemistry
Dr. Angela Calderón, associate professor in the Department of Drug Discovery and Development, along with her undergraduate students Audrey Hall and Swati Baskiyar, and graduate student Kabre Heck recently published the research article "Investigation of the chemical composition of antibacterial Psidium guajava extract and partitions against foodborne pathogens" in the journal Food Chemistry. This paper is the outcome of collaborative work with Dr. Cheryl Seals from the Department of Computer Science and Software Engineering and Dr. Emefa Monu from the Department of Poultry Science.
---
HCOP investigators compete at O'Neal Comprehensive Cancer Center Research Retreat
Several HCOP faculty and students competed at the 22nd Annual O'Neal Comprehensive Cancer Center Research Retreat in Birmingham. Faculty in attendance included Drs. Gary Piazza, Adam Keeton, David Riese, Alexei Kisselev, Amit Mitra, and Rusty Arnold. Additionally Drs. Forrest Smith Tim Moore and Peter Panizzi contributed to presentations.
Of 125 total abstracts submitted to the competition, students and faculty representing the Department of Drug Discovery and Development accounted for 7.2% of them, including ten oral presentations. Students and postdocs making presentations included Salsabil Ahmed, Olasubomi Akintola, Laura Downey, Taraswi Mitra Ghosh, Fnu Ibtisam, Tyler Jenkins, Lauren Lucas, Mitchell Patterson and Sriraja Srinivasa.
Mitra Ghosh took third place in the non-student poster category for her poster titled "Low Dose Continuous Administration of Topotecan as a Single Agent and in Combination with Docetaxel abrogates acquisition of Mesenchymal Phenotype (EMT) in Aggressive Metastatic Prostate Cancers."
---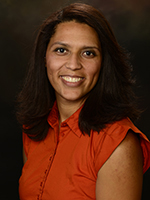 Gamston
NACDS recognizes 2022-23 Faculty Scholars
The National Association of Chain Drug Stores recognized participants in the 2022-23 Faculty Scholars Program. Six faculty members from schools and colleges of pharmacy nationwide have been selected as members of this year's class to participate in the 18-month research mentorship program. Included among them is HCOP's Dr. Courtney Gamston. Read more about the scholars.
---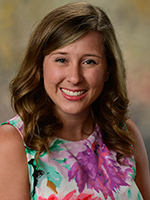 Sewell
Sewell receives support from Office of Inclusion and Diversity
Dr. Jeanna Sewell, assistant clinical professor in the Department of Pharmacy Practice, is part of an interprofessional team that received funding from Auburn's Office of Inclusion and Diversity for their project titled "Inscribing Diversity, Equity, and Inclusion into Interprofessional Education: Strengthening Clinical Cultural Competence."
The team is developing the Diversity in Healthcare Seminar, a 90-minute interactive panel-based discussion on cultural competency for first year pharmacy students, fourth semester nursing students and undergraduate and masters social work students. The goal of the event is to have students interact with diverse patients from the health care system to begin considering how sociocultural dynamics impact an individual's experience with the health care system.
Sewell's partners on the project include Dr. Felicia Tuggle, assistant professor in social work; Dr. Sarah Watts, assistant professor in nursing; and Jennifer Slay, assistant clinical professor in social work.
---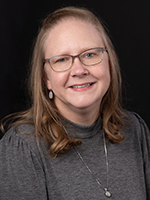 Maxson
Maxson selected as assistant director of AKHOMM
Dr. Rebecca Maxson, associate clinical professor in the Department of Pharmacy Practice, was recently selected as the assistant director for Advancing Kidney Health through Optimal Medication Management, an organization that engages pharmacists and key stakeholders to develop partnerships for optimal medication management in persons with kidney disease to improve health outcomes and reduce health care costs.
---
---
HCOP team published in Patient Preference and Adherence
An interdisciplinary team from HCOP was published in the journal Patient Preference and Adherence with the article titled "Patients' Preferences for Sodium-Glucose Cotransporter 2 Inhibitors and Glucagon-Like Peptide-1 Receptor Agonists." Bidur Banjara, a 2021 HCOP master's graduate in the health outcomes research and policy option, served as first author along with graduate student Nabin Poudel, Dr. Kimberly Garza, Dr. Salisa Westrick and Dr. Surachat Ngorsuraches from the Department of Health Outcomes Research and Policy. Also serving as co-authors were Dr. Heather Whitley from the Department of Pharmacy Practice and Dr. David Redden, director of the Auburn-VCOM Institute for Institute for Clinical Research.
---
Piazza Lab published in Cancers
Dr. Gary Piazza, department head in drug Discovery and Development, and members of his team were recently published in the journal Cancers. Titled "Novel Non-Cyclooxygenase Inhibitory Derivative of Sulindac Inhibits Breast Cancer Cell Growth In Vitro and Reduces Mammary Tumorigenesis in Rats," the article is led by Dr. Heather Tinsley, a former graduate student under Dr. Piazza and a current faculty member at Montevallo. Others contributing to the work are Dr. Xi Chen, assistant research professor in Drug Discovery and Development; Dr. Yulia Maxuitenko, associate research professor in Drug Discovery and Development; and Dr. Adam Keeton, assistant research professor in Drug Discovery and Development.
---
---